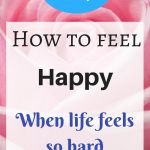 Stay happy when life is bit hard on you.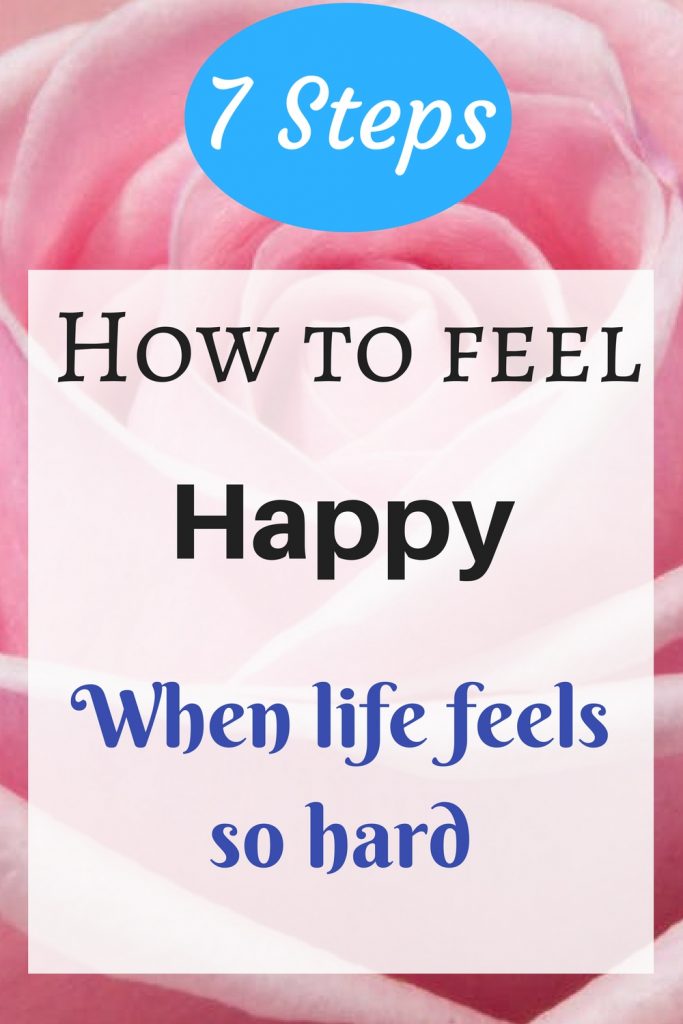 When life is hard, it is difficult to feel happy. It is best  to meet friends. Eat good meal. Change the pattern of thoughts. Try to be more positive. And when life is hard these things are hard too.
As Budha says, Life is a suffering. Suffering is not ongoing. But it comes at different intervals and different phases. It is up to us humans to embrace that suffering, feel it , learn from it and move forward. The only problem is we tend to cling to the present moment only when life becomes hard.  We could feel every second of suffering. While happy times passes quickly and we don't even feel the running time.
You grow as a person when life is not that easy. When you will come out of this suffering, you will definitely be a better person. It will be your own better version.
These are easy to say  than done when your life throw challenges on you. As humans, we have to accept the challenges. Hardships teach us to thrive and move forward. This is the life. In these times it feels like life is not going anywhere. You want that time to pass.  But time also seems to be going slow. I can understand this feeling. And sympathize with you.
You feel lazy and don't want to do anything. It is perfectly fine. Atleast for sometime. The feeling of not being in your senses stay for some time. During this moment, you feel like something inside you is shattering. So here is the point. Something is there inside you which is shattering. If this shattering is happening inside , the cure must be within you and your body.
Now you have to save yourself from shattering yourself totally. Because it is happening inside you. So the power to protect from totally shattering will also comes from inside you. You have to change your thinking pattern. By taking all kinds of help.
1. Meeting your friends bring back your happiness

Start finding happiness in small and common things. Meeting your friends will charge you. Talk with them about how you are feeling. Don't talk always about your problems. But discuss with them. Friends always have some cure for the problems. I mean they can give suggestions. Also they give you reason to smile.
2. Change thinking pattern
" You cannot have a positive life and a negative mind."   Joyce Meyer
Changing your thinking pattern is the utmost important. Wherever we talk about our lives we talk about thinking pattern. You have to go from negative to positive. Say if you don't want to come out of the bed. Just want to lay down because you are not feeling good.
How about pushing yourself little bit to go out of the bed and see the sunlight.It will shift your thought process little bit. Doing 10 things which you didn't wanted to do  will lift your mood up. Though the problem which you are facing is much more then the  bad mood. But you have to change it. And only you can change it. You will start seeing  a change in the quality of your life.
3. Going out for a walk makes you happy
Look deep into  nature, then you will understand everything better.  Albert Einstein
You feel good when you go out in natural surroundings. There is something in nature which man made cannot provide. Even if you are not feeling like going out or enjoying anything. Go out for a walk. Push yourself. Even for 5 minutes. Have little bit of determination.
Bring the spark of joy back. And natural surroundings will help you in that. The chirping of birds helps in forgetting the bad thoughts.
4.Exercise for few minutes
Now you have done lot of work. What about an exercise for 5 minutes. Try to implement it.You will be surprised how happy you feel after. This will definitely help you in taking out yourself from your grief or destructive thoughts. It will help you in releasing good hormones from your body. Most of the metabolic activities  and feelings depends on the release of hormones in the body.
Do whatever you can to alter the moments in which you feel life is hard. Exercise helps in s When your thought process will be in tune, you will be able to think correctly. Nothing is permanent. Nor the moments of joy neither grief. It is important to teach this to  your self .
5. To be happy change your attitude
It all boils down to your attitude. How we perceive things depends on your attitude. Most of us go through testing times. If you will not change your thinking pattern, things can go worse. Change your attitude about your situation. You will see some light. If you want to change your situation, start thinking differently.
You may think like you never wanted yourself in this situation. BUT SOMEHOW YOU ARE. And now you will only be able to get out of this. Once you will change your attitude, situations will improve. As you know 'Everything is inside'.
6.Meditate with good thoughts
Meditating with good thoughts is an important task while going through rough times of life. Meditation is not difficult. It is only difficult to incorporate into your time. Now if you are thinking that why your life is throwing challenge over challenge on you. Pause your thoughts. And shift them towards meditation .
Sit very calm.( At least try). Let the thoughts come and go. Don't try anything. Just let the time flow. And breath slowly. You will be able to rest your brain for some time. This will make you energized and you will be able to feel good. If you have to feel good in tough times, you need to shift your thought pattern.
7. Eat good meals to feel happy
I know I know, you would say that in tough times you don't want to eat anything. But nutritious diet is as important for your body. See this rough time is not going to stay forever. Your time will change. If you will not give good food to your body, it will take longer to come out of this situation.
All the antioxidants, minerals, vitamins do their job in steering you out of bad times. Eat food and try to feel the taste of food. Feel the sweet, sour or salty taste. Don't just gulp down the food with your mind wandering here and there. Put your trust in food. And do every little thing that can help you in coming out of tough times.
Conclusion
 Everything seems to be difficult when life is going through tough times.
Eat healthy food and have good thoughts.
If nothing works, take professional help. Don't let your time pass like this. This life is not forever. This will end one day.
These are very simple things to do. But makes a difference. These I have used on me. And really they work. Because there is no magic pill. You have to work yourself on you. If you try some other things, please tell me in the comments.
Disclaimer
This article is for information purpose only. If you are going through rough times and feeling difficulty in coping with it. Please take professional help.