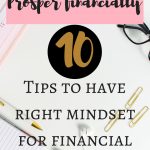 To prosper financially, it is important to have right mindset.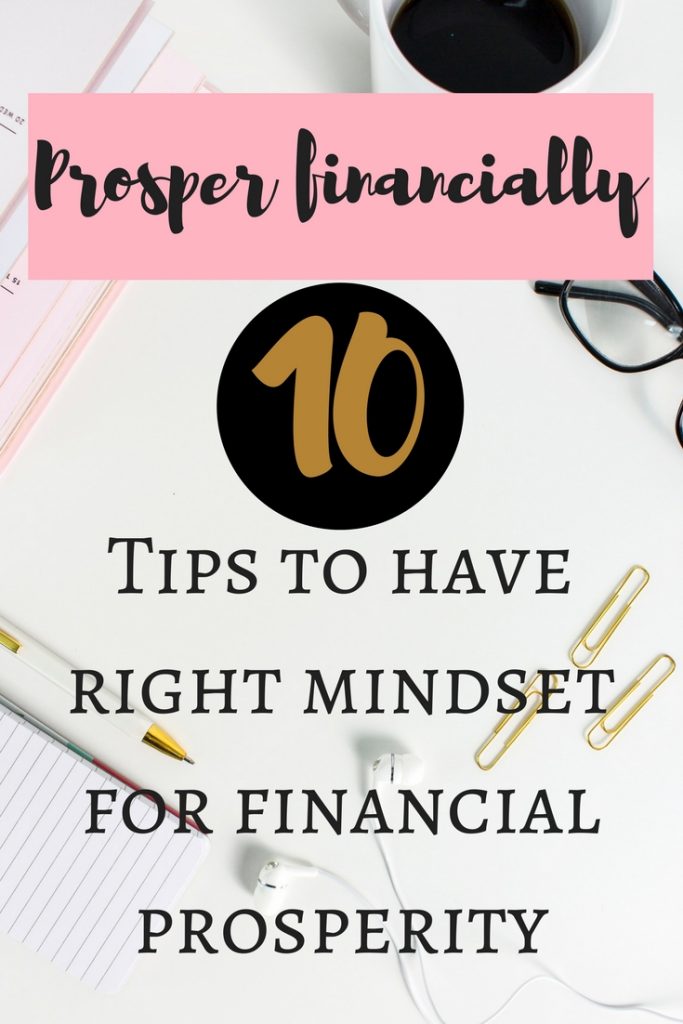 Right mindset for success is important. We all want to be financially free. What does it means? Everybody has his/her own definition of financial freedom. For me it is having enough to survive free financial stress. We all want to be stress free.
Money cannot bring happiness but it can provide other means for you to be happy. Working harder, smarter, and saving every penny which you can, is the key to financial prosperity. Money is not bad in any terms. But money should not be the most important aspect of the life. It is the key to so many things which could enrich your life.
Suppose you have enough money for yourself and now you are able to help your struggling friend or a relative. Or someone who is unable to earn money. It will really gives you immense pleasure. More than spending on the things which you really don't want,  but just buy anyway.
For financial prosperity, you need to have right mindset. When you think of abundance, it makes you feel good and steer your thoughts towards the abundant money.
Have a belief in your self
Have confidence in your capabilities that you can prosper financially. New opportunities come into our lives when we are ready and open to grab them. Believe and start working towards your goals for prosperity. This is the most important step which you cannot skip while walking on the path towards prosperity.
Have good relation with money
How you think about money depends a lot on what you have heard at home about money. Some spiritual people say that money is the root of  all evil. It is the money due to which  there is suffering. Actually it is the mindset we have about the money. If we always think about money only and don't care about anything else then it is a problem.
But having a good relationship with money changes the way we think about the money.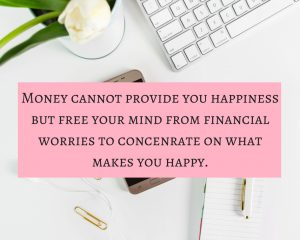 Have a generous mind set
Always think about helping someone if you have certain amount of money. When you think about being generous to somebody in need, it will impact your thought pattern. You will start feeling abundance in your life. It is not some big buzzword but  the money in your thoughts becomes tangible. You will start thinking about  a job change, starting a new business or a side hustle.
Be grateful for whatever you have
When you feel grateful for whatever you have , you makes a room for more. Don't have scarcity thoughts. It will be impossible to prosper without being grateful for what you have. Even if you feel like you don't have enough for a comfortable life.
Being grateful for the your present belongings help to cultivate more.  Write down in your journal for whatever you feel grateful.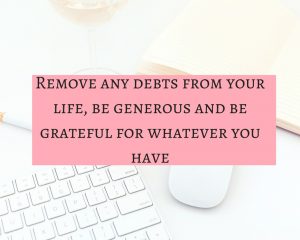 Remove  any debts from your life
Having any debts will definitely cause you to be little stressful. So if you want to be happy and want financial freedom and prosperity, clear all kind of debts. It means not only financial debt but also any guilt or baggage which you carry in your subconscious.
Having any kind of stress from your past actions will not let you move forward in any area. I mean emotional as well as financial.
Give what you have to someone in need
If someone comes to you for help, don't hesitate. Help him/her out the way you can. If you need to give money or some other basic necessities, just give it. Pay attention towards abundance and prosperity. This person came to you because he/she felt that you will have enough to help him/her out of this.
Help people and say thanks that the person came to you for help. It is a sign that you are prospering and have more than your needs.
Give attention to your words
Always use positive words that brings joy. I mean instead of using the phrases like 'I don't have', I don't like', use  the phrases for what you want or like. Negative words attract negative energy. So if you want positive things to happen in life, please pay attention to your words.
Feel the prosperity already in your life
It is difficult to feel and concentrate on affluence and prosperity when it is not already in life. But this is what you need to teach your mind. When you feel  prosperity  in your day to day life, you will attract right kind of people in your life. Prosperity is contagious. It will come in small bundles, and then will eventually increase.The only thing is you need to acknowledge its presence.
Your subconscious will feel the happiness and you will attract money and other fulfilling objects which you want in life. This is self tested. I have seen happiness coming into my life in small bundles when I changes my thoughts towards prosperity.And I am on the way of feeling more happy and fulfilling financially.
Earn save and invest wisely
It is important to work hard and smarter than ever. And more than that is important to put your  money to work in right way for you. Save a set amount of money from your earnings, invest a certain amount of money and let it grow. Saving money is  an art .You can save money on any income even if you are on a low income.
Saving and investing correctly will help you prosper financially and when you will see results of growing money, it will prompt you to work towards more fulfilling life.
Start living as if you earn less
When you live below your means , you get to know the difference between your expenditure and your needs. There will be surplus money to save for your his way. And you will start growing your savings which eventually will help you in having prosperity thoughts.
Now you have more money in your  emergency account, which will help you in living stress free. And as it is said, stress free life always bring happiness , health and prosperity, financial fulfillment.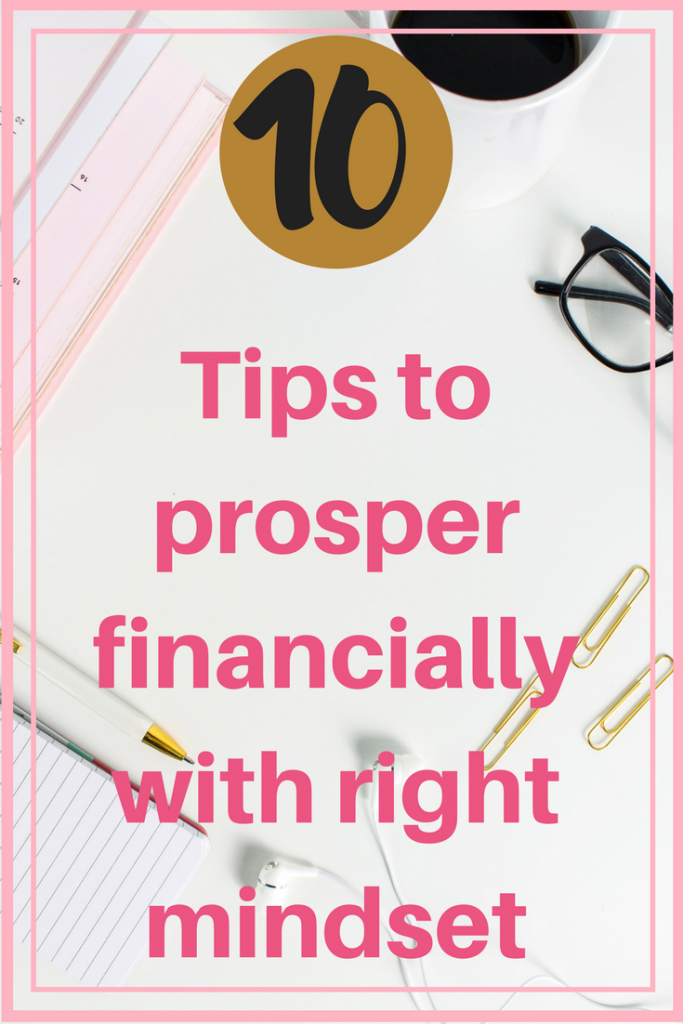 Conclusion
We all have some kind of our set actions for attracting prosperity in life. What do you think is required to have a  mindset to prosper financially. Please let me know in comments. I am waiting.