So you are here to learn how to make money on Pinterest without a blog. Am I right? A few months back, I  myself had no idea about Pinterest marketing, making money with Pinterest and affiliate marketing. But I can answer now,  yes my friend, it is possible to make money on Pinterest without a blog with correct strategies.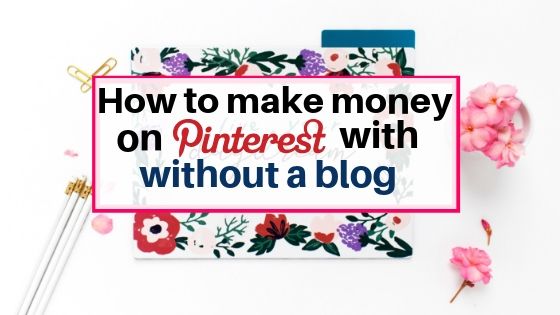 ⭐Though it is highly recommended to start a blog to earn money on Pinterest.
It becomes easy to explain how to use the particular product in blog posts and it becomes easy for people to connect to the product you are promoting with a blog.
⭐If you want to start a blog, I highly recommend  Siteground for hosting as it is fast and very secure. It will let you start your blog on very low price with amazing customer care service and great speed. You can start a blog with less money than you will pay for a dress? .
I have created an email course on how to start a blog you can sign up for it here
Steps required to make money on Pinterest without a blog
Let us assume that you don't have a blog and want to make money on Pinterest. Pinterest has allowed affiliate marketing and allows direct affiliate pins. Few initial steps you need to take before starting pinning are
You need to have a business Pinterest account
Create at least 10 boards
Create Pins using Canva ( free software you can use to create stellar pins)
Fill boards with pins ( at least 10 pins/board)
⭐If you are new to Pinterest and finding it bit difficult to find traction to your account, and If you really want to set up an optimised Pinterest account from day one,   I highly recommend Pinterest Ninja course from Megan Johnson of Lovefamilyhealth.com. You will love this course and will be able to set the right foundation for your Pinterest account. This course teaches you basic as well as deeper technical things about Pinterest. 
You can make money from Pinterest in two ways.
Links to your blog post and selling from there
Direct links to seller's site
WHAT IS AFFILIATE MARKETING 
Affiliate marketing is when you sell the product from other people or companies and get paid a commission. It all boils down to the value you provide to people.
? If you are passionate about affiliate marketing, I highly recommend learning it from Michelle's Makingsenseofaffiliatemarketing : This book is a real gem if you want to make money with affiliate marketing. It is really great if you want to start from scratch with affiliate marketing. I made my first affiliate sale after reading this book.
Niches that do very well for Affiliate marketing on Pinterest are
Fashion: This is really a good niche for affiliate marketing and it is really
Parenting:  everything related to kids and parenting,
Food and recipes: If your account is related to food and recipes, you can have a good chance of being successful at affiliate pins.
Digital products
DIY and crafts products: These type of products are really great for affiliate marketing on Pinterest
These are few of the niches that do really well on Pinterest for affiliate marketing. You can try with any kind of products on Pinterest.
Affiliate Programs
You can sign up with the following programs Affiliate programs and find products to promote on Pinterest
Shareasale
Flexoffers
Impact radius
iGain
How you can make on Pinterest
1. Grow your audience
It is really important to have an engaged audience that trusts what you promote. You don't need a huge amount of people for making money from affiliate marketing but a sizeable amount of engaged audience will do wonders for your efforts. When you know your readers, you can promote the right products which your readers need. Keeping the needs of your audience in mind,  promote only those products which your readers will get value from. The first step is
Design beautiful vertical pins and 
Pin to relevant boards
When you have a blog, it is easy to have engaged audience but if you don't have a blog then this becomes a bit tricky. And Pinterest does not circulate Affiliate link pins as much as the one's from blog URLs. But when you have engaged followers/ audience on Pinterest, it becomes a bit easy for your pins to get noticed. In simple words, when you start pinning other people's content, they will notice your pins. And if they are looking for some specific product and your pin takes them to that product, you have the chance of making a sale.
2. Pin other people's content
Yes, you need to be pinning a lot from other people's content if you want to be successful at affiliate marketing on Pinterest. Because when you pin other people's content, your affiliate pins get noticed. This is when the magic happens.
Suppose you have boards related to kids toys. You pin a lot about kids dresses. And then you find very beautiful kids dress and pinned an affiliate pin on your board. From there, one of your audience noticed the pin and made a purchase from your link. You will get the commission for the sale made through your affiliate link.
Sounds interesting right. I normally write about money matters and I had made a few sales from digital products. It is not as easy and simple but it works. Give it a try and you can definitely make some money.
3. Keyword-rich description
This one is must if you want to succeed on Pinterest. Same as Google, when you have a keyword-rich description on your pins, your pins will be shown in the smart feed. Keyword-rich descriptions are magic for the success of your pins. Writing a compelling description is required for your pins to come up in the smart feed.
As of now, Pinterest has shortened the descriptions on pins,  so you need to be concise and crisp. Also, make that description personal. In a few words, write how this particular product has helped you. It will help in making a connection with the audience.
5. Design pins for products
There are two options
Use the images provided by the vendor
Design pins by using your own images
Both of the strategies work. You can use the images provided by the vendor or you can use your own image. You just have to check what works for the product you are offering. Test your pins and see which ones are performing better for your given products. And check if the creator or the owner of the product allows you to use your own images. Use multiple pins for a single product.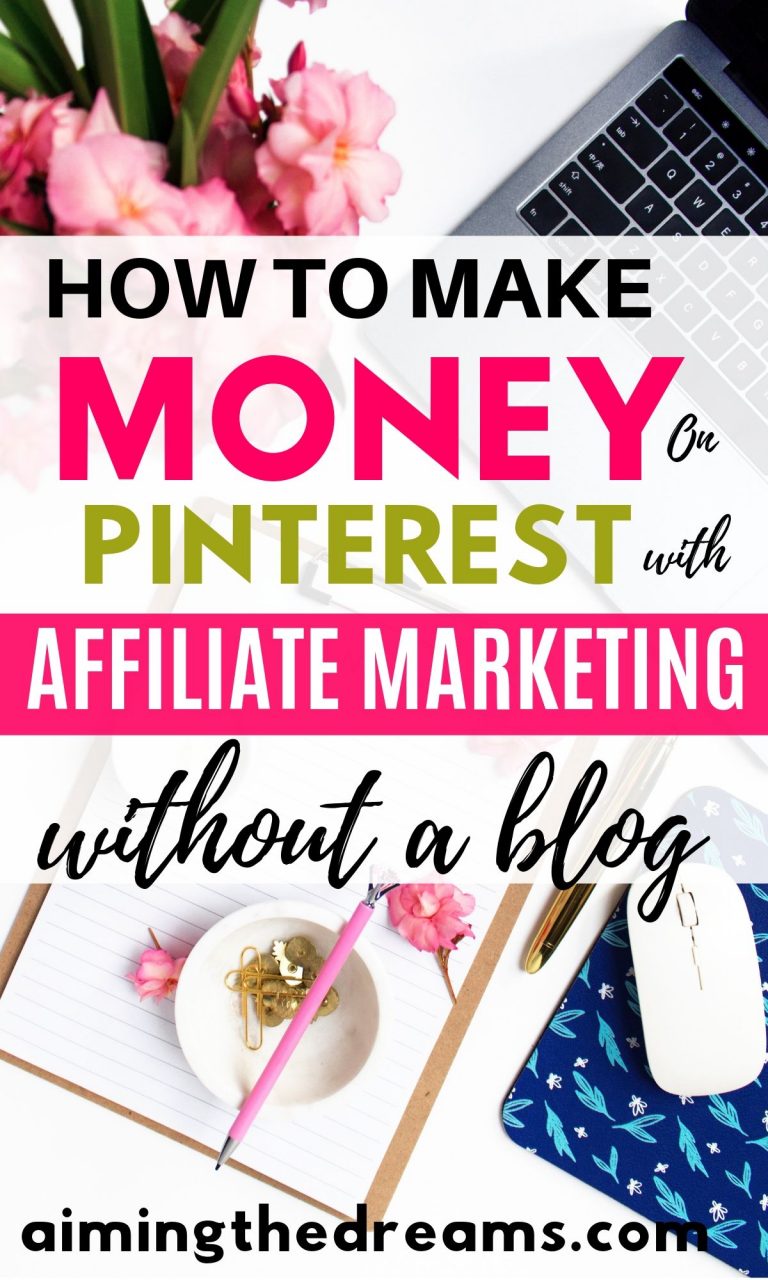 Linking to an affiliate link
When you upload your pin to Pinterest, you need to add your affiliate link at the place where you have to add a URL.
Link directly to your affiliate links
Just be authentic and promote products you are familiar with and which you feel would add value. Never promote the products for the sake of money.
7. Create boards specifically for your affiliate pins
Always have boards specifically designed for affiliate pins. If you find that your affiliate product did not match your existing boards, you can add those pins to your affiliate board. This will not affect your boards and you will be able to pin all of the products.
8. Add to relevant boards
This is really an important thing to do. Because you may be tempted to add your pins to all of your boards. Please never do it as it will not give required information to Pinterest and your pins will not come up in the smart feed. To be successful at affiliate marketing, your pins should come up in the smart feed.
This way, even those people will see your pins who are not your followers.
⭐ Become a Pinterest Strategist
There is a question: Can you get paid to Pin? The answer is yes. If you have nailed the Pinterest and love to spend a good amount of time on it, you can start working as a Pinterest strategist or Pinterest Virtual Assistant. You can offer so many services to make money while pinning.
Pinterest is amazing for blog traffic and businesses but some people are too busy to spend time pinning on Pinterest. Here comes the need of Pinterest strategist/ Pinterest Virtual Assistant. As a Pinterest assistant, you will create accounts, Pin for your clients, and do other services required smooth working of your account.
If you want to learn how to become a Pinterest VA, you can learn it here with this course.
?I hope these tips will definitely help you in your Pinterest presence. If you are a business owner and looking to grow your Pinterest account, I am a Pinterest Strategist and can help you in growing your Pinterest presence. You can check my page here.
If you want more information on Pinterest, you can read these posts
Five most effective ways to increase blog traffic with Pinterest
How to make money on Pinterest as a beginner
Have you had a chance to join my community? If no, join here
Love
Gursimrat