I am so excited to share a few of my Pinterest milestones this month. I struggled in 2019 with around 300-500k Pinterest views. But as soon as I hit 2020, things started getting better. I am happy with all the strategies and changes I made to the pin designs. They really made an impact on my Pinterest account.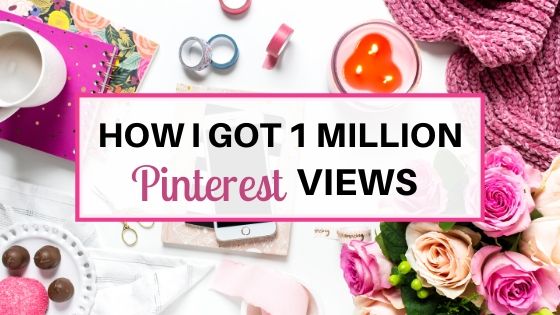 Disclaimer: This post contains affiliate links which means I may get compensated if you buy through my link. For full disclosure, read here
Along with Pinterest views, my blog traffic is also increasing. Pinterest can be huge in your blog success. It can be your number one traffic source as a new blogger. Many bloggers are getting good organic traffic and making money.
If you want to grow your blog or business but don't have enough time to spend on Pinterest, I am here to help you Send me a message and I will get to you.
Why I love Pinterest views
Some say that Pinterest views don't matter but I always see good blog traffic after an increase in Pinterest traffic and views may change any time (increase or decrease). Also, I am sharing this because
Reaching 1 million Pinterest views was a milestone for me to judge my own capabilities
It will help you believe in my strategies and tips
I offer Pinterest management services and it makes my abilities about Pinterest Management believable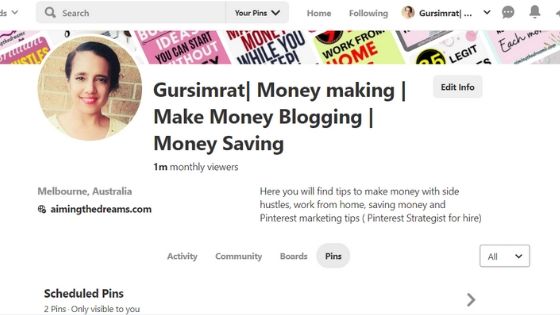 Here, I will share what I did to get 1 million Pinterest views.
1. Changed profile
I changed a few things in my profile. First one is my name and the keywords in profile bio. I omitted unnecessary words and added the keywords related to my niche.
2. Optimized my Board descriptions
We all know that SEO is crucial not only for google but for Pinterest also. Keeping this in mind, I changed my board descriptions and used more keywords in the board description.
You cannot predict Pinterest but try to do whatever you can to optimize your Pinterest account. One more thing I have noticed is that whenever I implement new strategies, I see a growth in terms of Pinterest views and consequently, my blog views.
3. Creating a new board every few weeks
Pinterest loves when you spend time on the actual platform. Pinning directly from the website, uploading new pins to Pinterest, pinning content from other pinners, pinning your own pins manually. I may be wrong on this one, but creating a new board every few weeks keep your account fresh and of course, you get new boards to pin your account.
Now, I always make sure to add keywords in the board descriptions. I am a bit lazy and sometimes just create a board and don't add any descriptions and then forget about it. But now I make sure each board has an optimised description.
4. I focussed on Pinterest SEO
As we all know, Pinterest is a visual search engine, so SEO plays an important role in the success of your Pinterest account. As it is suggested by many Pinterest Marketers, use Pinterest itself to find keywords to rank on Pinterest.
There are two ways to find Pinterest keywords.
1. Searching in the search bar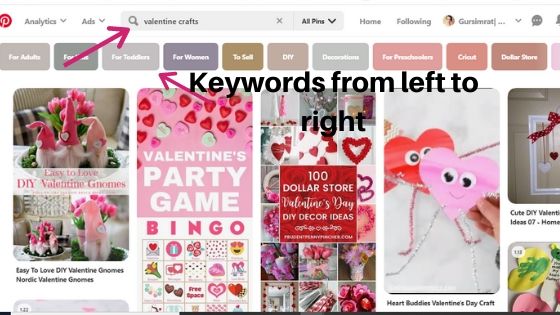 For this, type the keyword in the search bar, you will see a few suggestions by Pinterest. After this click on the one and see what Pinterest suggests. You will see a few suggestions again. You can use these keywords along with the one you typed in the search bar. Use these keywords from left to right. The most popular ones are on left.
2. By looking at Search volume
This one is not told so frequently. If you think that Pinterest is a search engine, you should know the Pinterest search volume for the keywords pertaining to your niche. You cannot find this anywhere else but in the Pinterest itself. How you can find the search volume for your keywords? Check here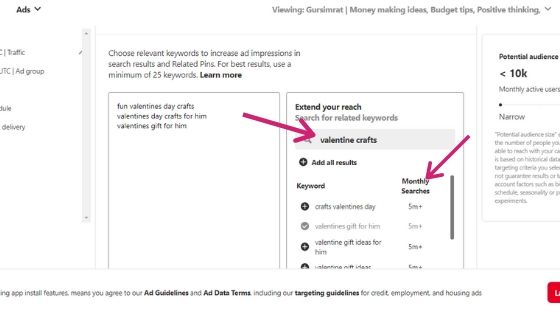 Got to Pinterest adds.
Click on create add and scroll down until you see continue.
After clicking on continue, scroll down and you will see a section keywords. Type your keyword in the search bar. You will see many suggestions along with their search volume.
Click on the + and these will be added to the left box.
You don't have to do anything after this. Just copy and paste those keywords somewhere to use into your pin descriptions.
5. Changing Pin design helped my Pinterest views
The pin design is one of the very important aspects of getting traffic. I always change my pin designs and most of the time see a huge spike in traffic. But this time, the traffic is constant and is not from one viral pin. Most of my pins are growing and getting huge engagements.
Even the best pinning strategy and SEO cannot make an impact if pin design is not eye-catching. Correct size along with compelling text makes a viral pin.
I always created pins in the ratio 2:3, but this time I created in the ratio of 1:2. Most of my new pin sizes are 600:1200 pixels or 1000:2000.
I still make a few of my pins in the Pinterest recommended size of 600:900.
This is the pin I made in a ratio of 1:2 and size 600:1200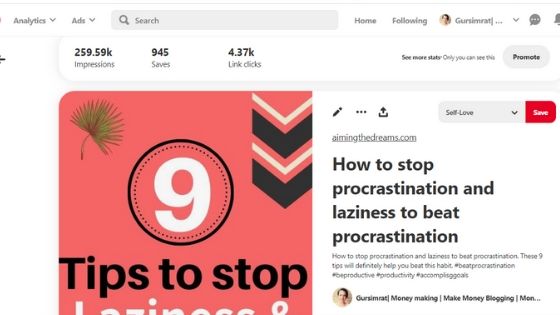 This pin is in the ratio 2:3 with a size of 600:900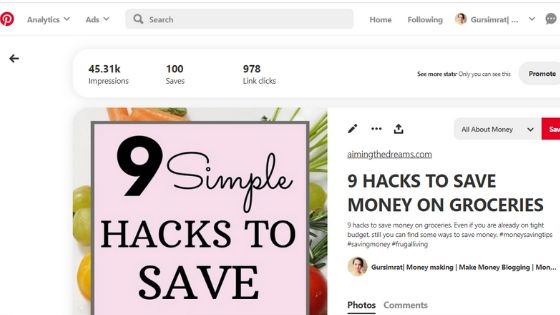 Both of these pins have different sizes but got good page views. My post about procrastination is always number one in page views. It is the most successful post until now. Whenever I create a new pin for this post, it goes viral. So, if you have some old posts which you haven't touched for a long time, create few new pins for those and give them a new life.
As of now, Pinterest love new content and new pins for old posts are considered new content. There is no meaning in circulating old pins again and again.
6. Left many group boards
I was in too many group boards and it was difficult to manage them. Most of them were having were a low engagement rate. So I thought it to be best to leave them o archive them. Remember I said that I am paying attention to Pinterest SEO and it is one of the important aspects of my pinning strategy.
Group boards may have a negative impact on your SEO and pinning efforts.
I left the group boards which were
Not optimised for Pinterest SEO
Pinners were not sharing pins so had a lower engagement rate
Generic group boards where pins from all or most of the niches were allowed. Now I stay with the group boards which are niche-specific
Now I only pin to group boards which are niche-specific and have good engagement rate.
7. Create new pins almost every day
I spend some time on the platform uploading new pins. Also, I try to repin content from other pinners in my niche. I know creating new pins every day is a difficult task but it is paying off.
I don't know if I am good at design but I am sure I can create good(if not great) pin graphics with bold text. And one more thing which I think to be effective is not sticking to the same design. Whenever I change the pin design, I see some traffic spike.
Changing some elements in design gives a fresh look. If you are looking for some new designs, you can have a look at these templates. These can help you in creating new pin graphics.
8. Using Tailwind more effectively
Now, I always pin more content with the tailwind. If you are not using Tailwind, sign up here and start using it. It is free for scheduling the first 100 pins. If you like pinning with Tailwind, you can upgrade your account anytime.
Tailwind tribes are amazing for getting the pins out there. I am using Tailwind tribes more effectively now. It has helped me in curating content for my account as well as sharing my own pins. Whenever I add a pin to tribes, it gets shared by other pinners. There is less chance of spam pins in tribes as most of the members are bloggers themselves.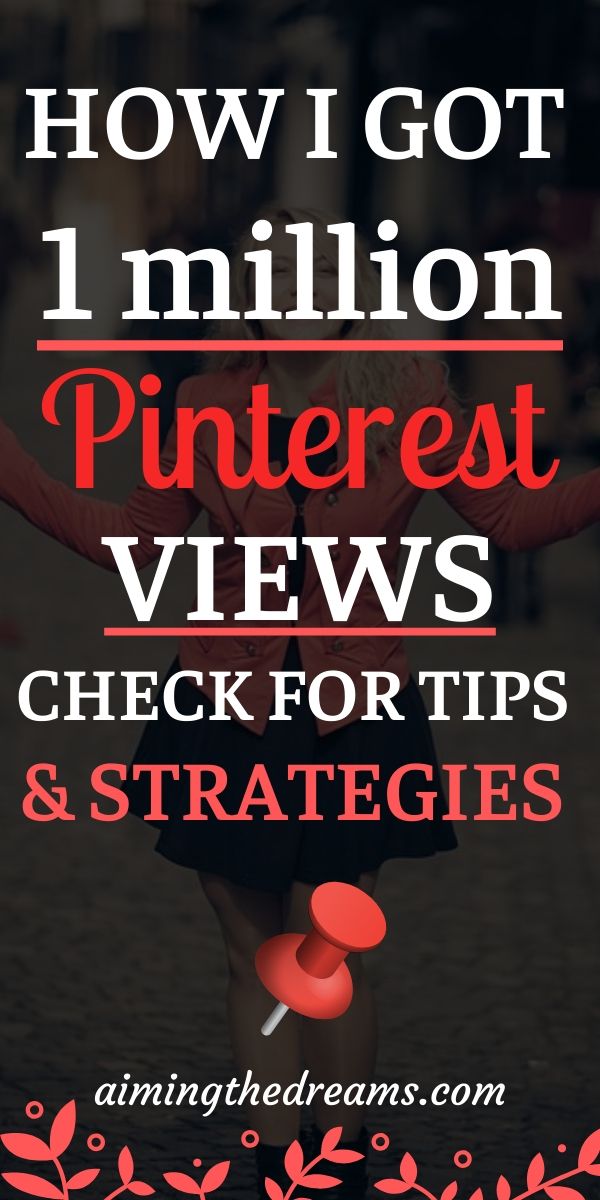 These are the strategies that help me in getting 1 million views on Pinterest. This may change ut as of now, I am very happy after reaching this milestone.
If you are a blogger or business owner and want to have the same results with your Pinterest account, click here and send me a message. I will get to you soon.
Alternatively, you can join my free community to increase blog traffic and Pinterest views
?Do you like my post? Don't forget to follow me on Pinterest?