We are in tough times. This is not a normal time when we can say to turn to your families and friends during tough times. There is one word we are listening to everywhere, Social distancing.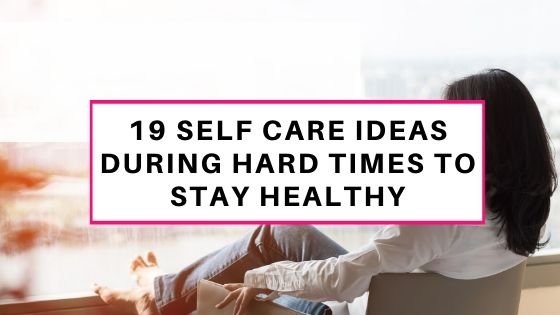 Do you think that this is the right word? No as a society we cannot distance ourselves from each other but yes, physical distancing is necessary. Most of us are stating inside which feels great for some days and then it starts making you overwhelming.
But in these super stressful times, we need a good self-care routine, to combat all the stress around us. If you are staying home, think this to be the opportunity to rewind yourself and do all those activities which don't fit normally into your busy routines.
How to organise your thoughts to be more productive
9 positive habits that will change your life forever
Self-Care ideas during hard times to stay healthy
1. Talk to your family or friends
We are isolated in our homes but talking to your loved ones can make a huge difference. Instead of meeting face to face, talking face to face can make you feel as if you are talking to someone
2. Listen to your favourite music
Music is therapeutic and it let you forget your day to day worries. I know this is the time to worry and be anxious because that is the way we will be following the strict guidelines from our governments t combat the spread of infections.
Staying home for longer times is difficult and we stay glued to social media platforms.
Instead of glueing to news and social media updates, put on some music and forget all the worries. Listen to all those songs you want to but don't get time to enjoy.
3. Eat well-balanced food
During this hard time, it is best to eat a well-balanced diet. I know how our buying capacities are affected by the current situation, even then it is best to cook healthy and simple meals.
Use whatever ingredients you have in your home as you cannot go to the market every now and then. Youtube is a great place to learn tasty and simple recipes.
4. Exercise daily inside your home
Yoga is best when you want to exercise inside. If you have a treadmill or other instruments, use them. You can check some videos on youtube and talk to your healthcare provider if you have some problem.
Some fitness trainers give virtual classes, you can take help from those or you can try those activities which can be done at home.
5. Meditation
Do you love the idea of meditation but never got the time? This is the time to start meditating. Researches have shown that mindful meditation may help in improving the immune system.
Meditation calms down your mind and helps in stress management.
6. Stop listening to social media and news
Nowadays, everybody is talking about only one thing and that is Coronavirus. It is a pandemic and we should be worried about the situation, but sometimes we need a break from all this.
We know that we have to stay inside or follow social distancing rules and go out only when necessary. At home, we are always glued to social media and news to know what is happening outside.
Take a break and stop listening to news and social media feeds. Engage yourself in other activities which will have a positive impact on your life. These activities will help you cope with this stressful situation.
7. Check out online communities
Most of the time, it is recommended to go out and meet your loved ones, but this is a different scenario. We cannot go out and meet people. Don't worry, you can still reach out to people through online communities.
There are Facebook groups which are created by like-minded people. You can join them and share your views and ask questions. People in those groups are very active and love to answer questions and support each other.
8. Declutter your house and organise everything
If you have not decluttered your home for a long time, do it now. Clean your cupboards and other storage areas and organise everything properly. While decluttering, you will find many lost items. Get rid of them or start using them.
Moreover, you can change the settings of your house. It will give you a new look to your house. I just exchanged the rugs of my living areas. We have a mid-size house and two living areas. I just changed the rugs and it has totally changed the look of my house. It feels so better now.
9. Read motivational books
This is the need of time. To stay on top of your mental health, read the motivational book daily. Read a few chapters of a book daily and try to implement those things.
My favourites are:
The Monk Who Sold His Ferrari by Robin Sharma
The Alchemist by Paulo Coelho
What to say when you talk to yourself by Shad Helmstetter
These are a few of my favourites and I am reading the third one to stay positive.
10. Watch Classic movies
We are at home and sometimes we have nothing to do. Why not watch the old classics which we liked when we were in college? I love those movies which I have watched with my friends. It brings old memories alive.
You can find many movies online free or with paid subscriptions.
11. Pay gratitude every day.
This one is therapeutic. Paying gratitude for the blessings in life keep you motivated to fight all the anxieties and overwhelms of life.
If you are feeling low and your negative thinking is spiralling into a never-ending dark tunnel, start paying gratitude for the blessings in your life. We always take some things taken for granted, like our own health, relationships, family, job, house or anything.
Just feel happy about everything you have in your life. I am sure you will be able to find many things to feel happy about.
12. Take up any crafty hobby
You may have a crafty hobby which you cannot take up due to time restrictions. This is the time to start your crafts. I know you cannot go for shopping items for crafts, you can make use of anything you have in your house.
13. Say positive affirmations Daily
Staying positive along with following all the guidelines can be the best thing you can do. Positive affirmations play an important role in changing your thinking along with other actions.
I am at safe space
I am healthy and happy
I am able to confront whatever comes in life
I am at inner peace with myself and I am able to stay calm in every situation
This will pass and we will again be living a normal life
I hope these will help you go through all the stress and uncertainty the world is facing.
14. Sleep well
I know when you are working normal hours, sometimes it is difficult to sleep for 7-8 hours. Why not take this opportunity to sleep for the required time. Moreover, you can go for power naps in the afternoon.
If you are working from home, it will charge you and energise you to accomplish complex tasks.
15. Start Journaling
Journaling is a great way to take the stress off your mind. Start writing a journal and you will start feeling better. As humans, we tend to hold so many emotions whether positive or negative.
Most of the time, it is difficult to get rid of negativity and self-doubting beliefs. Dumping your thoughts on paper helps you by clearing your mind of unnecessary worries and thoughts. You will be better equipped to make the right decision and solve the problem.
16. Pamper yourself as you are the most important person
Pamper yourself at home. Try giving a head massage with coconut oil or any oil of your choice. You will feel awesome. It can be done by gently circulating your figures in your hairs.
Going to professionals is not possible at this time so DIY?. Deep breathe for 5 minutes with closed eyes. Massage your arms, legs and feet with oil gently. Believe me, you will feel great. These are the things I do myself.
17. Play chess or any indoor game
If you have other family members at home, start playing chess with them. Or play any other game with your kids or family members. I play hide and seek with my daughter.
18. Keep a morning beauty routine
Don't get lazy with your morning beauty routine. It is necessary even if you are staying home. Make it more relaxed and take time to do those things which otherwise you do in a hurry.
19. Light some candles at home
Light some scented candles. The scent of aromatherapy candles and the gentle flicker of light can help you stay calm. Try lighting some scented candles and change the ambience of your house.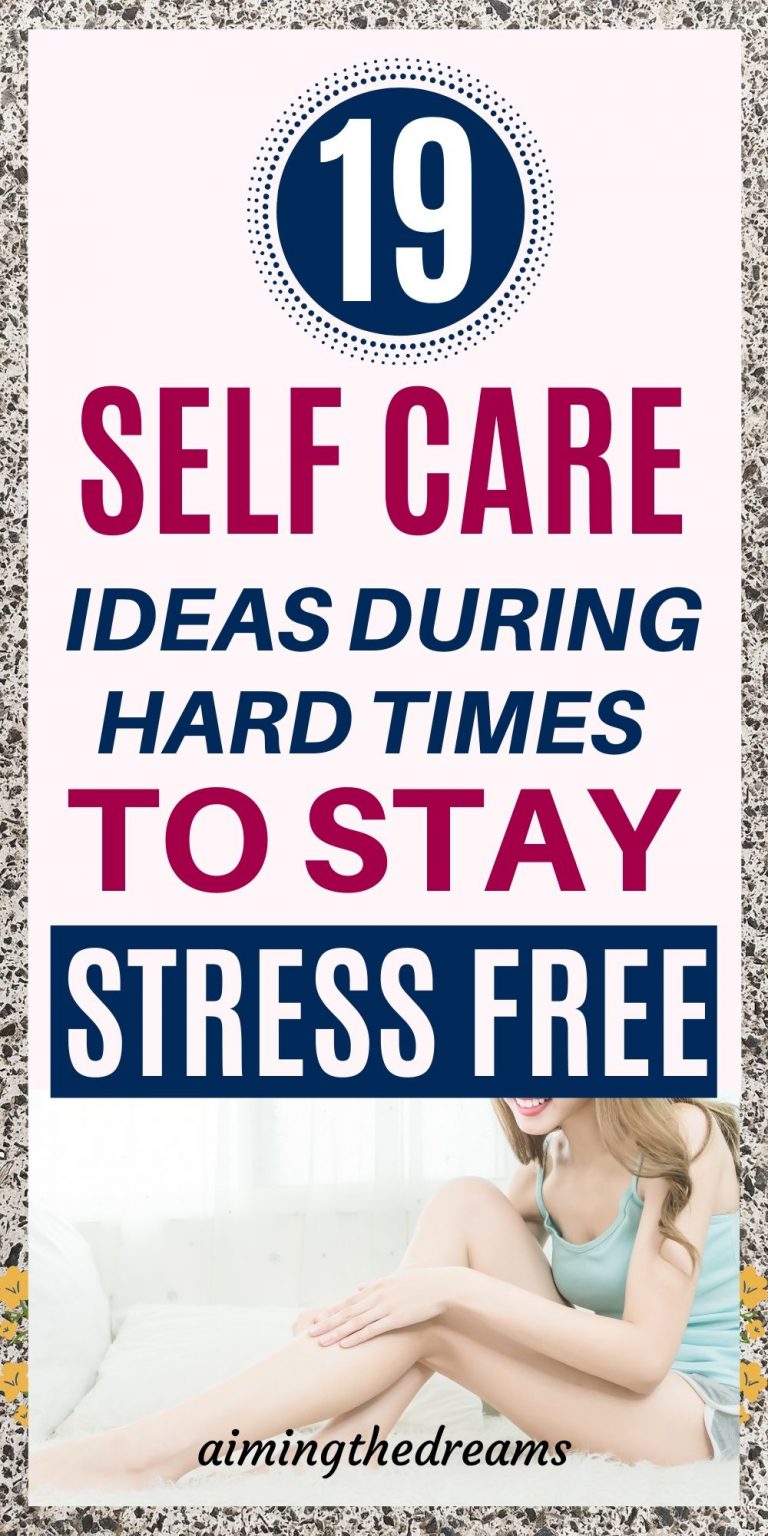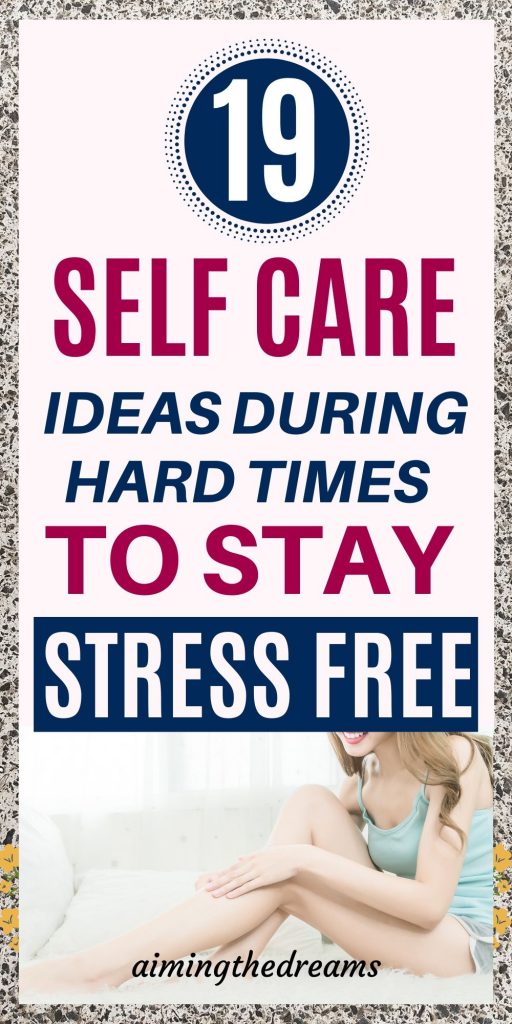 I hope these self-care ideas will help you find some respite from the overwhelm we are facing nowadays.
?Do you like my post? Don't forget to follow me on Pinterest ?