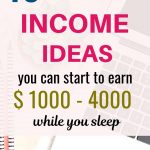 Passive income ideas have made it possible to have more than one income stream. Rich people are known to have at least seven income streams.
It doesn't mean they do seven jobs. They build passive income streams which don't need them to be present on their work 24*7 to earn money.
In this digital world, the internet has made it possible to have more than one income stream for ordinary people like us.
Disclaimer: This post contains affiliate links which means I may get compensated if you sign up through my link and make a purchase. For full disclosure, read this.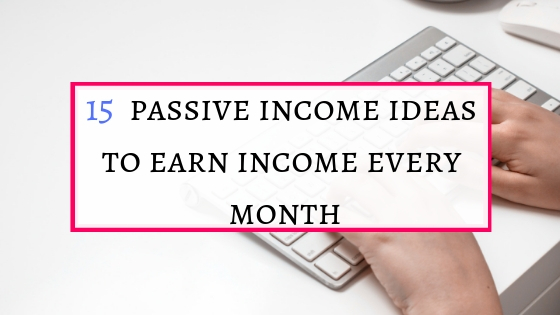 ---
Survey companies to earn good money
If you are keen on making some extra money then survey sites give you that opportunity to earn some money. You can use that cash to invest some money or build your emergency fund.
---
There are many passive income ideas that can be started to earn money.
Those who are doing extraordinary work of having more than one income stream are the one who paid attention to these ideas of passive income.
1. Start traditional investing
Traditional investing in stocks and dividends need you to have some knowledge. It is a good idea to start learning first and then invest your money.
Investing creates income streams for you. There are many ways like using online Robo advisors like betterment.
If you are a total newbie to investing, start with an account with Raiz. It is a micro-investing app but gives you an idea and helps you get into the habit of investing.
The income you will get from dividend stocks will definitely be passive income. Even Warren Buffet says that he loves dividend stocks. Because dividend stocks pay you regularly in cash to your bank account. But you need to be careful with the stocks you choose. You may take advantage of compounding with the dividend stocks.
Before jumping into this world of dividend stocks, educate yourself. It is believed to be risk-averse but it is not. Like all other investments, dividend stocks also have some risk associated with them.
To learn some points before investing in dividend, read this
Introduction to dividend stocks 
2. Create an online course/eBook
This is really an online world. You shop online, you make friends online and reading/learning online is also common these days. If you have some skill which you can teach others and make them learn the skill to earn money, It will be beneficial to both of you.
eCourses can be made into ebooks or videos. Either way, it can be used. And you can use a platform like Teachable or Udemy for your course.
If you are good at writing and can write something valuable, start writing an ebook. It is not easy and very simple to write a book and make money though. You have to do really smart marketing your self so that you will be able to sell your ebook/course.
3. Start a blog
If you want to create a passive income stream, creating a blog is really the best thing for you. It will take some time to make money and it is hard as well as smart work.
Starting a blog is pretty easy and is inexpensive. But making it successful to the point where you reap rewards is a bit difficult. Initially, you have to put lot of efforts into it.
Because millions of blogs are created every day,  you need to stand out from those blogs. But with the right strategy to accomplish blog goals can lead you towards success.
4. Invest in REIT
REIT is a company that manage, operate or finance an income-producing real estate. Real estate investment trusts are historically considered to be the best asset class. The rent generated from the properties is distributed to the shareholders.
REIT works similar to the mutual fund and trade and allows the individual investor to invest in the big project and own a part of real estate which otherwise is difficult
5. Rent out a room in your house
This one is my favourite too. We have a four-bedroom house and we always have a spare room to rent. We normally rent this room for students. This income is totally passive. If you are not renting, it means you are just leaving the money on the table.
You can use Airbnb to rent out your rooms. This is really a good idea to rent your flat/ house or bedroom for people who visit your place for a few days.
One of my friends always rent on Airbnb whenever she visits her family overseas. This let her earn the money she spends on her own travel. A very good strategy to make some money.
6. Open a high yield account
Normally we like to save money in the day-to-day savings account. But returns from these accounts are very low. Look for high yielding bank accounts which can give you a good yield.
There are many options to invest your money and let money do the hard work for you but if you are more risk-averse then go for a high yielding savings account.
Find out best saving account for you
7. Affiliate marketing
Affiliate marketing is a form of marketing where you earn money for referring people to the product and you get paid the commission for the referral.
There are many forms of affiliate marketing. You can become an affiliate for a product/course or you can create an affiliate program for your own products or courses. Either way, you will earn money.
8. Buy an already existing online business
To start a business from scratch is difficult and time-consuming. If you have an idea to start your own business, go for it. But if you want to save time and hard work which goes in starting something from scratch, buy an already existing business.
As I am in Australia, this site works well in Australia to buy or sell a business.
9.  Earn cashback with cashback sites
Earning cashback from cashback sites is also a source of passive income. You are not doing anything for this but you are earning money. The feeling which you get after getting cashback from cashback sites is amazing. It is one form of passive income.
You will not become rich but adding some money to your income stream doesn't hurt.
We all love shopping and also love the idea of getting money after shopping. If you are like me, then start shopping with cashback sites.
Sign up with Ebates and earn cashback on shopping
10. Be a social media influencer
This can be a bit tricky but if you are an outgoing person and don't mind sharing a bit of your personal life then it can become a passive income stream for you.
You have to be consistent in your efforts and build a huge followers list. Be engaging and ready to solve a problem. Because we ll like to follow and trust people who are genuine and like to help us solve our problems.
If you feel like you are a person with these qualities and have a large following, leverage social media platforms for your profit and start earning money. You can use both affiliate marketing and advertisement to earn income.
11. Get paid for your leisure time and internet searching
You will not get rich but starting somewhere is the key. If you like to watch videos and then have some kind of.
Swagbucks pay you to watch videos, doing an internet search and for surveys. You can also add swag button on your mobile or desktop and earn for watching videos.
12. Build a CD ladder
Bond and  CD laddering involves little to no risk. Though the returns are no that high but risk is almost negligible. Certificates of deposits mature at different times of the year so when they mature, you take the money and hence the profits.
13. Real estate crowdfunding
Peerstreet is the third largest real estate crowdfunding site. It works as a middleman between the investor and the borrower. It is a peer to peer lending for real estate projects.
Here the borrowers are considered to be the professional investors who purchase the property, fix it up ad sell at a higher price.
Peerstreet claims to have a lower fee than other similar platforms. Also, it gives you good returns. If you feel comfortable then you can invest in this crowdfunding platform and start earning passive income. It is said to give you around 5-6 % return on your money invested.
14. Create a lead generation website
Lead generation websites are for sending referrals to the companies which pay you for generating the lead. Because the leads which come to your site are the warm leads and when you would refer them to the professionals, you will get paid.
15. Monetise your creative skills
Everybody is creative in their own style. Some people are very good at graphic designing while others are good at crafts. Leverage your skills to build your passive income stream. This will help you in building your side business and side income.
Photography: If you are good at photography then you can use your skills to have a side business or license your photos.
Product designing: If you love to design some product then use Zazzle or Cafepress to put those designs and graphics on any product and make money.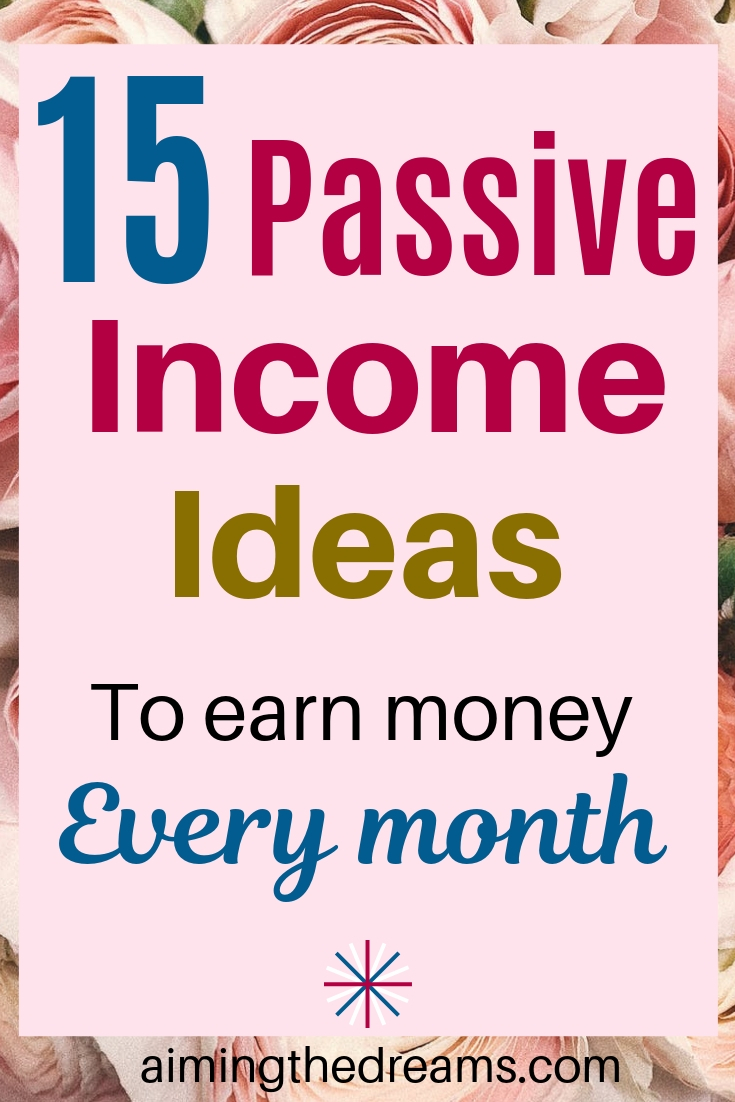 If you want to earn more to save more, you can start side hustles. Side income can help you grow your savings.  Here are a few ideas that can help you in finding some ideas for your side hustle.
♠  If you want free gift cards  : Sign up with Swagbucks . There are many ways to earn points from Swagbucks to get get reward points and get free points.

♠ If you want instant money : Sign up with Ebates and get your bonus of $10  which you can access after making some purchase. There are many stores from which you can earn cashback on shopping.
♦ If you are interested in finding out more about earning money online or side hustles, you will love these posts
13 genuine online jobs that pay  $20/hr or more
11 online business ideas you can start with no money
15 passive income ideas to make money while sleeping
18 home based business ideas to start with very low budget
Related
A tiny request
Please share this post if you like it. It may help me as well as somebody else in finding passive income ideas.
Love
Gursimrat