I am sharing my first bogging income report just to share it with someone. Blogging is addictive and affiliate marketing is the boon for bloggers. Many people are earning really good money from their blogs with a mix of affiliate marketing, adds, selling their courses and services. It is a good idea to have multiple sources to generate income. But I never earned much even though I am having this blog for more than 1.5 years.
Disclaimer: This post contains affiliate links which means I will get some commission if you purchase through my link. For full disclosure, read here.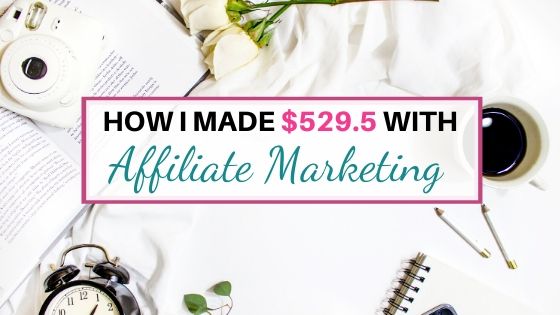 I was on vacation for 5 weeks and this was my first month of generating some income through affiliate marketing. This is the beauty of online work. You get paid even if you are not working.
You will agree with me on this one that if you really want to earn money from your blog, you should have some kind of strategy for this to work. There are always a million things to do to run a blog.
This was my first month of generating affiliate income from my blog. And one more thing is I am ready to cash my first check from my advertising company.
During the past almost 2 years, I have thought of quitting blogging so many times, but blog income reports from other bloggers motivate me to continue my blogging journey. My income report is not so impressive but it is so valuable to me. Making money from a blog seems possible now.
I am writing this income report only because I wanted to share it with someone. My friends or family don't understand what blogging is. But I know, my fellow bloggers and people who love to read blogs can understand what blogging is.  They can understand my excitement of earning money from a blog ( even if it is a small amount).
There are good as well as not so good things about blogging. I mean I am blogging for almost 1 year and 8 months but I am not having any income from my blog. My Pinterest stats are sometimes very impressive and sometimes after they drop and my heart sinks. This is how it is but like anything else, you just have to go on doing your efforts and improving on your way.
My first  blogging income report and how this became possible with affiliate marketing
How I started my blog
Before 2 years, I had no idea what blogging is. I learned basic things by reading blogs. Then I started a blog about food and recipes. But it was difficult for me to create recipes and take photos with a few months old baby. Then I thought of some other topic and money-saving came into my mind. This is what I love and love to talk about.
Instead of buying all the latest clothes and digital products, I prefer to keep all that money in my saving account.
You know what I thought, that I will be the only person writing about making and saving money. I came to know about the competition only after I started writing.
If you want to start a blog, you can start it with a very low price with Siteground Hosting. Siteground is very reliable, and safe hosting for new bloggers.
Siteground : If you want to start a blog at high speed and very reliable, and secure hosting then Siteground is for you. You can start a blog at a low price on Siteground. They provide you with amazing 24/7 customer service to keep your blog. You will need a very good customer service while starting as you may get stuck anywhere. It is considered the most secure and a high speed ( google loves high-speed sites) hosting service. If you get stuck during installation, you can immediately get help from their awesome customer service to resolve the issue.
Sign up through my link and get your blog running.
I am still learning a lot of things about blogging and feel like my posts are everywhere and I need to categorize them properly. But there are always so many things to do that these things are getting neglected. I am not working but I have a 2.5 years old daughter who wants my total attention all the time.
Courses that helped me earn my first blogging income
1. Courses that helped me in building my blog
I have taken several courses that helped me build my blog. Though I am nowhere near earning a full-time income and I am not sure about my next month income. But it still excites me that I made some money when I was not working at all which is difficult to do in a traditional job.
Believe me, making money from a blog is not easy. Some bloggers say that they earned money in a few months of starting their blog, but for me, it took a lot of time. Though I earned money online from other ways, this is the first time I made some money from my blog.
The most important thing in the success of any blog is the traffic. Getting Google traffic is not easy and it takes a lot of hard work and proper SEO. When I started my blog, I had no idea about what is SEO,  but after starting my blog, I came to know about SEO and other technical things. Still, my blog is not optimized but I have taken a course and learning the technical side of SEO.
I am getting all of my traffic to my blog from Pinterest. I feel comfortable using Pinterest and some of my Pins go viral which brings me good amount of traffic. Learning Pinterest from these courses has been a game-changer for me. These are really good for learning ins and outs of Pinterest.
This course is very beginner-friendly and it helps in setting up an optimized  Pinterest account from day one. Megan from Lovefamilyhealth explains ins and outs of Pinterest very well. If you are thinking of converting your personal account to business account, go with this course. You will not regret your investment.
Check this course here if you want to start your Pinterest account set for success.
This is really a great course if you are thinking of exploding your Pinterest traffic. Go with this one and reap the benefits of Pinterest organic traffic. Using Pinterest is another thing but getting good traffic from Pinterest is totally another game. You need to work on every aspect of Pinterest whether it is SEO, creating new content aka pins, pinning, scheduling and lot more.
This course has been a game-changer for my Pinterest efforts and uplifted my traffic to nearly 9000- 20,000 pageviews a month.
If you are interested in increasing your page views through Pinterest, I highly recommend this course.
Now comes the affiliate marketing.
Affiliate Marketing
Affiliate marketing is selling and promoting third party products and getting a commission for the sales. It is not like adding links and hoping for the money to come ( I did that and it didn't work). My efforts started bearing fruits only after taking this course.
I could make some affiliate income only after implementing strategies learned from this course. This is a highly recommended course if you are a beginner or intermediate affiliate marketer.
I have taken several courses which I have not finished yet so could not recommend them. But some of the courses have really helped me to take action towards whatever I have achieved.
Michelle's Making Sense Of Affiliate Marketing teaches everything she has implemented in earning $50,000 per month in affiliate marketing.
Michelle's course was an eye-opener for me. I still need to work on so many things and I think too much before adding any affiliate links. The reason is I don't want to feel too salesy. My money ambitions from my blog are not very high.( I need to set some high money goals)
But adding affiliate links to my existing posts did wonder for me. And I hope to improve my efforts from here.
If you are a new blogger and want to earn money from your blog, don't wait like me, rather jump on the bandwagon and make efforts for earning money from your blog.
Learn Affiliate Marketing from this course and grow your revenue from the beginning.
Affiliate income
As I said in it is my affiliate income after almost more than 1.5 years. I earned 442 AUD from courses  I recommend. This month I also have accumulated more than $100 in my ad revenue. It is there for some days but I am not cashing it which I don't know why.
You can say that this is my first month of Blogging income. I am super happy and excited at the same time. And hope to maintain this in the future.
Proofread Anywhere: $ 298   
Vindale search: $50
Pinterest Ninja course : 14:40
362.4 which came out be 529.5 AUD appx
This is the gross income. I haven't included any expenses because the expenses were already there whether I make a profit or not. So at the moment, I am only including profits.
I don't feel like I am very organized as far as blogging is concerned. I need to improve on so many areas as far as blogging is concerned. I am optimistic of growth in coming time.
Let us see how far can I go in the coming months.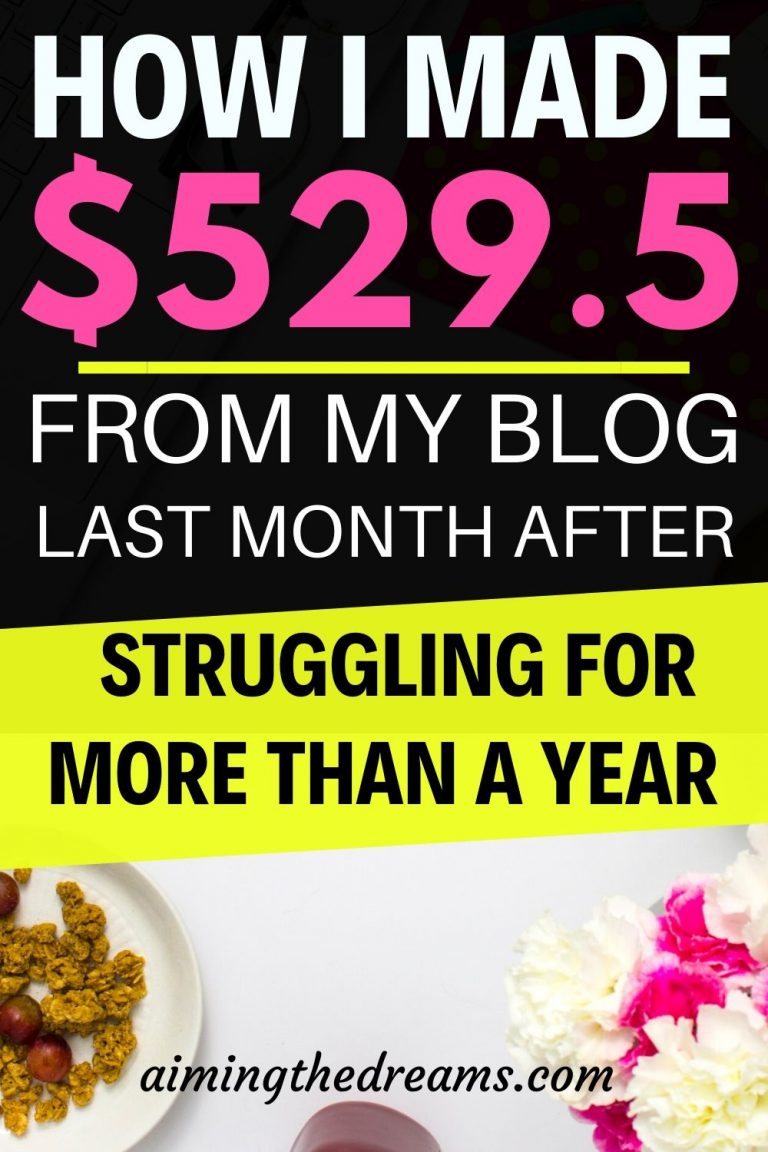 Top 5 ways to make money from home
1. How to make $40,000/yr correcting  grammatical errors and spelling mistakes
2. 25 companies that pay to make money proofreading with no experience
3. 9 side jobs that can earn you $50,000/yr
If you want to start a profitable blog, sign up my free blogging course here
[mailerlite_form form_id=12]
A tiny request
Please share this if you like the ideas in this post. I will be thankful to you and will appreciate this.
⭐Do you like my post, don't forget to follow me here on Pinterest
Love
Gursimrat