Not all blogs are created equal and not all topics have equal earning potential. Some of the blog topics are great for earning good money and have really good earning potential.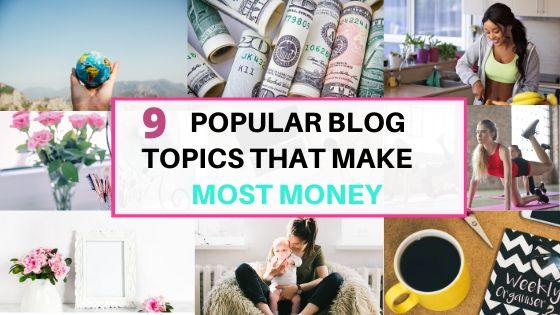 Disclosure: This post contains affiliate links which means I will get a commission if you buy through my link. For full disclosure, read here
It is a matter of fact that some blogs are very successful. What these bloggers have done is created blogs in good niches and worked hard to make them successful.
What is the blog niche?
A blog niche is a blog topic you want to blog about. Your blog topic can be anything you want to write and are knowledgable about. Also, it should feel interesting to you.
How to choose blog topics that make the most money
You can write on any topic but if nobody comes to read your blog then there is no reason to write for money. Yes, if you just want to write to chronicle your own journey, go for it. You will still benefit from your blog. It will not be a monetary benefit, but it will help you evolve into someone better.
How To Cose Your Blogging Niche
There are many ways to start writing a blog. Some of the blogs are very tight niched but some of them are very broad but successful. It all depends on finding a pain point of the audience and then solving the problem. Think about this way, whenever we wanted an answer to a question, we always type a question on google. And try to find out the answer.
W like to read those blog posts that solve our problem. So the main point of writing a post is giving an answer to a question. As a blogger, you can write whatever you want and you can even maintain a blog purely as a hobby.
What you need to start a blog
Some knowledge about the topic you want to write about.
It should solve a problem people are facing
People should be searching for the topic
If you are the only person interested in the topic, then the topic will not bring you any traffic. Traffic is the most important aspect of a successful blog.
Same if people are interested in the topic but you are not interested in the topic, then there would be a problem. If you are interested in starting a blog the right way, I have created an email blog course to start a blog. You can sign up to learn how to start a professional blog.
Sign up with Bluehost and get your domain name free for one year. Also, you will get free SSL certificate.
The form you have selected does not exist.
1. Food
Food is a great topic to write about. Though there is lit of competition, still you can write as there are many subcategories you can explore. If you are passionate about cooking, you can start a food blog about recipes. You can make a sub-niche out of that.
Vegan recipes
Vegetarian recipes
Recipes for diabetic people
Healthy food
Food good for weight loss
The choices are endless. You just need to think about the right topic for yourself. Only sharing about recipes on your bog will make it difficult to make money. But having a blog o food and solving a specific problem will help you become successful.
Successful blogs in this niche are
Pinch of yum: Pinch of Yum is a recipe blog full of simple and healthy recipes. This blog was started as an experiment and now is a full-time business.
Cookieandkate.com: Kathryn is the blogger behind this successful food blog. She started her blogging journey in 2010.
2. Momy and parenting
This is a huge niche and many people are really successful at this. New babies are born every second or every minute and these little precious lives and mothers need equal attention.
There are many loggers who become successful within one year of starting their blogs. Parenting niche is very popular on Pinterest also. Examples of successful blogs in this niche are
Momyonpurpose: It is a blog written by Carly. She writes everything about parenting, kids and many more topics in this niche. She says that she makes around $10,000 monthly form her blog.
Momshealth.co: This blog is written by lovely Anastasia. This is a new blog but growing at high speed. On this blog, she shares tips about postpartum health, healthy recipes and many more. She also writes about the keto diet.
3. Personal finance
This is a very broad niche. Blogs in this niche write about how to make money, frugal living, save money, and investing. Even the niche how to make money blogging fall into this niche. There are many blogs making a good amount of money. You just need to be willing to put some work into your blog.
Some of the blogs in this niche are
Carapalmer.com: As the name suggests, this blog is written by Cara Palmer who also writes about money-saving, money-making and investing
4. Health and fitness
Health and fitness is a great niche for starting a blog. If you have some idea about health and weight loss you can create a thriving blog on this topic. Though it can be tricky to monetise this type of bog.
Weight loss can be a great niche if you find the right audience and monetise it the right way. In 2016, 1.9 billion adults over the age of 18 years were overweight. Most of the overweight people want to achieve a healthy weight.
I have friends who are overweight and always talk about losing weight but somehow their discussion ends with what to eat now?
Successful blogs
Avocadu.com: This blog is all about eating healthy and weight loss.
5. Lifestyle
Lifestyle niche is a very broad niche. There are a lot of sub-niches contained in this huge niche. You can write about a lot of things like fashion, cooking, travel and much more in the same blog. But you should have a target audience to whom you will write. Your audience should be interested in what you write and the sub-niches should not be too broad.
It is possible to write about beauty tips and cooking on the same blog but you cannot write about cars and beauty tips on the same blog. It is possible to make money with lifestyle blogs if you make correct choices with the categories on your blog.
ExampleAkanksharedhu.com: Here Akanksha writes about travel, fashion and lifestyle.
6. Beauty and skincare
Beauty and skincare are the blog niches which are popular and can make you a lot of money if done right. You can promote products that help to solve your own beauty problems. These include curing your acne problems, smoothe skin and people love to spend money to look beautiful.
Self-care is great and it gives you a good sense of happiness.
Hudabeauty.com : Huda beauty is all about beauty and skincare. They have got their own brand of beauty products.
Faceflwlessskin.com : This is another beauty blog where you can find tips about beautiful skin.
7. Self development niche
Self development is a huge niche or topic which includes a lot of specific areas of life. Topics included in self development are:
Procrastination
Self confidence
Public speaking
Changing habits
Improving self esteem
Coming out of your fears and anxiety
There are many self-improvement areas in which people need help to improve. A blog can be built around any niche out of these. Target a specific niche and you will find readers for your blog.
Zenhabits.com: In this blog, Leo Babauta writes about changing habits and minimalism.
Developinggoodhabits.com: This blog is written by Steve "S.J." Scott. He shares ideas and strategies to develop good habits in life.
8. Organising and productivity
With so many distractions around us, being organised and productive is the need of this time. If you are a productivity nerd, you can teach this skill to others and can make money on the way. If you get good traffic to your blog, you can monetise with adds or you can sell your own printables.
Either way, you can make money and grow your business. An example is Sarah Titus.
Ourhappyhive.com: Melissa is the face behind this blog. She writes about being efficient and organised in her blog.
9. Travel
This list will be incomplete without the mention of travel niche. It is highly competitive but if you can tell your unique story about travel then you can break through this niche. It will be easy to monetise this niche with affiliate marketing.
Successful blogs in this niche are
Backpackingmatt.com: This blog is written by Matt Kyhnn, who is having expertise in Newzealand backpacking.
Adventurouskate.com: Kate McCulley is the blogger behind this blog who share tips for females who want to travel solo.
Bemytravelmuse.com: This is another blog dedicated to solo female travelling and earning money along the way.
There are many more logging niches you can start a blog. These are considered to be easy to make money.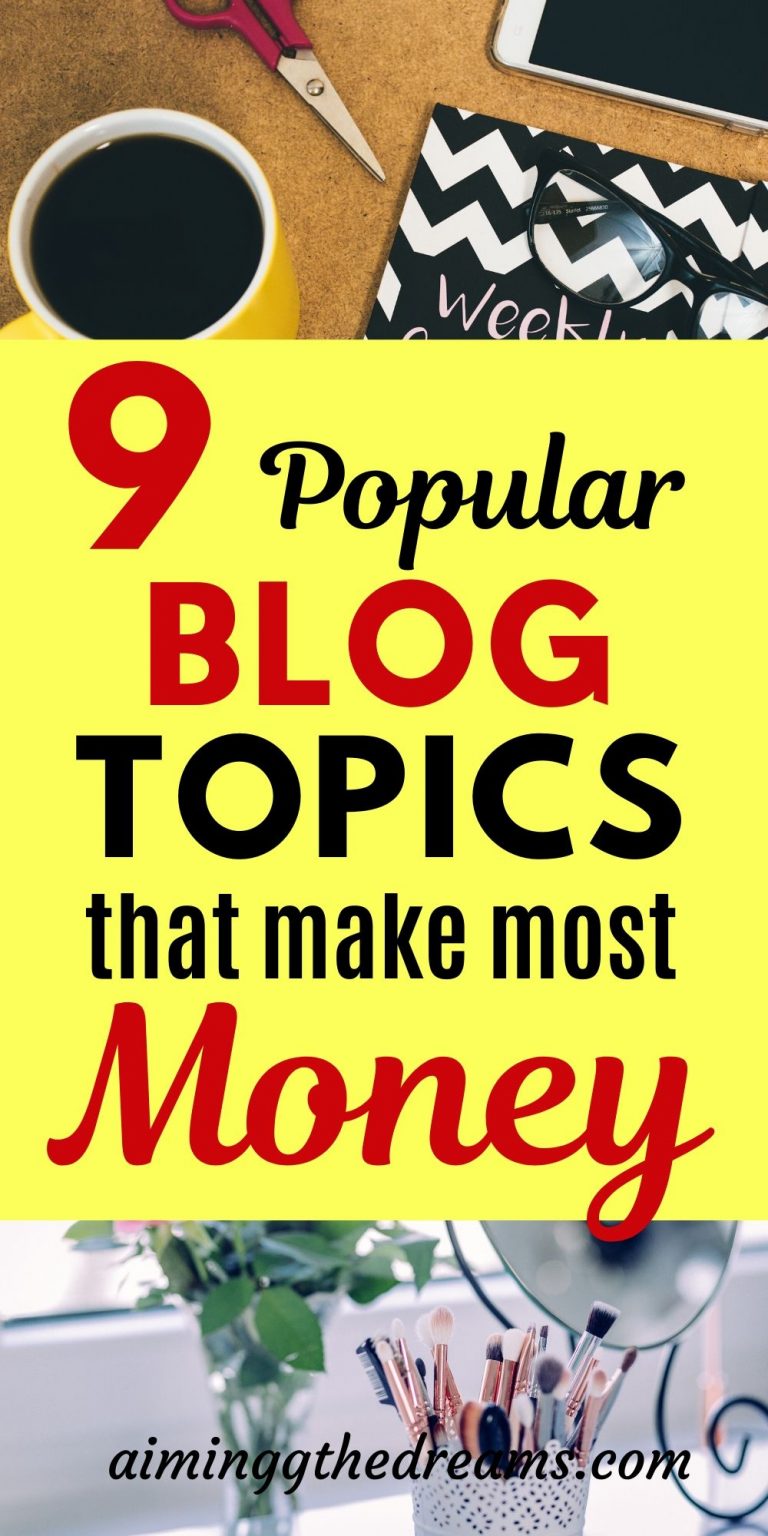 If you are interested in starting a blog and want to start a blog from scratch, you can check my email blogging course.
The form you have selected does not exist.
Creating a blog is not difficult but making it a money-making blog is a bit difficult. It takes time. Though some people have got successful with their blogs easily, some like me take longer to make any money. Chose one of out of these blog topics that make the most money and you will have a better chance.
Resources you will need to start a blog
✔ Hosting: You can start a blog for totally free but it is always advisable to start a blog on paid hosting. Bluehost is the best hosting for new bloggers. It is fast, reliable, has got top-notch customer service.
Sign up with Bluehost and get your blog running
To increase blog traffic: Initially, you can start getting traffic from Pinterest. To create an optimised Pinterest account from day one, you can learn from the following courses
✔ Pinterest Ninja Course: This s the one curse you will need to build your Pinterest account and get running. Megan from lovefamilyhealth teaches all the basic steps as well as how to grow your account in her course. This course is a combination of videos and text.
Check yourself how this course can help you in building your Pinterest Presence.
✔ Manual pinning simplified: Manual pinning is good when you are starting pout as you will not be ready to spend a lot of money on blogging. Schedulers can feel expensive in the beginning.
Check out this ebook by Dish it out social