Making a little extra cash is always a welcomed addition to any budget. And, thanks to our ever-growing technological advances, there are now more ways than ever to do just that! So look no further if you're looking for legitimate, highest-paying apps to make money.
This blog post will discuss several apps that allow you to earn extra cash in your spare time.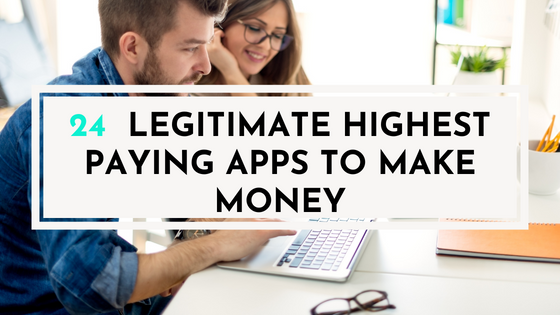 Disclaimer: This post contains affiliate links, meaning if you sign up through my link, I may get compensated with no extra cost. For full disclosure, read here.
Legitimate Highest Paying Apps to Make Money
Do you want to earn some extra cash? Of course, you do! We all could use a little (or a lot) of extra money. Luckily, thanks to technology, there are now more ways than ever to make money.
There are many different Legitimate, Highest Paying Apps to Make Money, but I have compiled a list of what we believe to be the best. Whether you want to make money by watching videos or shopping, there is an app. Let us find out the best apps to earn some money.
Swagbucks is one of the oldest high-paying apps around. It was launched in California in 2008 and has become one of the trusted companies to pay rewards.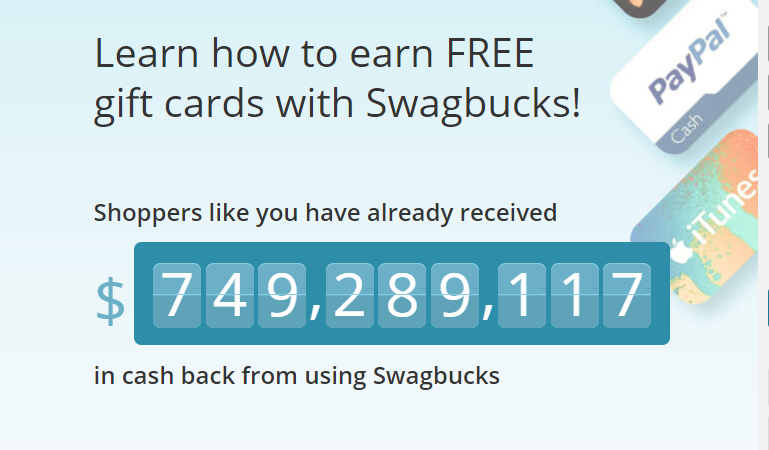 Their website states that they have paid around $749 million to the members who do simple tasks to earn money.
It has got 4.3 stars on Trustpilot, so you can be assured that it is a legitimate app.
You can get points for shopping, watching videos, answering survey questions, and searching the web. But, of course, you can always do surveys and other little tasks while commuting to work or cooking. I do most of my tasks while waiting for something to cook.
You can redeem your points in Amazon or Walmart coupons or get Paypal money. You should have $25 in your account to get the money. That means you should have collected 2500 points to get the cash.
You can start collecting your money now by signing up with Swagbucks.
Inbox Dollars is another very reputed company in the realm of Survey companies. But, again, it is easy to redeem points and get money.
It is a legitimate company and has got 4.3 out of 5 stars on trust piolet with 18000 reviews. It is considered one of the highest-paying apps out there.
You can earn points by doing tasks like:
Filling out questionnaires
You will be provided with surveys and tasks according to the demography. Nowadays, companies want to know about the products and other consumer preferences through surveys and pay the survey takers.
Watching videos
You will get the videos to watch in your emails. You have to watch those videos and sometimes give your opinions about the questions at the end.
Read emails to get paid.
You can also get paid to read emails that you will get in your inbox. You have to open the email and read to earn some money.
You can quickly redeem the money once you have collected $15 in your account.
These tasks don't pay massive amounts but add up in the end.
You can get $5 now by creating an account with the Inbox Dollars. Next, you must fill out the answers to 30 questions which will take around 10 minutes. This step is essential as it will help you get the surveys and other tasks that you can do easily.
Sign up with Inbox Dollars here to get $5 immediately. ( US residents)
Sign up with Daily rewards here to get $5 (Canadian residents)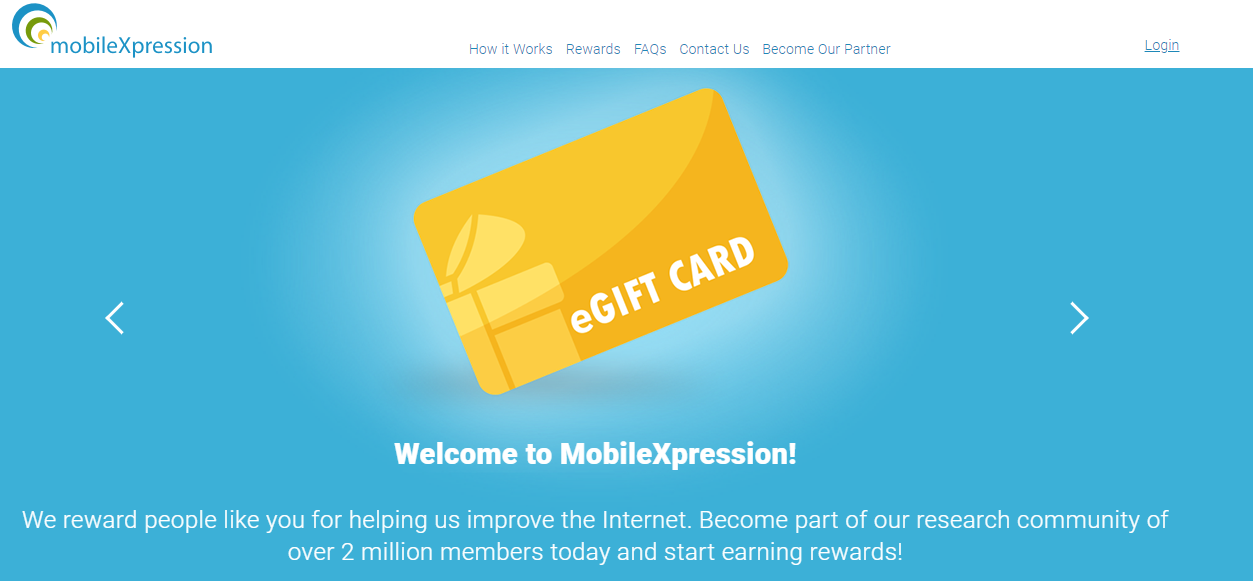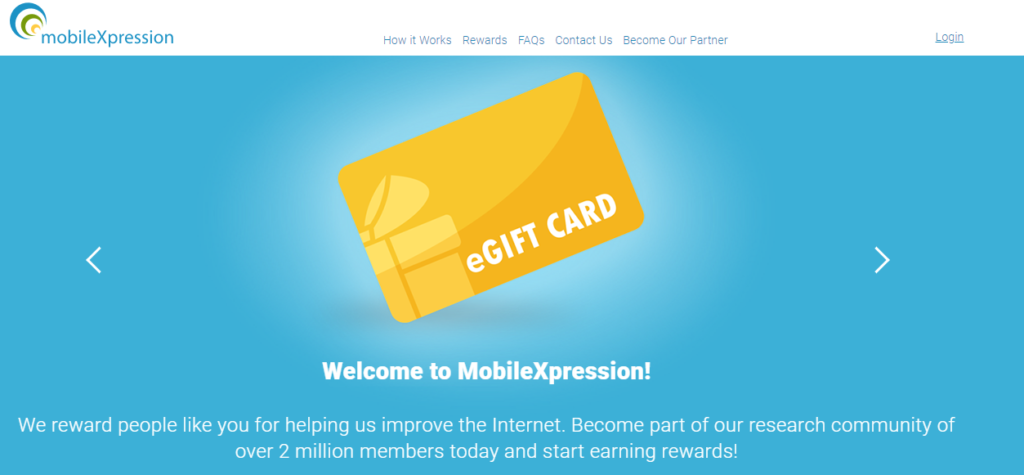 Mobile expression is a market research panel to research and understands consumers' internet trends and behavior.
This one is like a set-it-and-forget app that collects your internet usage data, time of calls, messages, links, and websites you open.
The application is free to use, and you don't have to do anything. Some iPhone users experience a little delay in connecting to the internet, but the internet speed is not affected.
Android users said that there was no impact on their usage of phones.
Mobile expression pays you for installing the app on your phone and occasionally for the surveys.
You can sign up with Mobile expression here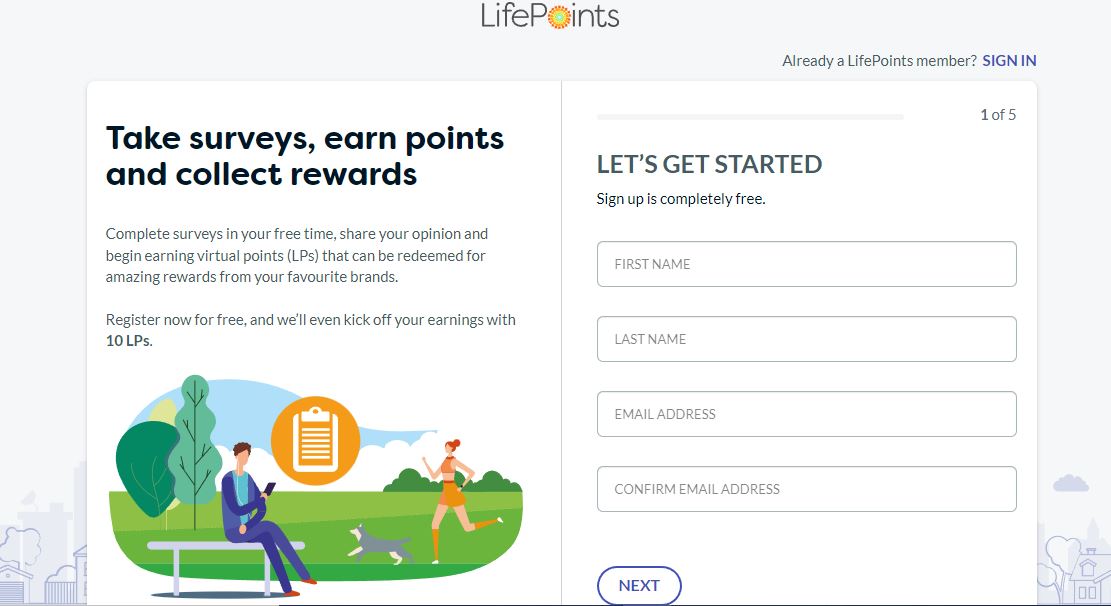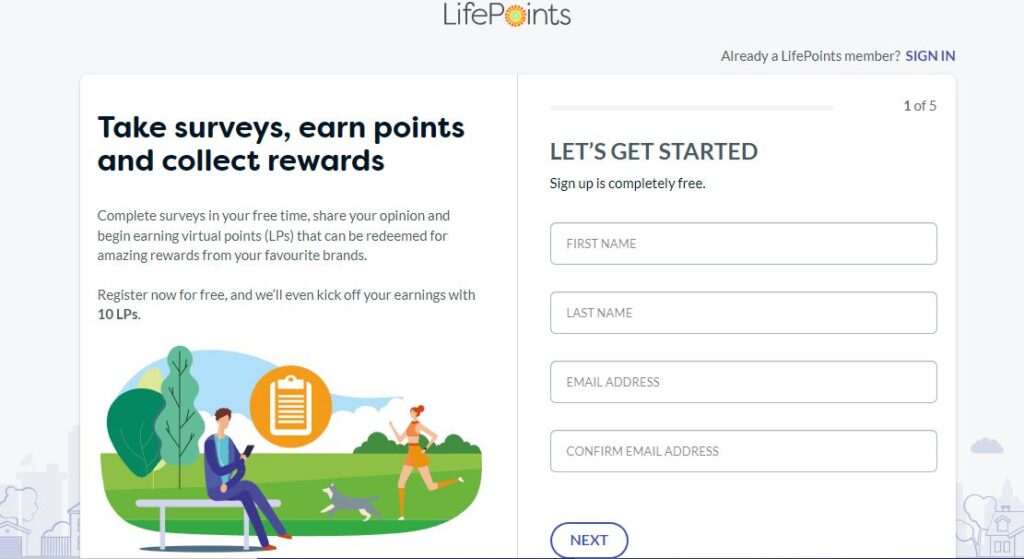 Lifepoints is another app that pays people from around the world to take surveys.
It is a legitimate survey company with good reviews on Trustpilot.
You can redeem the points through gift cards or when you have accumulated 550 points or $5.
You can save the cash through Paypal when you have $10 in your Lifepoints account.
You can sign up with Lifepoints here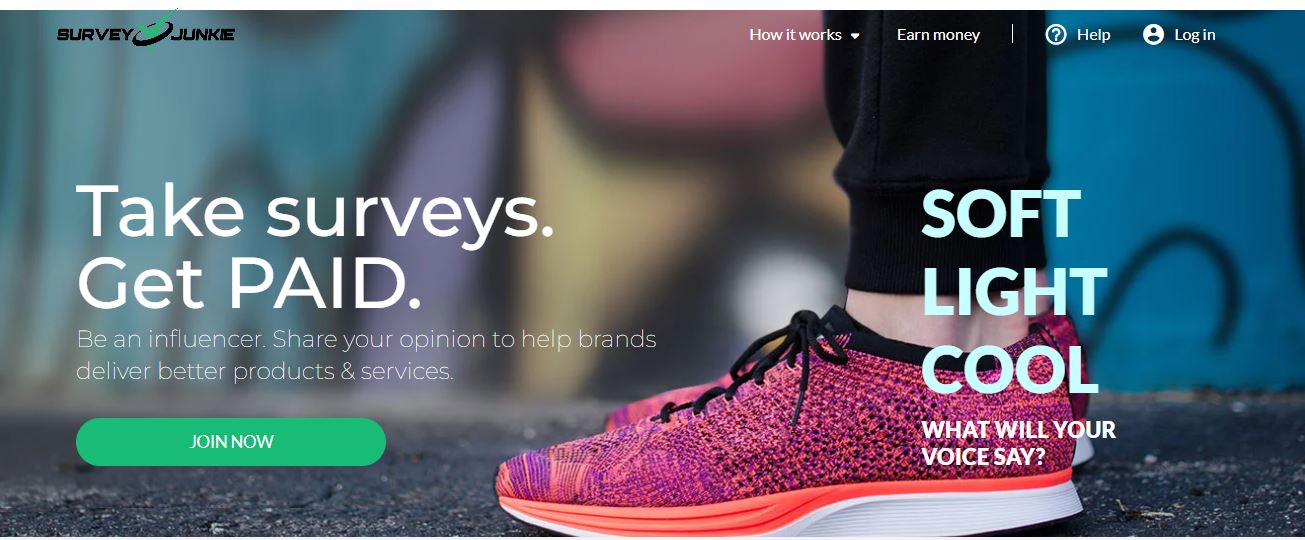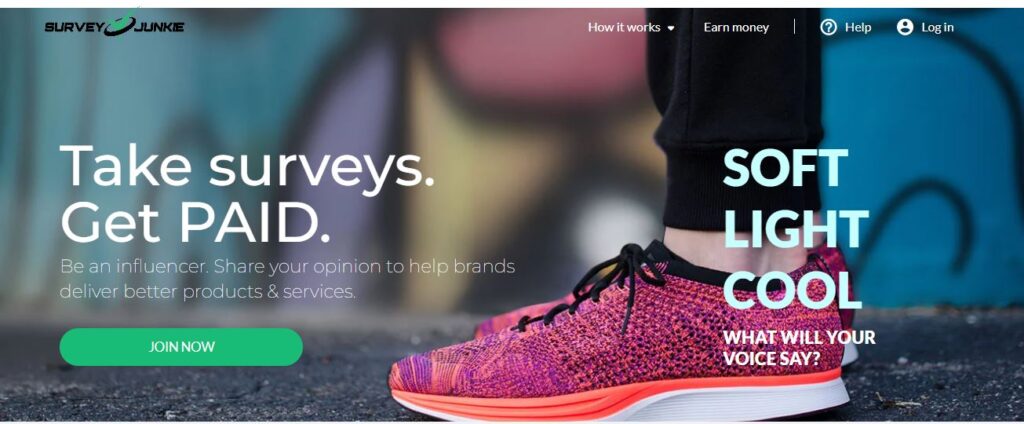 Survey Junkie is another trusted site I have used to make extra money. It is one of my favorite highest-paying apps.
How you can start:
You sign up free with survey junkie and complete your profile and start getting invites to complete surveys.
Survey Junkie is one of the few survey companies that pay cash instead of points for surveys. They also have a low payout threshold of only $10.
I have cashed out several times, and the money always arrives in my PayPal account within a few days.
Sign up with Survey Junkie here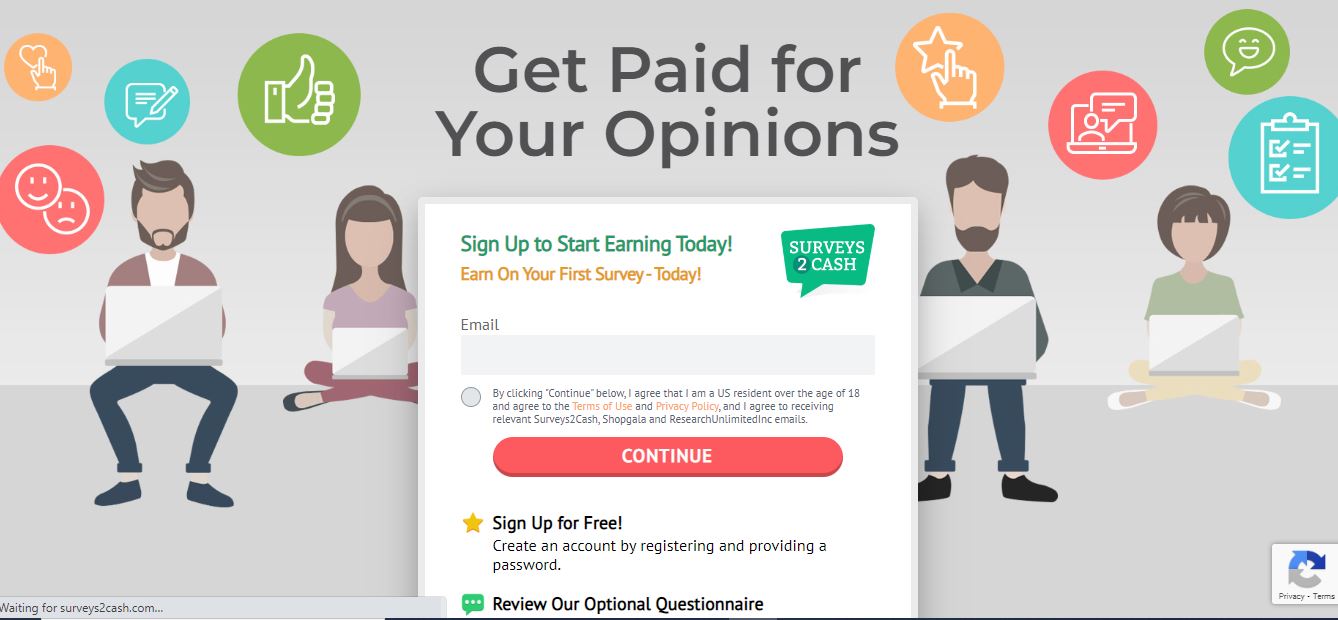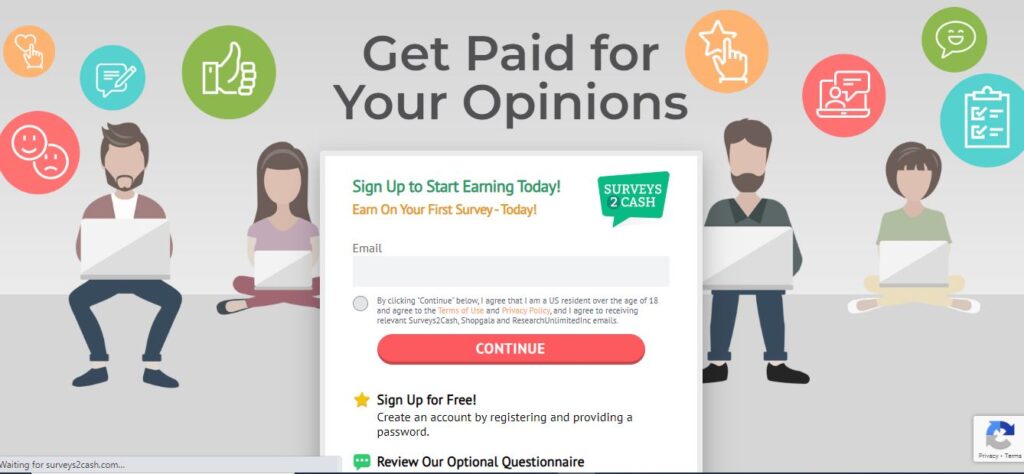 Survey2cash is a great way to make money by taking surveys. You can earn cash for completing surveys and sharing your opinion. Survey2cash is a free online survey panel that rewards you for participating in market research studies.
How can you start
As a Survey2cash member, you will have the opportunity to participate in paid online surveys and earn Survey Points for your participation. Survey Points can be redeemed for cash or prizes.
Joining Survey2cash is free and easy.
Sign up with your email address and start taking surveys to earn cash.
Doordash is another app that pays you for shopping. Doordash is an on-demand food delivery service. They partner with local restaurants in your area to pick up and deliver food to customers.
How can you start
To become a Doordash driver, you must be 18 years old, have a clean driving record, and pass a background check. It would be best if you also had a working smartphone and your vehicle. Doordash does not currently offer bike or scooter deliveries.
To sign up, go to the Doordash website and enter your personal information, including your name, email address, and phone number. You will also need to create a password. Once you have signed up, you can start shopping and delivering food immediately!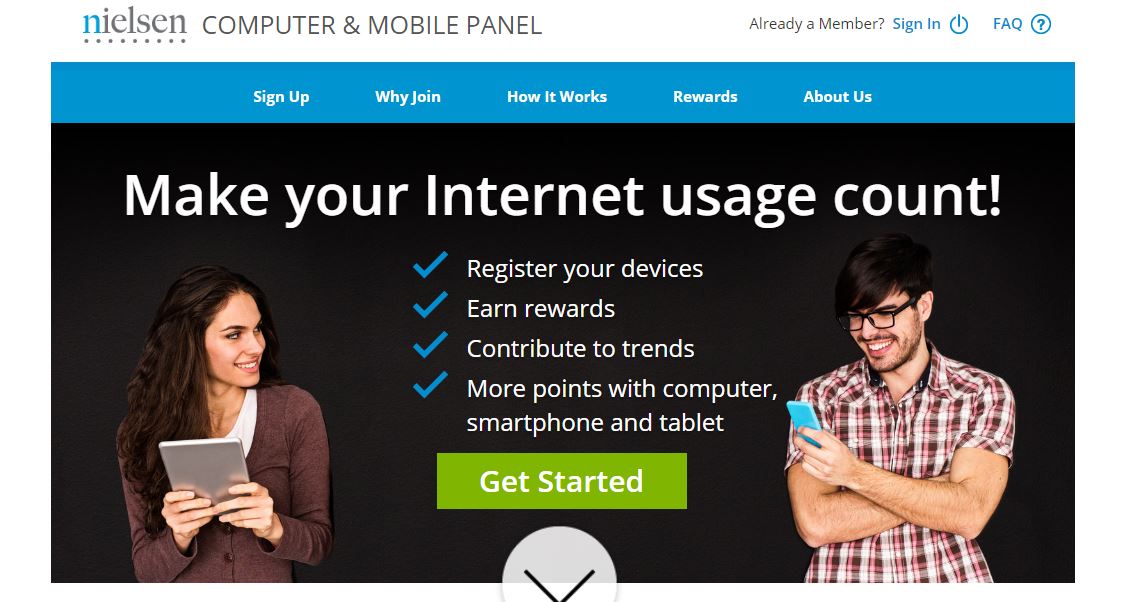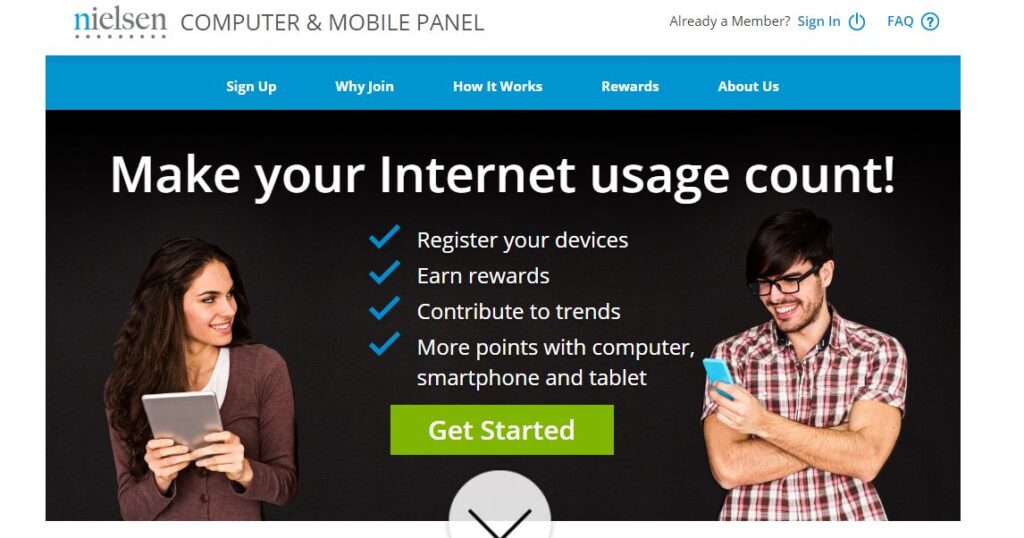 Nielson Computer and mobile allows you to make money through their program. You can use your PC or mobile phone to install the app. It's a quick and easy way to make money online.
Create an account and install the app on your device. It collects the data from your device and uses it for market research.
To start, sign up with Nielson computer and mobile here.
Sign up with Nielson Homescan here for Australian residents
9. Rover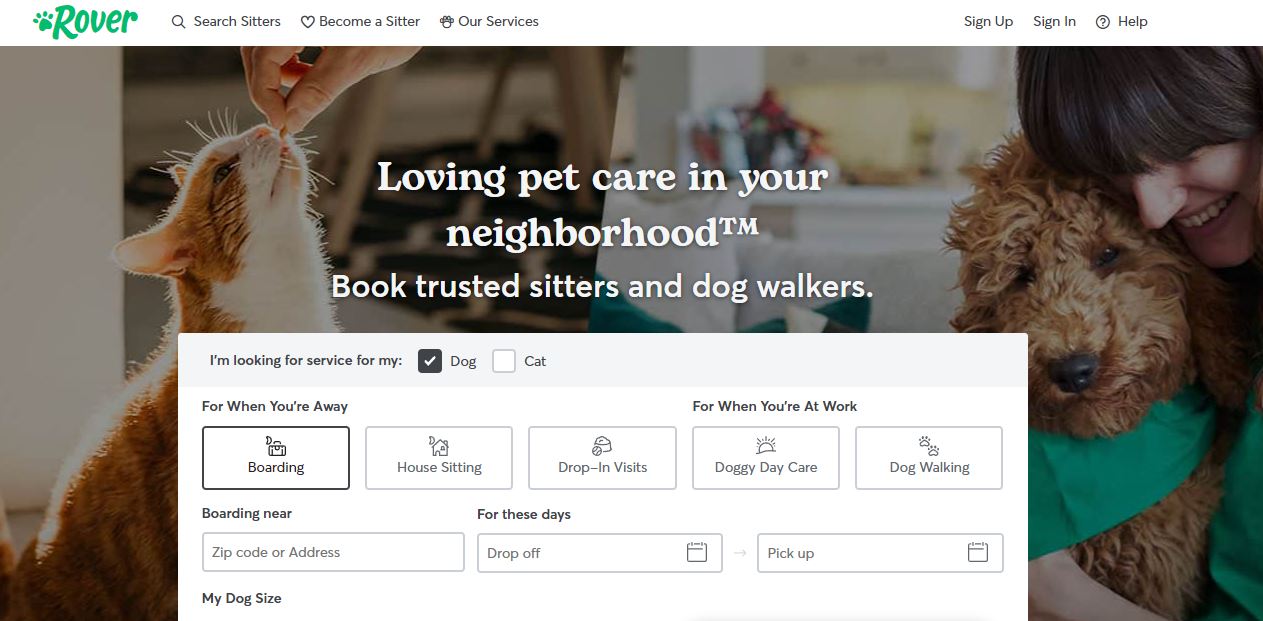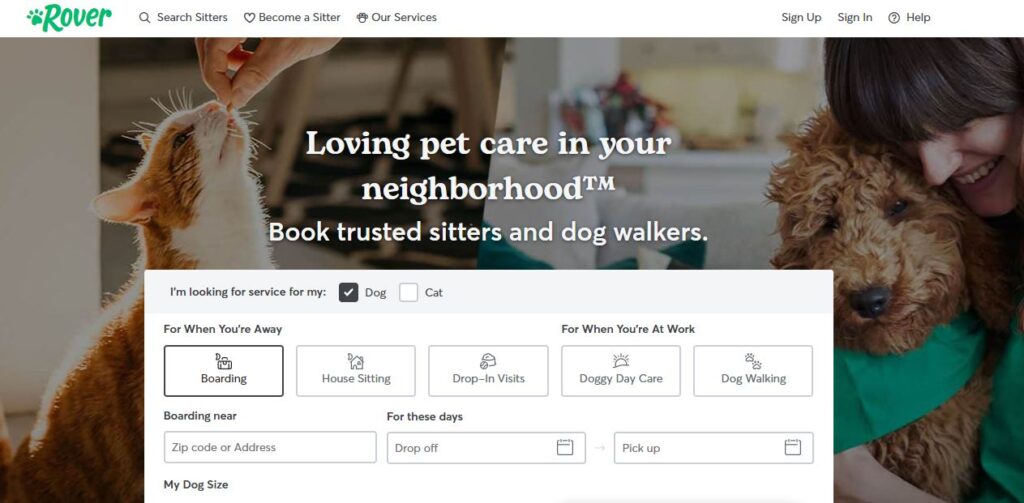 Rover is a platform that connects dog owners with dog sitters. Rover offers a convenient and trustworthy place for dog owners to find, book, and manage personalized care for their dogs.
As a Rover sitter, you can earn money by providing loving care for dogs in your home. In addition, Rover's easy-to-use tools make it easy to start and manage your business.
To get started, create a Rover profile and submit a background check. Once approved, you can begin accepting requests from dog owners in your area.
You can set your rates and schedule, and Rover provides 24/7 customer support to help you succeed. In addition, Rover offers Rover Protection Services to help give dog owners peace of mind.
Get started today and start earning money as a Rover sitter!
Highest paying Apps for game lovers
10. Mistplay
This is an android only app that allows you to play mobile games and get paid in the form of gift cards.
You must download the Mistplay app from the Google Play Store to get started. Once you have the app installed, open it up and create an account. Once you're signed in, you'll be able to start browsing through the different available games.
There are many great games to choose from, and new ones are always being added. In addition, Mistplay offers various genres, so there's something for everyone.
One of the best things is that you will earn points as soon as you play. These points can be redeemed for a variety of different gift cards, including Google Play, Amazon, and more.
So if you're looking for a fun way to earn some extra cash, Mistplay is worth checking out.
Freecash.com is one of the fastest websites to make money online by playing games. It is a free app where you can compete in tournaments and win cash prizes. You can also refer your friends and earn referral bonuses.
How to get started
You can start by signing up with the website and playing games. Then, you will collect the points by playing games.
You can withdraw your earnings through PayPal or Payoneer. The minimum withdrawal amount is $10.
You can get paid in Bitcoin, Ethereum, or gift cards for Amazon, Netflix, Xbox, and others.
Sign up with Freecash.com here
12. Spades Cash
This is one of the new spades games that is popping up all over the internet. Spade's cash is a spades game that allows you to win real money. You can play spades cash on your computer or smartphone. Spades cash is a free spades game, but you need to deposit money into your account to play.
How does it work
Spades cash game is easy to spades. First, you need to create an account and deposit money into it. Once you have deposited money, you can start playing spades cash. Spades cash offers a variety of spades games, including 1-on-1 spades, spades tournaments, and spades challenges. Spades cash also offers spades tournaments with real cash prizes.
Other high-paying apps
ibotta is a great option to earn money on your shopping! ibotta is an app that allows you to earn cash back on purchases. You can use it to shop online or in stores.
How it works
To get started, you must download the ibotta app and shop through the app.
Once you have made your purchase, take a photo of your receipt and submit it to ibotta. Ibotta will then give you cash back based on the offers you have redeemed.
Ibotta used to give cashback only on groceries, but now they also provide cashback on other purchases.
You can then withdraw your earnings through PayPal or Venmo.
You will be paid a sign-up bonus of $10 on signing up.
Download ibotta today and start earning some extra cash.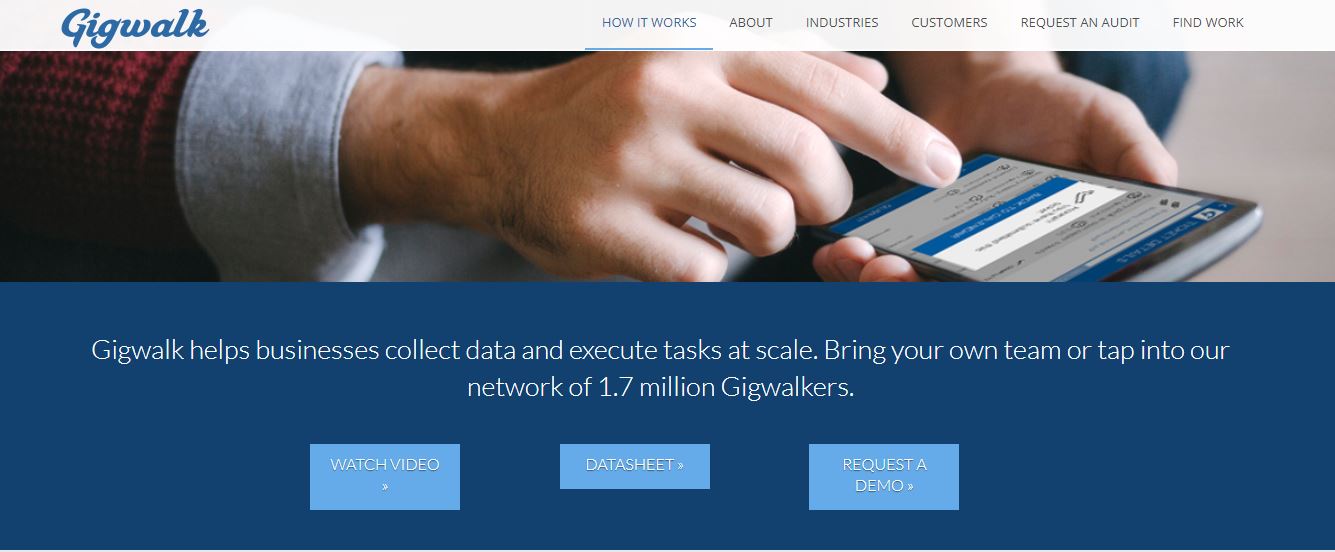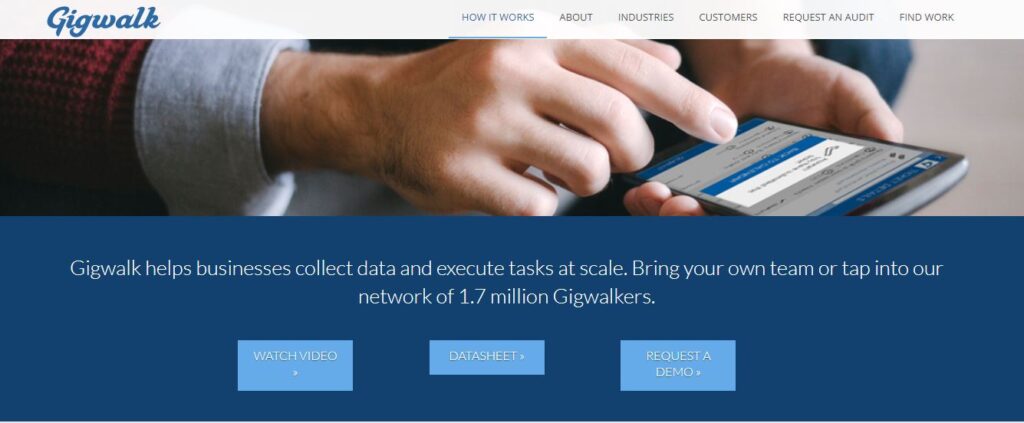 Gigwalk is an ios app that helps you find gigs in your area. Gigwalk is free to join, and you can start making money immediately.
To start making money with Gigwalk, you must sign up for an account and download the app. Once you have the app, you can begin browsing through gigs in your area. When you find a gig that interests you, click on it, and Gigwalk will give you more information about the gig.
It pays you for visiting certain restaurants or retail outlets. For example, they may ask you to make videos of your experience while visiting the outlets. Or you have to take photos of the interior or exterior of the retail stores.
The best part is that you get paid by Paypal.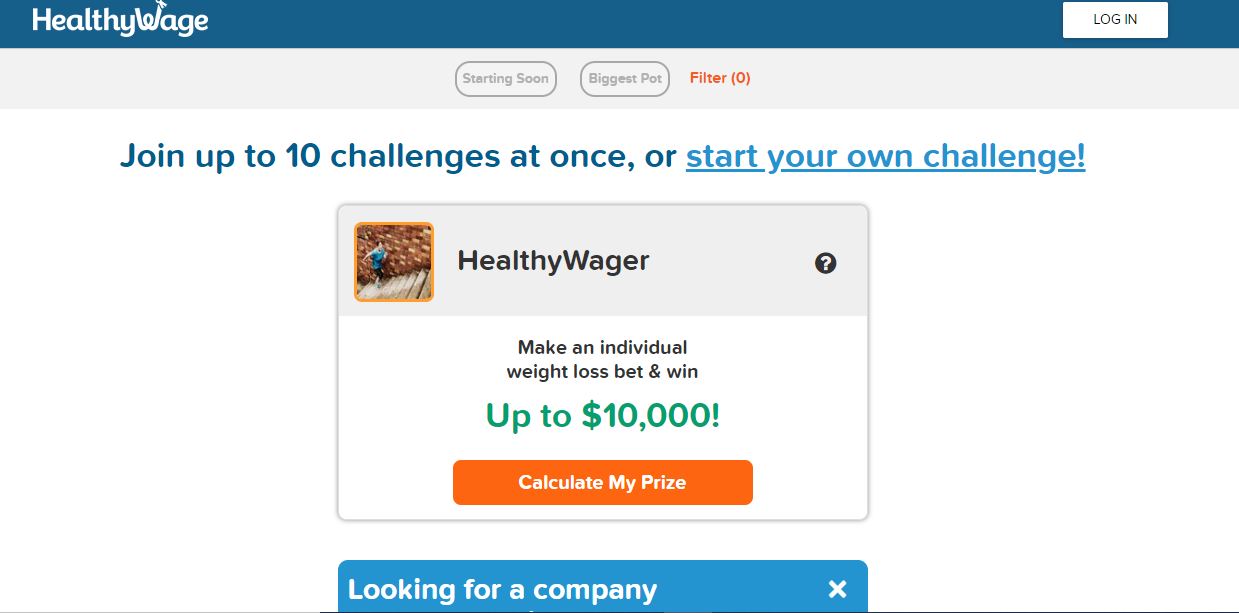 HealthyWage is an app that pays you for losing weight. It works on the principle of weight loss challenges and earning money. If you cannot achieve the weight loss goal, you will have to pay HealthyWage.
The first step is to sign up for healthywage. You can do this by going to their website and creating an account. The app offers you money cash prices, group competition, and required motivation to stay on track with your weight loss goals.
HealthyWage has different challenges that you can join. The most popular challenge is the individual challenge, where you set your weight loss goal and time frame to achieve it. If you reach your goal, you will earn money. The more weight you lose, the more money you make!
Key features of the app are:
Get paid for losing weight
Set your own weight loss goals
Join group challenges
Earn money to reach your goals
If you are looking to make some extra money and get healthy at the same time, healthywage is an excellent option for you.
Sign up today and start earning.
16. Stepbet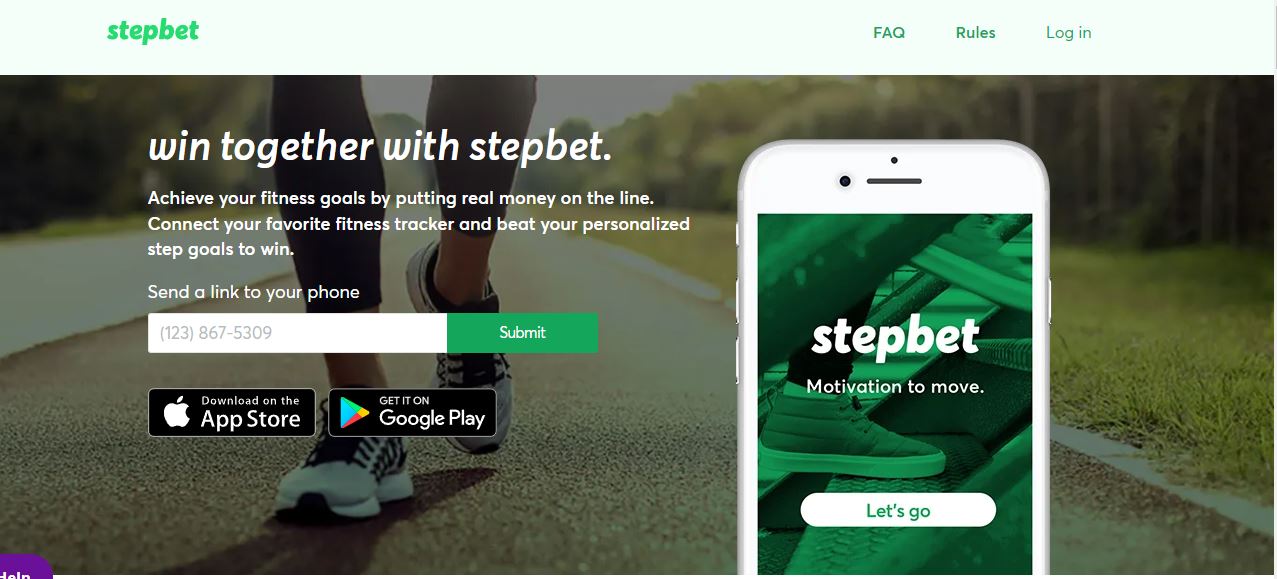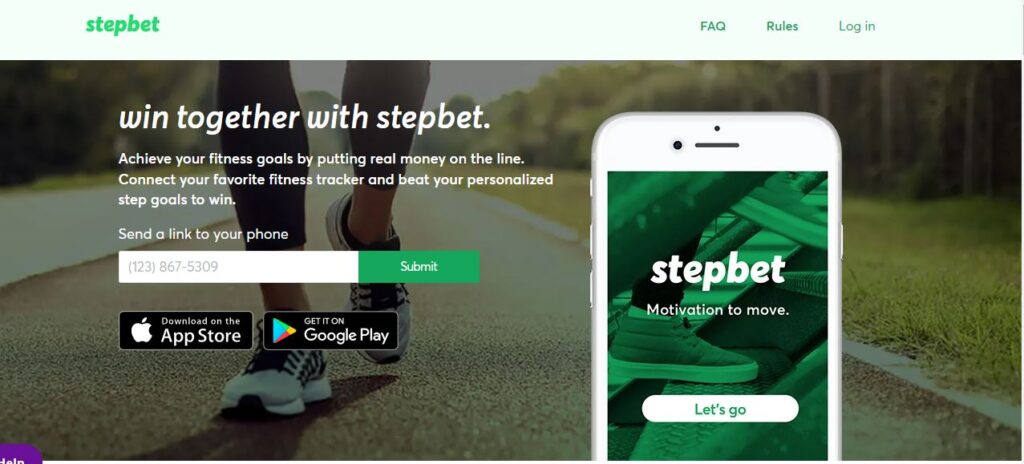 Stepbet is a new way to make money by walking. It is a fitness app that allows you to make money by betting on yourself to reach your step goals. The app is free to download and use and is available for Android and iOS devices.
To start making money with Stepbet, all you need to do is create an account and start playing. This app tracks your steps and gives you points based on the bets. Points can be converted into money.
Stepbet takes a 15% cut from your earnings.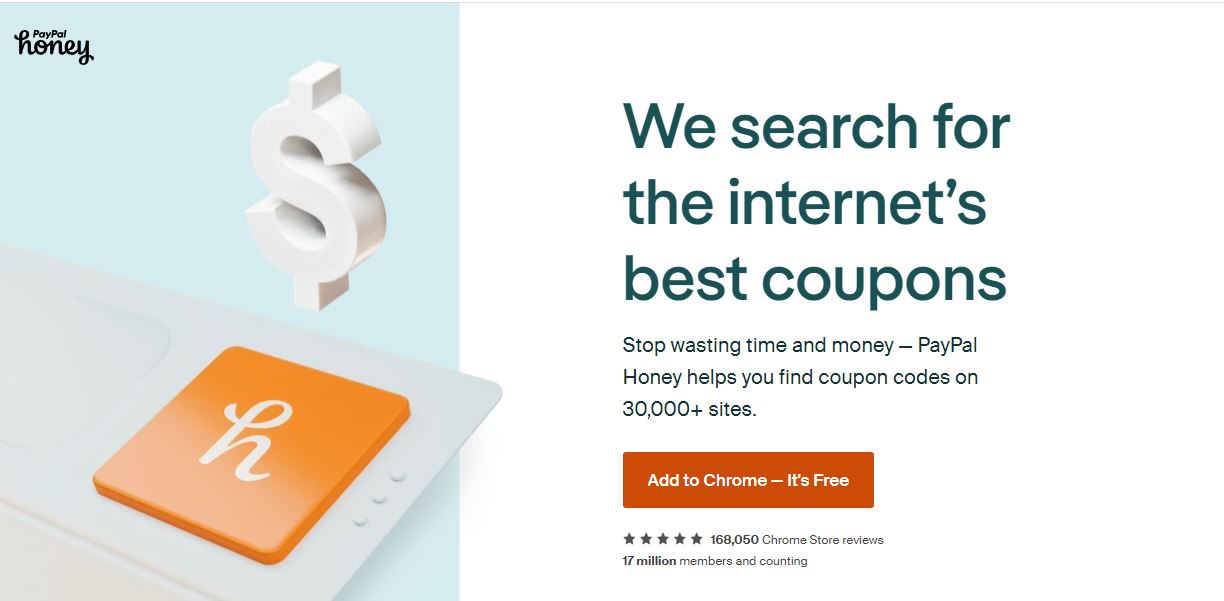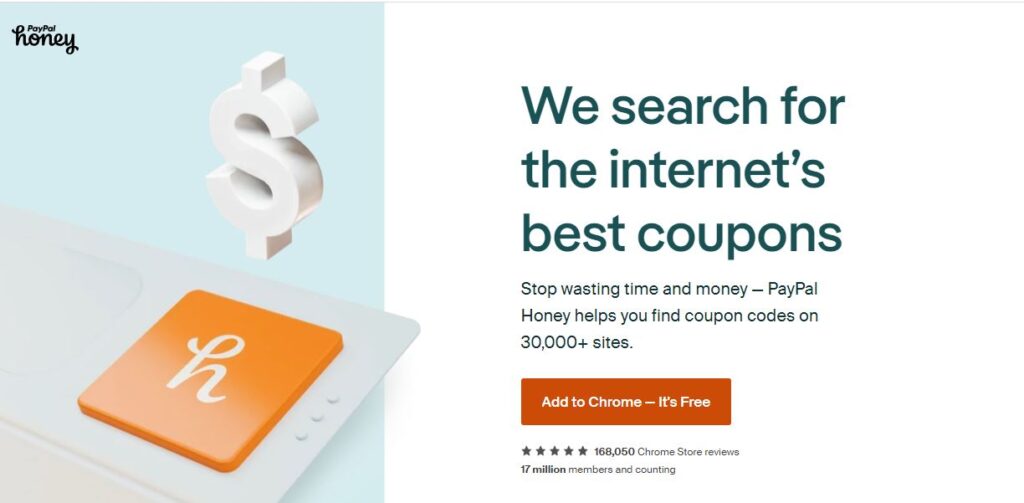 The honey app is a coupon app. It is available for iOS and Android devices and is free to download.
To start making money with the honey app, simply download the app and create an account.
It works on the principle that when you are shopping, the honey app will automatically apply the coupon code to the purchase if available.
Coinbase is a company where you can sell and buy bitcoin. It is like trading the bitcoin.
They give you a $10 bonus when you sign up and buy any cryptocurrency worth 100 dollars. They also offer a coinbase pro version which has lower fees.
You can cash out your money to your bank account or PayPal account. You can also use coinbase to buy goods and services with Bitcoin, Ethereum, and Litecoin.
To start making money with coin base, you must create an account and verify your identity.
19. Raiz: The best highest paying app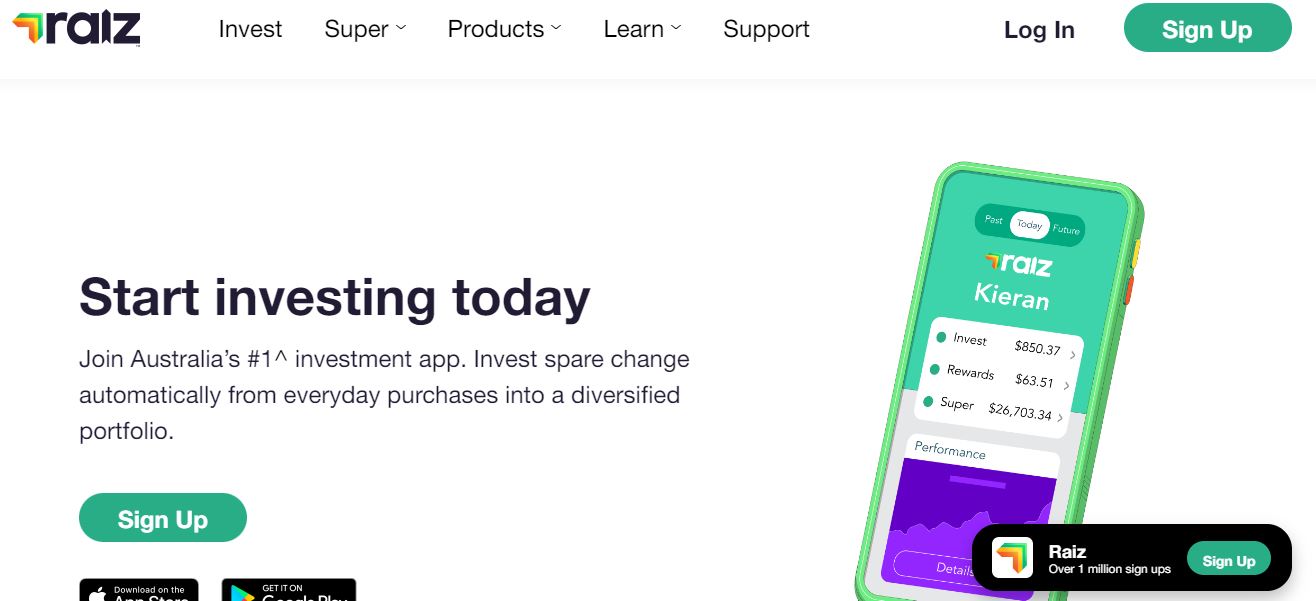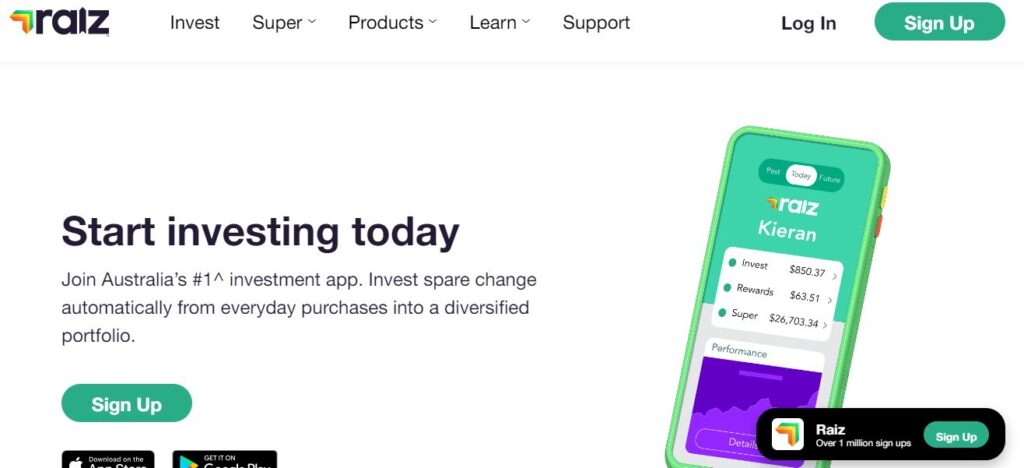 Raiz is a company that invests your change for you. This one is best for those who are afraid of investing and have never invested.
It helps us come out of that 'only saving in banks' mindset. You can invest money each month, and also Raiz will invest your round-ups from the shopping.
They have also added the option of investing your cashback from shopping.
If you want to start investing your change and any cashback from the shopping,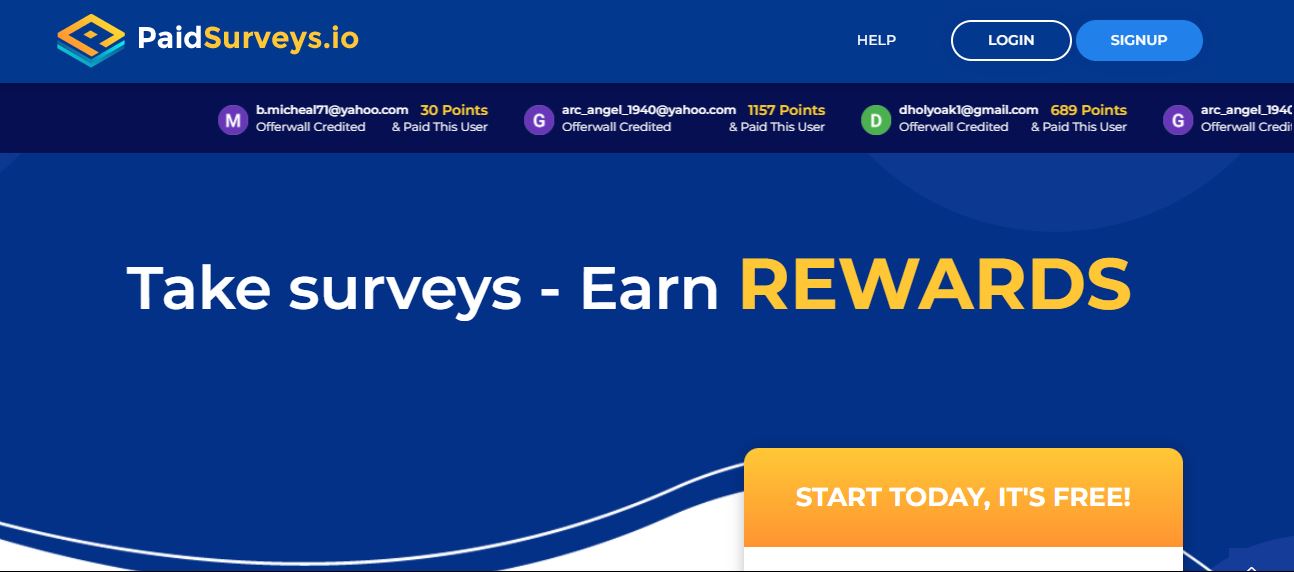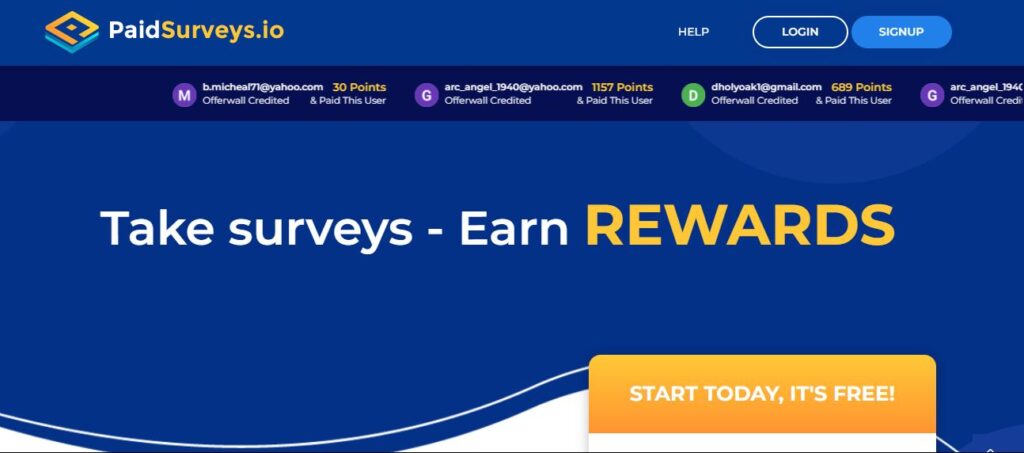 To start, sign up and start taking surveys. It takes only 2 minutes to get started.
How it works
You can either take surveys online, watch videos in your spare time or complete any other offer provided.
You can redeem the points into Bitcoin, Amazon Card, Tango Card, or Paypal money.
You can sign up with Paid surveys for free here.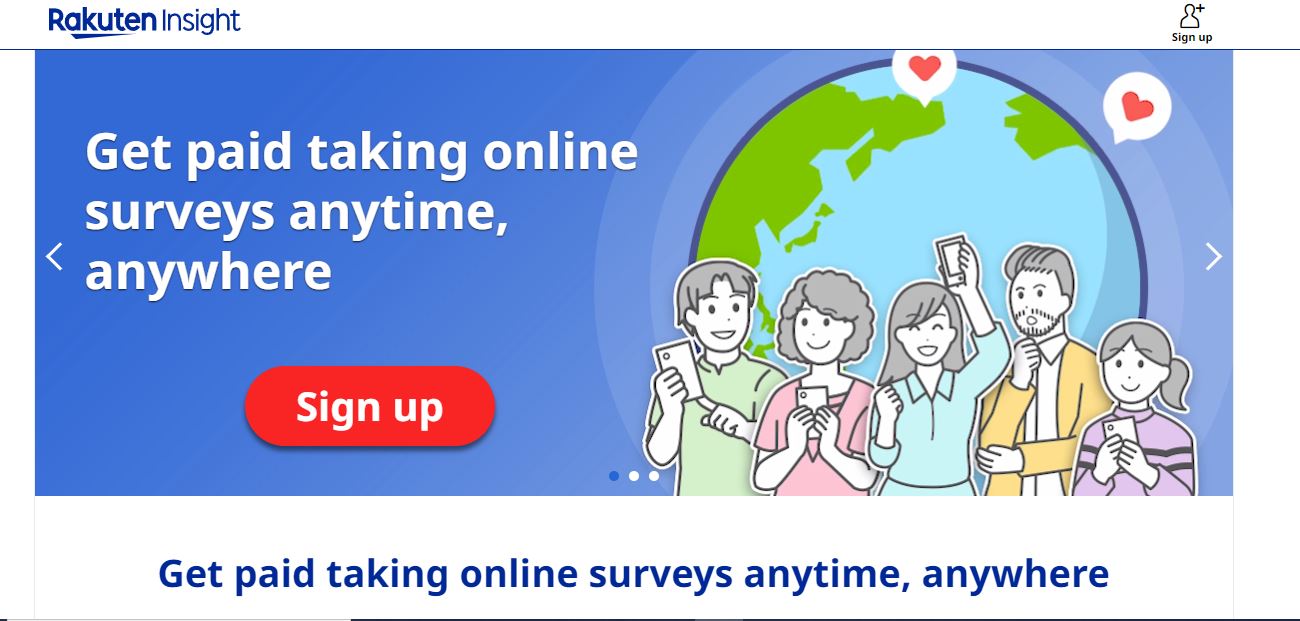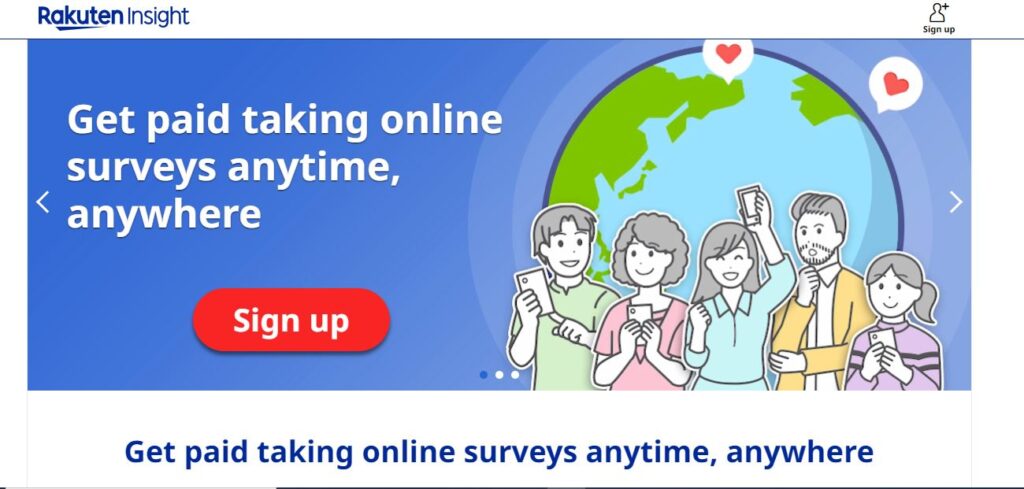 Rakuten Insights panel is free to join, and you can take surveys in your free time to get paid Paypal money or an Amazon gift card. Japanese Online retail commerce company owns Rkuten insights.
You can also get cashback on shopping with Rakuten. Sign up with Rakuten and grab your $10 now to earn cashback.
The best part is that it has a low payout threshold.
Sign up with Rakuten Insights Panel here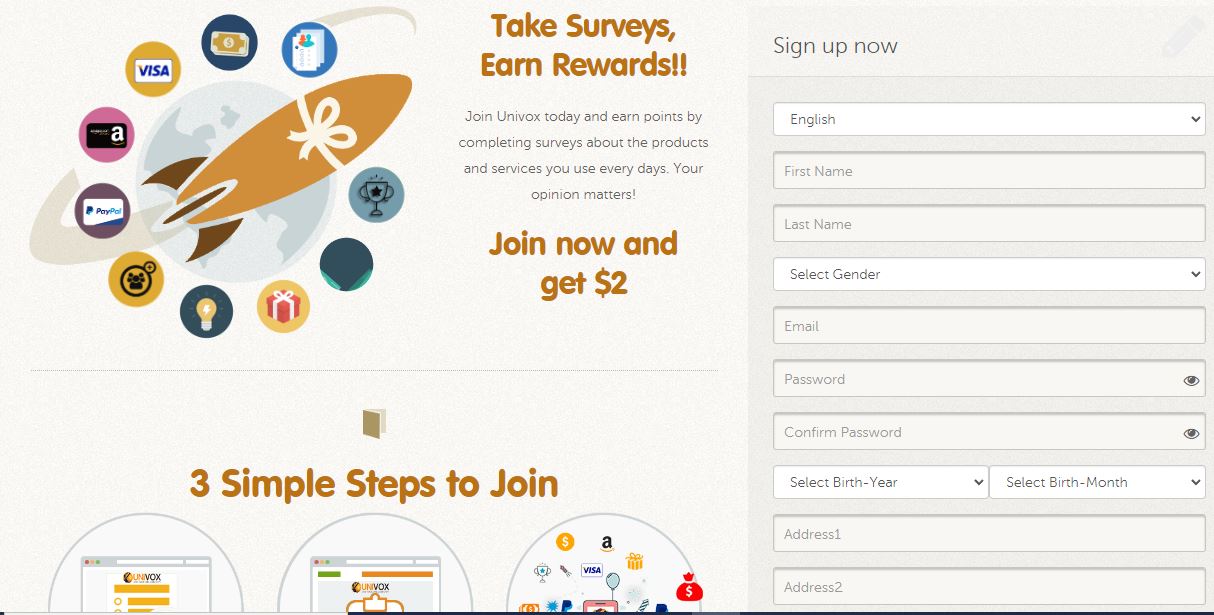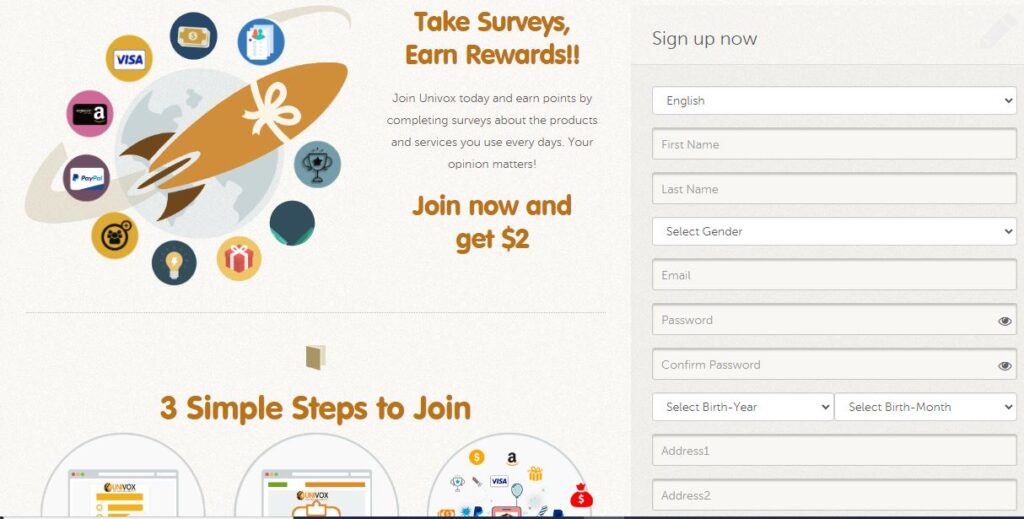 Univox community is an online survey company that pays cash for completing online surveys. This is available to US residents.
How it works
You can sign up with the Univox community now and get 200 points which are $2. You will get the survey invites in your email, or you can check the dashboard for added surveys.
Once you have accumulated enough points, you can redeem the points for Paypal cash, Amazon gift cards, Virtual Master Card, or tango card.
Sign up with Univox Community here to get paid $2.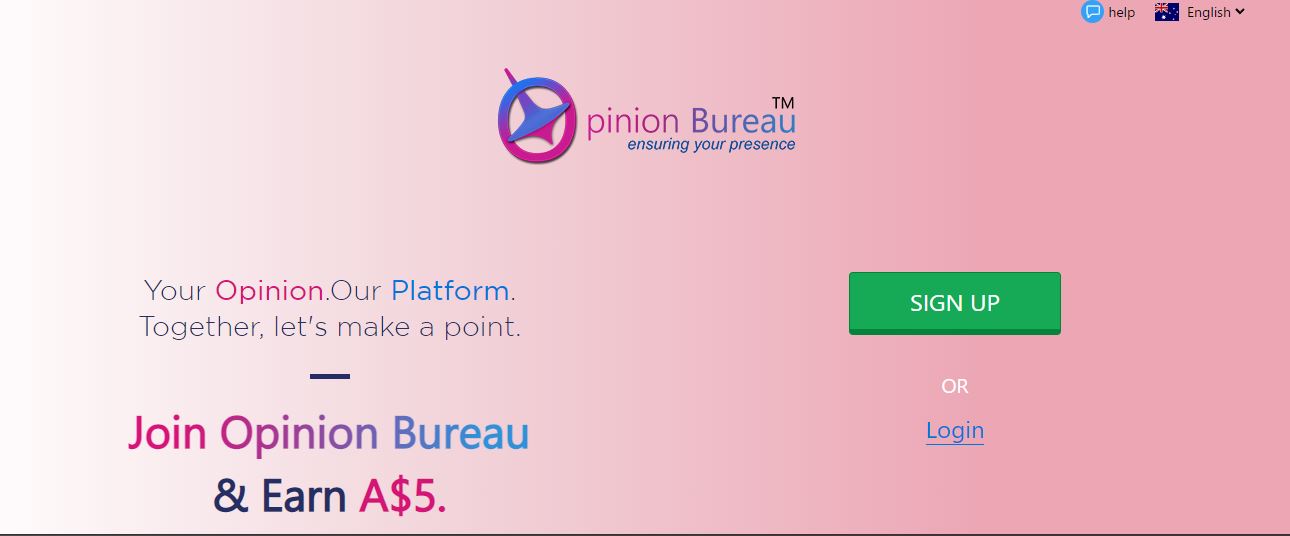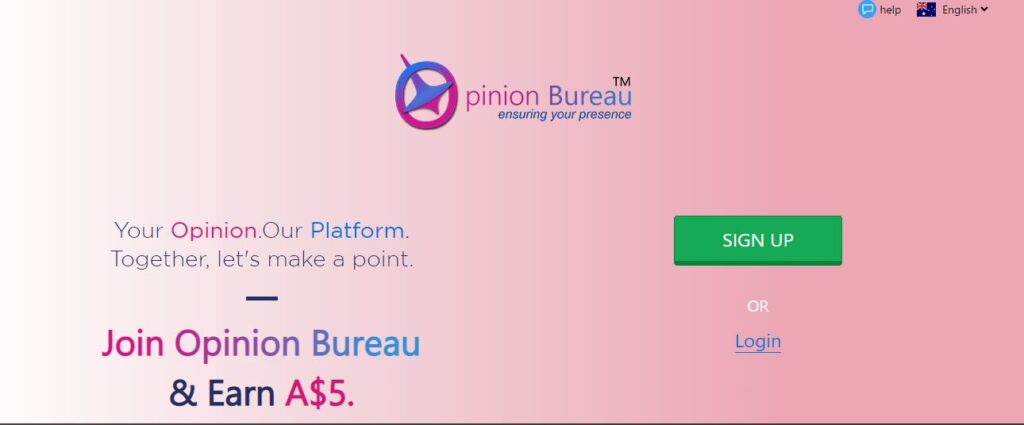 Opinion Bureau is a great way to make money online. You can sign up for free and start taking surveys right away. The more surveys you take, the more money you can make.
How it works
You sign up with the opinion bureau and get a $5 bonus immediately. After that, you will start getting surveys in your inbox. The opinion bureau has a great selection of surveys, so you can always find one that interests you.
Each survey pays different amounts, but most of them pay around $0.50-$0.75. The opinion bureau also has a great referral program. You can earn $1 for each person you refer to the site.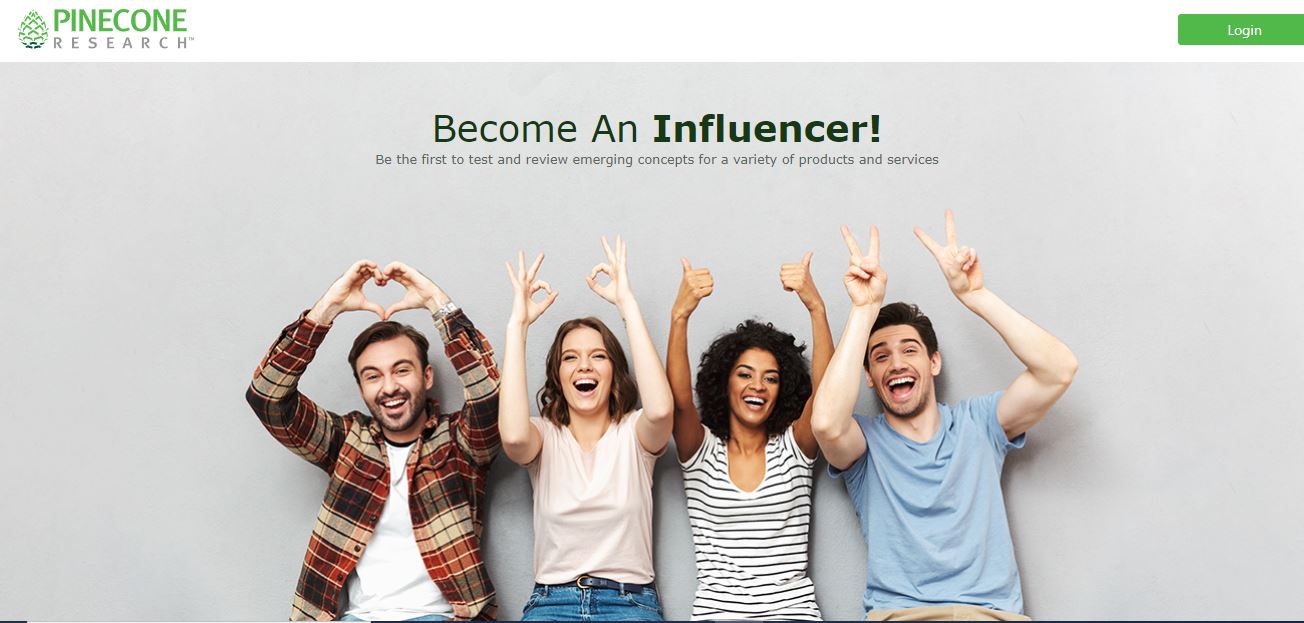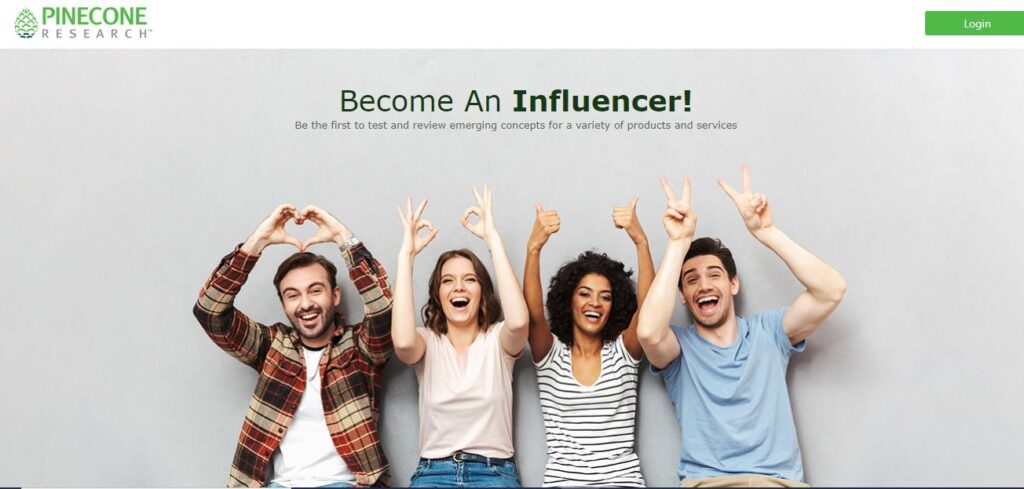 Pinecone Research is a company that pays you for your opinion on products and services.
Pinecone Research is a great way to make extra money by sharing your opinion on your daily products and services.
PineCone Research is a legitimate company that has been in business for over 20 years. In addition, Pinecone Research is a trusted company that pays its members on time.
How can you start
You can start by signing up with Pinecone Research and doing surveys. You can also be paid for product testing through PineCone Research.
The company pays you by bank transfer or gift cards for Walmart, Amazon, or other retailers.
You can sign up for PineCone Research here ( US residents)
You can sign up for PineCone Research here ( Canadian Residents)
For UK residents, You can sign up for PineCone Research here
FAQS
Are money-making apps legit?
This is a common question with a not-so-common answer. While many money-making apps are complete scams, quite a few are legitimate and can earn you extra cash.
So, if you're looking to make money with apps, where should you start?
Here are a few tips:
Do your research: Before downloading any money-making apps, do your research. Read reviews and look for red flags that may indicate the app is a scam.
Stick to well-known brands: Many money-making apps are available from big brands like Swagbucks, Ibotta, and Rakuten. While there are also many smaller, lesser-known apps, sticking to brands you know and trust can help you avoid scams.
Be cautious with personal information: Some money-making apps require you to share personal information, such as your Social Security number or bank account information. Never provide this information to anyone.
By following these tips, you can start your journey to making money with apps on the right foot. Just remember to be cautious and do your research before downloading anything. With a little effort, you can start earning extra cash with money-making apps.