Are you tired of going to work every day? Are you feeling stressed and burned out? If so, it may be time to quit your job. Quitting your job can be daunting, but with these ten steps, you can make the process much easier.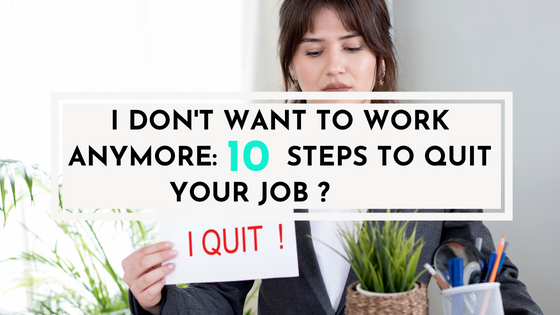 Disclosure: This post contains affiliate links. For full disclosure, read here
I Don't Want to Work Anymore
It's a phrase we've all thought of at one point. Maybe you're tired of your job, or perhaps you're just feeling burned out. Whatever the reason, it's time to take action if you've considered quitting your job.
Quitting your job can be daunting, but with these ten steps, you can make the process much easier.
Reasons why You don't want to work?
There may be reasons you do not want to work, and it may be the environment you are in, the people, or even the company itself. Therefore, it is essential to identify your reasons before taking further steps.
Check your mental health
Before making any decisions, it's essential to check in with your mental health. If you've been feeling stressed or burned out, quitting your job may be the best thing for you. However, other options may be available if you're unhappy.
Talk to your boss
If you're feeling unhappy at work, your boss is the first person you should talk to. They may be able to help you resolve any issues you're having. If not, then quitting may be the best option.
Write down your feelings.
It is essential to get your feelings out, whether it is by talking to someone or writing them down. It will help you to process your emotions and make a decision about what to do next.
Take time off
Sometimes you feel burned out working in the same environment. A change of ambiance helps you again build interest in the work you once loved.
Take a break and travel to a new place.
If you have decided to quit your job, then congratulations! This step can be daunting, but you can make the process much easier with these ten steps.
Steps to quitting your job
Once you have identified your reasons for wanting to quit, it's time to take action. Here are ten steps that will help
Make a Plan
The first step to quitting your job is to make a plan. For example, it would help if you decided when you're going to leave, how you will tell your boss, and what you will do next. Making a plan will help to make the process much smoother.
Talk to Your Family and Friends
Before making any decisions, you must talk to your family and friends. They will be able to offer support and advice during this difficult time.
Build an emergency fund
Building an emergency fund is one of the most important things to do before quitting your job. This will help ensure you have enough money to live on while looking for a new job.
Saving for your expenses for 3-6 months, depending on your situation, is a good rule of thumb.
Give Notice at Work
Once you've decided, it's time to give notice at work. It can be one of the most challenging parts of quitting your job, but it's essential to be professional. Be sure to thank your employer for the opportunity and let them know that you're resigning.
Find a New Job
If you don't have another job lined up, now is the time to start looking. Start by updating your resume and networking with friends and family. Then, begin searching for open positions.
Make a list of all of your skills. Include anything that you think would make you valuable to an employer.
Start Networking
If you don't have a job lined up, networking is essential. Start by reaching out to friends and family. See if they know of any open positions or can put you in touch with someone who does. Next, attend industry events and job fairs. The more people you meet, the better your chances of finding a new job.
Update Your Resume
Be sure to update your resume before you start applying for jobs. Include any new skills or experience you've gained since your last job search. Many resources are available online if you're unsure how to write a resume.
Apply for Jobs
Once you've updated your resume, it's time to apply for jobs. Begin by searching online job boards and company websites. You can also reach out to recruiters and staffing agencies.
Prepare for Interviews
If you're lucky enough to land an interview, prepare in advance. Research the company and practice your answers to common interview questions. The better designed you are, the more likely you are to land the job.
Negotiate Your Salary
If you're offered a job, be sure to negotiate your salary. It is one of the essential parts of getting a new job. Don't be afraid to ask for what you're worth.
Monetize your hobbies or side hustles
If you have a hobby or side hustle you're passionate about, now is the time to monetize it. It can help you earn some extra income and give you the freedom to work on your terms.
These ten steps will help make the process much easier regardless of your reason for wanting to quit your job. Just remember to take your time, be professional, and stay positive. With some planning and effort, you'll be on your way to a new and better job in no time.
I don't want to work for anyone anymore
These two scenarios are different you don't want to work anymore, or you don't want to work for anyone anymore. If this is the case, you must look for other income sources.
Start your own freelancing business
Many freelance work ideas can help you transition from a full-time job to your own business.
The Internet has made many things possible; you can work online to make extra money while you don't want to work.
It is not easy at the beginning, but it is doable. Here is a list of side hustles you can start while working and quit your job.
Be a proofreader
Proofreaders proofread the written text and get paid for their services. You don't need a degree and can start your proofreading side hustle online.
If you are keen on this one, you can learn from a course by Proofread Anywhere. General Proofreading: Theory and Practice from Proofread Anywhere is a course by Caitlyn from proofreading anywhere.
You can check the General Proofreading: Theory and Practice from Proofread Anywhere to learn how to become a proofreader.
You can sign up for free master class and check if it is for you or not.
Read more about how to start a proofreading side hustle.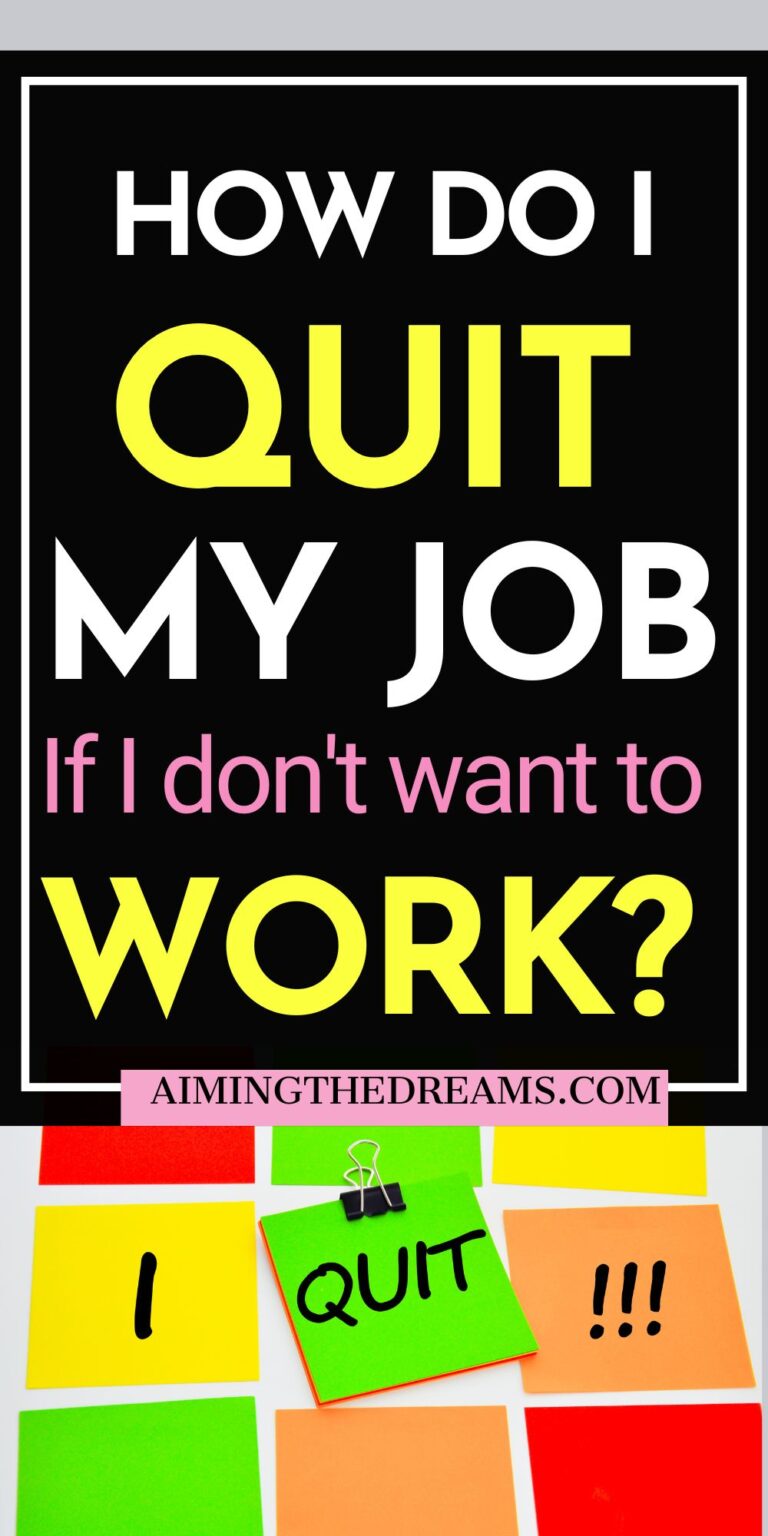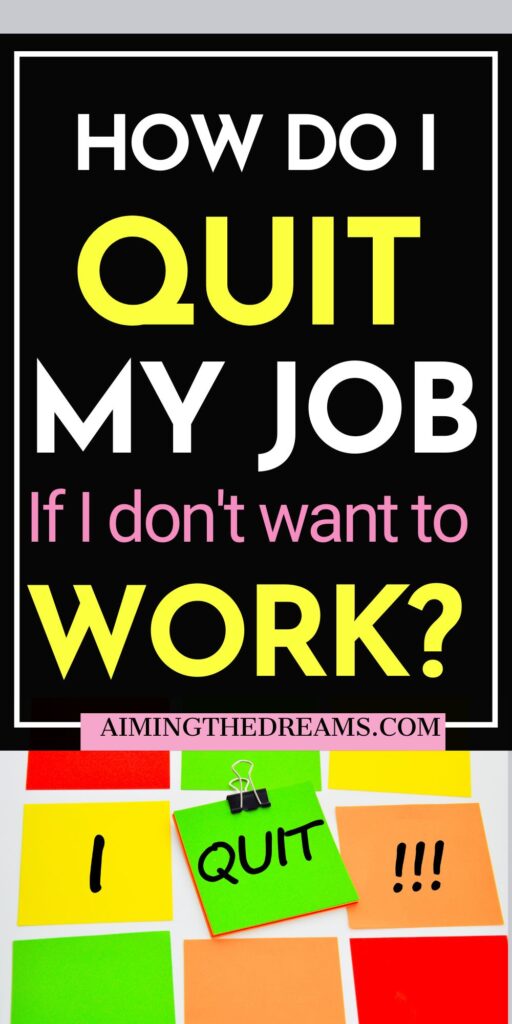 Start surveys
If you want to make money immediately, you can start taking surveys. That was how I made my first dollar online.
You won't become rich but can earn money to save for your emergency fund.
You can make money instantly with surveys, shopping, watching videos, and opening emails.
Survey Junkie
Survey Junkie is another trusted survey company that pays well for completing surveys.
Sign up with a Survey Junkie here.
Sign up with inbox dollars here.
You can check these posts to get an idea of how to start making money.