In reality, it isn't easy to find jobs that pay daily, but online work has made it possible to work in jobs that pay instant money.
We all love money-making ideas to grow wealth. But, to set your financial future, you must work hard on your money-making strategies. Finding new ways to make extra money can help you support your financial needs.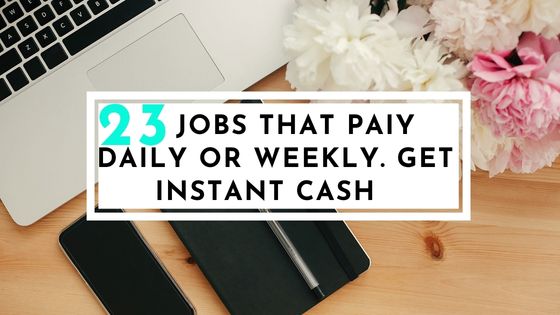 Disclaimer: This post contains affiliate links, meaning if you sign up through my link, I may get compensated at no extra cost. For full disclosure, read here.
Many jobs pay weekly, but finding jobs that pay daily is a bit difficult.
Here I am sharing some ideas for making money for those who want to make money and help with their finances.
1. Start paid surveys
Sure, you will not become rich from these paid surveys, which take a lot of time to complete, but these are worth it.
If you are staying at home and getting time to watch TV  or just sitting and relaxing, why not spend that time earning money?
Pinecone Research: Pinecone Research is a trusted company where you get paid for surveys and can redeem points for gift cards. You can sign up for Pinecone Research here.
Survey Junkie: Survey Junkie is another reputed company with good stars on Trust pilot. You can sign up with survey Junkie here.
Swagbucks: Swagbucks is one of the oldest sites where you can earn points and get paid for doing surveys, shopping, and watching videos. The minimum threshold is $5 to redeem the points.
Valued Opinions: Valued opinions also provide many surveys to make instant money. You can sign up with Valued views here.
The best part is you can start earning right away. So don't overthink; start now.
Valued opinions also provide many surveys to make instant money. You can sign up with Valued views here
Pro Tip: Sign up with a few survey sites to always have some to complete. Also, keep a separate email for all the surveys.
2. Start a blog
A blog pays you daily by the daily impressions you get. If you have signed up with an advertising company, you can see the daily money you will be paid.
You will get the money in your account monthly.
Many bloggers earn excellent money, but you can make some side income from it. To start a blog, you can begin with Siteground as a hosting service.
You will not make money immediately, but you never know. It could give you a chance to build your online presence.
3.  Earn money from apps
You can use these apps and sites to earn some money shopping. Not only shopping, but these sites also have referral programs that let you make money by referring friends.
Rakuten: Sign-up now and get your sign-up bonus
Ibotta: Get 10 dollar sign up bonus
Swagbucks: You can earn for surveys, shopping and other tasks, and referrals.
Sweatcoin: Pays in Sweatcoins for walking outside. It is designed to motivate you to step out.
How to earn money with apps and surveys
4. Become a proofreader
If you have a good grip on grammar and can pick every error in writing, then it is a good chance that you can become a proofreader.
Proofreading comes after editing the written content. It makes the written piece crisp, polished, and ready to go live.
If you want to hone your skills to become a proofreader, this course by Caitlyn Pyle is for you.
Sign up to become a Proofreader
 5. Testing websites
You have to apply for sites that pay you to test websites. If accepted, you will get to test websites and get paid. Here are some of the websites which pay you for testing websites.
Companies hire third parties to test their websites for the user experience and any bugs before releasing the websites. You can get paid anywhere from $1 for a quick test to $10 for trials lasting 20 minutes.
It works on a first-come, first-serve experience. So it is better to be proactive and grab the opportunities as soon as they come.
Some websites pay instant cash, while others pay you weekly. Try and see how you can succeed in making money by testing websites.
6. Use Mobile Apps
Everybody uses mobile these days, right? So mobile Apps are another great option for anyone looking for a job that pays daily.
Many mobile apps pay you to complete simple tasks, like taking surveys, watching videos, or playing games.
With quick payment processing and the ability to work on your schedule, jobs like these are an excellent choice for anyone looking to earn extra money instantly without sacrificing your full-time Job.
Apps like Field Agent and Easy Shift can make you money in minutes, helping you earn extra cash when needed.
Field agents pay you to go to different stores and check prices, take pictures, evaluate displays and update the app.
Try these and see how you can make money instantly.
7. Sell your stuff online
If you have many new things in your house, you don't use them anymore. You can make quick bucks by selling the extra stuff.
The best part is that you will get paid instantly after selling your stuff.
You can sell new things, Jewelry, and furniture to make some quick money.
8. Sell on Etsy
Etsy is fantastic for crafty people who can create or design products. Then, either make the product or design it and manufacture it by a third party.
You can sell handmade gifts, crafts, printables, or other party stuff online on Etsy and get paid instantly.
9. Grocery shop for people
You can shop for busy people if you have time and want to make extra money.
Grocery shopping might be the perfect option if you are looking for a way to make money quickly.
With sites like Shipt and Instacart, you can sign up to shop for groceries for others and get paid at the end of each delivery.
This is a good choice if you need cash fast, as most people who use these services can pay within a few hours signupeiving their groceries.
To start grocery shopping, you must complete an application and pass a background check. Once you are accepted by one of these services, you can choose when and where you want to shop.
Many people complete their grocery orders on the weekends, as this is when most people have time to do their shopping.
If you are looking for a job that pays daily, grocery shopping could be the perfect solution.
Instacart is a place where you can register and get paid for grocery shopping.
10. Cashback sites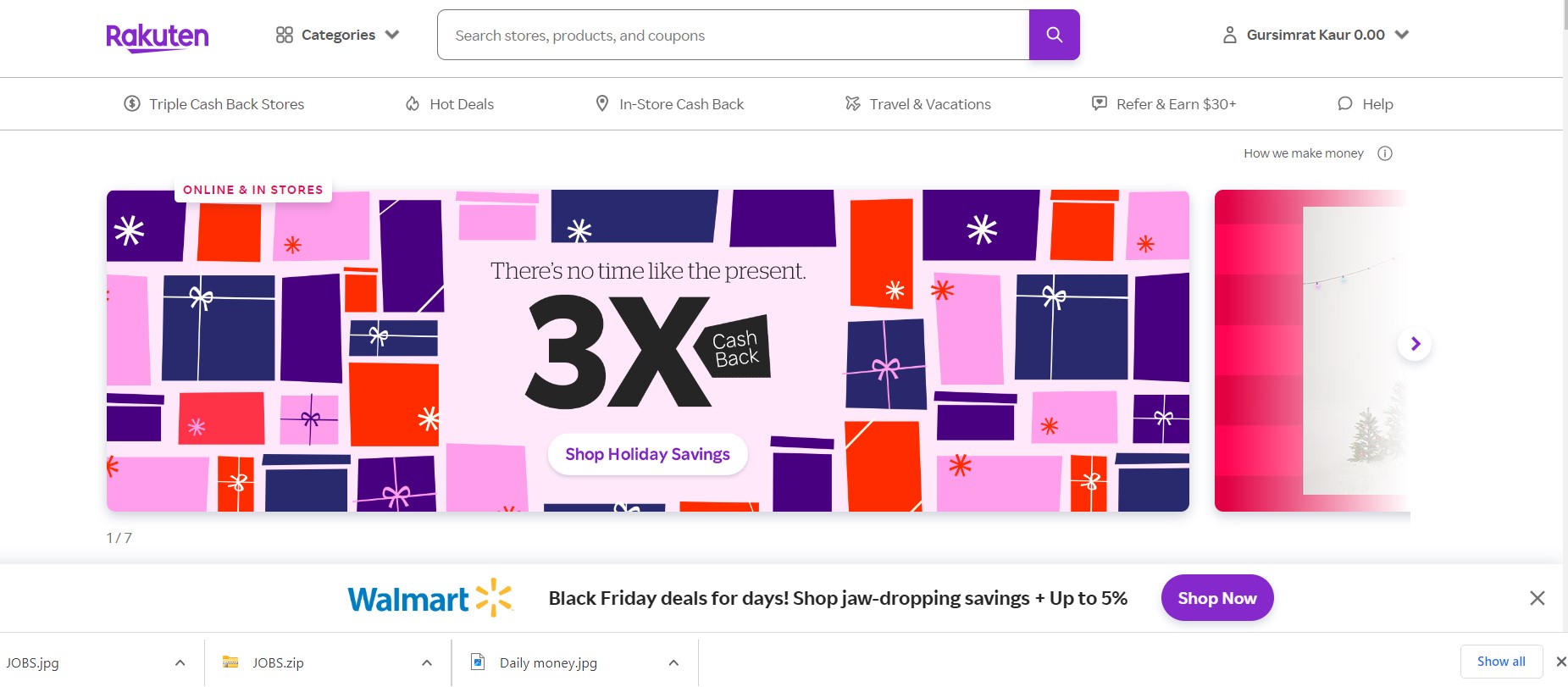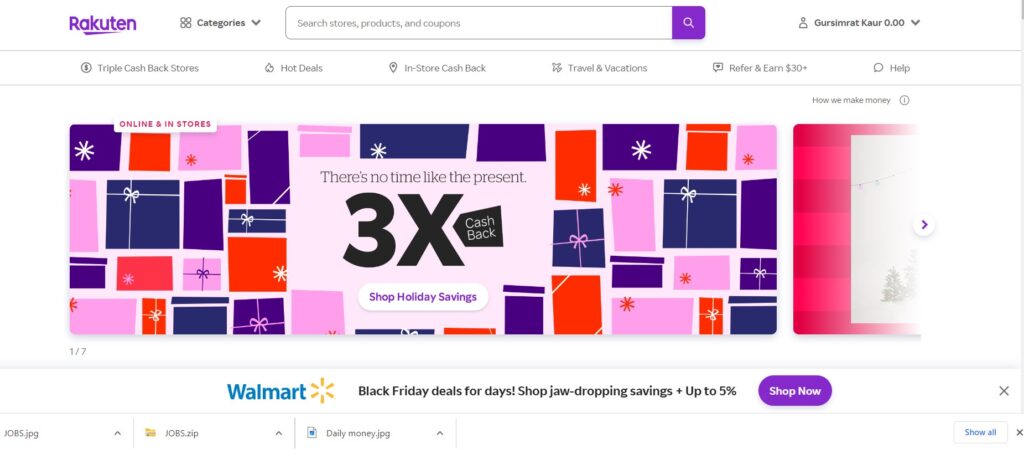 Rakuten: It is not going to make money directly. But we all love money back in our accounts after shopping.
Rakuten is a perfect option for this, and you will get cashback as well sign-up bonus.
For example, when I signed up the first time, I got 10 dollars for signing up and then did some shopping for baby clothes the next day. In a few days, I had 20 dollars in my account.
Sign up for Rakuten here
Cashrewards: Cashrewards is another site for getting cashback. This one is for  Australian residents. You will get some bonus for signing up and can refer friends and get around 5 dollars for each sign-up.
11. Virtual assistant
Becoming a virtual assistant is a perfect option these days. The Internet has opened many gates for earning money. As a result, some people are making good money working as virtual assistants.
Another excellent option for anyone looking to make money quickly is to become a virtual assistant. As a virtual assistant, you can work remotely and complete various client tasks.
Tasks might include email management, scheduling appointments, transcription or data entry, etc.
To get started as a virtual assistant, you must have strong organizational and communication skills. Additionally, you will need a reliable internet connection, as most virtual assistant jobs are completed online.
There are many great options if you are looking for a job that pays daily or instant money.
You can find more information here 
12. Online Coaching
With online coaching, you can help people achieve their goals through personalized training and support.
So whether your clients want to lose weight, build muscle, or improve their performance in a particular sport, you can use your expertise to help them reach their goals.
To get started, you will need to be comfortable working with clients remotely, and many online coaching platforms offer training and support to help you succeed in this role.
You can become a life coach in many areas like fitness, nutrition, weight loss, career management, and more.
Life coaching is an excellent option if you are looking to make money quickly.
13. Mystery shopping
A mystery shopper might be the perfect option if you are looking for a job that pays daily or instantly.
With mystery shopping, you get paid to complete detailed evaluations at local businesses like restaurants and retail stores. This can be an excellent way to make money while doing something fun and exciting.
Register with the companies like field agent. Once registered, you can search for opportunities in your area and earn money immediately.
You can take some gigs as a mystery shopper. Some people say that they earn some extra bucks doing this. You usually get paid between $8 to $20, depending upon the assignment and the city where you live.
14. Create a Youtube channel
Creating and monetizing your Youtube channel could be the perfect solution if you are looking for a job that pays daily or instantly.
With millions of users worldwide, Youtube is an excellent platform for reaching new audiences and building a following. And with tools like Google AdSense, it's easy to start earning money from your videos.
To get started with your Youtube channel, you must create high-quality content that is engaging and relevant to your audience.
You should also ensure that your videos are optimized for search engines so potential viewers can easily find them.
Once you have built a following and established yourself as an expert in your field, you can earn money from your videos.
15. Become an affiliate marketer
Becoming an affiliate marketer needs to have some skill and patience. It is not easy, but with the hang of affiliate marketing, you can make good money as a side hustle.
Affiliate marketing is the best option to make money as you have to promote others' products. They pay you a commission based on the percentage.
It is a competitive world, you can still make money, and it is instant.
16. Become a driving instructor
If you are good at driving, register as a driving instructor and make some extra cash.
Some people make it their profession and are very good at it. Think about your driving skills. You can earn extra bucks if you have the patience to give lessons and are very good at driving.
The best part is you will get paid instantly after the lesson.
17. Translator
With translation services in high demand worldwide, there is always a need for skilled translators who can help businesses communicate with their customers.
Whether you specialize in legal or medical translations or any other field, there are many opportunities to make money quickly and easily.
To get started as a translator, you must register with a reputable agency like TransPerfect or Gengo.
18. Manage social media for businesses
Social media is a big thing in today's world. It has changed the way we interact with each other and has influenced the way companies to work. Social media is necessary today, and even businesses need it.
But there are so many things to look after while doing business. So here comes the need for social media managers. If you feel like you have become an expert in social media, why not use it to earn money?
19. Rent your extra room at Airbnb
Airbnb can be used to book rooms for holidays and also can be used to rent extra rooms to earn money. So you could be a guest as well as the host.
With Airbnb, it's easy to connect with travelers who need a place to stay and make money by sharing your space.
Whether you own an apartment, house, or vacation home, you can use Airbnb to rent it out and earn money immediately.
To start with Airbnb, you will need to create a listing for your space and set any requirements or restrictions that guests must follow.
You will also need to ensure that your space is clean and comfortable so potential guests can have a positive experience.
And if you want to maximize your earnings, you can set daily or weekly rates and promote your space on social media or other platforms. So why not sign up today and rent your extra room on Airbnb?
20. Sell items on eBay and Craiglist
If you have some stuff lying inside your house and collecting dust, you can sell it on eBay or Craiglist. Even if you want to sell some products professionally, you can sell them on eBay and Craiglist and earn money.
21. Custom-designed tee shirts
With platforms like Teespring and Merch by Amazon, it's easy to create your unique designs and sell them online.
Whether you want to focus on funny, inspirational, or motivational themes, there is a huge market for custom t-shirts that appeal to a wide range of audiences.
To start with a custom t-shirt design, you must create a portfolio of your work and build your online following.
You should also familiarize yourself with the different selling platforms and explore the types of t-shirts and styles available.
And if you want to maximize your earnings, you can use paid advertising and other marketing tactics to promote your designs and reach more potential customers.
If you have creative instincts and can design Tee shirts, then Teespring is for you.
You can use this website to create tee shirts and sell them. This business can be for you if you can leverage social media.
22. Become a tutor
If you are from an English-speaking country and have a good grip on the language, you can become a tutor with Vipkids. Many people work with these online tutoring services and earn good money as a side income.
23. Photo editing/consulting
If you are looking for a job that pays daily or instantly, photo editing and consulting could be the perfect option.
You can use platforms like Fiverr and Upwork to connect with clients who need help with their photos and make money on your schedule.
Whether you want to focus on enhancing images, removing unwanted objects, or retouching portraits, there is a huge demand for photo editing services online.
To start with, you should also familiarize yourself with the different types of photo editing tools and platforms to offer a wide range of services.
24. Start graphic designing/website designing
If you are creative and have technical knowledge, why not use your abilities to work as a website/graphic designer and earn money? Fiverr and Upwork are good places to start.
25. Humanatic
At humanatic, you have to listen to recordings and answer questions.
Sign up with Humanatic and you can get paid on Monday or Tuesday when you have accumulated $10 in your account.
They pay you through Paypal.
Which site can pay me daily?
Many sites can pay you daily, depending on the type of work you do. Some of the most common options include freelance writing, data entry, and online surveys.
Many of these platforms offer quick payout options, so you can get paid as soon as your work is approved.
And with websites like Upwork and Fiverr, you can connect with clients and earn money immediately.
If you are interested in finding a site that pays daily, it's essential to to do some research to find the right platform for your needs.
It would be best to look for platforms that offer competitive pay rates and flexible work options that fit your schedule.
And it's also essential to consider the reputation of the site and reviews from other users so you can feel confident in your choice.
Frequently asked questions
Advantages of the jobs that pay daily
There are many advantages to choosing a job that pays daily or instantly, including the opportunity to earn money right away and the flexibility to work on your terms.
These jobs can also be a great way to explore new interests or hobbies, meet new people, and have fun while you work.
Moreover, platforms like Airbnb, Teespring, and Merch by Amazon offer many opportunities for earning money with these jobs, no matter where you live.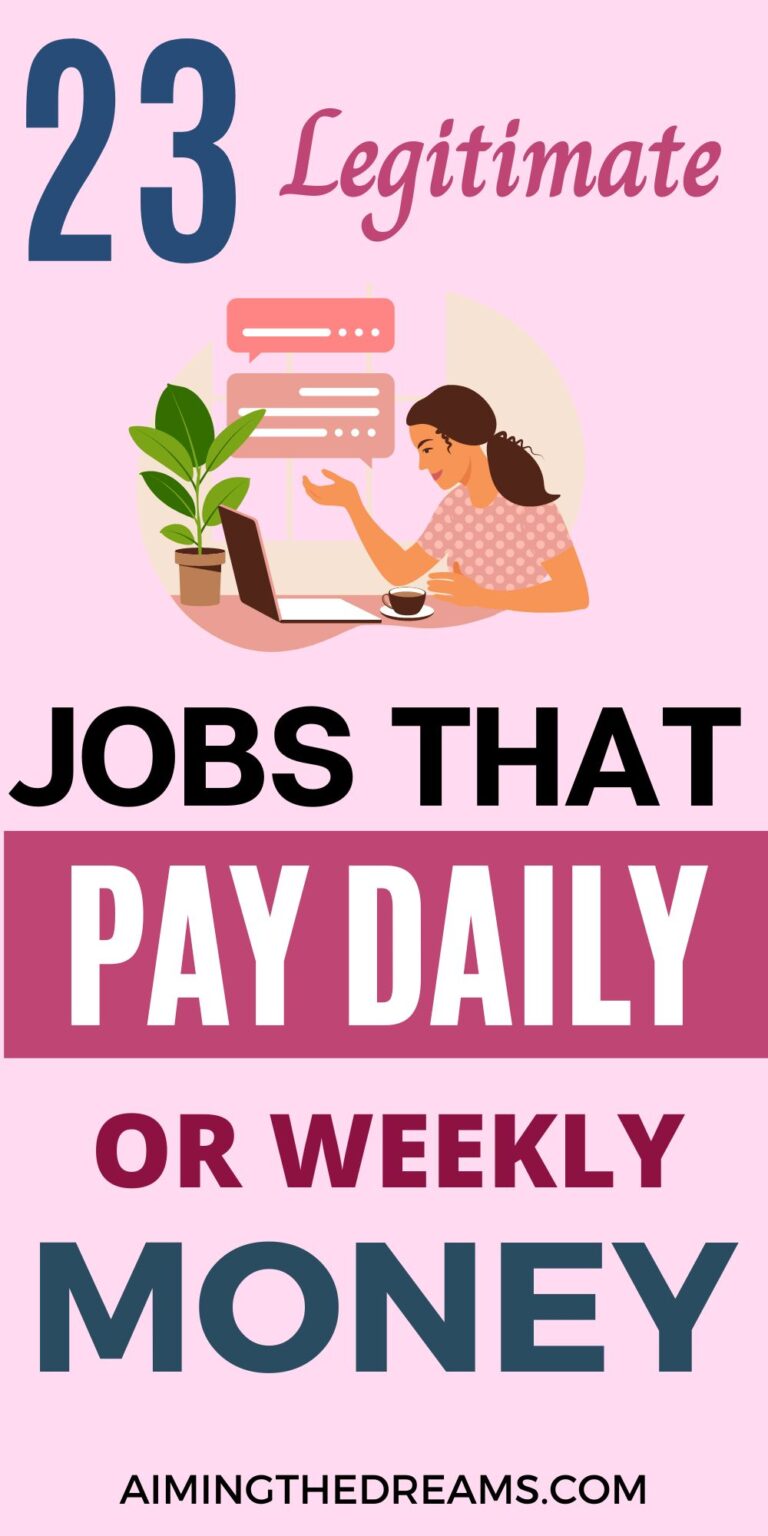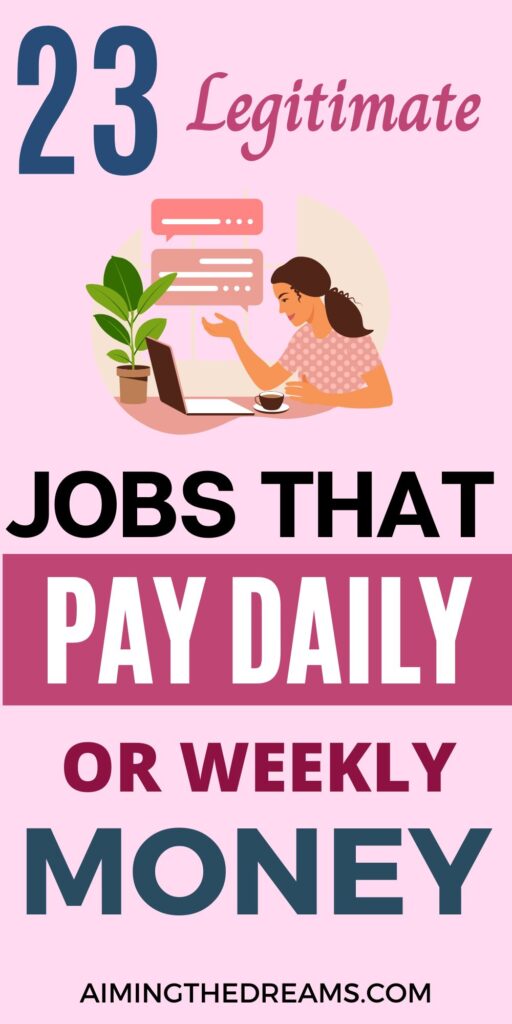 How do companies pay daily for the jobs you do?
Many companies pay daily or instantly for your tasks, such as taking online surveys, performing market research, or writing articles and blog posts.
These platforms typically offer various types of work that can fit into your schedule and allow you to earn money quickly.
Most companies don't pay daily; instead, they credit the amount to your registered account.
Some of the most popular platforms for paid tasks include Survey Junkie, CrowdSource, and Upwork.
To start with these companies, create an account on their websites or download apps and begin taking surveys or working on other projects immediately.

Are jobs that pay daily legit?
There is no definitive answer to this question, as the legitimacy of jobs that pay daily can vary depending on the specific role and employer.
Some jobs that pay daily, such as online coaching or mystery shopping, may be legitimate. However, other opportunities may not be reputable or offer fair compensation for your work.
If you are considering a job that pays daily, it is essential to research the company and role to ensure you make the right decision.
Additionally, you may want to consult with an expert in your field or a trusted friend or family member for additional insight.
Ultimately, the best way to know if a job that pays daily is legit is to assess the opportunity before you commit carefully.
If you are unsure or have any concerns, it may be best to look for other options that can provide more stability and security.
However, if you decide to take on a role that pays daily, you must put in your best effort and follow all of the employer's guidelines and requirements. Then, with the right approach, you can enjoy the benefits of these jobs while also making money on your schedule.