Disclaimer : This post contains affiliate links which means I may get compensated with no extra cost to you if you buy something through my link. I like to promote only the products which I use and love. Read full disclosure  here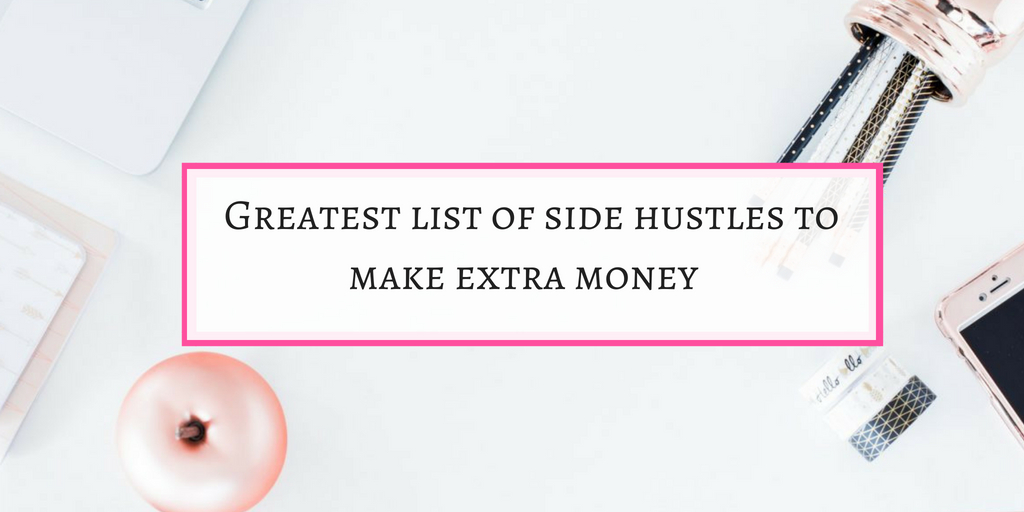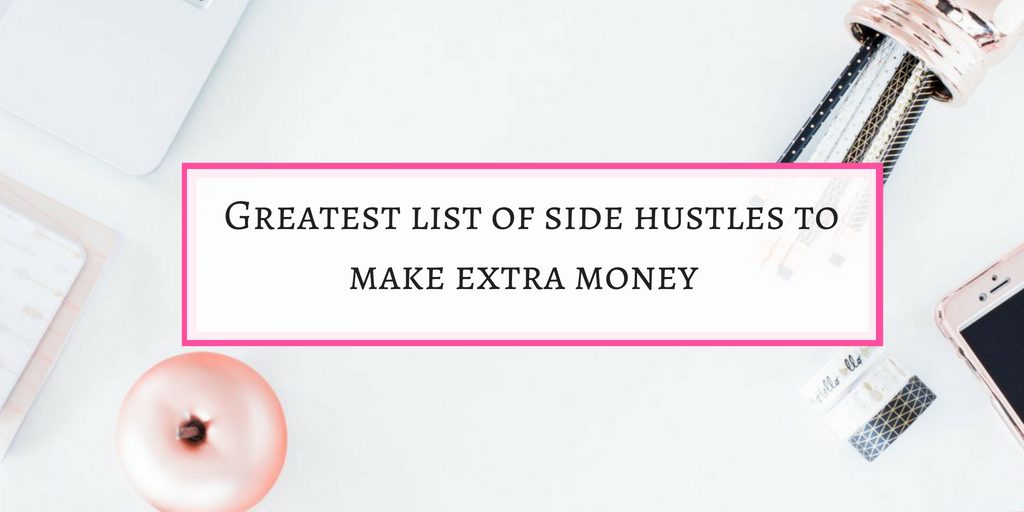 Hey beautiful,
I know you all love making extra money in your spare time. Or you are a stay at home mom who wants to earn money while staying at home and taking care of your kids. Side hustles could make really nice money and even free you from 9 to 5 cubicle life. The Internet has opened so many avenues to earn money without doing a traditional job. It is a blessing for those who don't want to work 9 to 5 or who cannot work due to family obligations.
Making extra money is also when you have to pay your debt. It helps in increasing earnings which you can put into your debt payments or savings.
♠ If you are looking for some ideas to start some side hustle, find some ideas here 
1. Survey Sites to earn money in your spare time
This survey site operates in Unites States, United Kingdom, Australia and Canada. You can make money by taking surveys in your spare time. It requires 20 dollars before you can redeem. Though it takes some time to collect $20 in your account, it is worth trying.
Opinion world let you redeem your points when you reach 500 points and you can either get a voucher or gift card or you can redeem via Paypal. And the minimum you require for getting through Paypal is $10.
Sign up for Sign up for Opinion world here
Surveys from the Octopus group let you make money through surveys and pay directly in dollars. You can redeem your money into directly your bank account. The minimum threshold is 20 dollars. For me, it took some time to reach this threshold. But the best part is this survey group pays you in dollars  You don't have to convert points into dollars.
Rewards central let you collect points from surveys, online shopping, checking emails and referral. You can redeem either gift voucher or direct money transfer to your bank account.
Sign up for rewards central herePureprofile
This is one of my favourite survey companies. It pays you in dollars every time you complete a survey. The best part is you get paid every time even if you are screened out. And the screening process is not lengthy like some of the other survey sites. You can only cash out 70 dollars every 60 days. This is really great way to make some side cash in Australia.
My opinions give you a lot of surveys and you can accumulate a lot of points with surveys. Points can be redeemed either by Paypal or as gift vouchers.
There are many ways to make money with Swagbucks. Here you can collect points with shopping, watching videos and taking polls. You get paid in SB which are Swagbucks points. Then you can redeem them either as gift vouchers or you can get real money through Paypal when you reach 2500 SB. It will fetch you 25 dollars.
Mint surveys are one of my favourite survey sites as their surveys always pay good and are not too lengthy. The only problem is that they don't pay real money. You can only get gift cards.

2. Cashback apps to earn money back
You can earn cashback with Ebates on many retailers. Some of the retailers ship for free and if you have a store nearby, you can also shop online and pick from the store. Shopping becomes more enjoyable when you can shop from the comfort of your home.
Cashrewards is a very good cashback site for Australians. You get paid $5 when you join and then you can start shopping and get money back. It takes 3 months to get paid your money back. Also, you need at least 10.01 dollars to get paid. Many retailers like woolworths, coles, chemist warehouse, Dan Murphy's and many more are listed on this site.
Shopback is a new entry in the Australian market as a cashback site. It also has many big retailers where you can shop and get money back. Many deals and coupons are also listed on this site.
Price pal is also a cashback site which operates in Australia. Retailers like ASOS, Woolworths, Macy's, boohoo, marks&spencer and many more are listed for your shopping experience.
3. Teach English online
This is a lucrative side hustle for people who are native English speakers. There are many online sites which want to have English speaking tutors. Some of them want you to have some teaching experience and education. And they pay anywhere between
VIPKID is an online tutoring site which needs you to be fluent in English. Their curriculum is based on US common core state standards. You get paid for the amount of time you put and the classes you take.
Qkids is for young Chinese English learners. Here you teach English to young kids from china. You can teach from the US or Canada. You need to be a native English speaker to become a tutor with QKids. Qkids pay a base rate of $8USD per lesson.
If you like to interact with people and make money, then this place is for you. You get paid around 10.20 dollars per hour. You can work from anywhere in the world. And you can set your own schedule.
4. Work as a Virtual assistant
You can offer so many things as a Pinterest VA. You can also select your own hours to work. Staring is a bit difficult but once you have a foot in the door, it becomes easy and you can make good money from being a Pinterest VA. You need to be very good at Pinterest for being  Pinterest VA. Practice on your account and master the Pinterest.
If you want to master Pinterest, Pinterest Ninja course is the best book. You will learn everything you need for growing your Pinterest account. Earn money by becoming a Pinterest VA.
Social media manager
Facebook, Twitter, Google adds creating and monitoring
Designing and formatting infographics, logos
Customer service VA
There are many more ways you can work as a VA and earn side income.
Airbnb is the place where you can either become a host by renting your extra space or you can book a space. It is always cheaper if you want to travel on a budget. It is a win-win situation for both hosts and travellers. If you like to meet people then this is a great way to meet people from all over the world.
6. Market research
Market research pays you between somewhere 50 to 100 dollars for an hour. There are different ways market companies search for the type of products people are looking for.
Focus group
Surveys
Product testing
Face to face interviews
Mystery shopping
7. Blogging
Yes, blogging is really a beautiful way to replenish your income as there are endless opportunities. You can start a blog in any niche you are knowledgeable about. You will find endless opportunities to monetize your blog. The blog will not make you rich overnight as it takes some time to grow your blog. But the rewards for investing your energy and time are huge. Monetize your  blog with
Affiliate marketing
Having adds on your blog
Writing e-books
Selling your services
Coaching
Selling physical products
There are so many ways to make money from the blog. Though it takes some time to earn money from the blog. You will need the traffic to your blog for monetizing it. You can get good traffic from Pinterest. To help you out in your Pinterest journey, Pinterest Ninja course will definitely help you out in your Pinterest journey.
8. Proofreading
If you are good at English and can pick even small mistakes in English, you can start working as a Proofreader. You don't need any formal education but having a good grip on language and training can set you apart from the rest of the candidates.
To start working as a Proofreader, you can learn from this course.  If you want to start
Key points
Use survey sites to earn extra money
Cashback sites to get money back on online purchases
Teach English online
Work as a Virtual Assistant
Rent on Airbnb
Market research
Start a blog
♠  If you want free gift cards  : Sign up with Swagbucks . There are many ways to earn points from Swagbucks to get get reward points and get free points.

♠ If you want instant money : Sign up with Ebates and get your bonus of $10  which you can access after making some purchase. There are many stores from which you can earn cashback on shopping.
♦ If you are interested in finding out more about earning money online or side hustles, you will love these posts
13 genuine online jobs that pay  $20/hr or more
11 online business ideas you can start with no money
15 passive income ideas to make money while sleeping
18 home based business ideas to start with very low budget

Please share this post if you like it. As you know sharing is caring.