To start building passive income as a beginner, you need to plant seeds with active income, then only you can reap the fruits of passive income. Active income is the income generated by putting your hours into work. This is the income you make from your traditional job or business which require you to be present there to make money.
Remember, it will not be always possible to work hard the way you can work today. Age, health, time, economy plays an important role in how much you can earn at any given time. If today, you have robust health and can work to any extent, it is a good idea to generate as much income as possible and invest it in a certain way to reap the benefits of passive income in coming years.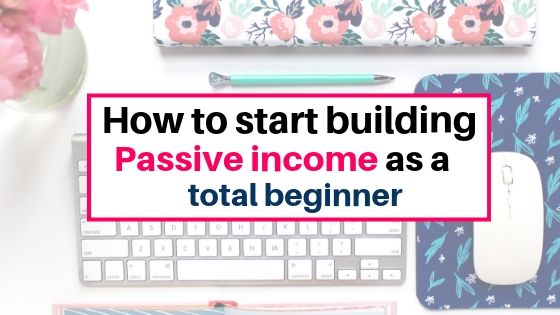 Disclosure: This post contains affiliate links which means I may get paid commission if you buy through my link. For full disclosure, read here
What is passive income?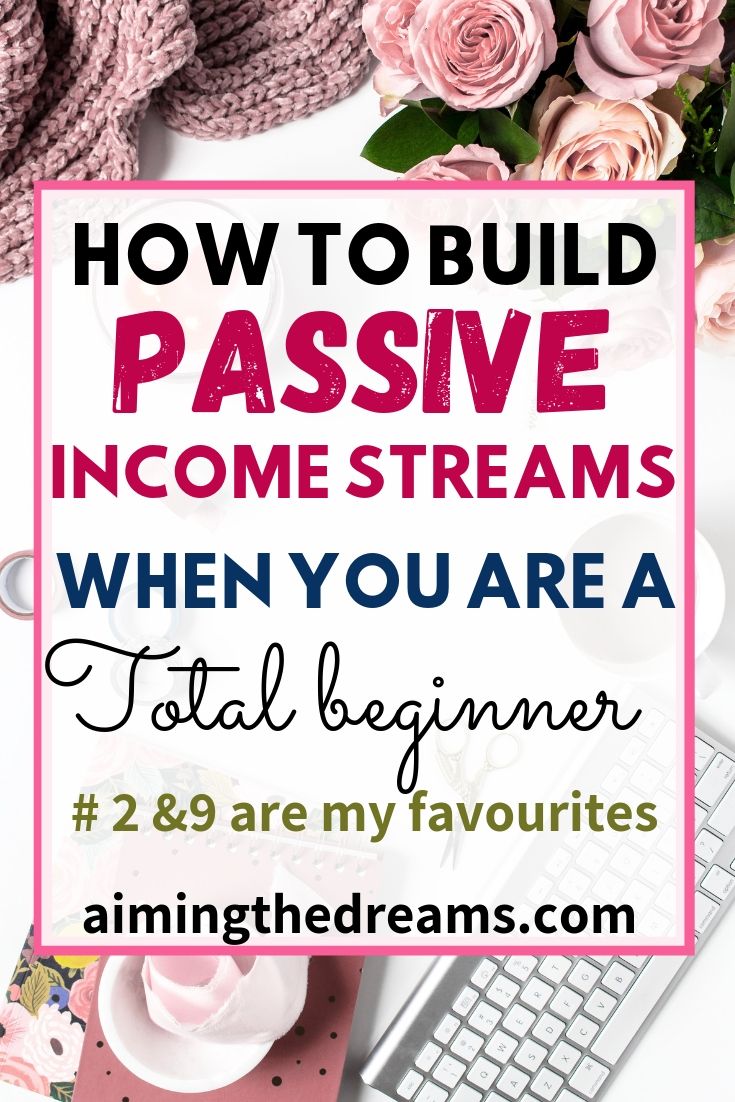 Passive income is what you earn even while sleeping. In other words, it is not directly related to the hours you put into work. It doesn't mean that you don't have to work for it but after a certain time, it pays you with minimal efforts.
Sources of passive income
Investments and stocks
Dividend stocks
Peer to peer lending
Rental properties
A high yield savings account
Index funds
Rent your space
?If you want to start making money online right now, start doing surveys. You will not become rich but you can increase your emergency fund or you can pay a bill with this extra money. I am using the money I get from surveys to build my emergency fund. Here is one of my favourite survey companies
Survey Junkie:  I personally use Survey Junkie to make some money in free time. It is easy to find high paying surveys at Survey Junkie and you can make good money as a side income from the comfort of your home. You can redeem the points as money or as free gifts.
  ⭐  Sign up for Survey junkie and start earning money right away NOW
Steps you need to start earning passive income
Before you start earning passively, some steps are required to lay the foundation of passive income. The very first thing to keep in mind is that you should have a cushion to bolster any risks of investments. Most of the investments which give high yield have some kind of risk associated with it, it is advised not to put your all eggs into one basket.
Learn to take some risks
I want to share my story, my parents never thought of investing in any kind of stocks or dividends. They just knew how to invest in real estate or agricultural properties. And they did it but it was really hard to accumulate the money to invest in that kind of investments but somehow they did it. But it was really hard to make both ends make after those properties.
What did I learn from those?
Change your mind about passive income and start Investing somewhere else, where you don't have to raise a lot of capital at once. So I started learning different ways to build passive income by investing in different ways.
After experiencing all those things, I always made it a point not to invest in any kind of big property like this. I think you will be with me on this one that investing in other ways is much easier than buying properties if you don't have lot of money.
Now,  we have more ways to invest in this kind of properties, namely,  Real estate crowdfunding, REITs. These are better and easy as you don't have to put all of your eggs into one basket.
Change of mind to start building passive income as a beginner
It really matters what your state of mind is because once the mind blocks are clear, it becomes easy to build passive income streams.
Change your thinking about risks associated with passive income
Start thinking about the ways to make money
Ideas how you can start building passive income
There are two ways what I have learned
The traditional method of investing
New generation online method of generating passive income
The traditional way of investing includes these methods
The traditional way of investing helps you in investing your money and earn yields on your invested money. It is important to learn to invest when you are a beginner. If you are new to investing, you can read this beautiful post about investing  here
⭐Pro Tip: Eliminate any bad debt before starting building passive income through investing. 
1.Investing money
Investing comes into mind whenever we talk about passive income ideas. It is a great way to start earning a passive income. Investing creates income with the magic of compounded interest. There is a beautiful quote by Einstein,
" The eighth wonder of world." He who understands it, earn it; he who doesn't, pays it." Albert Einstein
If you want, you can take help of a professional broker or you can start investing with Robo advisers. There are many which can help you in investing the money as a beginner.
I love acorns because it helps you to start investing money. They pay you $5 when you invest even $1. How convenient. And this is the best thing a beginner investor can do. Don't think too much, just start this one today. Believe me, you will not regret it anytime. You can check yourself and sign up with Acorns (Raiz)
Betterment is there for years and it has helped many people who did not have much experience in investing. Their fees are low at 0.25 to 0.40%. The best part is, there is no minimum to invest.
Wealthfront makes it fairly easy for new investors because it is free for an initial $ 5000. Great for people with low amounts to invest and investing your first  $5000 for free is the best part.
How to start investing as a beginner
2. Dividend Income
The income you will get from dividend stocks will definitely be passive income. Even Warren Buffet says that he loves dividend stocks. Because dividend stocks pay you regularly in cash to your bank account. But you need to be careful with the stocks you choose.  You may take advantage of compounding with the dividend stocks.
What are dividends: Dividends are regular payments paid to the shareholders by the company from its earnings. Not all companies pay dividends, some of them use the profit to grow companies.
Before jumping into this world of dividend stocks, educate yourself. It is believed to be risk-averse but it is not. Like all other investments, dividend stocks also have some risk associated with them.
Risks associated with dividends 
Companies may slash dividends to invest or to pay any debt
Interest rates may affect dividend payouts
To learn some points before investing in dividends, read this
Introduction to dividend stocks 
3. Invest in CDs
CDs are a great way to earn passive income and the best part is they are less risky. I am very conservative in money matters and love all those ideas where there is less risk. CD laddering may not be the best idea of investing for a long time but if you need to make money from your money without losing it, go for CD laddering.
4. Investing in index funds
Investment funds are also called exchange-traded funds and these are the investment products that let you invest in different companies simultaneously. These are really great if you yourself don't know how to outperform the market. Index funds or ETFs invest in multiple companies and mix good apples with bad apples.
There are a different type of index funds :
Vanguard Total Stock Market Index
Fidelity Total Stock Market index
Vanguard S&P 500 ETF
Vanguard High Dividend Yield ETF( VYM)
You can read more to get more information on different index funds.
Investing in Real Estate
If you want to invest in real estate, there are many ways you can do so. The traditional way of buying the real estate property and by going through another route where you don't exactly buy property directly but you invest your money in Real estate-related funds. Here are a few ways you can invest in real estate,
5.  Invest in REIT
REIT is a company that manage, operate or finance an income-producing real estate. Real estate investment trusts are historically considered to be the best asset class. The rent generated from the properties is distributed to the shareholders.
REIT works similar to the mutual fund and trade and allows the individual investor to invest in the big project and own a part of real estate which otherwise is difficult. Learn more about REITs here.
6. Invest in crowdfunded real estate
Peerstreet is the third largest real estate crowdfunding site. It works as a middleman between the investor and the borrower. It is a peer to peer lending for real estate projects. Here the borrowers are considered to be the professional investors who purchase the property, fix it up ad sell at a higher price.
Peerstreet claims to have a lower fee than other similar platforms. Also, it gives you good returns. If you feel comfortable then you can invest in this crowdfunding platform and start earning passive income. It is said to give you around 5-6 % return on your money invested.
7. Buy an investment property
This is more a traditional route but it is a great idea to buy an investment property if you have required funds. But if you feel like it is difficult for you to raise the capital required for buying property, it is better to choose other options to invest in real estate
8. Rent out a room in your house
This is my favourite. If you have spare rooms in your house, you can rent them. You are not doing anything else to earn this money. This will help you earn money while sleeping. When we rent our room, we make an extra income which we will make in one week.
You will add an extra 12 weeks to your year. Now, instead of 52 weeks, a year contains 64 weeks. ( I love this idea.)
If you are a bit worried and want to be more secure, you can rent it through Airbnb. This income is truly passive.
✔ Online passive income ideas
There are more ways to build passive income streams these days. The Internet has made it possible to start earning money online which require an initial set up ( which is really hard as well as smart work). After that, you can work for a few hours and earn money.
Create a blog
Buy an already existing blog
Advertisements on the blog
Affiliate marketing
Ebooks and courses
9. Start a blog
Start a blog to earn some passive income. It takes some time to build some income from a blog but you can see many people who are earning a good amount of money from their new blogs even.
If you want to create a passive income stream, creating a blog is really the best thing for you. It will take some time to make money and it is really hard as well as smart work. Because millions of blogs are created every day. And you need to stand out from those blogs. But with the right strategy to accomplish blog goals can lead you towards success.
I have given examples of these because I love these blogs. They are awesome.
If you want to start your very own blog, I have created a short email course to get started as a beginner
The form you have selected does not exist.
10. Affiliate marketing
Affiliate marketing can make you some serious money in the long run. Michelle from Makingsenseofcents  is earning around 50,000 dollars a month from affiliate income alone. Affiliate marketing is a form of marketing where you earn money for referring people to the product and you get paid the commission for the referral. There are many forms of affiliate marketing. You can become an affiliate for a product/course or you can create an affiliate program for your own products or courses. Either way, you will earn money.
Some people make very niche-specific websites with great SEO and start affiliate marketing. If you have started a blog, then earning money with affiliate marketing will be much easier. If you are a beginner and want to learn affiliate marketing then Michelle's course Making Sense of Affiliate Marketing is really good for you.
11. Create an online course
Creating an online course takes real hard work and a lot of time. But it is possible. Many people are creating online courses and selling them. There are many platforms which can help you create an online course.
This is really an online world. You shop online, you make friends online and reading/learning online is also common these days. If you have some skill which you can teach others and make them learn the skill to earn money, It will be beneficial to both of you.
eCourses can be made into ebooks or videos. Either way, it can be used. And you can use a platform like Teachable or Udemy for your course.
If you are good at writing and can write something valuable, start writing an ebook. It is not easy and very simple to write a book and make money though. You have to do really smart marketing your self so that you will be able to sell your ebook/course.
Megan from Lovefamilyhealth is earning a good amount of money from her one course, Pinterest ninja which has helped me in setting up my optimised  Pinterest profile from day one. I must emphasise, this course is great and has helped me in setting up as well as growing my Pinterest account rather easily.
There are many other people who are earning a good amount of money from online courses. The only catch is that the course should provide value and solve a solution. Megan's course is great for Pinterest beginners and intermediates. It feels like she is holding your hand at every step of setting your  Pinterest account.
12. Buy an already existing online business
To start a business from scratch is difficult and time-consuming. If you have an idea to start your own business, go for it. But if you want to save time and hard work which goes in starting something from scratch, buy an already existing business.
As I am in Australia, this site works well in Australia to buy or sell a business.
13. Get paid for your leisure time and internet searching
You will not get rich but starting somewhere is the key. If you like to watch videos in your spare time and then have some kind of money made through it, you can sign up with Swagbucks.  Swagbucks pay you to watch videos, doing an internet search and for surveys. You can also add Swagbutton on your mobile or desktop and earn for watching videos.
Read my full review about Swagbucks here
Conclusion: These are all my favourite ideas to start making passive income and I am working on these. I will update my net-worth as soon as it will start building up. My idea to start is with $1000 initially and adding $300 every month to my investments. Let us see where I will be in a few years.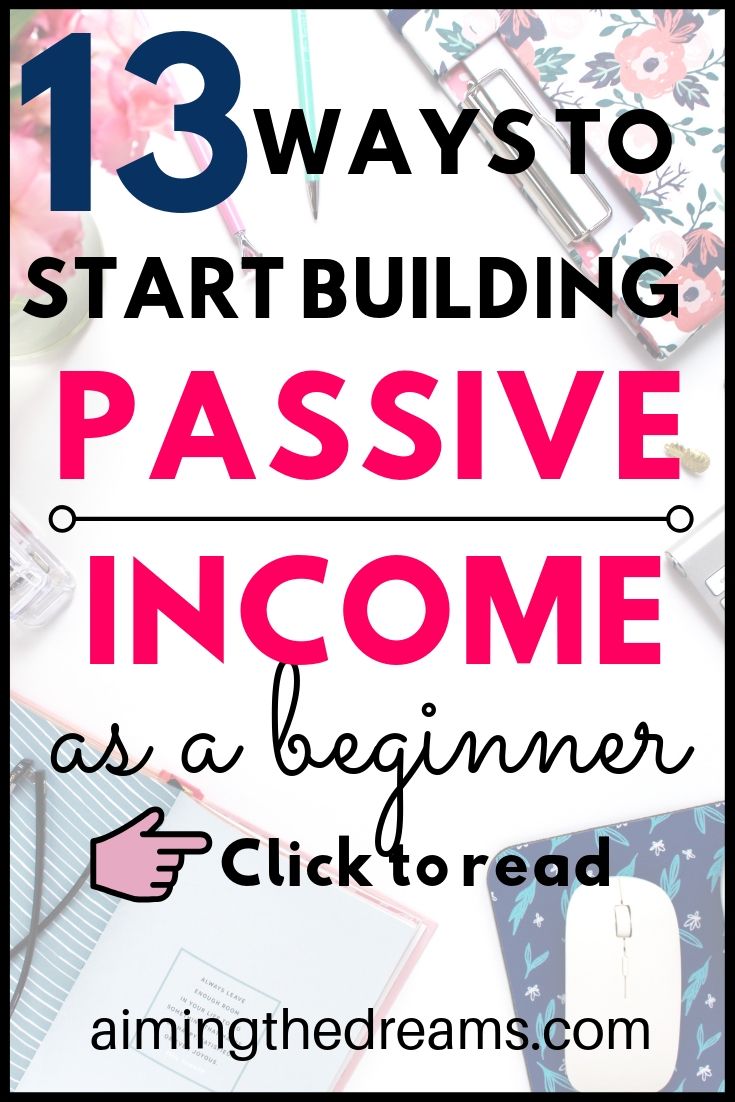 ⭐I hope you like my post and don't forget to follow me on Pinterest Love