Want to earn more money on top of what you are already making? It is a great idea to supplement your income while working full time. It will let you have more than one income stream and help you keep the stress of one job away.
Sometimes these side jobs can become your primary income source if you go on working on them with determination and focused goals. I know it isn't easy to spare some time to work extra after working full-time hours, but it helps you create a different income source other than your current job.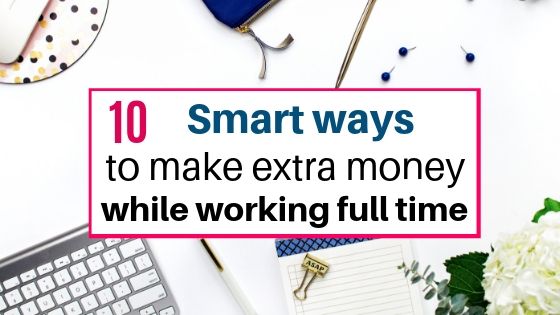 Disclaimer: This post contains affiliate links, meaning I may get compensated if you click through my link and make a purchase. For full disclosure, read here.
There are many ways you can start working for a side income. It depends on you how much time you can spare and your skills.
You can provide some services related to your existing skills.
Coaching
Online jobs
Online businesses
Some of the work ideas to make money while working full time
To work on these ideas, you don't need to go anywhere for work. Just sit at home and work during your free time.
1. Earn money doing surveys
Doing surveys is time-consuming and will not make you rich but it is possible to make but making month. I can easily make $150 to $200 monthly from surveys. One of my friends earns around $250 to $300 every month from surveys alone, on top of her full-time job. If you commute to your workplace by public transport, you can utilise that time to do surveys or any other work that can be done online.
1. Survey junkie
Survey junkie also provides a lot of surveys and you will be able to earn points by completing them. This is one of the oldest survey panels and started in 2005. You will earn points and 100 points equal to $1. You can get paid by PayPal or directly to your bank account.
Survey Junkie:  I use Survey Junkie to make money in my free time. You can redeem the points as money or as gifts.
2. Inbox dollars
Inbox Dollars is another survey company that pays you for a few tasks like surveys, watching videos, and cashback on shopping.
Sign up for Inbox dollars here
2. Swagbucks: Sign up to get $5 bonus
There are many ways to make money with Swagbucks. Here you can collect points with shopping, watching videos and taking polls.
Then you can redeem them either as gift vouchers or you can get real money through PayPal when you reach 2500 SB. It will fetch you 25 dollars.
This survey site operates in the United States, and Canada. You can make money by taking surveys in your spare time, shopping, and watching videos.
Sign up for Inbox dollars here
2. Freelance writing services
If you love writing then you can easily make some money from your writing services. Hone your skills and start pitching for work. If you can write well and have a knack for putting your ideas into words, then start a freelance writing job.
Elna Clain from elnaclain.com is a freelance writer and she has a free email course for budding writers. She has a plethora of free information as well as very good courses for helping you to become a writer.
Freelance writers earn good money. It is a bit difficult in the beginning but with the practice and experience, you can charge good rates for your articles.
If you want to start your freelancing writer career, here is a post which can help you find your first writing gig.
 57 places to find freelance writing jobs as a beginner
3. Always shop through cashback sites
Get cash back with Ebates
Online shopping is changing the way we use to shop. Buying your favourite stuff from your couch on the click of a button is what we all love. More than that I love money back.
When you get some money back from your shopping, put that money immediately to your saving account. Sign up with Ebates and get your bonus of $10 for signing up. When you will make a purchase, you will have your cashback h.
You can refer your friends and family and earn referral money from Ebates. For every qualified referral, you can make $25. A win-win situation for you as well as your friend/family member. If you referred two people, you will earn 50 dollars and your friend will earn $10 sign up bonus.
♦  If you referred 2 people every month, you can make $50 each month doing nothing?
Ebates : Sign up with Ebates and get your bonus of $10
4. Make money referring your friends and family
There are many apps and survey sites that pay you for referring them to your friends and family. You don't have to go anywhere for that. Just share your referral link with your friends and you are done. You can invite friends and family through email and you can also share your unique referral link on social media to get more people to sign up through your link.
Both you and your friends can profit from this. It is a win-win situation. Read this post where I have compiled some of the apps and sites that pay a referral bonus
5. Coaching and consulting
This one needs no qualifications but if you have one, it will give you an edge over others.  The only catch is your skill should be able to solve a specific problem which people are facing. If you can provide a solution then people will be ready to pay you a good amount of money. It is not always about money but it is about providing value. What you need to create a successful  coaching business is
A specific skill to solve a specific problem
A target market which needs your help in solving problems
Great mindset ready to conquer fears
If you have an idea and you want to start a coaching business, you can also improve your skills by taking some courses. Online courses are not very expensive and help you a lot in improving your specific skill set.
These are some of the ideas which you can use to generate at least 500 dollars a month. Making extra  $500 a month is not a big deal and you can always scale your business.
 6. Earn to search on google
This is an easy way to earn money without doing anything. There are many ways to make money as an Internet researcher. Most of us daily do some kind of search on the internet. But structuring this research and doing a search for particular tasks can make you money. Here are some of the ways to make money as an Internet Researcher
Answer questions posted on sites
Extract information from the web for clients
If you are interested in making money along with your full-time job or you want to start some side hustle to break the 9 – 5 routine, here are some posts to read. You may find some ideas to start working along with your job or if you are staying at home for any reason.
How to make money as an internet researcher
7. Work as Click worker
Start working at Clickworker and earn money working from home. You don't need any formal qualification to become a click worker. The only qualification required is that you should be able to use internet. This site provides you with micro-tasks which you have to complete and you can earn around $10/hour.
This concept is to complete small tasks like data entry, web searching and form filling and get paid. Though the pay is not that high earning some side income at home won't hurt. They pay through Paypal and you can choose your own time to work.
The form you have selected does not exist.
8. Start a blog
Start a blog to earn some passive income. It takes some time to build some income from the blog but you can see many people who are earning a good amount of money from their new blogs even.
There are many ways to make money with a blog. 
Advertisements: This is the easiest way to make money with a blog but you need tons of traffic to make money with the blog.
Affiliate marketing: I have made few dollars with Affiliate marketing but yet to grow it into an income stream. I reading Michelle's Makingsenseofaffiliatemarketing  to learn the ins and outs of affiliate marketing.
Create online course: This is a great way to increase your blog income but I don't have time to do all these (there is a lot to do to maintain a blog). And with a toddler always running here and there, it becomes really difficult to work on it.
Write ebook: I am working on this one and hope to finish this. But this is a great way to earn income from your blog.
9. Start transcribing
Transcription: Transcription in the linguistic sense is the art of listening to speech and converting it into written form.
If you want to make money by transcribing then Transcribe Anywhere have the courses for you.  Either you can take a course in
General Transcription: Theory & Practice™
Legal Transcription: Theory & Practice™ 
Janet has designed a free 7 day course to know if you can really learn and this transcription work is for you.
♦ If you are interested in finding out more about earning money online or side hustles, you will love these posts
11 online business ideas you can start with no money
15 passive income ideas to make money while sleeping
18 home based business ideas to start with very low budget
♠  If you want free gift cards: Sign up with Swagbucks. There are many ways to earn points from Swagbucks to get reward points and get free points.
♠ If you want instant money: Sign up with Ebates and get your bonus of $10  which you can access after making some purchase. There are many stores from which you can earn cashback on shopping.
10. Virtual Office Temps
Virtual Office Temps is a place for virtual assistants to find work. They hire people for services like clerical support, administration, management, social media evaluator and many more. You can check their job board where you fit and how you can find work related to your skill. From the jobs listed, you can see that those jobs pay anywhere from $14 to 20/hr.
11. Amazon Business
Selling on Amazon can become a really thriving business. Amazon FBA has made it possible to start selling online from home. It is the biggest platform where you can get real business.
Here is a 7-day free email course for you to learn the basics of Amazon business. Jessica from selling family has sold on Amazon and made 100,000 dollars in her first year.