The Internet has opened up many ways to work from home and make money. Transcription jobs are one of them as they are flexible and you can do from the comfort of your home.
The average pay of Transcriber is around $15/hr but with the experience, you can earn around $20/hr. If you love to spend time with your kids ( who doesn't right ) or want to stay at home for any reason ( up to you ), being a transcriptionist can give you that flexibility.
What is Transcription: The process of converting live audio or a recording and converting it into text is called transcription. You don't need any experience to get started but a professional course can help you in starting out a bit easier.
These websites can help you find transcription work in the beginning.
How to become a Transcriptionist or Transcriber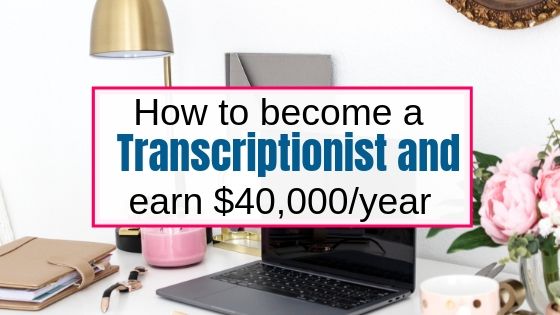 Disclosure : This post contain affiliate links. You can read full disclosure here.
You don't need any training to become  a transcriptionist but a professional training make it easy to get you started and your learning time gets reduced. Also, when you have a professional training, it becomes easy to get work. Transcription is a competitive industry where professional training gives you some edge over others.
If you really want to start your work from home side hustle, you can learn it from Jane of Transcribe anywhere. She is a Transcriber who runs award winning course, TranscribeAnywhere.
? Janet has created a free course for you. Join her Free Course to have a glimpse of Transcription course.
Types of Transcription work :
There are three types of transcription courses Janet provides
This course provides you valuable skills to prepare you building a solid for base for your online work. You will learn a lot from this course as described below,
Transcription equipment and where to get the best deal
Software and hardware — links + FREE downloads
Text expanders and shortcut keys
Transcription style guide
Time coding instruction
Establishing and calculating rates
Easy-to-use transcription templates
Step-by-step guide to finding work
Sample client contracts
TONS OF PRACTICE! Seven practice levels containing 60+ audio/video files with answer keys
Lifetime access to course material and ALL future updates
Lifetime access to their student support community on Facebook
Janet has created an amazing course to equip you with the right skills to work as a professional transcriber from home. The best part of this course is the support you will get from the community on Facebook. The course is provided in 6 modules. This is the syllabus of the course Janet has provided on her website to check what is included in this valuable course.
Module 1 – Laying the Foundation
Upon completion of Module 1, students will have an understanding and appreciation for what general transcription is and is not and the skills needed to master the art of transcription.
• The Right Equipment for the Job
• General Transcription Style (Standard vs. Strict Verbatim)
• Types of General Transcription Jobs
• Formatting a Transcript
Module 2 – Essential Skills for Excellent Transcription
Module II,  expands upon the skills learned in Module 1 and focus on the correct usage of punctuation, spelling, and critical thinking skills required to become an effective and proficient transcriptionist.
• Punctuation Makes Perfect
• Spelling: The Lost Art
• Transcribing Numbers
• Miscellaneous Transcription Conventions and Critical Thinking Skills
Module 3 – Time-Saving Tools for Efficient Transcription
Within Module 3, learn how to use resources to gain efficiency and speed. Time Coding for video production is also taught in this module.
• Using Text Expanders and Shortcut Keys
• Shortcut Keys for the Top 102 Most Frequently Used English Phrases
• Spell Check, Search & Replace, and Modern Usage Notes
• Commonly Used Transcriptionist's Notes
• Using Transcription Templates (includes downloadable templates)
• Time Coding
Module 4 – Practice Dictations
Module 4 dives into practice on real-world audio and video dictations. There are seven practice levels, beginning with easier dictation files and moving through to more difficult transcription exercises as the student progresses through each level. Each dictation includes a corresponding answer key.
• Level 1 Practice Dictations: Clear audio in simple, short videos
• Level 2 Practice Dictations: Audio-only Files; Non-American English
accents
• Level 3 Practice Dictations: Transcribing "Strict Verbatim" Style
• Level 4 Practice Dictations: Transcribing Multiple Speakers
• Level 5 Practice Dictations: Semi-Poor Audio Quality & Research Skills
• Level 6 Practice Dictations: Working with Time Codes
• Level 7 Practice Dictations: Transcribing Poor Audio with Foreign Accents
Module 5 – Building Your Business
Module 5 includes step-by-step guidance to setting up a home-based transcriptionist business, finding freelance work, and includes extensive resources for finding work with larger transcription companies.
• Income Guidelines and Setting Your Rates
• Developing a Business Plan
• Customer Service Essentials
• Connecting with Clients
• SEO, PPC, AdSense and All the Rest
• Top Business Directories for Local Marketing
• Where to Find Contract Work
• Bonus Marketing Unit: exclusive how-to video content available to
TranscribeAnywhere.com students only
Module 6 – Final Exam and Certification of Completion
Upon successful completion of General Transcription: Theory and Practice™,students are invited to take the final exam. The final exam is graded by a human being and valuable feedback will be provided to the student concerning any areas that may need further study. Upon passing the exam, students are awarded a Certificate of Completion. Students may take or retake the test as many times as necessary to be awarded a certificate.
Certificates are not automatically awarded. The student must demonstrate proficiency in all subject matter covered in the course in order to receive a certificate.
Time required to complete this course: According to Janet, although the course is self paced, students should be ready to spend two to four months on the course. This course is available to students for life time and they have access to all the updates.
Check Here : Check yourself here if you really want to start your own transcription side hustle.
Janet has  combined all her knowledge and experience as a transcriptionist and a business owner into a full-length, ridiculously comprehensive online training course to get you from newbie to a polished professional transcriptionist in as little as 4-6 months.​
14 full-length training modules
Where to get the best deal on transcription equipment (don't buy it before you start!!)
Typing drills for speed and accuracy
How to use text expanders and shortcut keys (includes printable cheatsheets)
Legal transcription style guide plus downloadable templates of legal forms and documents
Over 100 pages of legal terminology (both English and Latin in a downloadable format)
Screencast tutorial videos on transcription software, features of Microsoft Word, and more
Abbreviations, capitalisation, and punctuation for the legal transcriptionist
Definitions and descriptions of types of law and the legal process
How to find work as an employee
How to find higher-paying work as an independent contractor
Get your hands dirty with TEN LEVELS of practice dictations (and answer keys for each)
Lifetime access to all course material and future updates
Lifetime access to our student support forum on Facebook
Our "100% thorough" guarantee. We're confident you'll have everything you need to succeed. However, if you feel there's anything missing from the course — even the tiniest detail — just let us know and we'll add it in so you'll have it as part of your lifetime access.
MODULES AND UNITS
Module 1 – Introduction to Legal Transcription
Students gain an understanding and appreciation for what legal transcription is — and is not — and the skills needed to master the art of transcription.
UNITS:
➔ Introduction and Welcome!
➔ Legal Transcription: Overview
➔ General Duties of the Legal Transcriptionist
Module 2 – Tools of the Trade
Students learn the software and hardware requirements employed by legal transcriptionists and where to get the best equipment at the best price.
UNITS:
➔ The Right Equipment for the Job
➔ Typing for Speed and Accuracy (includes typing drills)
➔ Legal Transcription Style Guide (includes printable guide)
➔ Practice Transcription Exercise
Module 3 – Lawyers Litigate; Transcriptionists Punctuate
Both English and Latin legal terminology definitions and quizzes are included.
UNITS:
➔ Legal Terminology
➔ Spelling
➔ Punctuation and Capitalization
➔ Transcribing Numbers
➔ Abbreviations, Capitalization, and Punctuation for Legal Transcriptionists
➔ More than 80 pages of legal terms and phrases in a downloadable and
printable format.
Module 4 – Microsoft Word for Legal Transcriptionists
Students will be able to properly notate transcripts, use shortcuts to increase typing speed and accuracy, and employ spell check and other functions of their word processing software to produce accurate and readable transcripts.
UNITS:
➔ Commonly Used Transcriptionists' Notations
➔ Spell Check, Search + Replace, & Modern Usage Notes
➔ Shortcut Keys
➔ Screenshots and Video Tutorials
Module 5 – Basic Legal Correspondence & Practice Dictation
Students master the transcription of most documents produced by attorneys and other legal professionals.
UNITS:
➔ Introduction to Transcription in the Law Office
➔ Letters and Memos
➔ Transcribing EBTs (Examination Before Trial)
➔ Transcribing Attorney-Client Consultations
➔ Property Deeds
Module 6 – The Legal Process and Court Procedure
In this Module, Students gain knowledge of the different types of law and how a case moves through the legal process.
UNITS:
➔ Definition and Descriptions of Types of Law
➔ Steps in a Civil Case
➔ Steps in a Criminal Case
➔ Anatomy of a Court Transcript
Module 7 – Forms and Templates
Upon completion of Module 7, students will be familiar with the various legal documents used in judicial proceedings. Downloadable templates are provided with the course.
UNITS:
➔ Sample Court Templates
➔ Numbered-Line Blank Pleading Paper (Template and Instructions)
➔ State & Federal Court Approved Legal Forms
Module 8 – Practice Transcription of Court Proceedings
Students will master transcribing court proceedings with recorded audio practice files.
UNITS:
➔ Transcription Guidelines for a Court Transcript (Includes Video Tutorial)
➔ Practice Trial Transcriptions
Module 9 – Depositions
Students will gain an understanding of the deposition process and will have completed several practice deposition transcription files.
UNITS:
➔ Guidelines for Transcribing Depositions (Includes Template)
➔ Deposition Practice Transcription Files
Module 10 – Law Enforcement
Students will experience transcribing various types of law enforcement transcripts.
UNITS:
➔ Law Enforcement Transcription Overview
➔ Law Enforcement Practice Transcription Files
Module 11 – Conferences and Legal Association Meetings
Students will master the art of transcribing legal meetings and conferences from recorded video files.
UNITS:
➔ Overview of Conference Transcription
➔ Conference Practice Transcription Files (with Video Files)
Module 12 – Time Coding for Legal Transcriptionists
Students will be proficient at producing legal documents that include time stamps.
UNITS:
➔ How to Insert Time Codes in Legal Documents (Includes Video Tutorial)
➔ Time Code Practice Transcription Files
Module 13 – Resources and Final Exam
Module 13 supplies links to various tools and resources used by the legal transcriptionist, including:
UNITS:
➔ Writing and Style Guides
➔ Dictionaries
➔ Legal Resources
➔ Medical Resources
➔ Final Exam
The final exam tests all of the skills learned in the course. Upon successfully passing
the final exam, students will be awarded Certificates of Completion and will move on to
learn how to build their legal transcription business.
Module 14 – Building Your Business
After passing the final exam and demonstrating proficiency in the art of legal transcription, students will learn to market their new skills.
UNITS:
➔ How Much Do Legal Transcriptionists Earn?
➔ Customer Service Essentials
➔ Developing a Business Plan
➔ Advertising (Including Building a Website)
➔ Social Media
➔ Connecting with Clients
➔ Top Directories for Local Marketing
➔ Where to Find Contract Work
➔ Search Engine Optimization (SEO), PPC, AdSense, and All the Rest
➔ Opportunities for Expanding Your Services
Time taken to complete this course: Though it is  a self paced course but as Janet say that it takes 4-6 months to complete the course.
Check here : You can enrol in her free Legal Transcription course here
Requirements to become a transcriptionist
To become successful at Transcription and earn good money you should be
Able to  type fast with a good typing speed
Good at finding errors and have good eye for detail
Able to use critical thinking and have good knowledge of web
To check whether you are a good fit or not, Janet has created  Mini Courses. These  mini courses can help you in having an overview of the course.
 Enrol in free course for general Transcription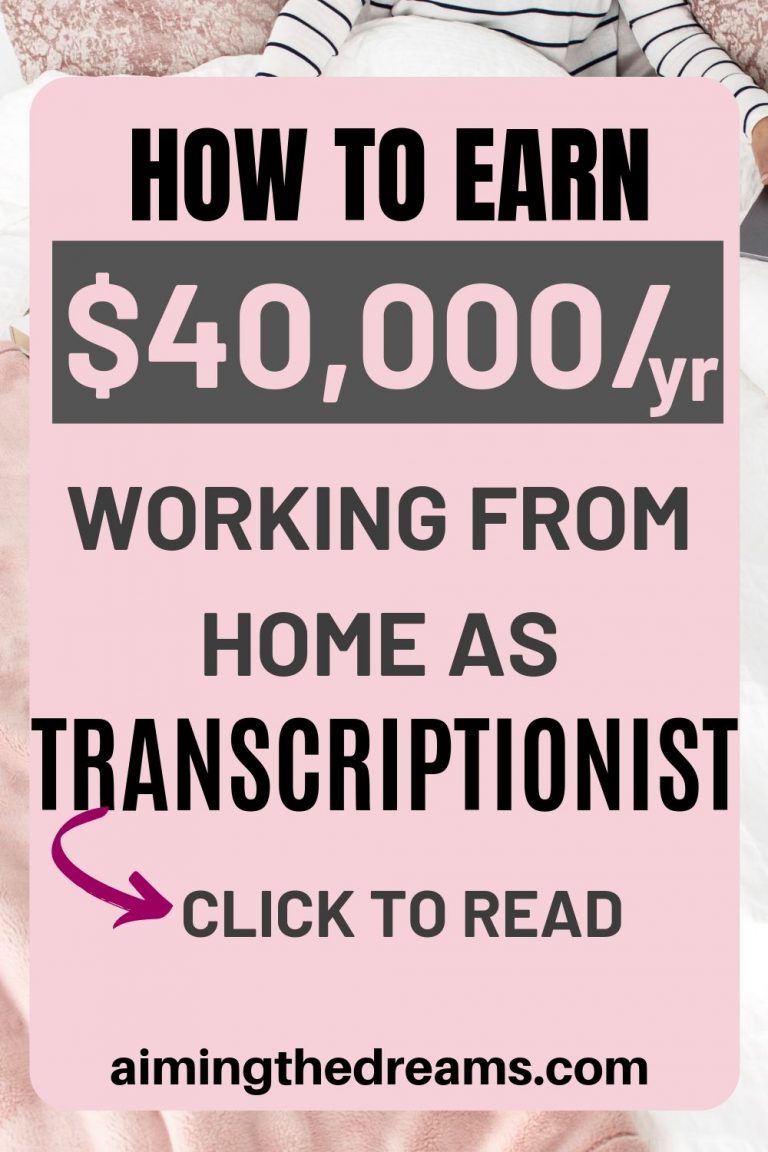 If you want to start a side hustle and want to earn some money working from home, start transcribing and earn extra money from the comfort of your home.
How to make money $1000/month working from home
⭐I hope you like my post and don't forget to follow me on Pinterest ?