This is so confusing, I mean you may ask how on the earth could I spend money I don't have? It is possible to spend even the money you don't have. The biggest and easiest example is credit cards and loans. Loans or the borrowed money dig very deep holes in your pocket and make you accumulate debt. Now the question is how to stop spending money you don't have?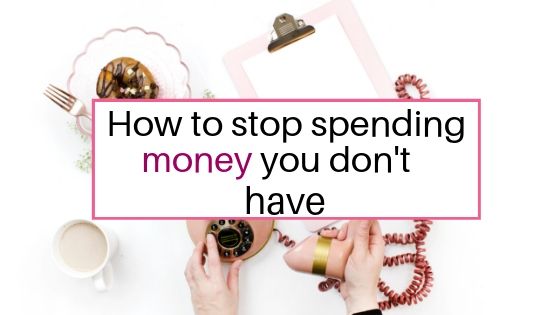 Disclaimer: This post contains affiliate links. For full disclosure, read here
It feels so good when you get your first credit card. I don't know about you but could imagine how happy I was when I got my first credit card.
Credit cards build credit means you need them. But you don't own that money and it is like a loan for which you can keep that money for free and then after some time, the banking institutions will charge you the huge interest rate for using their money. Credit card money is the easiest example of money you don't own but love to spend.
Also, always buy good quality items. I bought a laptop with the lowest range and after 6 months it stopped working. I exchanged it with the same brand, and it stopped even before one month. So the moral of the story is that you should buy good quality items which you will use often.
You may think that you don't have to worry about money when you have a lot of money, but this is not the case as you can easily fall for lifestyle inflation. These two words are my favourite. Lifestyle inflation and your future self as these shapes the way you think about your finances.
Don't fall for lifestyle inflation and always think about future self.
We live here in Melbourne, which is considered to be very expensive. On top of that, we are living on one income. It is expensive but our lowest pay rates are better than in many developed countries. Even then it is advisable to stay under your budget limits. I am listing a few of the strategies which help us live on one income and save money.
Let us check how to stop spending money
1. Stay away from credit cards
This is on the top of the list because the money you will spend from your credit card is the money you don't own. When we pay from credit card, we feel good and happy and don't worry much about overspending. To avoid credit card use, keep them away and forget about them.
If you cannot curb the temptation to use credit cards, leave them totally, or cancel them. If you feel like you can use your credit cards without overspending and could make all the payments at the time, use them. Otherwise, don't use credit cards at all (though credit cards are required to build credit card).
15 habits of people who are always debt free
2.  Avoid shopping for enjoyment
Do you love to shop just for fun? If this is your habit, stop this. A few months ago, whenever I went to my nearest shopping centre, I would buy stuff which I may need in future?, and believe me, most of those things I never needed. I know how good it feels to shop but shopping makes a deep hole in your wallet.
How to save money  on dresses and clothes
3. Create a Budget or a weekly budget
Creating a weekly budget even when you budget once every month. A weekly budget will give you better insights into your finances. When you create a weekly budget, it helps you in keeping your spending under check.
Creating a budget gives you insights into your money matters. Have a budget and stick to it, it will let you save a lot.
There is no right or wrong way to budget, whatever system you chose, just do it consistently. Normally as with exercise and weight loss programs, we start with enthusiasm and then stop after some time. While done consistently and deliberately, it makes you save a good amount of money in the long run.
Consequently, the main goal of budgeting is to save money as well as keep enough for your basic needs. It is not difficult but you need to create a plan as well as be patient and determined. There is a lovely quote and my all-time favourite:
" Money grows on the tree of persistence "
How to create a Budget the easy way
4. Shop with a list
When you have a budget for a week and a shopping list with you, it is highly that you will use any money which you don't have. A strict shopping list and a  strict budget will make you refrain from any extra spending. It is a guaranteed way of saving money as well as lowering the expenses.
5 simple ways to save on groceries right now
5. Ask questions before making big purchases
Before making any big purchase, ask yourself do you really need this particular item or you can wait for some time. In the meantime, look if you can find that item on low price. Never buy on a whim. Because it is a big purchase and will take a big chunk of money from your pocket.
Make a list of big items you want to purchase
Give some time to yourself so that you can find that item on a good price
You may skip the idea of buying that item and save that money ( this happens so many times)
Simple hacks to trick yourself to save money
6. Make financial goals
You know what, financial goals play an enormous role in your financial condition. Instead of always thinking about the lack of money, your financial condition will be under control and you will have money for every sphere of life.  Moreover, when you stick to your goals, you are better equipped with handling any emergencies which can arise in future.
Set SMART financial  goals
As with anything else in life, you need SMART financial goals for paying off your debt.  As you know SMART goals are Specific, Measurable, Achievable, Relevant and Timely. Debt-free people understand this and set SMART financial goals to always manage money wisely.
Specific: Make your goals specific instead of giving a general statement. " I will not spend money " is a very general statement, be specific about that. A specific statement like "Will stop using a particular credit card " will be a better goal. Or I will cut my spending from $300 to $150 this month will be more specific goal to work on.
Measurable: " What gets measured, gets managed". Write down the particular amount you want to save this month. That will be your measurable goal.
Achievable: For example, your monthly income is  5000 dollars and you want to save $10,000 it but you have remained with only $500 each month. You cannot save that amount in 2 or 3 months. Keep your goal achievable by saving a certain amount of money each month or better, each week. Your goal should be according to your household expenses. You can stretch it a little bit with the help of your budget each month.
Relevant: Relevancy of goals is important and if you feel like paying off debt is not possible, generating more income could be a goal for you at this time, And then you may find that saving more money is easy for you with increased income.
Timely: You would agree with me on this one that goals should be time-bound. Time-bound goals keep you determined because you have to accomplish the given goal in the given time. As of now, we are taking the example of saving money. You cannot just write down, I will save 10,000 dollars. It should have a time limit. Say I will save $10,000 in 2 years.
How to set short term financial goals and make them successful
⭐Pro tip: Make goals and stick to them with a determined action plan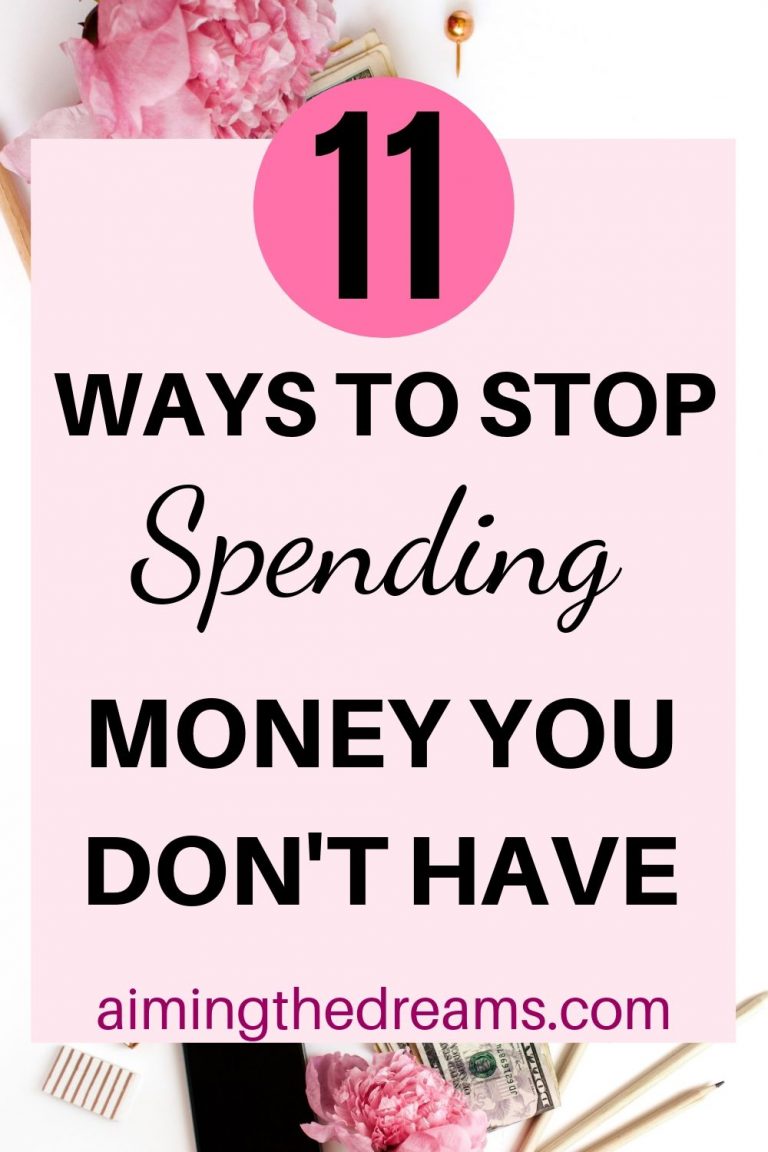 7. Shop with cash in hands
When you shop with cash, you are less likely to overspend. While shopping with credit cards, most of the time we don't pay attention to our spending and the prices. But with the cash, it is always the opposite. Using cash is the very best thing you can do to stop spending money which you don't have. Taking limited cash with you and keeping all the cards at home keep your urge of overspending under control.
With cash, you can see and feel the money. Also, you can see the diminishing funds with each purchase which can help you in curbing your urge to buy unnecessary things.
8. Negotiate better interest rates
Talk to financial institutions you are a customer with for any reduction in interest rates as this could save you some money. Do your homework and give them a call and tell them that you think that the interest rate you are paying is a lot higher than you should pay. Ask for a lower interest rate if they refuse, talk to their managers or if nothing happens, ask for the reason.
If they tell you that your credit score is not good enough, you should try to improve that and then try again. Or try after your situation improves after some time.
10. Reduce your supermarket trips
If you go to supermarket in-between weeks, stop that and only go at a certain day. And go to the supermarket when you will not have time for window shopping. I think you will agree with me on this one that reducing supermarket trip can save you almost $100.
Moreover, you will be less likely to spend the money on items you don't need. Most of the times we just but the things which we don't need.
9 actionable hacks to save on groceries
11. Spend time instead of money
We are living on one income at present and believe me, squeezing money for saving is the hardest part. On top of that, we are planning to go to our home country next year for which we need a lot of money because we have to spend on tickets, visas, and of course, shopping. I am from India and we have a lot of beautiful stuff to buy from there.
To make my saving plans a bit easier, I have reduced my trips to the shopping centre. Earlier it was every week, but now, I go to the shopping centre at alternate weekends. I always spend that time with my daughter and one of my friend in the park. We both have same age daughters so our kids are also friends.
It is really nice to spend time like this in nature and after chatting, I feel so cathartic.
Consequently, you can use the available time for earning more money. Use these survey sites to make money as a side income.
Best survey sites to make money now
The form you have selected does not exist.
Conclusion
If you want to be debt-free, you have to develop good money habits and stick with them to save money, as well as being debt-free.
Vindale Search: If you want to earn some money right now, Sign up with Vindale search
I like this survey site because they provide a huge amount of surveys. There is always a survey waiting to be completed. More survey opportunities mean more chances to earn points.
Ebates: Sign up with Ebates and get your bonus of $10. This is one of my favourite companies to earn cash back on shopping. Sign up now and earn rewards.
⭐I hope you like my post and don't forget to follow me on Pinterest ?
The form you have selected does not exist.