Earn money with Proofread Anywhere course

Disclaimer: This post contains affiliate links which means that if you click through my link and purchase, I may get compensated. For full disclosure, read here
Do you feel irked when you read 'THEN' instead of 'THAN' or vice versa? Then proofreading could be your home-based business.
Starting to work from home is not easy and it really is overwhelming. Sometimes you have so many ideas in your mind but you cannot put those ideas into practice. At this point, brainstorm and think about your skills.
If you are very good at the English language and is a grammar nerd, proofreading is for you. Sometimes proofreading and editing are confused but they are totally different. Though both are needed after writing. Proofreading succeeds in editing. It is the final touch given to a written piece.

Difference between proofreading and editing
Editing: Editing involves making changes and suggestions that will improve the overall quality of your writing, particularly in relation to language use and expression.
Proofreading: Proofreading comes after editing and is a process of correcting grammar mistakes, punctuation, spellings and other language errors.
Proofreading as a home business
It can become a good side hustle for you if you want to earn money while staying at home. With the right guidance and right course, you can become proofreader and earn good money.
This course from Caitlyn Pyle is gaining a good reputation for being a very good course on general proofreading and for legal proofreading.
Proofread Anywhere is the course by Caitlyn Pyle for those who want to become proofreaders and earn money from their skills. Before teaching proofreading, Caitlyn herself was working as a proofreader and then she wrote an ebook on the process of becoming a proofreader.
She was bombarded with so many questions and then she made that ebook into a full-fledged online course.
Now the question arises: Is this course really worth it?
This is a fair question and all the people who have made money after joining this course are the testimonials to this.
This course is designed in a way so that you can learn and at the same time know if you can really be the proofreader. It also teaches you how to market your skills and find clients.
This course is very comprehensive and really teaches you what you need to become a proofreader. You will find exercises to practice and improve your skills after learning from this course.
General Proofreading: Theory & Practice™ : This course is for you if you have an eye for grammar and love to pick small grammatical errors. If you want to get an idea about this course, Caitlyn has put together a free workshop for you.
It has got different modules to teach these step wise step.
40 + lessons in 8 modules

8 Grammar specific worksheets

Bonus resource guides for all types of service provider markets

40 + real-life job examples
Module 1. Introduction to proofreading
What is proofreading
Who needs proofreaders
Skills  needed to become a proofreader
What a general proofreader does
Terms used in proofreading ( incorrectly )
Editing at proofreading rate
Module 2: Get into the proofreading mindset
In the second module, you will learn how to specialize in different niches to use your proofreading skills and different terminology used in the proofreading industry.
Proofreading niches
Proofreading lingo
Module 3: Proofreading basics
This module covers the most common errors you will need to watch out for as a proofreader. Then you'll be ready to dive into the practice worksheets and put your skills to test.
Types of errors
Capitalization
Apostrophes
Hyphens
Commas and semicolons
Quotation Marks
Subject/Verb agreement
Noun/Pronoun agreement
Commonly misused words
American and British spelling variations
Module 4: Proofreading methods + Practice
In this, you will find four different types of proofreading methods with thorough lessons on how to make them work best for you. Then you will put them to work with sample practice tests.
Lessons include the following
Proofreading methods
Proofreading practice
Module 5: Turning proofreading into business
Now that you have learned the skills and have done the necessary practice, you are ready to learn how to build your business. This module will teach you how to create a website & resume & you will learn all about the rates and taxes and a great place to even get more experience before pitching to clients.
Lessons include the following
Creating a website
Step by step guide to set up a business website
Writing your resume
Setting your rates
Taxes and incorporating your proofreading business
Building on your proofreading business
Module 6: Looking for jobs
This is the best part of the course, here you will find information about the different ways to find clients for your proofreading business.
Lessons include the following
Proofreading and freelance associations
Social media
Social media do's and  don'ts
Blogging, online market places
Online profiles
Writing a proposal
Avoiding scammers
Don't expect clients just come to you
Module 7: Once you get the job
You have landed the gig: Now what? Here you will learn how to work with your client's preferences, your relationship with editors, and the best way to bill your clients.
Lessons include the following
Starting on the right foot
Working with the client's preferences
A proofreader's relationship with editors on the project
How to bill your clients
Your reputation
Asking for testimonials
Module 8: Getting the most out of freelancing life
You have made it and the course will end by showing how a typical proofreader structured their day plus how to build the confidence to succeed.
Organising your time to avoid burnout
A day in the life of proofreader
Gaining confidence
Module 9: Ignite plus exam
The hand graded exam evaluates students for aptitude and competence in the practice pf general proofreading.
The Bonus Module: The Money Mindset Transformation
In the groundbreaking Money Mindset Transformation Workshop and workbook, each take 2-3 hours to complete. You will learn 7 life-changing concepts that will change how you think about money.
This course has helped its graduates earn money as a side hustle. You will not get rich, but you can easily make about 1000 to 3000 dollars a month, depending on the time you want to spend on this side hustle.
If you feel like you could be a good proofreader, then Check this course here
General Proofreading: Theory & Practice™
 Related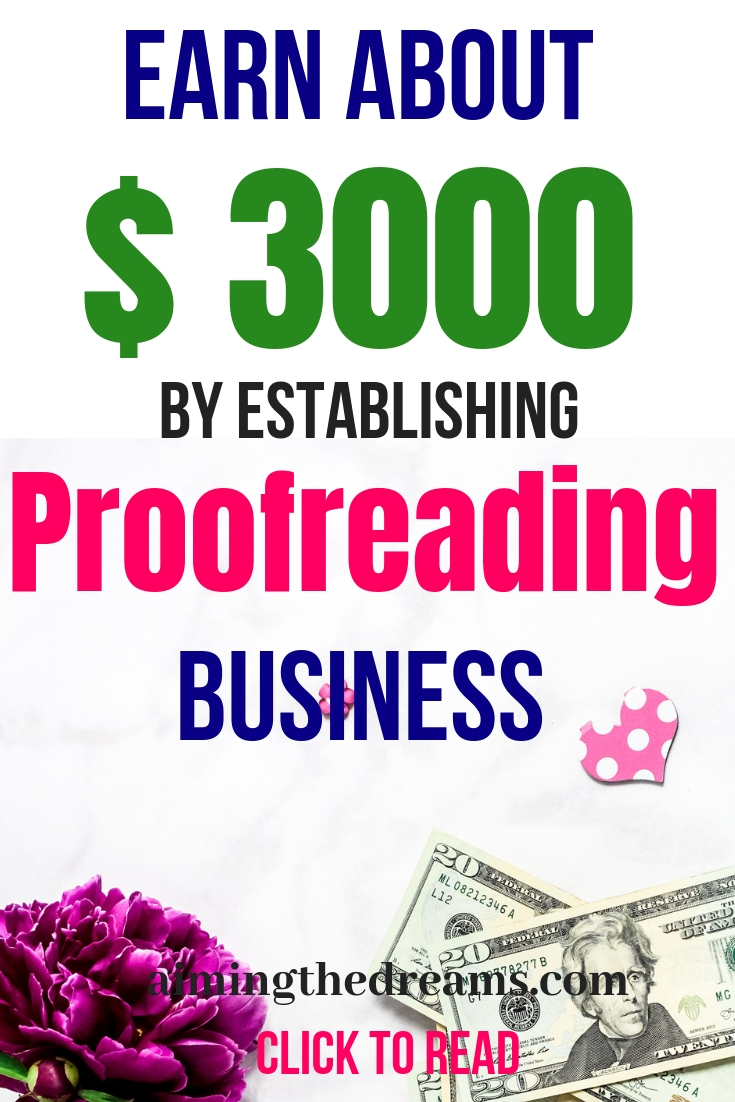 A tiny request
If you like the post, please share it as somebody can find this helpful and it may help somebody turn their dreams of staying home and earning money a reality.