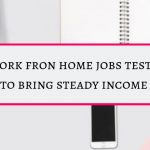 Work from home jobs are becoming popular with the increased use of internet. All of us spend lot of time in front of computers or mobiles. It is a good idea to use this time and  technology to earn money at home. These kind of jobs are great for anybody but stay at home moms can benefit from them particularly.

Disclaimer: This post contains affiliate links which means I may get compensated if you buy through my link with no extra cost to you. For full disclosure, read here
Work from home jobs is great for stay at home mothers, students, travellers or retirees.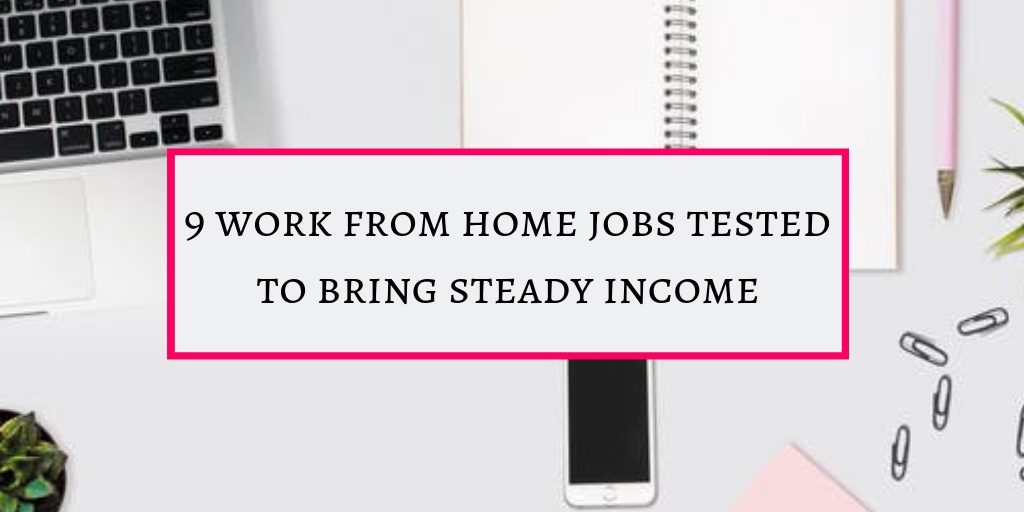 Disclaimer: This post contains affiliate links which means I may get compensated if you sign up through my link. For full disclosure, read here
Working in teams at the office have its perks and benefits but working for yourself and being your boss is great. If you want to break that routine of 9-5, it is a good idea to start a side hustle so that you can grow it to be your main income source.
This digital world has made remote jobs a reality. There has never been a better time to start working from home. Here are some of the jobs you can start at home. It is a bit hard in the beginning but as you gain experience and get accustomed to working from home, you will start getting work consistently.
---
1.Survey Junkie: It is the best survey site which provides high paying surveys. This survey site has got 4
rating on Trustpilot. Sign up with Survey Junkie and start making money
2. Inbox Dollars: Inbox dollars is a great place to make money with surveys, watching videos and more. Sign up with Inbox dollars Now and get your $5 sign up
---
1. Amazon Business
Amazon has opened doors for people to earn really good money. Either you can become an affiliate or you can sell some physical product to make your business a success. Selling on Amazon can become a thriving business. Amazon FBA has made it possible to start selling online from home. It is the biggest platform where you can get real business.
Here is a 7-day free email course for you to learn the basics of Amazon business. Jessica from selling family has sold on Amazon and made 100,000 dollars in her first year.
2. Customer Care Representative
This is also a good option to work from home and earn a steady income. Many companies provide work to experienced customer care service providers to work from home.
Earlier customer care meant to be on your phone for hours. Things have changed and nowadays, support is also provided through live chats. If you want to become a customer representative and work from home, you can start as a live chat customer support person. Companies like Arise work as staffing agencies for companies to find live chat professionals.
3. Web testing
Web testing is also a good idea to earn some bucks while staying at home. This kind of works can supplement your work. Some people earn good money from these website testing tasks. You have to apply for sites that pay you to test websites. If you get accepted then you will get to test websites and get paid. Here are some of the websites which pay you for testing websites.
4. Online teaching
Online teaching is a lucrative work at home job that can give you good income. For this, you should be very good at English and if you have some teaching experience then this is for you. Most of the companies want you to be the native English speaker from America or Canada.
Many online sites recruit online tutors to teach kids in Non-English speaking countries. Here are some of the online English Tutoring services to look for good paying tutoring jobs.
VIPKID is an online tutoring site which needs you to be fluent in English. VIPKID'S curriculum is based on US common core state standards. You get paid for the amount of time you put and the classes you take.
Qkids is for young Chinese English learners. Here you teach English to young kids from china. You can teach from the US or Canada. You need to be a native English speaker to become a tutor with QKids. Qkids pay a base rate of $8USD per lesson.
If you like to interact with people and make money, then this place is for you. You get paid around 10.20 dollars per hour. You can work from anywhere in the world. And you can set your schedule.
5. Social media manager
Managing social media for small business can help you in earning money while staying at home. Businesses require social media to succeed and social marketing drives quality traffic, leads and sales and boosts online presence. Earlier business was done with face to face meetings. But now thigs have changed, most of the big and small businesses are online.
To succeed online, businesses should make others aware of their brand by reaching as many people as possible. There is no beter way than leveraging social media platforms for this.
Managing a business is really hard work and businesses need social media managers to manage their social media accounts as it is not easy to do everything your self.
6. Freelance writer
Freelance writers earn good money though it depends on your skills and experience. But still, you can earn from $ 30 – $ 500 for every write-up. As with any work, starting as a freelance writer is a bit hard but as you grow, you will be able to charge a good amount of money for your write-ups.
If you can write well and have a knack for putting your ideas into words, then start a freelance writing job. Elna Clain from elnaclain.com is a freelance writer and she has a free email course for budding writers. She has a plethora of free information as well as very good courses for helping you to become a writer.
Freelance writers earn good money. It is a bit difficult in the beginning but with the practice and experience, you can charge good rates for your articles.
If you want to start your freelancing writer career, here is a post which can help you find your first writing gig.
 57 places to find freelance writing jobs as a beginner
7. Virtual Assistant
Being a virtual assistant is good if you want to earn money while staying at home. Small businesses require help in some of the admin work and if you can provide your services and help them, it is a good idea to be a virtual assistant.
Check here how to become a virtual assistant
You can become a general virtual assistant or if you have a specialised skill, you can try for that. If you have nailed the Pinterest, you can utilize your skills to earn good money while staying at home.
 How to become a Pinterest Virtual Assistant.
There is a question: Can you get paid to Pin? The answer is yes. If you have nailed the Pinterest and love to spend a good amount of time on it, you can start working as a Pinterest strategist. Or Pinterest Virtual Assistant. You can offer so many services to make money while pinning.
Pinterest is amazing for blog traffic and businesses but some people are too busy to spend time pinning on Pinterest. Here comes the need of Pinterest strategist/ Pinterest Virtual Assistant. As a Pinterest assistant, you will create accounts, Pin for your clients, and do other services required smooth working of your account.
If you want to learn how to become a Pinterest VA, you can learn it here with this course.
8.  Start a Blog
Starting a blog can become a good source of income but it takes a long time to build. I mean it is easy to start a blog but making it successful to the point where it gives you a steady income takes time. But it is worth it. One more thing is that blogging is addictive. Once you start, you get gued to it.
Blogging is not dead. It can become a good source of income if done right. Many bloggers are earning a full-time income from their blogs. Though it takes real hard work and a lot of time to make money from blogs. There is a lot of competition in the blogosphere, but with the right strategies, you can accomplish your blogging goals and become successful.
There are so many ways to make money from your blog. But you need to start first. To start a blog I have written a tutorial on
Here are some new blogs which are earning a good income. I must say are earning a  full income from my perspective. And congratulations to these bloggers for being successful so early.
Finsavvypanda: A personal finance blog giving great information.
Gathering dreams : A lifestyle blog. Sara gives great information on travel, food and many more on her blog.
Ell duclose : This blog is great for finding information on how to use Pinterest, how to blog.
I have given examples of these because I love these blogs. They are awesome.
You have to put a lot of hard and smart work into it and work for some time without any money coming but you will be thankful after some time that you started it. You need to start a blog on a hosting platform. Siteground is best for beginners.
9.
Start transcribing
Transcription: Transcription in linguistic sense is the art of listening to speech and converting it into written form.If you want to make money by transcribing then Transcribe Anywhere have the courses for you.  Either you can take a course in
General Transcription: Theory & Practice™
Legal Transcription: Theory & Practice™ 
Janet has designed a free 7-day course to know if you can learn and this transcription work is for you. Janet has put together very informational blog post 8 tips for the beginner to start Transcription work to begin. It will be a bit difficult in the beginning but as you get experience and grow your clientele, it can become a good-paying side hustle for you.
10. Become a proofreader
If you have an eye for detail and pick small errors in writing, then this opportunity can change how you work. I mean you can put your those picking skills to work and earn money. If you are seriously considering to start your proofreading business then This course from Caitlyn of ProofreadAnywhere is for you.
General Practice and theory is a comprehensive course which is designed to teach how to become a proofreader. It will help you in gaining all the necessary skills required to make proofreading business a success. It is a comprehensive and in-depth course which has helped its graduates in earning good money.
For full details, check here and decide if this course fits your expectations.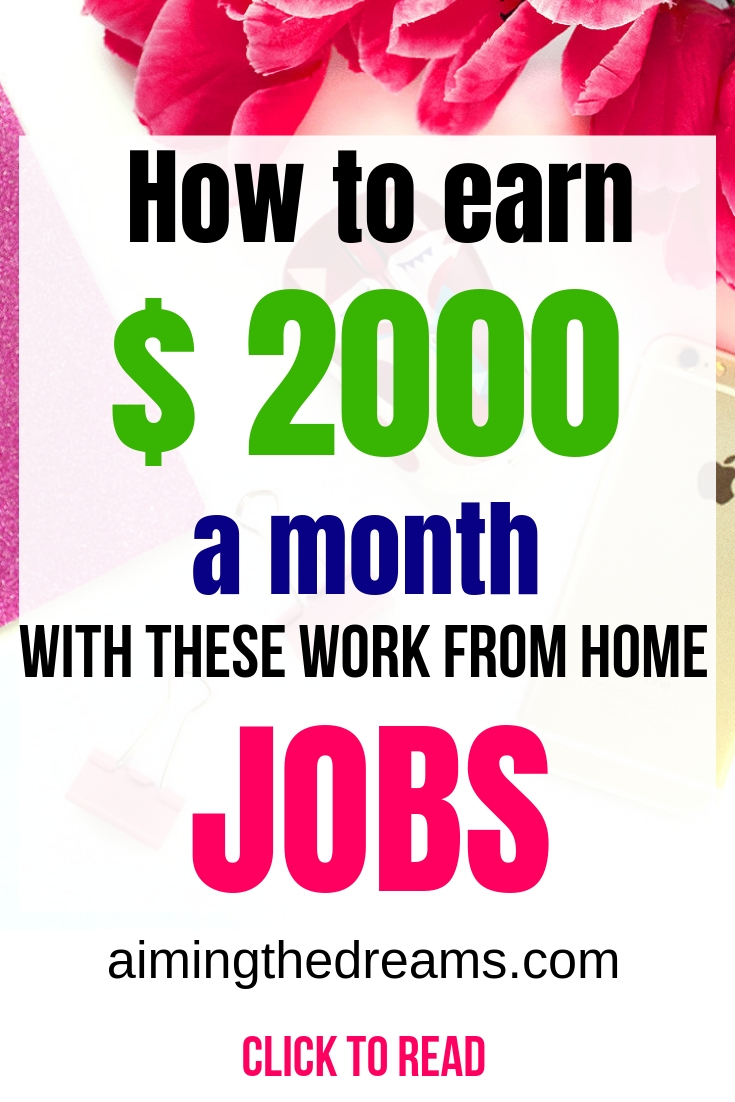 Related
These are some of the ideas you can choose to work from home. I am on my path to become a full work at home person. And very much sure to reach that goal soon.
A tiny request
Please share this if you like the ideas in this post. I will be thankful to you and will appreciate this.
⭐Do you like my post, don't forget to follow me here on Pinterest 🙂
Love
Gursimrat