Some freelance work ideas can be started along with a full-time job. If you want to make some extra income to support your current income, then work in your free time on these work ideas. Then, after establishing yourself, you can make it your full-fledged business.
The only thing required is strong determination and will to leave your comfort zone, along with sacrifices of your free time, entertainment, and weekend evenings. Work alongside your full-time job and build these freelance work ideas slowly. Quitting your job and starting freelancing could not be a good idea. Instead, work on your freelance work and make it to the point where you can supplement your full-time income.
Not only this, but you can also expand your business by moving from a solo Freelancer to starting an agency. Here is a detailed post on how to move from being a freelancer to an agency.
Did you know that there are currently more than 59 million freelancers in the United States? That's a lot of people working from home! And the number is only growing.
Disclaimer: This post may contain affiliate links. For full disclosure, read here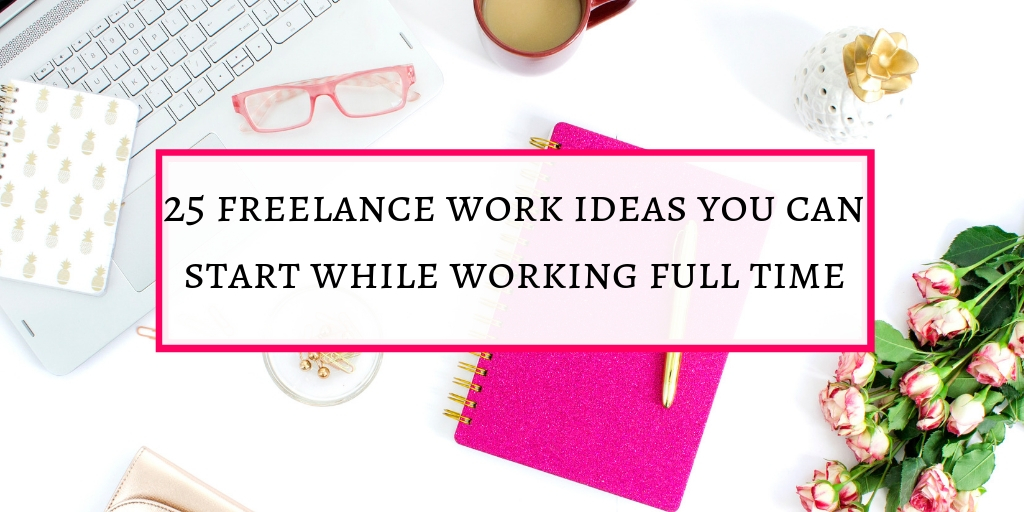 ♠ If you are looking for some ideas to start some side hustle, find some ideas here 
35 companies that pay to proofread from home
Survey Junkie: This is one of my favorite survey sites. It has got a spotless interface, and the pay rate is reasonable.  Sign up with Survey Junkie here
Swagbucks: Swagbucks is one of the oldest companies that provide you surveys and earn points for other things. Swagbucks is another right place to make money for surveys and make money by watching videos and shopping. Sign up with Swagbucks here
Freelance work ideas you can start with your full-time job
1. Online coaching
Online coaching is a great model for earning money while starting your online business journey. To be successful at coaching, you need to have continuous clients, which means you should be looking for clients always. The kind of coaching you can provide depends on your skills acquired by working in the past. The only catch is that other people should be interested in these skills. You need to figure out what are your skills others want to use to grow. Figure out what you can offer, and people wish to help with
Online coaching is considered a very lucrative freelance job idea and doesn't depend on your location. However, making a plan and setting prices and offers are essential after deciding what you can teach. Lauren from Ellduclos. Blog provides blog coaching. I mean, options are endless if you seriously want to start your coaching business.
How to start an online coaching business
2. WordPress website consultant
Every day new blogs are being built, and WordPress is the master in content management systems. If you have good skills in building WordPress websites, then go for it, and you can create your WordPress website consulting business.
3. Freelance writer
Whenever we talk about working at home, freelance writing comes into mind, and it is a lucrative work idea. Start working as a freelance writer if you can write well and have a knack for putting your thoughts into words. Elna Clain from elnaclain.com is a freelance writer, and she has a free email course for budding writers. She has a plethora of free information as well as excellent courses for helping you to become a writer.
Freelance writers earn good money. It is a bit difficult initially, but with practice and experience, you can charge reasonable rates for your articles. If you love writing and want to start freelance writing, then go for it. Blogs and online magazines have made it possible to earn income from writing.
Content creation is one of the parts of digital marketing. Most online stores also have blogs that need keyword-rich, beautifully written content to grow their authority. Unfortunately, business people don't have time to write content for their blogs, and this is where freelance writers are required. If you want to start your freelancing writer career, here is a post that can help you find your first writing gig.
 57 places to find freelance writing jobs as a beginner
4. Social media manager
Social Media platforms started as fun to interact with families and friends and soon became an important marketing component for businesses. However, these platforms are complicated if you want to use them for profits. And companies feel it is a bit complex and overwhelming. Here arises the need for someone to look after their social media strategies and social media accounts.
If you feel like you have all the skills to work on these platforms and always remain on top of all the algorithm changes, then this can be your business idea to work online.
Social media managers are responsible for building an online presence across different platforms. Businesses need social media managers because people come to social media platforms, and online companies need eyeballs on their websites to grow their business.
The only requirement to work as a Social Media Manager is that you should be knowledgeable about different social media platforms.
How to become a social media manager
5. Blog management for other bloggers
Managing other people's blogs is another freelance work you can start from home, working full time. Some bloggers have more than one blog, and managing blogs with multiple blogs becomes challenging. While managing a blog, you must work on posting content, interpreting analytics, increasing traffic, and Finding new blog content ideas.
6. Start your blog
Blogging can be one of the best freelance work. Starting your blog is not complicated, but it takes a lot of patience and hard work to make it profitable. But if you start it now, you will be able to make it worthwhile in the coming time.
Starting a profitable blog is possible, and it is a long-term process. Many people have found success concisely, but most successful bloggers took time to see the results of their hard work. Earning from a blog is not overnight but can be done gradually by working consistently and with determination.
If you want to start a blog, you can create it today with Siteground.
Sign up with siteground and start your blog today
If you want to start a money-making blog, you can sign up for my 7-day email course
The form you have selected does not exist.
7. SEO Writing
SEO writing helps business owners in increasing the traffic to their websites. As it is said, content is king. So, finding the low competition keywords and phrases and strategically placing them in the web content helps businesses to appear on top of the SERPs. To become a freelance SEO writer, you should have solid SEO knowledge
8. Transcription as freelance work
Learn how to transcribe from this course. To start as a transcriptionist, you don't need any experience. But as you build your practice, you may be able to earn a good amount. If you want to become a transcriptionist, you can learn some skills from this course.
You can read about Transcribe anywhere here 
9. Bookkeeper
Working as a bookkeeper requires a good understanding of numbers and should be detail-oriented. Small businesses as well significant need bookkeepers. A bookkeeper can earn a full-time income working from home. Bureau of Labour Statics states that a bookkeeper earns a median salary of  $49,000/year. If you want a full-time income-producing work-from-home opportunity, then working as a bookkeeper can be for you.
If you are serious about starting a bookkeeping business, you can learn bookkeeping here
10. Branding services
Businesses need to stand out from the rest in this highly competitive world. To make this possible, they need to establish themselves as a brand. For this, businesses need to hire branding services, and if you have the experience, you can start your freelance service to provide branding services.
11.  Write ebooks and sell for profit
If you have skills you can teach others, start writing ebooks and selling them online. There are many platforms where you can write ebooks and sell on.
Writing an ebook is not that hard nowadays. If you have the skills to write and want to write a book, you can write an Ebook and sell it on Amazon. If your book is about teaching a skill, you can also sell the course on Udemy.
REQUIREMENTS
The idea is to write an ebook
platform to publish
12. Call center jobs
All call center jobs don't need you to go to an office. You can do Virtual Call center jobs without being present in person at the job location. In addition, many companies provide remote work-from-home call center jobs. You can do these types of jobs in your local jobs too.
13. Online English  teaching
Online teaching is becoming one o the very lucrative freelance work. You can start working as a freelancer and earn money for teaching kids. Many companies hire Tutors to teach non-English speaking countries.
14. Copy-writing
You can work as a copywriter if you have good writing skills. It is an unregulated industry where you can work as a sole trader ( freelancer ). Start your work and gradually build your portfolio and experience.
You can charge better rates with experience and a good understanding of how this industry works.
Learn how to become a copywriter without experience
15. Travel agent
Your love for travel and finding cheap flights can become your side business. Start your freelance travel consulting firm and make it profitable. Begin with word-of-mouth recommendations.
How to work as a travel agent from home
16. College admission essay editing
If writing words is your power and you can quickly put your thoughts on paper, why not do it for money. Then, parents who want their kids to go to premier institutes will pay to increase their chances of admission.
17. Wedding photography
If you have an eye for photography and can spare some time to learn the details, you can start wedding photography. Most weddings take place on weekends, meaning you can work with your full-time job. In addition, wedding photographers charge reasonable prices for their work.
We all love to capture our precious moments, and wedding photographers capture the most critical moments of your life.
18. Work as a Virtual Assistant
Working as a virtual assistant has never been so easy due to the widespread use of the internet. To succeed as a Virtual assistant, you should possess excellent communication skills ( written as well as verbal ). The average pay rate of virtual assistants is around $15.69/hr.
19. Online courses
Creating an online course is the best form of starting a profitable online business. Most successful online companies develop courses that help others acquire the required skill to succeed in that particular thing. To make the online course successful, you need to be committed to working on it. It takes real hard work to create a course and needs to be in-depth so students can learn from it.
It would help if you had an
Idea
Be ready to commit to it from day 1
It should solve a problem
Those courses which are more specific and solve an immediate problem are considered easy to sell. If you have an idea, don't wait. Just do it.
20. Graphic designer
Working as a graphic designer in your free time is a good idea. It would help if you had an eye for detail and good designing skills. Having a background in graphic designing will help, but you can learn the basics and start your graphic design side business.
21. Web developer
As a web developer, you will use your skills to build websites and earn money as a freelancer. You can learn the skills required to become a graphic designer with Codeacademy. Once you get the required knowledge of HTML, Python, Ruby, Javascript, and CSS, you are set to start your freelance graphic design side hustle.
There are many specialties in web development as this is a complex mixture of coding, programming, and much more.
Learn how to become a web developer 
22. Commission-only sales
If you have skills and the natural ability t network and connect with people, then commission-only sales can work for you. You can work on the commission-only rate in your free time. These commission-only sales representatives are a faster route for companies to find leads. This kind of work is similar to any other type of business.
23. SAT tutor
If you can teach kids to clear entrance examinations for prominent colleges, you can start working as an SAT tutor. Earning as an SAT tutor is good and ranges from $50- 100/hr. In addition, good SAT scores can help students get into colleges of their choice and may get them scholarships.
Before starting work as an SAT tutor, you should have extensive knowledge of the test and the subjects you want to take. Then, you may try clearing the test yourself and starting your freelance business tutoring other students.
24. Completing Fiverr gigs
If you have skills and can make money on the side completing those gigs, then Fiverr is for you. These gigs don't pay much, but even then, it is a good idea to start and see what you can do to get the ball rolling. It becomes easy to see what type of work you are good at and what you can offer if you want to start your freelance work independently.
25. Editing/proofreading
Proofreading is one of the excellent freelance work ideas.Every writing needs editing and proofreading. So why not take this opportunity to build your freelance business. You need some skills to become a proofreader. The most important one is to be able to pick errors in writing. Caitlyn of Proofread Anywhere has an excellent course to teach you the skills required to become a proofreader.
If you have good skills to pick errors and you are good at grammar, you can start proofreading business from home. It would help if you had an eye to pick minor mistakes. If this sounds interesting and you want to create a side business, you can learn to proofread from Proofread Anywhere. General Proofreading: The theory and practice course from Proofread Anywhere is a comprehensive course for learning how to proofread.
REQUIREMENTS
Attention to detail
Ability to stay focused throughout a document
A computer/ tablet
Translator
You can work as a translator if you have sound knowledge of any other language. There are many jobs listed on flexjobs for language translators.
Here are some more freelancing ideas to help you find work of your choice
SEO WritingSEO
writing helps business owners in increasing the traffic to their websites. As it is said, content is king. So, finding the low competition keywords and phrases and strategically placing them in the web content helps businesses to appear on top of the SERPs. To become a freelance SEO writer, you should have solid SEO knowledge.
lead Generation
Every business needs customers or clients to survive and grow. Freelance lead generation services help companies find their target audience and convert them into paying customers. There are various ways of generating leads that a freelance lead generation expert can do, such as email marketing, content marketing, social media marketing, etc.
Email Marketing
Email marketing is one of the most effective ways to reach your target audience and promote your product or service. Freelance email marketing experts can help businesses create and execute email marketing campaigns that generate leads and sales.
Data Entry
Data entry is entering data into a computer system or database. Freelance data entry workers are responsible for inputting data into a company's system. Data entry jobs are usually time-consuming and require a high level of accuracy.
Sales and Marketing
Sales and marketing are two essential aspects of any business. Freelance Sales and marketing experts can help companies to promote and sell their products or services. They can also help in lead generation and conversion.
Data Analyst
Data analysis is on the rise, and more and more companies require data analysts. It is one of the freelance work ideas that can be done from home. Freelance data analysts help businesses in analyzing data and making sense of it. They also help in making decisions based on the data analysis.
Yoga Tutoring
With the increasing popularity of yoga, there is a tremendous demand for yoga instructors. Freelance yoga instructors can provide their services to individuals or groups. They can also teach online classes.
Frequently asked questions
How do freelancers find freelance work?
One of the most common questions is how do freelancers find work? The answer is, there are many ways! You can start by searching online job boards or contacting companies directly and asking if they hire freelancers for specific work.
In addition, several websites connect freelancers with businesses that need their services. Once you have a few clients, you can also start to market yourself by setting up a website, blog, and social media accounts.
What are some popular freelance work ideas?
There are several popular services that freelancers offer. Some of the most common include writing, editing, graphic design, web design, and programming. In addition, however, freelancers can offer many other services assistant services, customer service, and even social media management.
What are some tips for starting freelance work?
If you're considering starting your freelance business, you should keep a few things.
First, you must ensure that you have a niche or area of expertise in which you can offer services. Then, once you have this figured out, you need to start marketing yourself and building a client base.
You can create a website, blog, and social media account. However, it would help if you also considered joining freelance job boards or directories so potential clients can easily find you.
What is the easiest freelancing job?
This is a difficult question, as it depends on your skillset and experience. However, some easier freelancing jobs include writing, editing, data entry, customer service. Other freelancing jobs may be easier for you if you have specific skills or experience in a particular area.
Freelancing is a great way to earn from home and set your hours. If you're looking for a way to escape the traditional workforce, then freelancing is the way. There are many different types of freelancing jobs available, so there's sure to be something that's a perfect fit for you.
Related Posts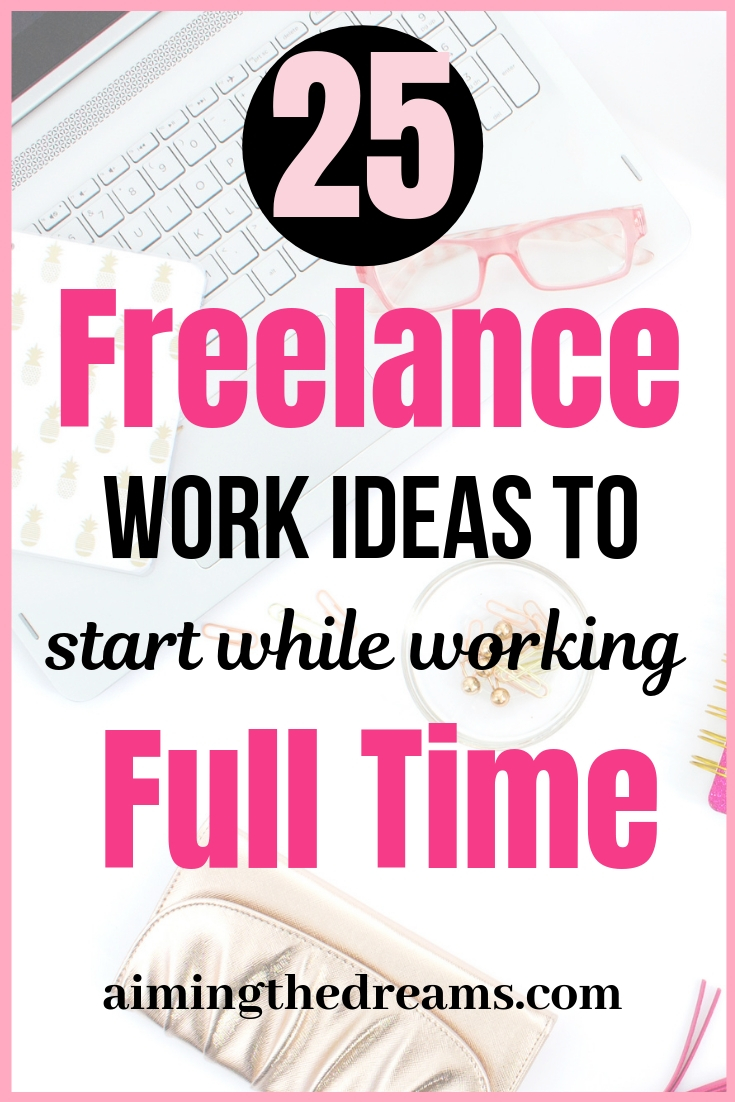 ♠  If you want gift cards: Sign up with Swagbucks. There are many ways to earn points from Swagbucks to get rewards and free points.
♠ If you want instant money: Sign up with Ebates and get your bonus of $10, which you can access after making some purchases. There are many stores from which you can earn cashback on shopping.
If you want to start a side hustle and earn some money working from home, start transcribing and earn extra money from the comfort of your home.
?Do you like this post? Don't forget to follow me on Pinterest?
The form you have selected does not exist.