Why and how to build an emergency fund on a low income.
Both the questions Why you need an emergency fund and how to build an emergency fund on a low income, are important. As with everything else in your life, WHY should be clear to you then HOW becomes easy.
Disclaimer: This post may contain affiliate links which means if you click the link and sign up, I may get compensated with no extra cost to you. For full disclosure, read here.
 Find tips on how to build an emergency fund on low income
I really never thought of Emergency fund a few years ago. But as soon as I came to know about an emergency fund, I started building up. Every dollar and every penny I get from my side hustles, I put it into my emergency fund. And I am happy that I did it while not working on any traditional job.
There is always a debate whether you should tackle your debt first or you should start building your saving account. It really depends on the type of debt you have. I am personally averse to credit card debt and I never had this kind of debt. But I have seen many of my friends who have loads of credit card debts and whenever we talk about the emergency fund or savings, they start whining about their bad debt. My situation, in this case, is a bit different. I think you should start tackling debt as well as build savings simultaneously.  Making a goal for everything is important. Squeeze small amounts of money and build your emergency fund with that amount.
Save each dollar you can
If you love shopping, you can save from shopping with cashback. Ebates helps you to save on your cashback.
Sign up with Ebates to get your bonus $10 from Ebates??
I have become so conservative regarding money that I am saving each and every dollar I get. We are living on one income. But if required, I can support my family for two months with an emergency fund. It also depends on what kind of situation you are in.
For us, we only have a car loan and a home loan. We don't have credit card debt and any personal loans. So it is easy to figure out the way how to save for emergency fund.
Before saving for an emergency fund, start tackling your bad debt. It means the credit card debt is essential to eliminate before doing anything else. 
I started creating an emergency fund when I felt the need to do it. The one thing that stroked my mind was that you cannot always be able to make money. The job may get lost.  There may be some medical emergency. There is social security today but it may not be present tomorrow.
Main points why you need an emergency fund are:
You may lose your job tomorrow in this ever-changing economy
There may be some medical emergency
Govt may cut social security
You may need to change your career
There are so many reasons to build your emergency fund. Now is the time to start building it up and making it a habit of keeping growing. If you can save $25 every week, you will have 1400 dollars at the end of the year. So let us start building it from today.
Theories of Emergency fund
There are so many theories around how much you should have in an emergency fund and how much debt you should pay before building any savings. It is a good idea to have a look at all those theories and carve out a solution for your own self. If you can take help of a financial planner, go for it. Or start your savings by finding out a solution for your own situation.
If you are on a tight budget, it will take some time to build your emergency fund. But taking your first step is crucial for any kind of success. Make this week your first week of adding to your emergency fund.
Make a goal
A most important part of building your emergency fund is making a goal depending on how much you will need for at least 3 months of your income. Say you need 3000 dollars a month for your household income. And you will need at least 9000 dollars to support your family for 3 months. Now your goals are to save 9000 dollars for an emergency fund.
If you want to save this amount in 5 years. This is what my goal is. You will need to save $1800 in your account every year. This is what you will need after all the expenses. This comes out to be nearly $35 (rounded off )  every week. Now you will need to figure out how to save this much money in your account.
Here are some of my favorite ideas to save every week
1. Earn $25 from surveys every week
There are many survey companies that you can use to earn some extra cash. You will not become rich, but it is possible to build an emergency fund from your money. I have done it, and I appreciate myself for this. I have not reached my goal yet but very close to it.
All I have done is whatever I earn from these surveys, I save it into an emergency fund. And my emergency fund is building fast.
List of side hustles to make extra money
2. Save from your groceries
Groceries are a big expense, and it is possible to save money from your grocery shopping. Reduce the usage of pre-packaged food. Try to cook from scratch.
Cook from scratch
Stop buying ready to eat food
After making a budget, have a look where you can save money. Say if your weekly budget is $100, allocate $95 every week from this week. And immediately increase your emergency fund allocation for every week.  You may be able to save around 5 dollars even if you are having a very tight budget on grocery every week.
How to eat healthy food on very tight budget
3.  Skip outing for one week every month
If you love outing every week and have an allocated budget for your outings. Reduce the outings and save that allocated amount into your emergency fund. Do it every week and you will have some money for adding to your saving account.
4. Go for a No-spend month
Some of the expenses are necessary which you cannot miss. But you can freeze some of the expenses and can put that money into your emergency fund. It is not easy to go for one month without spending and you will need milk and other perishable foods. Save the money you will save for not spending any money.
Tips to plan a No spend month to save money
5. Sell something
If you can find things lying in your home but you are not using them, sell them. Because they are depreciating in value. But the money you will get from these can be used to bolster your emergency fund.
6. Start some side hustle
If you find too tight on budget, try to start a side hustle which can give you enough money to put into your savings. It is not difficult. People are doing it with their full-time jobs and some of them have made it their full-time side business.
7. Change your habits
If you can change your habits and reduce the amount of alcohol and smoke, you will be able to save a good amount of money. Don't worry, you will be more healthy in the long run. In addition to having healthy savings in your emergency fund.
There are so many ways to build an emergency fund. The only thing you need is to find out the ways to do it. Also, keep your emergency fund in an easily accessible savings account. Because emergencies arise without any warnings.
Build your emergency fund. It is easy and you can do it.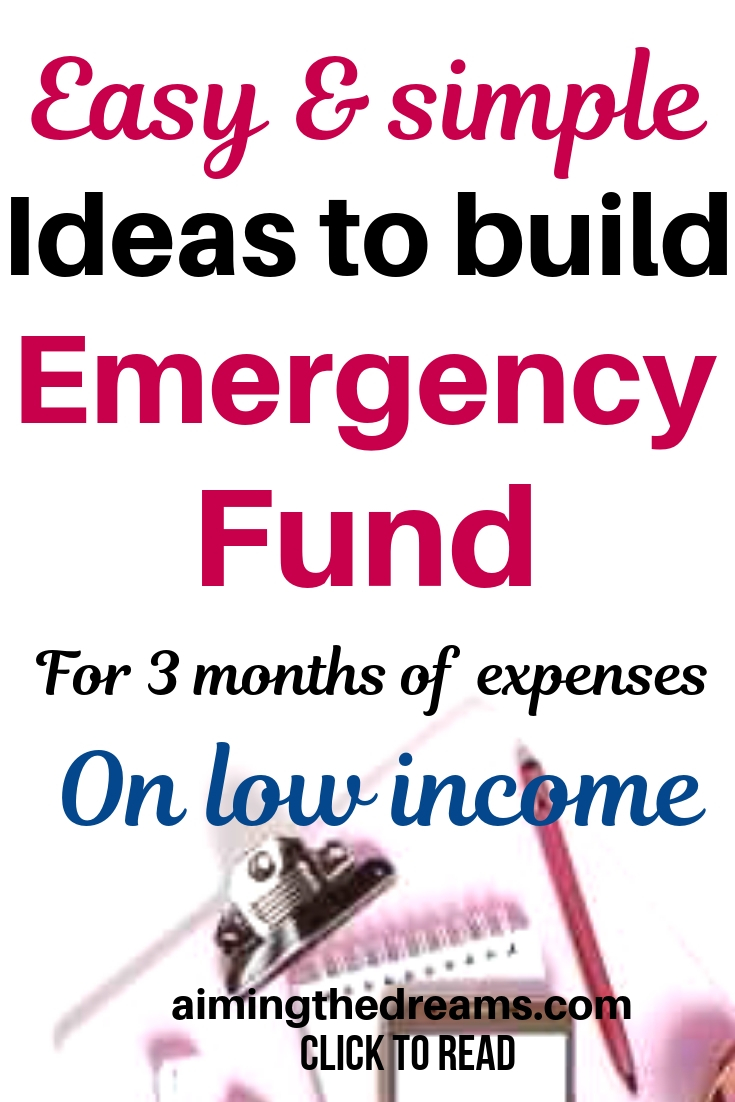 The form you have selected does not exist.
A tiny request
Please share this post if you like it. I hope it will help you find ways and inspiration to build your emergency fund if you are like me ( tight on a budget).
How to drastically cut expenses
Ways to save money on a tight budget during crisis
If you like my post, don't forget to follow me on Pinterest