There are many ways to make money blogging as beginner. I know what you are thinking, Is it possible to make money as a new blogger? Yes it is possible but it is really hard and takes lot of work to reach at the point where you can make money with your blog.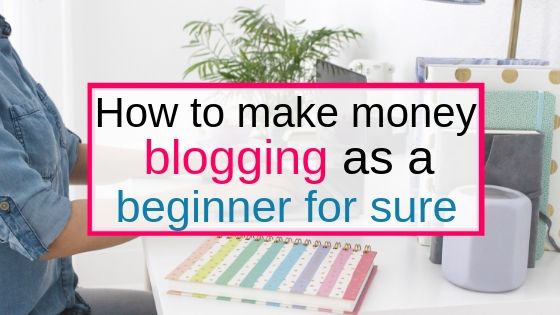 Disclaimer: This post may contain affiliate links which means I may get compensated if you sign up through my link or make a purchase, for full disclosure, read here
Before making any money with your blog, you need to start one and build it to the point where you can have some traffic.  Blogging in a few points is ( though it is a lot more than that )
 Make your mind to start a blog
This is really important to make your mind to start a blog and take action. I think you will agree with me on this one as believing in yourself and taking the first step is the key to success in any area of life. Writing a blog is a life-changing experience for many people and it is for me also.
You create a little online space for yourself where you share your ideas or the problems you faced and then solved. It gives you immense pleasure to help even those people you don't know personally. I am so happy that I started a blog and I always have some goal setting for my blog. You never know It can be your best side hustle
I know what you would be thinking that there are already gazillions of the blog and how on the earth you would be successful? Yes, there are already a lot of blogs but there is only ONE YOU.  Everybody is unique as well as different and have their own story and style to share. Most of the technical stuff is almost same but the way you explain that makes it different.  You inject your personality into the words.
You cannot just write anything and think of making an income. The goal of your blog should be to solve a problem people are facing. It could be related to money, weight loss, becoming healthy, becoming wealthy, achieving goals, Diy or just name it. Here is a list of niches which can be profitable for your blog.
Health and weight loss
Financial freedom ( debt, investing, credit cards, making money, and more)
Beauty and skincare
Personal development
Time management and beating procrastination
Food and recipes
Entertainment and music
There are many niches to start a blog but you should love the niche or should be able to love what you write to be successful. Because you would be writing for many years.
⭐ Pro tip:  If you want to start a blog, I highly recommend  Siteground for hosting as it is fast and very secure. It will let you start your blog on a very low price with amazing customer care service and great speed.
Choose a domain name that you love and feels happy about. Registering your domain name is important. You don't want to run into any dispute regarding the brand name. It is best to use a credited service provider. I recommend using Siteground for registering your domain name. Choosing the domain name is just a first step in starting your blogging journey. Good luck with that. If I can do it, so can you.
You can create a free blog. But it is not a good idea and is not recommended. Your free blog name would be example.wordpress.com.
If you will have your blog hosted with a paid  hosting plan then it would be
Example.com/.net/.org whatever you will choose
♦For self-hosting,  I recommend Siteground to host your blog. Siteground has an amazing hosting plan which is very good for new bloggers.
The free blog doesn't look professional. You will have less control over your blog. And everything could disappear from your website. I have heard this happening to people. So it is not recommended.
One of my friends was blogging with this type of hosting. But she had to pay the price. All her hard work disappeared and she could not do anything.
The best part is the support which you get from Siteground.  You don't have to wait for hours before resolving the issue.
Support is always a must for people like me who are not very technical. It is easy to set up a blog but sometimes you just get stuck at even small things. It could take a long time to figure out. But with the support, you can have answers in minutes.
And it takes just one step to install WordPress on Siteground.
 Choose a theme for your blog
The theme you choose for your blog should be responsive and clean looking. There are plenty of themes, some of them are free, but you cannot have good support with free themes.
If you get stuck somewhere with free themes, it is difficult to come out of that. But with the paid themes, you get good customer support which you will definitely need if you get stuck somewhere.
I personally use Genesis and I love it. Genesis themes are easy to customise. And they have themes for everyone. Easy to use and they are also mobile responsive. And the great thing is that most of the designs are minimalist and clean looking.
⭐If you want to start a blog with genesis theme, you can check Geneses themes here and choose one for your blog.
Let me guess, you have started a new self-hosted blog and you are wondering how to make money. If you are with on this, don't miss the next part. Here you will find ideas to make money with your new blog. Without further ado, let us read more on how to make money with a new blog.
The form you have selected does not exist.
 Let us find out how to make money blogging as a beginner
1. Paid advertisements
This is easiest and really a passive income idea to make some money from the blog. But as a new blogger, it is really hard to have loads of traffic on your blog which makes it difficult to earn good money from advertisements.
Even then, few dollars never hurt. Some bloggers advise not to have advertisements on your blog until you have a good following and page views, while some say that if you want advertisements on your blog have it from the beginning otherwise your readers will feel annoyed if you all of a sudden start advertisements on your blog.
It is up to you whether you want to have ads on your blog or not but when I read income reports of other bloggers which includes income from ads, I really want to have that much income myself.
Ad income is a truly passive income because you are already writing on your blog and ads make you money. I have made few dollars with media.net but yet to make the minimum to cash out?
2. Affiliate Marketing
What is affiliate marketing?
Here the catch is that you should love that product and it should solve your reader's problem. It is in your best interest to promote only those products which add value in the lives of your readers.
To be successful with affiliate marketing, you should build trust with the readers so that when you recommend some product, they believe you. It is really a passive income idea where you can make good money from just one post and sending traffic to that blog post.
If you are new to affiliate marketing, you need to learn the ins and outs of affiliate marketing. To learn the basics and go deep into affiliate marketing, I recommend learning from Michelle's course  Making sense of Affiliate Marketing  will be a game-changer. This course is for beginners which will teach you everything you need to start making money with Affiliate marketing.
⭐ If you really want to make money with affiliate marketing, go through Making sense of Affiliate Marketing and learn the basics as well as deeper meaning of affiliate marketing.
3. Create digital products
This one is every blogger's favourite way of making income. Know the pain point of your readers or survey them what problems they are facing and are looking for a solution. You can create a product to solve the problems they are encountering. This will let you sell your course easily and also help the readers solve their problem (the win-win situation for both of you )
Amira from Aselfguru is making good income by selling her digital products to her readers. She is a new blogger who is earning full-time income from her blog with her products. She is providing the legal products which help bloggers with the legal aspects of blogging.
4. Offering services
While building a blog, you learn so many things and skills which you can use to earn some money by offering these to other bloggers who don't have time. I am really keen on this one but my daughter wakes up with me and after a hectic day, I go to sleep before her.
So no time for any extra work. I am waiting for her to turn three so that I can send her to daycare. She was born premature and I am a bit apprehensive about her.
Services which you can offer are
Freelance writing services
Virtual assistance services
Social media management
Graphic designs ( if you are good at it )
There are a lot more and you know better about you.
5. Make money with Pinterest
I believe, you have started your blog by now and it is time to grow it. Pinterest is the gold mine for new bloggers. It helps in gaining some momentum to your blog and getting some traffic.
I get around 10,000 pageviews from Pinterest. I am still working hard on getting more page views so that I will be able to make a good income. And I will publish my income report as soon as I will feel comfortable doing it. I really want to publish my income report but I am really shy to do so at present. The real reason is I am not making a really great income but just enough to pay for grocery bills.
Even then, thanks to Pinterest, I am still able to make some money from my blog. And I hope to make a full-time income at the end of the year. I am still happy because I don't get much time and there are so many things to do when you start a blog.
If you are like me and working on Pinterest to get more page views these courses will help you in building your Pinterest presence.
Create a Pinterest account and convert it into a business account. If you really want to create an optimised great account from the beginning, learn from  Pinterest ninja course. It is a great course which can help you in creating a great account from the beginning. During the course, you feel like Megan Johnson of Lovefamilylife  is teaching each and every step so clearly and precisely.
⭐ ♦ Check how this course 'Pinterest Ninja' can help you get your Pinterest account set up the right way to start earning some money.
→There are many ways to make money on Pinterest with or without a blog. I have written a post on how to make money on Pinterest as a beginner. Check this post and see if it can help you to make money in the beginning of your blogging journey.
6. Sponsored posts
Sponsored posts: These are the posts when you write about a product and get paid for the post. I haven't done it but if you are keen on making some income from sponsored posts, go for it.
As a new blogger, any money which you earn through blogging motivates you to move forward otherwise it is a daily battle if whether you should continue blogging or leave it.
Conclusion: There are many ways to start earning money with the blog. For this, you need to start a blog and drive some traffic to your blog before earning any money
All the best wishes for your blogging journey and I hope that you will be able to make money from blogging soon.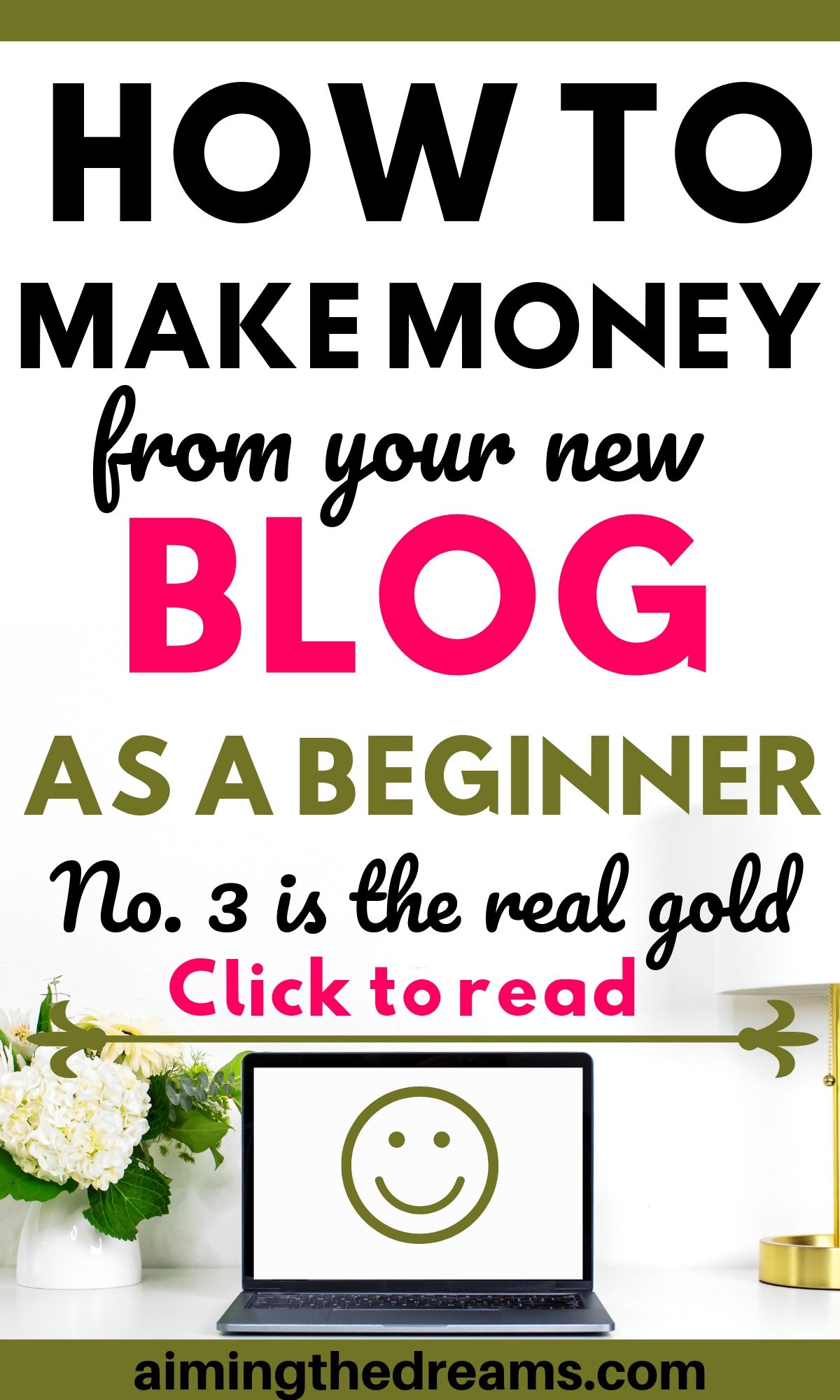 If you want to start making money online right now, start doing surveys. You will not become rich but you can increase your emergency fund or your build retirement fund with this extra money. Here is one of my favourite survey companies
Survey Junkie:  I personally use Survey Junkie to make some money in free time. You can redeem the points as money or as free gifts.
  ⭐  Sign up for Survey junkie and start earning money right away
25 companies that pay to proofread from home
A tiny request
Please share this post if you like it. I will be really thankful to you for this.
⭐ I hope you like my post and don't forget to follow me on Pinterest ?
The form you have selected does not exist.