Do you love to spend time on Pinterest along with building your blog? Why not work on effective ways to use Pinterest to drive traffic to your blog.
I know you love Pinterest and its beautiful images pinned every day on Pinterest. Pinterest can make you money and it can drive loads of traffic to your blog. There are so many factors in driving traffic to your blog but here are some of the most effective ways to work on to use Pinterest to drive traffic.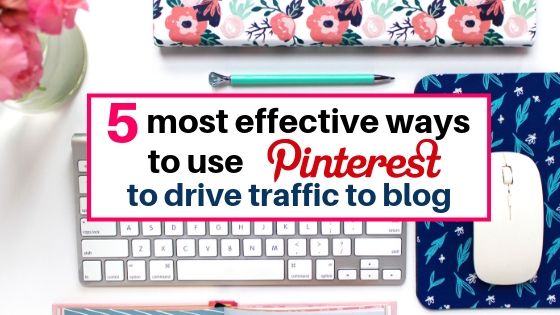 Disclosure: This post contains affiliate links which means I may get compensated if you buy through my link. For full disclosure, read here
I assume that you already have a blog and want to generate some traffic to your blog. If you already have a blog, let us start building some traffic to your blog and if you are thinking of starting a blog, don't wait and go for it.
Starting a blog and getting traffic from Pinterest
[mailerlite_form form_id=12]
 ?If you want to start a blog, I highly recommend  Bluehost for hosting as it is fast and very secure. It will let you start your blog on a very low price with amazing customer care service and great speed. You can start a blog with less money than you will pay for a dress.
I assume that you have already started a blog, created an account and ready to start building some momentum. If you are not yet on Pinterest, create an account on Pinterest. Here are some points you need to keep in mind that to be successful on Pinterest,
Create an account
Convert it into a business account
Create at least 10 boards and fill them with pins
Boards should be niche-specific
Use Canva to create pins and graphics for your blog
Grab this free eBook to start your Pinterest account
[mailerlite_form form_id=16]
Now, your Pinterest account is ready to grow from here. Gradually increase the pinning rate. Some people say that you should pin 80% of other people's pins and 20% of your own. But I do it the opposite. And have seen that it works better when you pin 20% of other people's content and 80% of your own.
⭐If you really want to set up an optimised Pinterest account from day one,   I highly recommend Pinterest Ninja course from Megan Johnson of Lovefamilyhealth.com. You will love this course and will be able to set the right foundation for your Pinterest account. This course teaches you basic as well as deeper technical things about Pinterest. 
How to use Pinterest to drive traffic to your blog
1. Add pins to specific boards
When you create a pin, it should go to your most specific board first. Then only pin to other specific boards.  Only add the pins to group boards after adding to your own specific boards.
Pin consistently because Pinterest likes those accounts which pin consistently. Instead of pinning 50 pins on Sunday and nothing for the whole week will not do any good for your account. Instead of that pinning 10 pins, every day will be better for your account.
⭐Pro tip: Pin consistently every day instead of pinning one day and nothing the whole week. 
2. Join group boards related to your niche
It is aid that Pinterest gives more weight to your own boards but till group boards are relevant and help when you are starting out. Don't ignore group boards, sometimes I have seen my pins gaining momentum after adding to group boards.
Group boards are a gold mine for building your viewership when you are just starting out. Follow group boards if you want to grow your traffic fast. The reason is that when you pin to those boards, their followers see your pins. And if your pins are high quality then you will definitely get repins and reshares. Pin your content to group boards and repin and reshare from groups. Because we all know, 'sharing is caring'.
Always follow the group board rules, otherwise, you may get removed. Look for group boards on Pingroupie.com
Contact group admins: Always look at the information on the group board description and try to contact the group board. It is the first person in the picture on the left.
 ⭐If you have money-related content, you can join my group board Money management and personal finance
3. Use hashtags
Hashtags are new on Pinterest but adding few hashtags help your pins come up in the search. Adding hashtags give a signal to Pinterest what your pin is about. Add hashtags to your fresh pins and don't bother adding hashtags to older pins.
Pinterest was not keen on using hashtags until now. But as of now, Pinterest has allowed the use of hashtags. Pinterest is giving priority to the pins with relevant hashtags in searches. If you haven't used hashtags till now, it is time to start using.
Use hashtags at right places
Don't use unrelated hashtags
Hashtags also help in ranking higher for your pins. Use hashtags for your keywords which are relevant to your pin as well as your post. Unrelated hashtags will not help your account rather it will have the opposite effect.
Nearly 20 hashtags are allowed in one pin description. Don't use more than 20 hashtags in one pin description. I think 3 – 5 hashtags works better for your pin to go viral.
4. Use fresh pins
Create fresh pins daily or every other day. Pins are considered fresh when they are created for
New blog posts
New pins for old blog posts or
old pins with a new description
New pins for products
Pinterest loves fresh content because it wants users to be happy. Think about this way, how would you feel if you look at the same pin each time. Would you love to pin the same pin again and again? No, you would love to pin fresh pin to your boards every time you open your feed. This is the reason, Pinterest love fresh pins.
Normally Pins related to fresh URL performs better but sometimes, old pins from your viral blog posts perform very well.
I think it is the sibling effect. If one of the siblings is famous, others become famous to some extent.
5. Use keywords and pay attention to Pinterest SEO
Like Google, Pinterest has become a visual search engine. People search for ideas on Pinterest the way they do on google. If you want an idea for anything, you will type in the search box, and Pinterest will show you related pins, from there you can go to the relevant post. Your pins can come up on the search list if you optimise pins with related keywords.
Keywords are the words which people search for on Pinterest. These are 1 to 3-word queries which people use to find information.  Like Google, Pinterest also uses long-tail keywords to show relevant search results. For example, I want to design a pin for my Side hustle blog post. I will search with the word Side hustle in the search bar. It will come up with some suggestions.
Here I typed side hustles in the search bar and got so many suggestions in the second bar. From here, look from left and make your relevant sentence." Make extra cash with these side hustles while staying at home". This could be your description and if you want, you can add more.
 Optimise your profile with keywords
Because Pinterest acts as a search engine along with being a social network, the first thing you need is to optimise your profile with the right keywords. Say if you are into personal development and personal finance, your profile should look like this

Name your boards with keywords
Create pins around your specific niche. This will help you in identifying different type of boards and you will be able to add specific pins to specific boards. Your board labels should be keyword rich. This way  your board stands a chance to appear in searches. Keep in mind, Pinterest is a search engine.
Join my Facebook group to grow your blog and business with Pinterest. I post helpful tips there to help you grow your Pinterest account.
Write keywords in your text overlays
Pinterest can read your image as well as text overlays. It is as important to write keywords naturally on your text overlays as in pin description. With this, Pinterest will be able to read your image as well as a description. But be mindful about stuffing keywords. Don't just stuff them, instead make sentences which appears natural and meaningful.
Concluding points
Create beautiful Pins
Search for related keywords
Optimise your profile
Optimise your boards with relevant keywords
Pinterest can do wonders to drive traffic to your blog but you need to figure out the right keywords for your profile and pins.
⭐ If you want to learn the Pinterest and want to use it for your blog traffic,  I highly recommend Pinterest Ninja course from Megan Johnson as it will really help you in creating an optimised Pinterest account from day 1.

[mailerlite_form form_id=7]

I hope these tips will definitely help you with your Pinterest presence. If you are looking for new ways to use Pinterest to drive traffic, learn it from Pinterest Ninja Course. It is really good for beginners as well as for intermediate Pinterest users.

Do you like my post, don't forget to follow me here on Pinterest.

[mailerlite_form form_id=16]