It would help if you had a solid plan to start your own business with less money because success comes with intricate and intelligent work. You have to put more work into your business when you have little money to invest. There are many options, but you need to plan how you want to start your business and what kind of business you want.
Don't let lack of money hold you from starting your very own business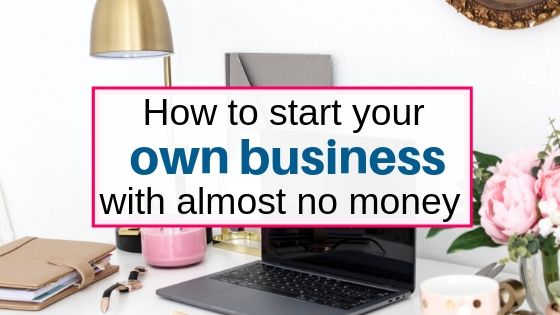 The post may contain affiliate links; for full disclosure, read here
You do not always need a lot of money to accomplish your dreams of starting your own business. The only thing is that you need passion and control over your emotions to start. Taking action is the very first step towards the accomplishment of dreams.
---
Now, coming to the point of starting your own business, you need to take care of some things which are necessary if you want to succeed.
Do your homework beforehand
There is nothing new in this one, but if you want to accomplish what you want in your life, you need to do your homework.
It would help if you had a solid plan of what you can achieve yourself and which tasks you will delegate.
When starting solo, you must do most of the business-related tasks yourself. That is possible only with a solid, strong plan and clear focus.
Visualize yourself succeeding in the business
Clearing your mind blocks will let you make the plan required for a successful business. Maintain a 'can do' attitude and start thinking about the skills you have and will need for this business.
You will need the required motivation to step into the arena of this competitive world.
When you want to start a business from home, it becomes essential to keep yourself motivated enough to create and hold on to the idea.
Start with your skills and knowledge
If you want to start with something right away, use your present knowledge and skills. It helps in saving time because you already have the required skills, which will take less time to start. On the other hand, if you want to learn something new, it can take time to learn and make the necessary change.
The first thing that comes to mind is whether or not the project I am starting will be profitable. But, unfortunately, nobody can answer this because only you can find out after working on it.
Do most of your tasks yourself
With no money or significantly less capital, it becomes essential to do most of your tasks and save money from everywhere.
I know it is tough to do everything yourself, but it saves you a lot of money when you start.
Even if you are keen on doing everything yourself, you may lack totally on some skills. Outsource those skills and be at peace with the quality of the work.
Start small
Yes, my friend, when you are starting, it is better to start small and then scale your business later.
When you know that the capital you need for a business is much more than you have, it is in your best interest to start with whatever you have. If you want to create a business idea without money, the business should fall into these categories.
Coaching
Software development ( anything related to graphic designing, apps, etc.)
Physical products ( needs more money to start )
Dropshipping
Freelance writing services
Online courses
If you are looking for some ideas to start a business but are not clear about, you can read my post about business ideas you can start with low money.
Build your savings
I think you will agree that when you have to put some money and time into your business, building your savings for at least six months will give you a cushion.
Start today by building your savings account and make a goal of saving for at least six months in the shortest period possible.
Starting a business will not happen in a single day. It is a long-term plan. So you should plan for the long term for how you will survive while working on your business and what you will do if you face financial problems.
These are the preliminary steps you need to take to start a business.
Let us see how to create your own business with less money
1. Make a business plan
Creating a business plan will help you figure out your present situation and where you want to be in the coming years. The key points are
What are your current situation in terms of finances, ideas, and expertise
How many tasks can you handle yourself
What you can delegate
SWOT analysis
2. What problem will help your business solve
Never underestimate the power of VALUE because your business should solve a problem and provide customer value. When you discover your skills and expertise, you will come across how your skills can add value to people's lives by solving the problems they are facing.
Who will pay you if your business idea will not help people? When you know what specified problem your business will solve, it becomes very clear and easy to create a business plan that will help you
3. Make specific goals with a time frame
Decide your plan
Planning is the most crucial part of the success of any business. If you make a plan and execute it with the right mindset, most of the work becomes easy.
As Benjamin Franklin said, " If you fail to plan, you are planning to fail. "
Setting different goals will help you to focus on the most effective tasks. Divide the business-related purposes into Long term, Mid-term, and short-term.
LONG-TERM                                                       MID-TERM                                            SHORT-TERM GOALS
Goals let you break more significant tasks into smaller chunks.
I think you will agree with me on this one that is creating goals is the single most thing without which nothing could come to fruition. To set specific goals for your business, start with the mission statement for your business.
The kind of goals you will need for your new business
The mission statement for your business
Time frame to start a business
Create a road map of how you will reach your mission  and end goal
Tasks required to accomplish your goals
Divide those tasks into long-term, short-term, and midterm
Always write the time frame to accomplish a specific goal
4. Create a digital marketing strategy
While starting, it is important to use free resources as much as possible. Digital platforms have made it possible to promote your business and skills for free organically.
Or, if you like, you can still use the paid method to reach more people. We will leave the paid plan for later. Facebook, Instagram, and Pinterest are great places to use free resources.
The digital world and social media platforms have made it easy to advertise your business for free. If you have an idea for your business, create a Facebook page and Pinterest account from day one.
It will take some time to work, but if you are ready with the initial setup, it will be easy for you to scale that up. Gradually you will start having followers and engaged people on your business pages.
5. Network with fellow business owners
Though there is a lot of competition, not everybody is your competitor. So networking with like-minded people and those who are business owners like you can help you a lot.
If you think that you are not good at networking, learn this. Then, come out of your comfort zone and start networking. Send some emails and make phone calls.
Practice it, and you will see the results in the coming time. In the business world, it is a symbiotic relationship to grow together.
6. Work on your brand
Establishing a personal brand can help you stand out in a crowded business world. Your unique personality and brand awareness will help you succeed in your business.
7. Stay committed and
Increase your commitment and stay committed. It is very tricky to keep on with your goals while working from home because many things are going on.
There are always millions of things to do when working from home. If you have a full-time job also, you will need double commitment.
It all boils down to how serious you are in building your business.
8. Create a website for your business
Here is something we can both agree on that in this digital world, no business can thrive without a website or a blog.
Content marketing helps get your business in front of people and if you are doing something online, creating a website and writing helpful content helps you build authority.
The best part is you don't have to shell out a lot of money to work on your website. So you can create a website with less money you will spend on your dress.
9. Create profiles on social media platforms
Social media platforms are not only for sharing cat videos but also for sharing businesses because money is where people are, and social media platforms have many people come to them daily.
If you want to start your own business but don't have any idea, choose from these business ideas to start a business
1. Online coaching
If you have skills and can teach people those skills, you can start your online coaching business. It is also a lucrative idea while establishing your online business.
To be successful, you should have continuous clients to work with them.
The only catch is that other people should be interested in these skills.
How to start an online coaching business
2. Create an online course
Some people have built their online businesses around online courses. How much you can earn totally depends on the value you can provide.
Also, you should be able to market your course correctly to the right people. It means good sales funnel to sell your course will have a positive impact on your success.
You need to have an
An incredible Idea
Be committed since day one and keep the motivation
It should solve a  specific problem
3. Start writing and be a freelancer
Freelance writing can be a very lucrative business idea once the initial hurdles are cleared. To be successful at writing, you don't need fancy degrees, but you should be able to write engaging content.
You may not be able to charge very high rates initially, but as you and your portfolio grow, you will be able to ask for better rates.
In the beginning, you will get somewhere around $50 for a long well-written article, but as your client base grows, you will be able to earn anywhere between $250 – 500 per article
57 places to find freelance writing work as a beginner
REQUIREMENTS
You will need just a computer
A quiet space to sit and write
 Online Grammar and spelling checker app
4. Online Ecommerce store
eCommerce is growing very fast and experts predict that this industry will grow more than 3 trillion dollars in revenue in the coming years.
Shopping online is becoming easier and as well as an everyday norm.
With platforms like Shopify, Bigcommerce, and WooCommerce, it is relatively easy to start an online store but making it a success is difficult but not impossible.
If you like to know how to start an eCommerce store,  read this beautiful post.
5.  Start providing Social media management
Social media platforms, if used correctly can help build an online business. The problem is that using social media for personal reasons is very easy but for marketing the business, it requires a different type of skill set.
Small businesses require social media managers for this. If you think that you can help others succeed in their social media management, you can earn good money.
How to become a social media manager
6. Virtual assistant services to help businesses
To start working as a Virtual assistant can be a great business idea. There are so many options like email management, administration, bookings, social media management, which you can do for businesses.
7. Ad agency
A digital ad agency can be another option to start your own business. However a solid understanding of digital marketing will be required to excel as an ad agency.
As a beginner, it is easy to start as an independent contractor and then after gaining some exposure, go for ad agency.
8. Start an SEO services business
SEO optimization is required for online businesses and websites. If you can help websites to show up on the first page of Google, you can start providing SEO services.
9. Start professional money making blog
Many bloggers are learning good income from their blogs. Creating a blog is easy but taking it to the level of earning money takes some time. It depends on how you treat your blog.
As with any other business, it requires a clear goal, what you want from a blog.
I have seen many bloggers who got success early but some are like me who take a bit longer to succeed. It is like a marathon, not a sprint. If you will stick to it, success will definitely come.
Sign up with siteground and start your blog today
If you want to start a money-making blog, you can sign up for my 7-day email course
10. Graphic design services
If you have graphic designing skills, you can start your online business around this. Graphic design is a broad discipline. There are so many categories that come under graphic design.
Logo making
branding
Infographics
Web Designing
Social media designing and many more
You need to figure out which one is your specialty. Also, pay attention to the skills you want to hone to make you more skilled.
How to start your own graphic design business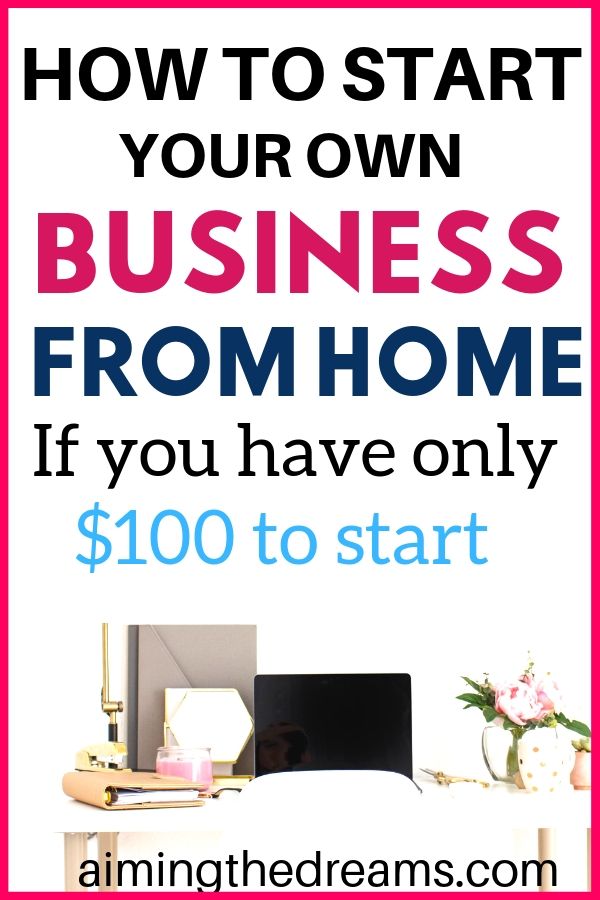 I think, by now, you will be ready to start your very own business work from home, and be your boss.
⭐I hope you like my post and don't forget to follow me on Pinterest.