Do you want to start a side hustle along with a full-time job? I think the answer is yes because this is the reason you are here. Having a side hustle has become a requirement in today's ever-changing economy.
If you are not working for any reason or are a stay at home mom, things will be different then if you are a full time working mom. With millions of things to do in our daily lives, there will be almost no time left for anything else
The form you have selected does not exist.
Disclaimer: This post contains affiliate links, for full disclosure read here
Even if you are super busy and could not find any time for your side job, there is little chance that you can succeed on your business voyage. You just need to be consistent with your efforts.
The most important thing is that you should have a strong why to succeed in your side hustle idea to reach your goal with a focus. There could be many reasons for you to start a side business but it should be able to motivate you enough to work every single spare minute you have. Some of the reasons could be
These are only some of the reasons which you will need to justify your side hustling. There may be more reasons depending on your own situation and whatever it is, don't wait and start a side hustle.
To start  a side hustle along with working full time, you need an answer for some questions
What kind of side hustle do you want?
Not all side hustles are created equal, some of them have a good chance of scaling but others can be used to earn a few hundred dollars only. Take for an example, doing surveys can only help you earn a few hundred dollars every month. Here are my favourite Survey sites which I use to earn some side income and the easiest one.
Survey Junkie:  I personally use Survey Junkie to make some money in free time.  You can redeem the points as money or as free gifts.
What type of side hustle do you want to start?
It really depends on your own skill set for the moment because if you want to start something right now,
Write down your skill and  are you most knowledgeable about
What are your expertise and you love to do
What are your hobbies and can be scaled up( music, crafts, any musical instrument)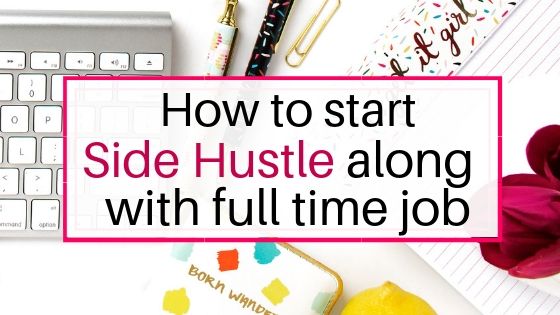 Your side hustle could be a side job or side business.
Your side hustle will be a side job when you do it part-time. And it could turn into a full-fledged business in the long run. Always choose the one which could be scaled up.
1. Start with your own skills and knowledge
If you want to start with something right away, use your present knowledge and skills. This helps in saving time because you already have the required skills which will take less time to start. If you want to learn something new, it can take some time to learn and make the required change.
The very first thing which comes to mind is whether the project I am starting will be profitable or not? Nobody can answer this because it is only you who can find out after working on it. S, take action.
2. Choose 5 ideas and brainstorm which could be the best fit for you
From the list of your skills and ideas, choose 5 and work on them by making the list of what you will need to succeed on those ideas. If you will have any doubt or could not figure out what to do, just leave it. And try to choose the one which you find most lucrative and easy to execute.
Remember your side hustle should have a scaling capacity and people should be ready to pay for it.
Some examples are
How to start a money-making blog.
Crafts to sell on Etsy (You can start creating jewellery, art or any other kind of crafts)
Proofreading: If you have an eye for detail and pinpoint errors easily, this could be your best side job
There are really many ways but you should focus on one if you want to succeed.
3. Choose one idea and plan accordingly
Now, choose one idea which feels better to you. I mean you have figured out that it can make you money because there is demand in the market and people are ready to pay. Make a plan for how you will execute the idea and will work on it.
4. Be focused on your idea
Always remain focused on the idea of starting a business and practice strict discipline because without practising discipline it will be nearly impossible to make money from your side hustle. As you know, you are already short on time and if you will not practise discipline, you will go on procrastinating on your idea of owning your very own side hustle.
5. Join relevant Facebook Groups and Network
Talking to people who are successful and are ready to answer your questions will make you more confident. Talk to them and boost your confidence. Join relevant Facebook groups. These groups are really helpful when you are just starting out and sometimes you can find answers to your problems quickly.
6. Make plans and goals for your side hustle
Make a plan for the next 3 months and stick to it. Your plan should have an end goal and results written in front of it. Here are a few things you will need to consider if you are starting a side hustle. I mean I know, it is not easy to start a side hustle with a full-time job because you are left with almost no time. You have to squeeze out time yourself.
When there is a question of how to start a side hustle with a full-time job, you want to think of time as a precious commodity. The first step should be how to find time for your side hustle. Work o these and you will be amazed at how much time you can spare.
7. Manage Your Time to Work More in Less Time
7.1. Budget your time
Yes, my friend, you heard it right, you have to budget your time as it will help you squeeze out time to work on your passion. It is same as you will budget your money. Think about how you budget your money, you write down your monthly earning and then you plan how you will spend your money.
The same way you will budget your time because you have limited time to work on your side hustle.
After budgeting your day you will definitely be able to squeeze some time to accomplish the tasks related to your side hustle.
7.2 Work on weekends
Weekends are best to work on side jobs because it helps you spare some time before everyone else is waking up. If you want, you can really spare around 14 hours from your weekends. Try to restrict TV watching and sleeping.
I know after a hectic week, what you really want to do at home is sleeping. But believe me, if you can find some time to spend on your side hustle, it will help you in your future to have more than one income stream as well s  your job will be more enjoyable to you.
7.3  Find out your optimum time
I know it is difficult, but believe me, you can do it and it will help you in doing some important tasks which will have a direct impact on your side hustle success. Mornings are more productive for most people. Some people say that they are more productive at night. If you think that you are more productive at night then spare one hour every day at night before going to bed.
Just find your optimum time to work.
I can understand the situation of how we feel after working for a full whole day. I remember how I felt when I was working full time and simultaneously was preparing for the GRE examination.
On top of that, I was attending coaching classes for the same. It was like waking up at 4:00 am, going to coaching school, come back at 9:00 am and then go to the job.
Fortunately, my job was near to my residence. And then I will finish my job at 6:00 pm, come home and then I would do the cooking and other stuff and study till 11:30 pm. It was easy because I was not married and didn't have kids. But now things are different.
I always work in the morning until my daughter is asleep. I always wake up around 3:30 am. For me, mornings are my optimum time.
7.4 Make a List of 3 Most Important Tasks every day and Stick to it
Work on 2 or 3 most important tasks for your side hustle. These 2 or 3 tasks should have the biggest impact on your side hustle. In front of every task, write down the result it will produce. The success will come if you will work on tasks that will give you 80% results. Make it a habit of accomplishing those tasks.
Like for me, the most important task is to write down the post and publish it. All other tasks are secondary because they become important only after I write down my post.
7.5 Work by blocking your time in small intervals
Give your one task 20 minutes. Work on it, try to complete it and then move on to next. If you don't have much time then this type of focused approach will help you accomplish more in less time. After working for 20 minutes, start another task or the next part of the same task.
It will keep you in working mode and motivated enough to accomplish business-related goals.
7.6 Identify your available time and Schedule ahead
With a full-time job and other responsibilities, your time will be limited but you have to figure out when to work on your side hustle. Identify your available time and schedule your work in advance. This will save you from planning your time while working.
8. Build an Email list from day one
I think you will agree with me on this one that if you really want to grow online, you will need an email list to get consistent work/sales. Start building your email list from day one so that you will be on the top of the game. Building an email list today will help you in future.
Here is a free course from Meera Kothand on How  to build an email list 
9. Plan  for staying in your side business for long term
To be successful in your business you need to be very focused and planning is the pillar of success. I always thought that planning will consume time so start working right away. But this didn't take me anywhere. Then I started planning and planning has really helped me achieve results in less time.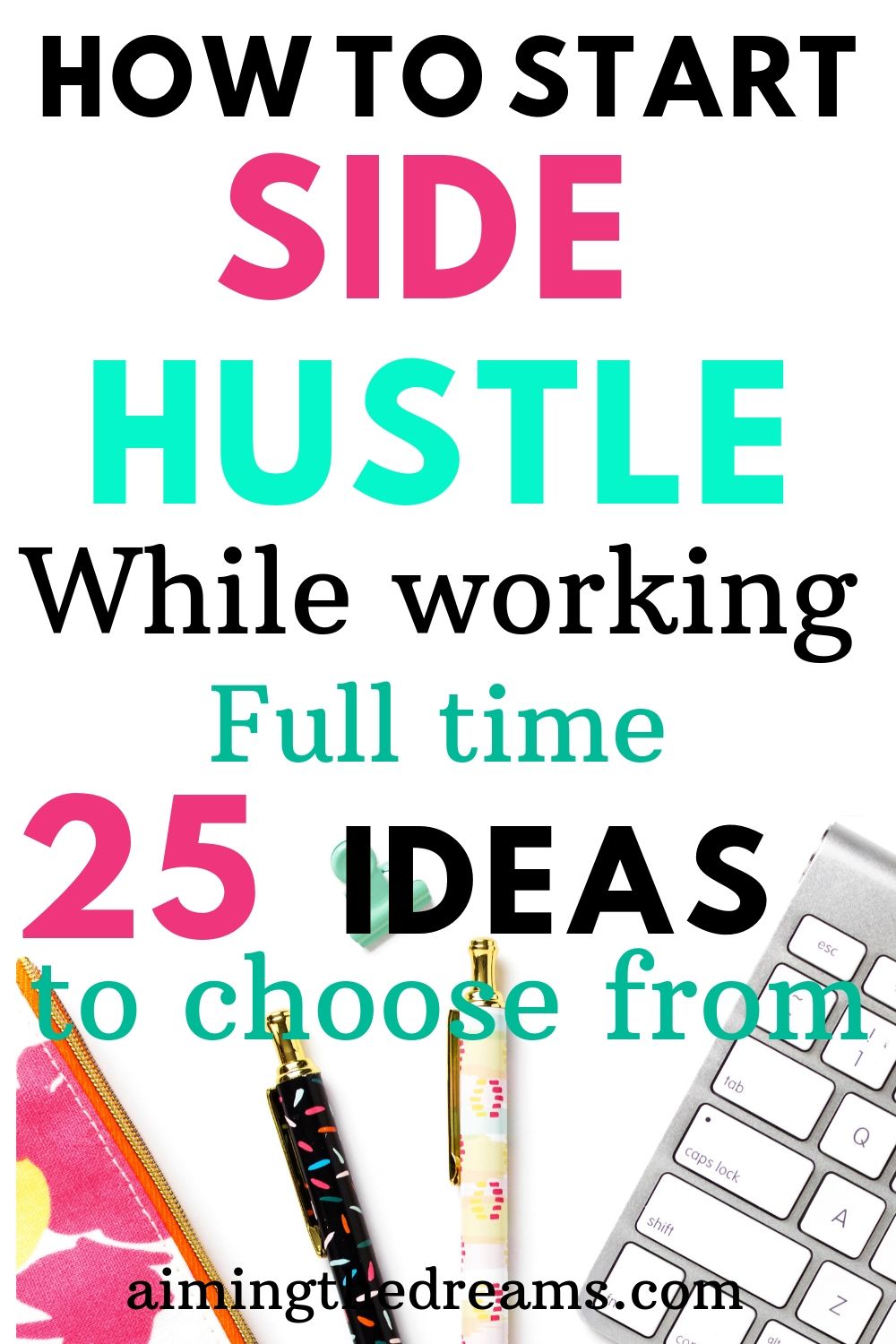 There is a list of side hustles which will help you in figuring out what you want
Start your freelance writing
Social media Manager
Become a Pinterest VA
Start a blog
Graphic designing
Sell on Amazon
Start proofreading
Transcription
Bookkeeping business
English Tutoring
Generating Facebook leads to online businesses
Work as Translator
Become a copywriter
Airbnb host
Babysitting
Pet grooming if you love pets
Flipping products
Selling clothes online
Driving for a rideshare app
Fitness trainer, coach
Social media manager
Start a coaching business
Consulting business
Affiliate Marketing
Caregiving
These are just ideas to get started. There are many more ideas but I have listed the one which I feel can be scaled to a full-time income. It is up to you if you want to scale them or just want to keep small. Have a look at these and find out which ones can be your side hustle.
It is important to note that you should have required skills to work on your side hustle or you should be able to invest time and money to learn all those skills required to run a successful side hustle/business.
Pick any five from these that you believe you have skills for. Out of those, pick any three.
Make a plan for all those and see which are closest to your expertise and skills.
Then settle on one which feels most confident to you. Your own mindset and confidence is the most important thing in your success.
Ebates: Sign up with Ebates and get your bonus of $10. This is one of my favourite companies to earn cash back on shopping. Sign up now and earn rewards.
⭐I hope you like my post and don't forget to follow me on Pinterest ?
The form you have selected does not exist.