Can you earn money on Pinterest? Yes, my friend, you can. It is possible to earn money with Pinterest, though Pinterest will not pay you, the businesses interested in reaping the benefits of Pinterest can pay you for pinning. The only catch is that you should love to be there on PINTEREST.
Pinterest hit 1 billion dollars in ad revenue in 2018 ?. It is turning into a great giant visual search engine. It is a good sign that more and more people are coming to this platform to find ideas for about almost everything.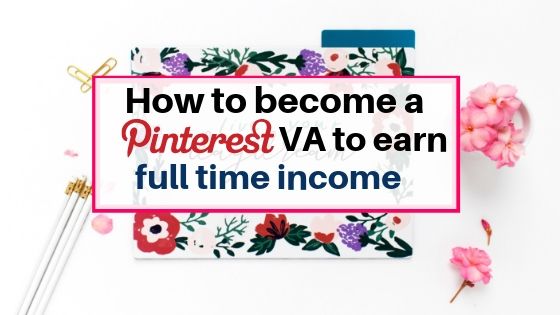 Disclosure : This post contains affiliate links, for full disclosure read here
Particularly, small businesses can benefit from Pinterest a, lot as the users on Pinterest are in better buying mode as compared with other social media platforms. According to Hootsuite, Pinterest users are valuable demographics.
More and more males are coming to interest. Pinterest is not only the place for women to find pretty dresses and shoes and recipes but big businesses are also coming to Pinterest. Not only this, but it has a search feature also which allows people to find by searching for what they are looking for.
Pinterest is a bit complicated platform and it takes some time to learn that. Most of the businesses don't have time to learn the complex structure of the platform and so, comes the need of a Pinterest VA.
?If you want to start your side hustle as a Pinterest VA, you can check here as this course is packed with valuable information.
How to get started with Pinterest
Pinterest is a bit complicated as compared with other platforms. It takes some time to learn and see the growth. It is time-consuming and on top of that, it changes a lot. But don't get overwhelmed with this. There are a few things you can do to be on top of the game. You can start by learning it yourself or if you are a total newbie and want to start a professional account from day one, you can learn it from this course. It has helped me in starting an optimised account from day one.
Which tasks will you tackle as Pinterest VA
Creating graphics
Account setup for clients
Creating eye-catching pins
Creating keyword optimised boards
Promoted pin campaigns
Pinterest SEO, pin description
Applying to niche-specific group boards
Interpreting the Analytics
Scheduling Pins with Tailwind as well as manual pinning
Because Megan from Love family health is a master of Pinterest. Her Pinterest Ninja Course is already famous among the people who want to learn the technical side of this visual search engine. It is packed with great information about Pinterest and can help you create an optimised Pinterest account from day one. On top of that, it is very beginner-friendly.
Now she has launched her course about becoming a Pinterest VA and it is also packed with valuable information about how to become a Pinterest VA.
This course has got 8 modules. I have outlined all these modules which are created to make you learn ins and outs of becoming a Pinterest VA.
Chapter 1 : Starting your Pinterest VA :
Whether you need a website and how can you create a website for your business or you add your services to your existing website. Having a Website helps you showcase your services. Future clients can check your work and see if your designs fit into their brand.
Chapter 2 : What does a Pinterest VA do
As a Pinterest VA, you will be offering so many services to your clients.
Turning personal account to business account
Creating graphics and boards
Add Keyword rich descriptions to boards as well as pins
How to find niche specific Keywords
Consistently pinning manually as well as with schedulers
Account Audits
Increasing followers
Joining niche specific group boards
There are so many services you can offer as a Pinterest VA. And there is a demand for Pinterest services as Pinterest is growing. More and more people are coming to the platform for business reasons. I have seen some big brands on Pinterest which are already very famous and have a name of their own.
Chapter 3: Legal taxes and invoicing
Third chapter is all about taxes and legalities you need to take care of as a business owner. As a business owner and working for your own self, you have to take care of your taxes and other legal things yourself. In this chapter, you will learn about how to be in line with all the legal requirements for the business.
Chapter 4: Package creation and how to charge
Here in this chapter, you will learn how to create a package and how to charge the clients. Moreover, you will get an idea about the services to offer and how much to charge for those services.
BONUS: You will get editable templates to use which you can fill as you will need.
Chapter 5: Contracts and welcome packages
This chapter is all about getting clients on board with contracts and welcome packages. Did I mention that this also has editable templates which are a bonus in itself? You want all the nice clients to work with, which you will definitely get but sometimes you may encounter not so nice client and you may have to end the contract. This module has got a template for that also.
Chapter 6: Monthly Reports + weekly plan + workflow!
In this chapter you will get to know how to create monthly reports for each client. Show you how to organise your weeks and create an easy to manage schedule!
+ More editable templates!Yay!
Chapter 7:
Your resume and reviews
The best way to land clients other than marketing is word of mouth and showing what you have accomplished! This chapter will show you the best way to showcase your work! And land clients without much effort once you have started working.( Landing your first few clients is the hardest part)
Chapter 8:
Marketing and how to land your first client
This is the MOST critical part ya'll! Here Megan have listed all the steps she took to fill her monthly schedule.
? BONUS: One more AWESOME benefit from becoming a VA Ninja Student, you get to list your information and services on Megan's Pinterest VA database! For FREE!
Megan is very fortunate to be at the point in her career where she is turning away anywhere from 5-10 new clients a WEEK because she is booked solid.
Because of this, she has decided to start a Pinterest VA database to refer clients to. Here, you can include a headshot and link to your services page or your media kit/resume.
This will help you in finding clients for your Pinterest VA services. This is really amazing way to start your business as finding your first clients is the most difficult part.
Now you are all set to start your own business as Pinterest VA
Skills you need to be successful as Pinterest VA
1. You should have an eye for detail/design
You should have an eye for detail and design, as you have to take care of so many things while cretins a Pin. As you know that a pin is made of an image, colours, and text overlays. This is what people see but there are other aspects of pin design which are not visible to us but visible to Pinterest ?.
Pinterest can read the pin description so you have to take care of the keywords which you will be writing in the pin description. Your text overlays, as well as Pin description, should be without any spelling mistake. Text overlays should be in bold and bright colours.
You should be able to design eye-catching pins with the correct colour combination
Good fonts combination
2. Be comfortable with social media platforms
As a freelancer or small business owner, you have to promote your services and there is no better way to do so on social media platforms. You have to be comfortable using these platforms to find clients and to advertise your business.
3. A very good communicator
Yes my friend, as a Pinterest VA you have to talk to clients, business owners before they trust you and buy your services. You should be communicating on so many things while working with them. Like how their accounts are performing and what changes you need to make for optimising their accounts.
There will be so many things you will be communicating with them. Communication can make or break a deal.
4. Be confident
Be confident in your own capabilities as it is really important when you are working for yourself. The reason is that you don't have any boss or team mates to do any of the tasks or help you out when you get stuck. Though you can join some communities which can help you if you get stuck somewhere, even then you will need loads of confidence to run your business by yourself.
Sometimes you have to deal with not so happy clients and you have to break the contract with them. This may lower your confidence but a strong belief in your own capabilities will save you. In other words, you should develop a thick skin.
5. Have a positive mindset
Having a positive mindset makes a huge difference in success. If you have a strong desire and belief in yourself that you will succeed, nobody can stop you. Success comes to those who seek. I think you will agree with me on this one that for creating a positive mindset, you should
Pay gratitude for what you already have
Feel happy about your skills
Feel the success and be happy about it
This will help you in creating a positive mindset and be successful on the way.
I hope this will help you in becoming a fully booked Pinterest VA and start your very own Pinterest VA business to work from home.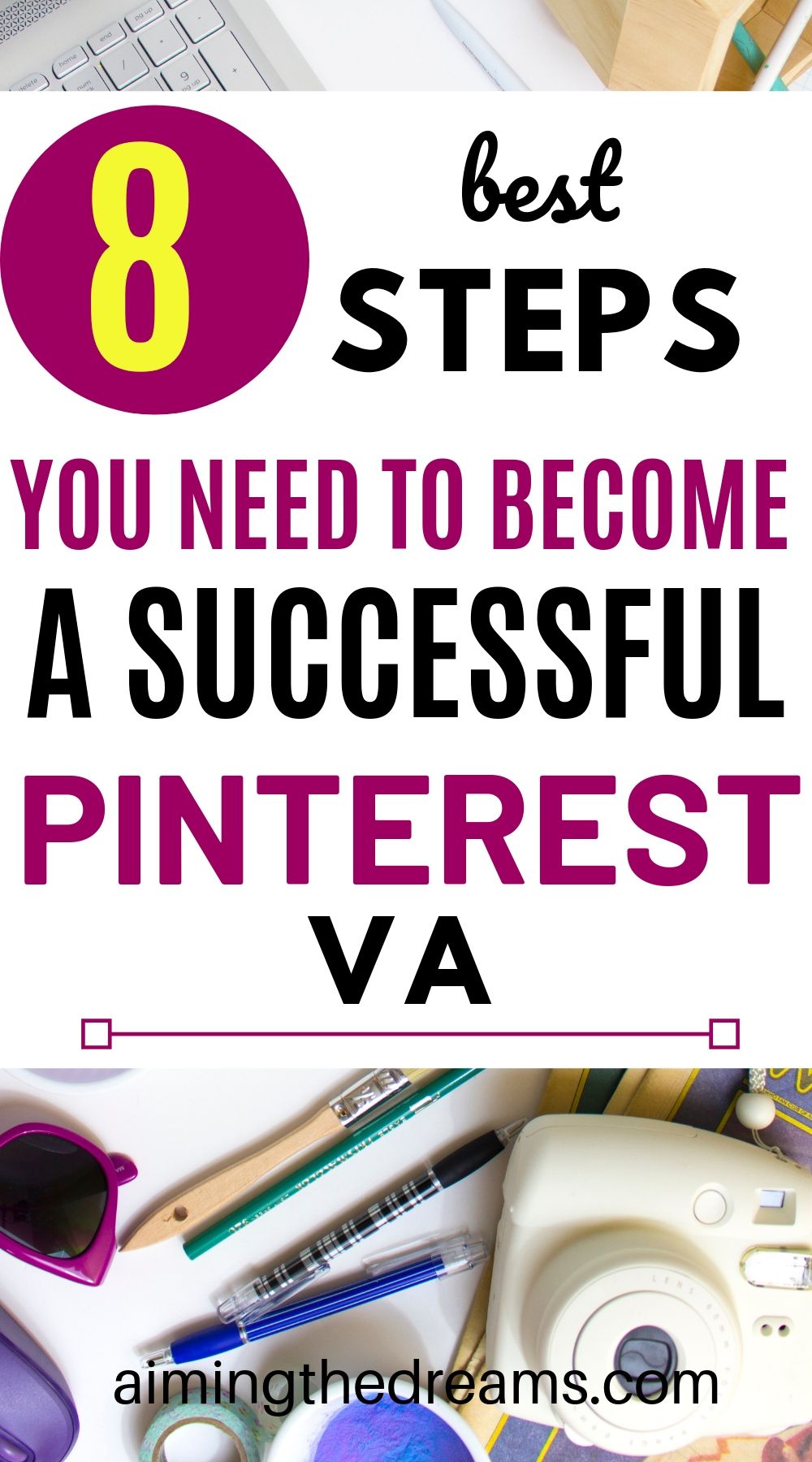 A tiny request
If you like this post, please share and if you have some questions about Pinterest, you can contact me through the contact form or email or comment. I will get to you soon.
You may like to read these posts
5 most effective ways to drive traffic from Pinterest
Join my Facebook group to grow your blog and business with Pinterest. I post helpful tips there to help you grow your Pinterest account.