Pinterest hit nearly 1 billion dollars in ad revenue in 2018. Wow-what a great platform. It has grown to such a big visual search engine and it is growing fast. Not only this, half of U.S. millennials are on Pinterest. Do you want your business to grow with Pinterest?
I think you should because if you are not using Pinterest for your business, you are leaving so much on the table. Pinterest can be HUGE  for your business and revenue. It has 2 million monthly users and growing each day.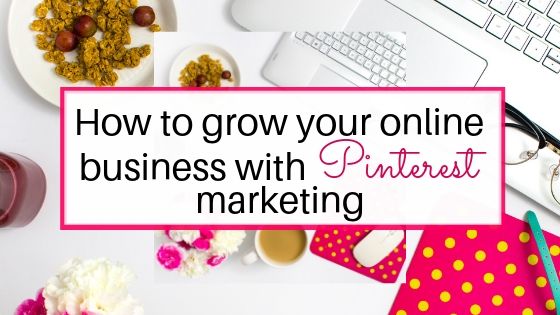 Disclosure: This post contains affiliate links,  for full disclosure read here
Particularly small businesses can benefit from Pinterest a lot as the users on Pinterest are in buying mode as compared with other social media platforms. According to Hootsuite, Pinterest users are valuable demographics.
More and more males are coming to interest. Pinterest is not only the place for women to find pretty dresses, shoes and recipes but big businesses are also coming to Pinterest. The reason is users on Pinterest are in better buying mode as well as it has a search feature which allows people to find, what they are looking for, by searching on the search bar.
 To grow an online  business with Pinterest marketing, few things are a must
Why use Pinterest for your business?
I think you will agree with me on this one that when we browse social media platforms, we have a specific reason to do so. For me, I open Facebook only when I have nothing else to do or I am bored. Same is with Instagram. I feel Twitter to be very overwhelming.
I always use Pinterest when I have to look for ideas for recipes, for dresses and even I have started using Pinterest to find ideas about travelling. This is just my example to show how interests are changing. I believe this is the reason Pinterest drives more sales and is good for businesses as compared with other social media platforms.
How to get started with Pinterest
Pinterest is a bit complicated as compared with other platforms. It takes some time to learn and see the growth. It is time-consuming and on top of that, it changes a lot. But don't get overwhelmed with this. There are a few things you can do to be on top of the game. You can start it yourself or if you are a total newbie and want to start a professional account from day one, you can learn it from this course. It has helped me in starting an optimised account from day one.
1. Sign up for a Pinterest account to grow your blog traffic
Signing up for a Pinterest profile is easy. Go to Pinterest and sign up with your email. You can sign up either with your Facebook or Twitter account. You will have your profile running just by submitting your information. After signing up you will get a confirmation email,  and after you confirm your account, you are all set to start.
Complete your profile with the keywords. Don't stuff keywords but you can always add them nicely and in the context of your niche.
2. Turn it into a business account
If you want to use Pinterst for your business or blog to grow, convert your account to business account. A business account allows using of analytics for your account as analytics is one big step in the success of your account. It will become easy to measure the growth of your blog or business. Not only this, a business account gives a professional look to your page?.
3. Create at-least 10 boards related to your niche
Create at least 10 boards related to your niche. Name your boards according to the categories of your blog or business as well as include keywords. For a keyword search, type a word in the search area and see what comes up. Then name according to the keywords but don't overdo it. Also, make some other lifestyle-related boards. Like DIY and recipes boards. And relate them to your niche.
For example, if you are a personal finance blogger, you can create boards for budget recipes or budget dresses. There are many options.
4. Start making pins
Design your beautiful vertical pins to add to your boards. Whenever you write a blog post, try to make at least three pins with different designs for your post. And add them to your boards. For creating pins use Canva. Canva is easy to work with.
When you start working on Canva, it feels overwhelming but when you get some practical experience with it, it becomes easy and you can make beautiful pins as you like. You can play with colours, with fonts, sizes of the pics and many more.
Recommended size: Recommended size for pins is in ratio 2:3

5. Upload pins to relevant boards
Now that you have created pins for your post, add them to relevant boards. While uploading makes sure you write keywords rich description on your pins.
There are two ways you can upload your pins.
Add a pin to your blog post and then save it on Pinterest.
Upload your pin directly to Pinterest.
Always write keyword-rich description on your the description area. As of now, hashtags are allowed on Pinterest, so add about 5 relevant hashtags.
6. Link to your blog posts
Always add relevant blog post URL to the pin. Adding relevant URL make it easier for a person to go to your blog post or product and if somebody wants to read your blog post or want to make a purchase, can go directly to your website. If you will not add URL to your pin, it will say 'Uploaded by user'. In this case, you will lose potential viewers to your website.
7. Write pin descriptions
Pin descriptions are very important. Pinterest is a visual search engine same as google, but here the magic is in 'images'. You see an image, you like it and click on it. These pins or images have descriptions on it which help them to show in the smart feed..
8. Schedule your pins using tailwind
For consistent growth on Pinterest, you need to pin several times a day and every day. It is difficult for a business owner to have so much time to spare every day for publishing pins. Here comes the lifesaver 'Tailwind'. It is a pin scheduler where you can schedule pins for a week in advance.
You can spend an hour for scheduling your pins for a week. And then schedule some pins every day manually if you find the time. Tailwind is a scheduler which is approved by Pinterest and can be used to schedule pins in advance.
✨If you are a business owner or a busy blogger and looking for some help with a Pinterest account, I am here to help you out. Just send me a message here and I will get to you
9. See your traffic growing
Pinterest takes little bit time to grow your traffic but once it starts, you can tap that traffic to your advantage. If you want to focus on growing your traffic fast, invest in some course. I have found this Course to be the best for mastering Pinterest. It is a very beginner-friendly course and has got all the technical details you need to build your Pinterest Presence.
10. Check your Pinterest analytics
Pinterest analytics is a great way to interpret the growth of your account. At the beginning, it feels little overwhelming, but with experience, you will learn how to use analytics to see the performance of your account.  This Course will teach you how to track your growth by interpreting your Pinterest Analytics.
Pinterest analytics will give you information on which of your pins are doing well and what type of content is getting clicks to your website.
If you are working on your business and building it to scale then Pinterest can do wonders for your business. But the only catch is you need to be consistent with your pinning strategy and Pinterest marketing.
To be successful on Pinterest, you should be doing the following activities:
Creating content for your online business
Creating eye-catching graphics
Keyword search on Pinterest
Consistency pinning lot
Everybody has there own magic number when it comes to the number of pins. Some say that you should be pining 20% of your own while 80% of others content. But some seasoned pinners say that you should do the opposite. This is what you should find out yourself what is best for your account.
How you should be pinning
In the beginning, you will not have much of your own content, so it is better to in from others. Start with 10 pins per day and gradually increase the pinning rate. Pin those pins that have good repins. Always check that the pin takes you to the right website. Sometimes there re stolen pins which are linked to other websites.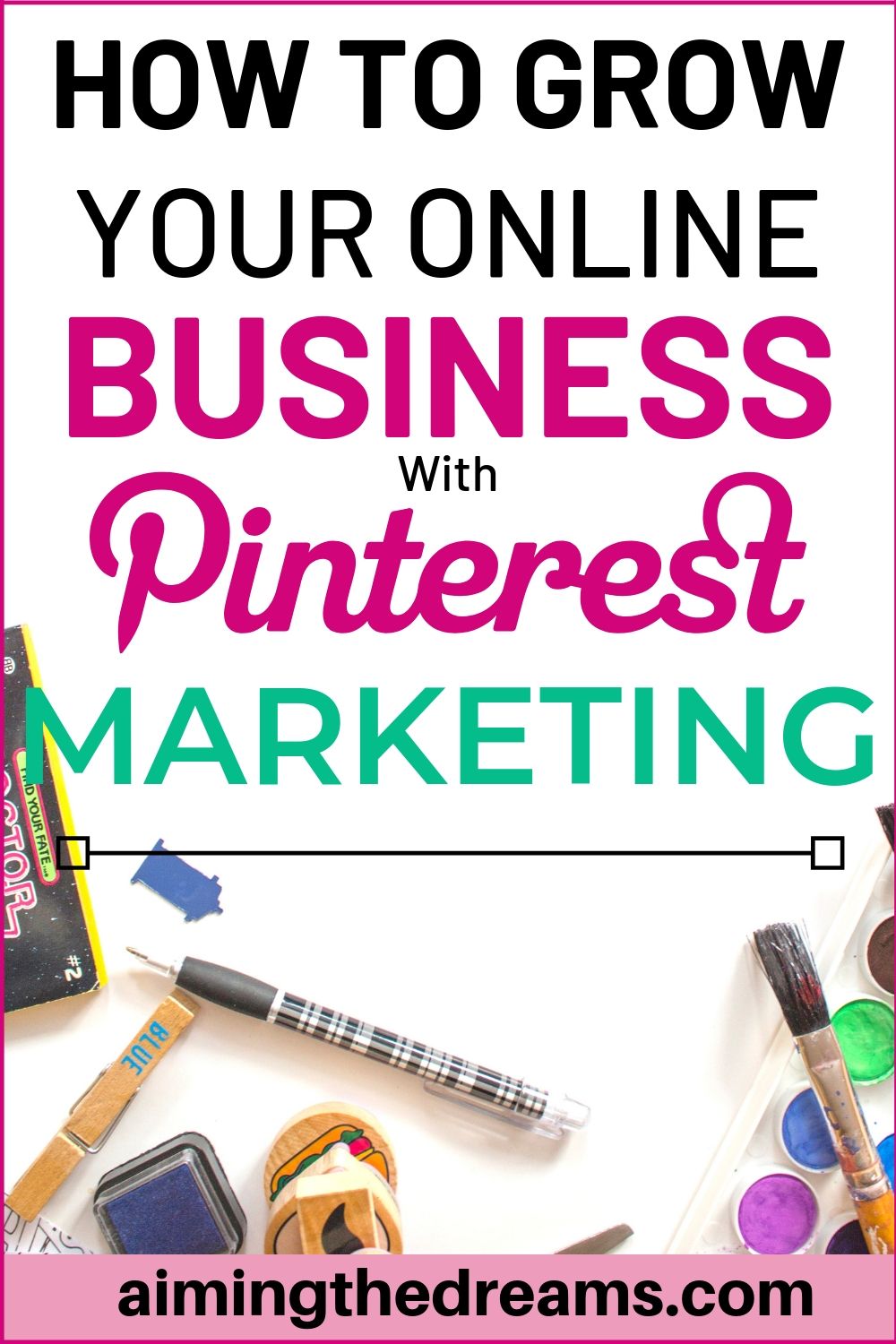 How you should be using traffic from Pinterest
You should have a clear goal set for the traffic you will get from Pinterest and most of the time, that clear goal is to convert visitors to customers. If you want to increase subscribers, you should have a compelling optin to immediately grab the attention. If you want product sale, your pin should be styled in the same way. Pinterest can be used as an entry point to the sales funnel.
Traffic coming to your website should not be wasted and you should immediately offer something.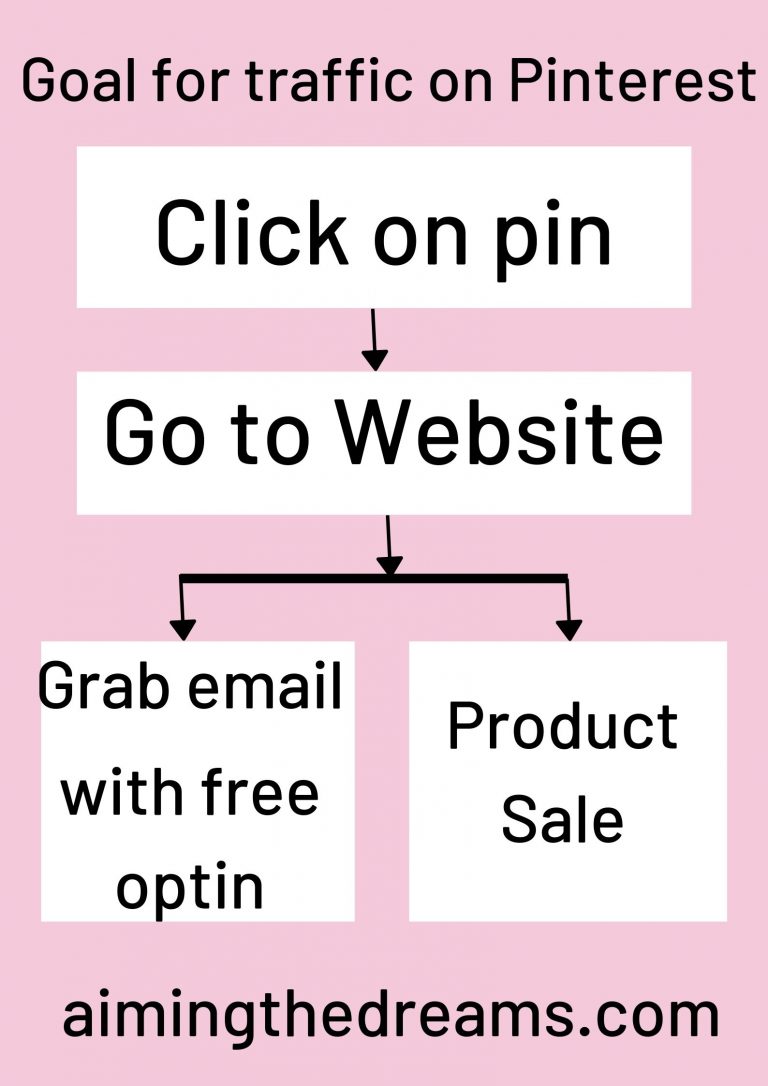 Conclusion :
Create a Profile on Pinterest
Create eye-catching vertical pins
Add a keyword-rich description to your boards and pins
Pin to relevant boards
Join niche-specific group boards
Use manual as well as scheduling for pinning
✨ If you want to start an optimised Pinterest account for your business, I highly recommend to learn it from this course as you will learn ins and outs of Pinterest as well as it is very beginner-friendly.
Do you need help in growing your business with Pinterest?
I am a Pinterest strategist and can help you in creating a Pinterest Marketing strategy for your online business. Contact me and I will get to you soon.
?Do you like this post? Don't forget to follow me on Pinterest ?