How would you feel when you are debt-free? Imagine the positive feeling and the sense of being free from the debt burden. I feel so good and relaxed with this feeling. Being debt-free gives you positivity and happiness in life because you no longer have to worry about paying any installments.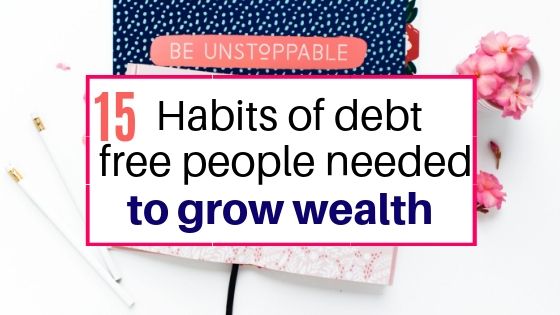 Disclosure: This post contains affiliate links; for full disclosure, read here
Develop these habits of debt-free people and stay out of debt
 1. Budgeting
After creating a debt-free mindset, budgeting is an essential habit for debt-free people. Creating an actionable budget and sticking to it do wonders for your debt paying goals. This can take you a long way in paying off any debt and keeping you debt-free.
Budget can easily find leaks where the money is going. There are many ways to budget and it depends on your own financial goals and financial condition. You can read here why budgeting is essential.
Budget the easy way and save money
Create the budget that suits your particular situation. There is no right or wrong way to create a budget. The most important part is to stick to the budget. 
The main goal of budgeting is to save money as well as have enough for your basic needs. It is not difficult but you need to have a plan as well as be patient and determined. There are lovely quotes and my all-time favorite. 
 " Money grows on the tree of persistence."
2. Tracking the spending
Debt-free people always track their spending and are always aware of their money routes. If you will not track your spending, your budgeting will not be as efficient as it should be. Before budgeting for your next month, when you follow your last month's spending, it becomes easy to create a budget and make any changes you need for your next month.
You might agree with me that every purchase we make seems to be very important to us.
We live in a materialistic culture, where much attention is given to owning things.
I think you will agree with me on this one that if you want to be debt-free, you have to track your spending and figure out the unnecessary purchases.
It will be easy to figure out your budget when you know, exactly where your money is coming and where it is going. There are a lot of apps to track your expenses but you can do it old school way also. Take your pen and paper, and start writing down your expenses. This is the best habit you can develop to stay debt-free.
3. Track their Progress
Debt-free people love to track their progress because it helps in keeping an eye on your goals. Most of the time, as we progress, we lose sight of our goals. Same is with money goals. To stick to their financial goals, debt-free people always track their progress.
4. Set SMART financial  goals
As with anything else in life, you need SMART financial goals for paying off your debt and saving money.  As you know SMART goals are Specific, Measurable, Achievable, Relevant and Timely. You need smart goals for your financial freedom also.
⭐Pro tip: Make goals and stick to them with a determined action plan
5. Negotiate better interest rates
This one is really important if you want to be debt-free as interest takes up a good chunk of money out of our wallets. Debt-free people have this habit to always negotiate rates with financial institutions they are a customer with, for any reduction in interest rates as this could save you some money.
If your credit score is not good, improve and talk to them again. Most of the institutions would not let their customer go.
6. Create an emergency fund
An emergency works as a cushion for any sudden emergencies. For example, you may break your car immediately or have some medical emergencies where you need quick money.
Emergency funds should be strictly for emergencies, not spending on other needs. Start saving as little as $25 every week, and you will have some money at the end of the year.
How to create an emergency fund on very low income
Start earning more to get out of debt when you are broke
With your current income, you can save to a certain point. After that, it becomes difficult to cut your spending. Here comes the need for earning some extra money on top of your full-time income.
How to make money $1000/month working from home
Survey Junkie:  I use Survey Junkie to make some money in free time. It is easy to find high paying surveys at Survey Junkie and you can earn good money as a side income from the comfort of your home. You can redeem the points as money or as gifts.
  ⭐  Sign up for Survey junkie and start earning money right away
  ⭐ Best apps and survey sites that pay for referring people.
 Swagbucks
Swagbucks is good for getting gift cards for shopping. You will get $5 bonus only for signing up. You can also make money for watching videos and games by having a Swag button on your phone or PC. It is a small task site where you can accumulate points for doing many small tasks. You can redeem your points for gift cards.
⭐ You can read my full review about the ways to make money with Swagbucks here
7. Cut their  spending wherever possible
Yes, my friend, debt-free people cut their spending if they are on a tight budget and live below their means. This was my first step when we were struggling with debt and on top of that, we wanted to save for our home loan ( a mammoth goal). Cutting your spending on unnecessary things can teach you how you can meet your basic needs without overspending.
Cut your grocery spending
Reduce outings and eating out instead start eating home-cooked food
Eliminate paid entertainment ( there are so many free choices)
Get rid of any unused subscriptions( believe me, it will save you a lot )
Cancel any travel for this year ( You may plan a beautiful journey next year)
Or you can try some simple and actionable tips to cut your spending here
These are the things that debt-free people love to do to stay debt-free.
8. Assess their financial condition
The very first thing to do while coming out of debt is to assess where you are now. Debt-free people love to assess their financial condition from time to time.
How much money do they need for any purchase?
How much are they paying in utility bills
What type of investments do they have
whether it is increasing or decreasing
Do they need some money for big purchases
Assessing their financial situation and knowing if they have any debt left helps them in staying debt-free or paying off any debt left.
9. Use Cash instead of cards
Moreover, debt-free people use cash wherever possible instead of using cards. When we have debit or credit cards with us, we love to pay with a touch of card and don't think much about the amount we have to pay. But when we shop with cash, we have limited money and we arrange our purchases according to the available money at that moment.
I have noticed that when I go with a credit card, I don't give that much attention to what I am buying but when I shop with cash, I pay more attention to what I purchase and don't buy unnecessary things.
10. Live below their means
Debt-free people always live below their means. As we always hear about the stories of people who became wealthy and lost their wealth soon.
The reason here is lifestyle inflation. If you are a person who increases their spending with the raise, then it will be challenging to come out of debt.
But debt-free people love to live below their means and save and invest any extra money they get.
11. Think about their Future Self
When you think about your future self you will be more inclined to save for your retirement and become financially free. One of the aspects of this is being debt-free. It is in your best interest to save and invest money for the time when you will be not able to work or invest. Having money in your savings can let you have a free life to enjoy what you want to do.
12. Plan their meals ahead
Oh, this one is so important but it gets overlooked every time because food is a big part of your expenses. When you have a meal plan in place, you can save on groceries because you will buy only those ingredients required for preparing those meals.
13. Automate their savings
Debt-free people pay themselves first and automate their savings so that they don't have to think about saving rather they focus on how to budget the available funds so that they live within their means.
14. Start a Side Hustle
Those people who are debt-free know that living on a single income and paying your debt in the shortest possible time is difficult. They start some side hustle to pay off their debt and be debt free to stay on the top of their finances. They don't waste their free time lying on the couch and watching TV.
15. Pay gratitude and be grateful for what they have
Creating an abundant mindset and paying gratitude for whatever you have is important because it can make you feel happy and free your mind to think about being debt-free because being debt-free is the most important part of life and an amazing feeling.