There are many creative ways to make money. These side hustles can give you extra money to spend or save. Finding this type of work idea with the Internet is not that difficult. I have compiled a list where you can find a few ideas to choose from according to your skills or the time you can spare for your side hustles.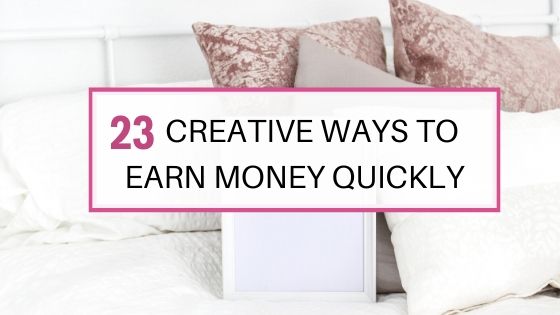 Disclaimer: This post contains affiliate links, meaning I may get compensated if you sign up through my link. For full disclosure, read here
Check these quick money-making hack survey Junkie: Survey Junkie is the best place to earn some extra money. These short and high-paying surveys will let you make a good amount of money. Sometimes you can earn up to $45 per survey, and Survey Junkie has four ⭐ ratings on Trustpilot. Sign up with Survey Junkie and start making money
Here are some creative ways to make money
1. Graphic designing
There are many elements of graphic design. If you are a creative person and looking for a creative outlet, you can start making money designing graphics.
2. Designing logos
If you love doodling and have an eye for design, why not use your capabilities to make money designing logos? A logo should convey the idea and grab the attention of people. Therefore, logo designers should have a keen eye for design more than any other design profession.
Before diving into creating logos for others, you should also be proficient in software like photoshop and adobe illustrator. As you know, becoming successful online takes time, and you must connect with people. Networking is essential for your success as a logo maker.
Learn how to design logos in this video. I hope this video will help you figure out the process of logo making.
3. Sell on Etsy
You can start selling your skills if you are crafty and love to create beautiful crafts. There is a market for anything like crochet, Felt toys, Felt ornaments, art, wedding invitations, you name it, and it is there. But, first, you need to figure out what you can create.
21 Etsy shop ideas to start your Etsy shop
4. Become an entertainer for birthday parties
This one came to mind when I saw one of my neighbors at a birthday party. He is a part-time magician. I never knew this before going to one of the birthday parties where he was the performer. It is a great idea. I mean, kids love it.
Other things include juggling, face painting, entertaining kids by telling jokes, and teaching them a few games. You can find your niche and start working part-time or full-time.
5. Food photography
Food photography is becoming popular with big brands and restaurants looking to photograph their culinary masterpieces. Likewise, businesses are competing online to show their expertise. And images are the best medium to show their creations.
I worked in a food company as a Quality Assurance Technician, and there I met a duo of Food technologists and food photographers. The food technologist was busy creating new dishes in the test kitchen, and the food photographer would click the mouth-watering pics of food. Those recipe photographs are used on packets of food.
That photographer told me she started it as a hobby a few years ago. And now, this is her full-time business.
Learn photography without going to school
6. Become a youtube star
There is nothing new in this one: being successful is hard to break into the world of youtube videos to earn money. Still, some people love to create videos, and people love to watch them. As a result, many youtube stars are raking in millions for their videos.
Making a living as a Youtuber is still possible, but it is more complicated than in earlier times. Nevertheless, many YouTubers are killing it on the platform. Youtube has produced many millionaires. If you think you can entertain people, teach some skills, and get millions of pageviews, then youtube can be a goldmine for you.
7. Shop for others
Some people cannot go grocery shopping, so helping them with shopping is a great idea to make some money. Either they are short on time or for any other reason.
Instacart is for those who want to earn quick money and those who want to save a trip to the market. Instacart promises to deliver groceries in as little as an hour. You can become an Instacarter, help them provide groceries, and get money for doing so.
Sign up for Instacart and start making money
8. Organise and clean closets
There are two ways of earning money cleaning and organizing the closet.
By cleaning and organizing your closet
Organizing and cleaning closets for busy people and charging for the services
Have you ever found money in your purse lying here and there? So do first thing, clean your purse/handbag; if you are lucky, you can find lost lipsticks, money, and some more lost stuff.
Then you can clean your closet and sell unwanted clothes that don't fit you or you are bored. Most of us have some pieces of clothes which we never wear, and they stay in our closets. Sell those clothes and make money.
Suppose you love organizing closets and can do so professionally; start a closet cleaning business. It can be your side job to earn some extra cash. You can read more here about starting your closet cleaning business.
9. Get paid to walk
We all need to be active to maintain good health. Walking briskly is considered the best exercise if you cannot go to the gym. But what if you get paid for that? Try Awetacoin for earning while staying healthy.
Sweatcoin is an app available for apple and android phones that pays you cryptocurrency and rewards for walking. This app counts your steps even when you are in a building. It is an excellent way of earning some side money doing what you naturally do.
You will not become rich, but earning a few dollars doesn't hurt. This is one of the creative ways to make money.
10. Be a blogger to earn money without a job
Blogging is not dead. If done right, it can become a good source of income and can make money without a job. Many bloggers are earning a full-time income from their blogs. However, it takes hard work and time to make money from blogs.
People are creating millions of blogs, so your blog needs to stand out from those blogs. But, the right strategy to accomplish blog goals can lead you towards success.
11. Rent your spare room
If you have spare rooms in your house, you can rent rooms to international students or travelers and earn anywhere between $500-600 per month. Of course, you have to sacrifice a bit of privacy because the person will share your kitchen and living areas too. 
But the money is good. It is like adding an extra income week to your month without work. In addition, you can easily rent your spare room on Airbnb if you know somebody who requires a space. 
12. Design and sell Tshirts
If you have ever dreamed of making money by making your T-shirts, then now is the time to make it a reality.
If you want to start a T-shirt business, Teespring.com is a site where you can design your T-shirts, and they will do the rest of your work. Selling T-shirts can be an excellent idea for your own business.
13. Participate in Market research
Participating in market research can earn you some money because companies like to survey people before launching new products. Most of the time, they provide you with some questionnaires you have to complete, and if you get selected, you have to complete some more tasks.
I recently got a $250 gift card for participating in market research.
14. Design Infographics
Infographics are great for providing information visually. Not only this, infographics provide information quickly and clearly. Infographic is a word that originated from a combination of knowledge and graphics. 
You can create graphics by using Canva. It is a great tool and helps you create stunning visuals as a beginner. You can sell your infographics at Fotolia, Graphic River, stock, etc. 
15. Get paid to listen to music
Slice the pie is the most extensive review site where you can get paid for your reviews for anything like music tracks, clothes, and many other things. This helps artists and creators decide on their work.
The money you earn largely depends on the review you write. It may take some time to make a reputation for good reviews. But it is an easy and creative way to make money.
16. Start an eCommerce site
Creating an eCommerce site could be your best idea to start if you want to sell physical products. The Internet has made it possible to own a store online and sell products from home. 
Though it is not as simple as creating a store and selling, it still can be a good side job. A lot of planning goes into this as you have to make a business model that works. To start an eCommerce site, you have to
Search the products you want to sell (niche products do well) 
Which platform to use for your store
Create a business plan
Invest some money initially
It is getting competitive daily, but making money with an eCommerce store is still possible.
You can read more on how to start an eCommerce site here
17. Pinterest Virtual Assistant
The Internet has made it possible to work virtually and make money online. Companies and small businesses hire virtual assistants and social media strategists as they don't have to pay a full-time employee. Instead, they contract virtual assistants and pay for their work. There are many jobs a virtual assistant can do according to their skill.
Working as a Pinterest VA is one of them. You can learn from this course if you want to provide specialized services like Pinterest VA services. As a Pinterest VA, you will be responsible for managing the Pinterest account for your client, 
Check here how to become a  Pinterest virtual assistant
18. Giving your opinions
Yes, my friend, Survey sites are great for giving your opinions and making money. I earned my first dollar online by completing a survey. It is the easiest way to earn money. If you are watching TV and don't need to pay much attention, you can also do surveys with a few clicks.
It can be done when you are cooking. For example, I completed many surveys during the commute when I was working. As a result, I made around 200-250 dollars a month. This is not huge, but a few hundred dollars can help you build your savings.
Here are a few survey sites which are great for earning money
Inbox dollars: For US residents
Daily Rewards: for Canadian residents
19. Website testing
If you are on your way to earning money online, then testing websites can help you make money as a side income.
Website testing is also a good idea to earn some bucks while stayiat home. This kind of work can supplement your work. Some people earn good money from these website testing tasks. You have to apply for sites that pay you to test websites. If accepted, you will get to test websites and get paid. Here are some of the websites which pay you for testing websites.
20. Complete Small tasks
You can make some money by completing small tasks on microtask websites. Many websites pay you for completing small gigs.
21. Make money watching videos online
Many websites and apps can help you earn money by watching videos. Of course, you will not get rich by doing so, but a few bucks don't hurt, right? I think you will agree with me on this one that most of us love free money. Earning money by watching videos is free because you will watch them anyway.
22. Deliver with Doordash
Dooordash is a food delivery system that connects door dashers with customers to deliver food. It is a good option if you want to make quick money. They pay every week directly to your bank account.
You can download the app and start working with Doordash. It is possible to make $10-15/hour with Doordash. It can be a good side hustle to make money fast.
23. Make money with your car
You can earn free money by doing nothing but driving as usual. Wrapify will wrap your car with some advertisements, and you will get paid for having that advertisement on your vehicle. This one works well if you drive in popular areas and don't mind how your truck looks.
You have to download the Wrapify app, through which they track your mileage.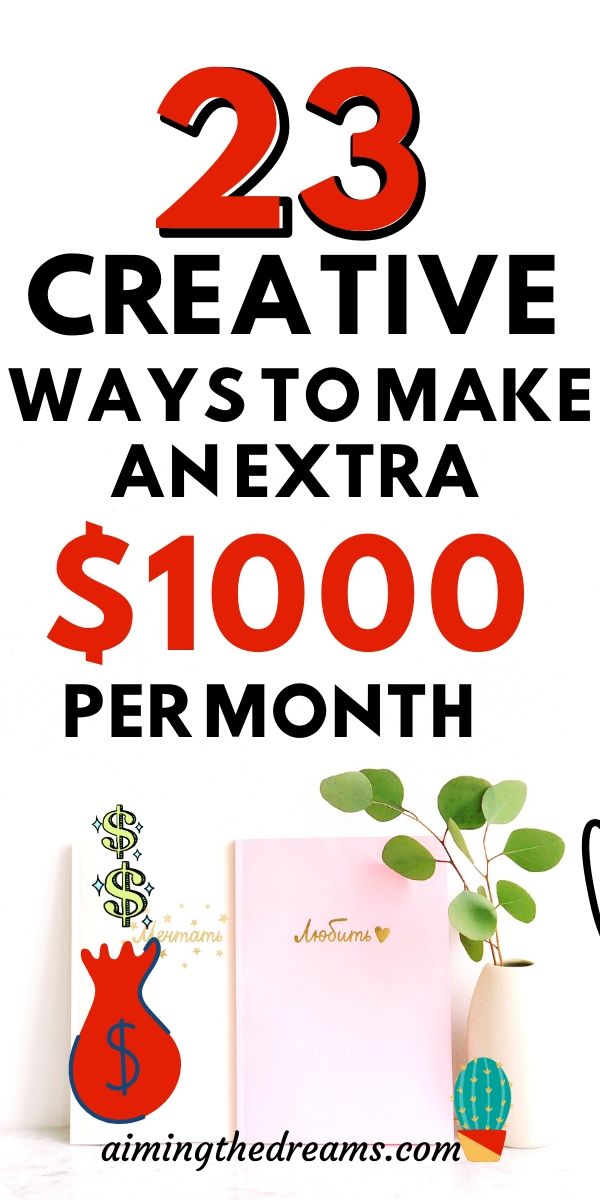 If you want to start a side hustle, check this to find your best idea to start working from home.
Popular posts
✔ How to make money as a proofreader
✔ 35 places to find online proofreading jobs
I hope this post will help you earn money in your free time.
Don't forget to follow me on Pinterest.