Pinterest is a gold mine for making money and driving loads and free traffic to your business and blog. But Pinterest is not only for DIY, recipes, and cute photos.
It is a hybrid between a search engine and social media. Perhaps this is why bloggers and business owners can hugely benefit from Pinterest.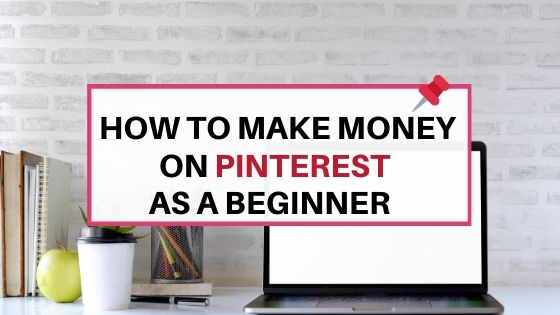 Pinterest is less popular than, say, Facebook or Instagram. I think people feel overwhelmed while using Pinterest. This Social Media platform is not something you can get through by posting cute photos and recipe pics. Instead, it is clever work that brings enormous rewards.
Grab my Pinterest SEO Checklist here
How to make money on Pinterest
There are many methods which you can use to make money on Pinterest. Some of these require a blog; sometimes, you can make money without a blog.
But having a blog is always recommended. This is because Pinterest drives a massive amount of traffic to your blog, and that traffic makes you money through these methods.
Display ads: The first method is earning through display ads. It is the easiest method to make money and is the most passive. However, once you start gaining momentum with the traffic, you can easily apply with better-paying ad networks, namely Mediavine and Adthrive.
Affiliate Marketing: Affiliate Marketing is the next step we as bloggers think of making money. Affiliate marketing is an advanced method of making money.
Sponsored posts: As you know, when you start getting a good amount of traffic, it becomes easy to pitch to brands for sponsored posts, and of course, you can ask for better money.
Creating products: As we hear from successful bloggers, creating products is the best ROI of your time. But you cannot just create any product, you have to test the waters before diving into this. Test with a freebie or a less-paying product and test if your audience like your products.
Direct affiliate links: Though it is not recommended, you can make money by directly adding affiliate links to pins. Pins with links to blog posts always perform better. These pins get more saves and clicks and are distributed in the Pinterest smart feed.
Let us start with money-making ideas with a blog
If you are interested in earning some money without a traditional job, starting a blog can open up many money-making avenues for you. Also, getting a sizeable amount of traffic will make it easy to make money from even a new blog. Pinterest can play a massive role in the success of a blog by driving a lot of traffic.
How to start a blog
You will need a few steps to start a blog.
Choose your niche
Select a name for your blog
Register your blog name
Sign up for a host
Start building your blog on WordPress
You can start a blog for as low as $4.95/month. However, it is essential that you can have your secure website running at a reasonable speed with a few dollars a month.
You can sign up for my 7-day free blogging course here:
Choose a niche: This one is the most important and critical for the success of your blog. You can choose a broad niche where you can test what your audience like to read on your blog.
Register your blog name: You can register your blog name with Siteground. Site ground is a hosting company highly recommended by WordPress. Blogs on Siteground load faster, and it is a fact that Google loves fast-loading blogs.
Sign up with the host: I recommend starting your blog on Siteground. It is a high-speed hosting company with top-notch customer service.
Another outstanding feature of Siteground is that they provide phone support which is not very common. Not only this, they have around five servers around the globe.
Your website's speed depends on how close you are to the host server. You will not get a perfect pace if your host is too far from your residence.
But Siteground servers at different parts of the world, make it easy for your website to run fast. Check Siteground for your blog hosting.
How to install Siteground and launch your bog
1. Choose a hosting plan
You can choose a basic hosting plan. Check hosting plans with siteground here.
There are 3 options for hosting.
Start-up plan :
This one is best when you are starting your blogging journey. This plan helps keep your blogging budget under control and provides a super professional hosting service.
You can upgrade anytime, but for the time being, this one is perfect. However, there is a limit that you can start only one website on this plan. And it is good until you have 10,000 visits and get 10 GB of space.
2. Grow big plan : 
You will require this plan if you get more than 10,000 visits and require more space. This plan includes 20 GB space. You must upgrade to this plan if you want to run more than one website. This plan provides you with premium features.
Premium features :
 Priority technical support
Super cacher for great speed
Free backup restores
3. Go geek plan
With this plan, you can have multiple websites suitable for 100,000 visits per month. Here you will get 30 GB of space. This plan has all the essential features, premium features, and Geeky Advanced features.
Geeky Advanced features :
Fewer accounts on the server
Free PCI compliance
WordPress and Joomla staging
Free backups on demand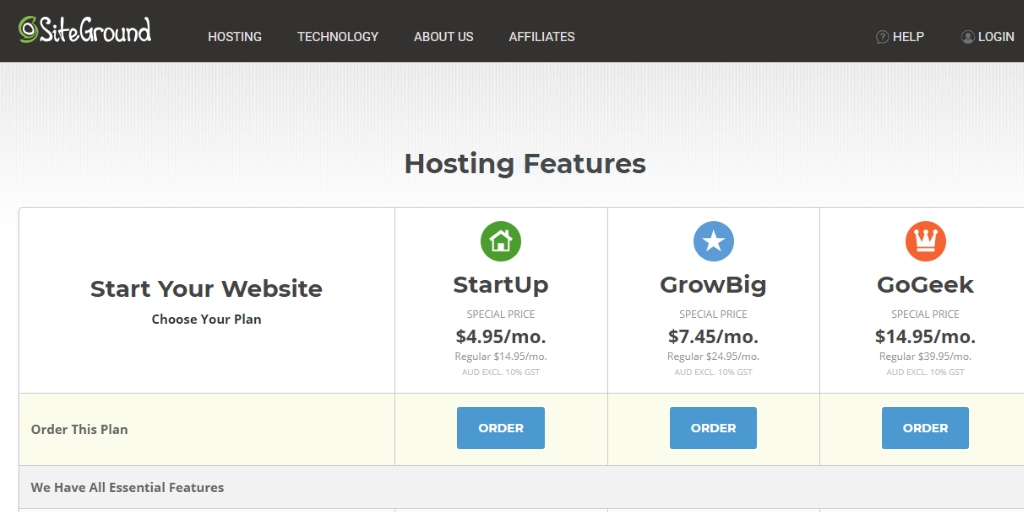 Choose your domain name and sign up for your chosen plan. I recommend using a start-up plan for now. Then, you can upgrade it as you go on, with more traffic and content on your website.
Now that you have paid for the plan, all is done, and you are ready to install your WordPress site. Either use any professional service or do it your self with the help from Siteground.
2. Installing the WordPress
Step 1. Login to your account from the Siteground customer area and o to cPanel ( control panel).
Step 2. In your my accounts area, access WordPress Installer Icon. Click on it and install WordPress.
Step 3. As you have installed, now customize your settings.
Step 4. Select your protocol. Select "http://www.yourdomain.com". After this, scroll down the page and Customize your site name and Site description. Make sure you change your username and password. Write down these at some secure place. You will need them again.
Step 5. Choose the admin email. Choose a language.
Step 6. Enable the Limit login attempts checkbox. This will let this plugin get installed. It will make your WordPress site more secure.
Step 7. Install a theme if you have chosen. Or you may start with the default WordPress theme.
Step 8. Hit the install button. After installing WordPress, go to the admin panel.
Congratulations on your WordPress installation, and you are ready to start writing on your blog.
More tips
Some successful bloggers say to write down at least ten posts before publishing your blog.
Start using Canva to make beautiful images.
Start your Pinterest business account. It will help you in having some traffic to your blog.
Now comes the fun part of starting a Pinterest account. I will not delve much into creating a Pinterest account. If you want to create a Pinterest account from scratch or if you're going to optimize it for better ROI, read these posts.
It is straightforward to start a Pinterest account. Sign up with your email, select a password, and you are ready to go.
You can convert your account to a business account. A business account makes it possible to see the analytics and measure the performance of your pins and account. Pinterest analytics even tells you how your Pinterest boards are performing.
The only things you need to remember areBe consistent on Pinterest: It is not something you will pin 70 pins a day and don't do anything for the whole week. Instead of pinning 70 pins in a day, distribute those 70 pins into 7 days( 10 pins a day). Pinterest rewards you for activity. As you know, Pinterest is a hybrid between social media platforms and search engines, and sharing third-party content is required too.
Share others' content: This is as important as pinning your content. Sharing gives new content to your followers to pin.
Join Group boards: It is said that Pinterest groups are not that relevant anymore. But staying with a few niche-specific group boards can do wonders for your Pinterest success.
Try to join those group boards that are tightly niched down, stay within the niche, and avoid generic group boards.
Create niche-specific boards: Niche-specific boards will help you pin your content more than once. Create at least ten boards related to your niche. Name your boards according to keywords.
Type a word in the search area for a keyword search and see what comes up. Then name according to the keywords but don't overdo it. Also, make some other lifestyle-related boards like DIY and recipe boards. And relate them to your niche.
For example, if you are a personal finance blogger, you can create a budget recipes board or budget dresses. There are many options.
Start making pins
Design your beautiful vertical pins to add to your boards. For example, whenever you write a blog post, try to make at least three pins with different designs for your post. And add them to your boards. For creating pins, use Canva. Canva is easy to work with.
When you start working on Canva, it feels overwhelming, but when you get some practical experience, it becomes easy, and you can make beautiful pins as you like. You can play with colors, fonts, size of the pics and many more.
Upload pins to relevant boards
Now that you have created pins for your post, add them to relevant boards. While uploading makes sure, you write keyword-rich description on your pins.
Link to your blog posts
Always add the relevant blog post URL to the pin. Adding relevant URLs makes it easier for a person to go to your blog post; if somebody wants to read it, they can go directly to your post.
If you do not add the URL to your pin, it will say ' Uploaded by user. ' In this case, you will lose potential viewers to your blog.
Write pin descriptions
Pin descriptions are critical. Pinterest is a visual search engine like Google, but here the magic is in 'images'. You see an image, you like it and click on it. These pins or photographs have descriptions on them which help them to show in the smart feed.
How to write Pin descriptions
As we all know, Pinterest is a visual search engine, so SEO plays an important role in the success of your Pinterest account.
First, as suggested by many Pinterest Marketers, use Pinterest itself to find keywords to rank on Pinterest.
There are two ways to find Pinterest keywords.
1. SEARCHING IN THE SEARCH BAR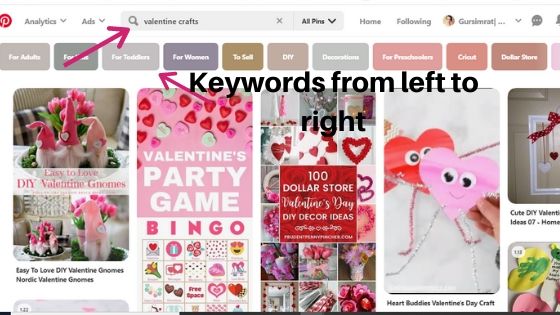 For this, type the keyword in the search bar, you will see a few suggestions by Pinterest. After this click on the one and see what Pinterest suggests. You will see a few suggestions again. You can use these keywords along with the one you typed in the search bar. Use these keywords from left to right. The most popular ones are on left.
2. BY LOOKING AT SEARCH VOLUME
This one is not told so frequently. If you think that Pinterest is a search engine, you should know the Pinterest search volume for the keywords about your niche. You cannot find this anywhere else but in the Pinterest itself. How can you find the search volume for your keywords? Check here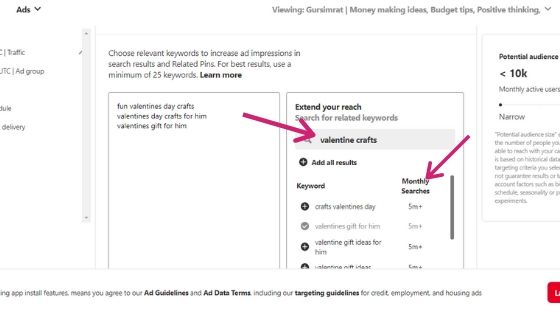 Go to Pinterest ads.
Click on create add and scroll down until you see continue.
After clicking on continue, scroll down and see a keywords section. Type your keyword in the search bar. You will see many suggestions along with their search volume.
Click on the + to add them to the left box.
You don't have to do anything after this. Just copy and paste those keywords somewhere to use into your pin descriptions.

Schedule your pins using tailwind
For consistent growth on Pinterest, you need to pin several times a day and every day. It is difficult for a blogger to have so much time to spare daily for publishing pins. So here comes the lifesaver ' Tailwind '. It is a pin scheduler where you can schedule pins for a week in advance.
You can spend an hour for scheduling your pins for a week. And then schedule some pins every day manually if you find the time. Tailwind is a scheduler approved by Pinterest and can be used to schedule pins in advance.
Start free with Tailwind. You can sign up and get a month of free with Tailwind. You can upgrade later if you like the scheduler.
Making money with Pinterest
We talked about making money with Pinterest with a blog. Now, even with a blog, you can make money in a few different ways.
As discussed earlier, Pinterest can help you make money with or without a blog. You have read how to start a blog and set up a Pinterest account for good traffic. This traffic from Pinterest can be used to make money.
You can earn money with advertisements: Earning money with display ads is possible with Pinterest because Pinterest sends tremendous traffic to your blog. Ad companies like Mediavine need 80% of traffic from the U.S., and Pinterest is hugely popular in America. So the traffic you get from Pinterest is the traffic from the U.S. This makes it possible to earn good ad income.
Affiliate marketing: This is another money-making method on Pinterest. Either direct the pins from Pinterest to your posts containing affiliate links or add affiliate links directly to your pins.
Affiliate marketing can be done in two ways. Either by adding affiliate links to the blog posts and directing the pins towards the post or by directly adding affiliate links to the pins. Both methods can be used to make money but directing your pins to posts with affiliate links is always a better choice.
Affiliate marketing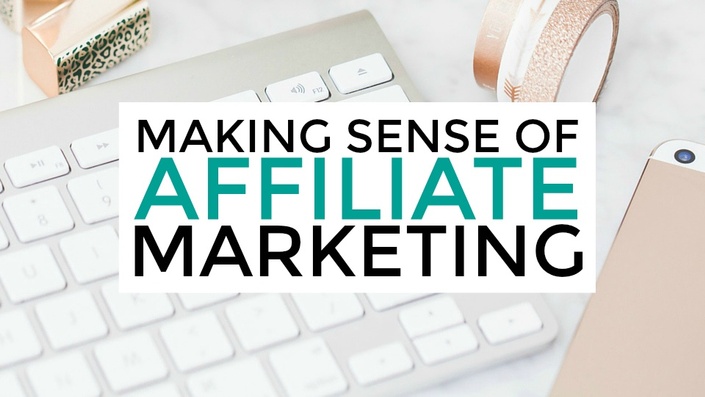 Affiliate marketing is when you sell the product to other people or companies and get paid a commission. It all boils down to the value you provide to people.
You can learn it from this course which will help you start your affiliate marketing plans. This is a very beginner-friendly course for learning affiliate marketing. Don't worry about the price. You will recover it in one month.
This book has action plan to start affiliate marketing as a new blogger. You will come to know so many strategies that will grow your passive income.
Making money from affiliate marketing possible with Pinterest
The first step is to grow your audience
You don't need massive traffic to make money from affiliate marketing, but a sizeable amount of targeted and engaged traffic would do wonders.
Promote only those products you have used yourself, and you are confident your readers will get value from them. The online world runs on the great virtue of trust.
Direct links to affiliate programs
This is the best time to start affiliate marketing on Pinterest. You can use direct links to the sales page of the product. The only catch is that you have to make sure to disclose that it is an affiliate pin. Disclose it adequately so that you comply with FTC rules.
Add your affiliate link for the product where you usually add the URL for your blog.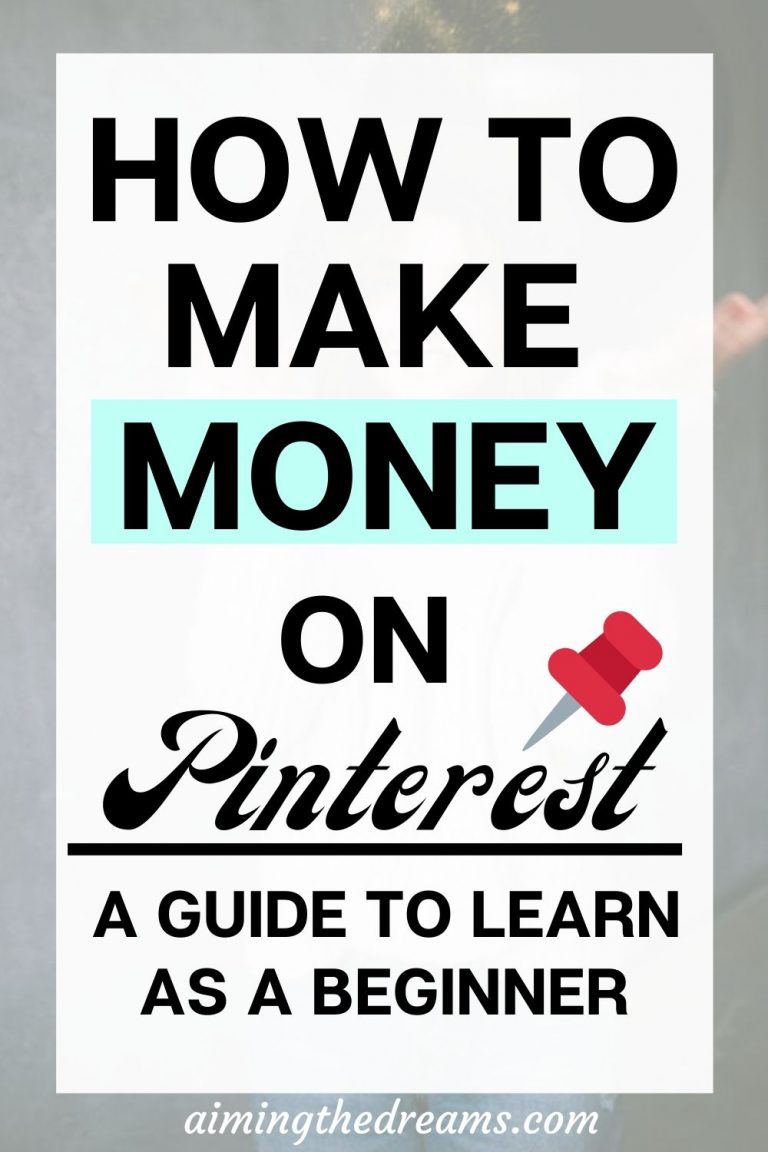 Design pins for products
There are two options
Use the images provided by the vendor
Design pins by using your own images
Both of the strategies work. You can use the images the vendor provided or your own image.
If you are a beginner and want to learn affiliate marketing, you can learn from You can learn it from this course. This book is a real gem if you want to make money with affiliate marketing.
There are two ways to link.
Use pins to link to your blog post containing affiliate links
Link directly to your affiliate links
Either way, you can promote your favorite products. Just be authentic and promote products you are familiar with and feel would add value. Never promote the products for the sake of money.
7. Create boards specifically for your affiliate pins
Always have boards specifically for affiliate products. This will keep your niche-specific boards clean a
8. Add to relevant boards
This is really an important thing to do. Because you may be tempted to add your pins to all of your boards. Adding pins to relevant boards will give your pins the required exposure. If you add pins to all your boards, it may confuse the algorithm about your pins.
Pro tip: Never add the same pin to more than 10 boards. Your account may get blocked for spam reasons.
?Make money on Pinterest as a Virtual Assistant
There is a question: Can you get paid to Pin? The answer is yes. If you have nailed Pinterest and love to spend a reasonable amount of time on it, you can start working as a Pinterest virtual Assistant. You can offer so many services to make money while pinning.
Pinterest is amazing for blog traffic and businesses but some people are too busy to spend time pinning on Pinterest. So here comes the need for a Pinterest strategist/ Pinterest Virtual Assistant. As a Pinterest assistant, you will create accounts, Pin for your clients, and do other services required smooth working of your account.
If you want to learn how to become a Pinterest VA, you can learn it here with this.
If you want to start an optimised Pinterest account for your business, I highly recommend to learn it from this course as you will learn ins and outs of Pinterest as well as it is very beginner-friendly.