Home typing jobs are the first thing comes to mind when you start looking for online jobs. It is possible to find legitimate home typing jobs for making money.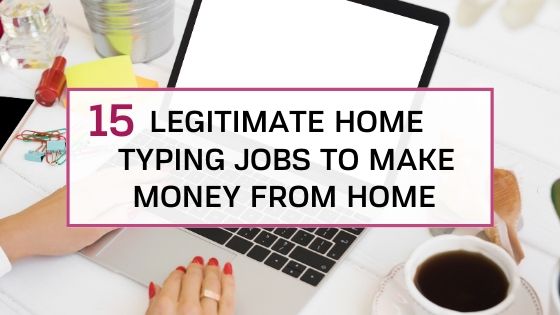 Disclaimer: This post contains affiliate links which means I may get compensated if you sign up through my link. For full disclosure, read here
If you are interested in finding jobs where you can only type and get money, start here.
Quick Money Hacks: If you looking for quick ways to make up to $500 without any investment, check these ideas
1.Survey Junkie: It is the best survey site which provides high paying surveys. This survey site has got 4⭐rating on Trustpilot. Sign up with Survey Junkie and start making money
2. Inbox Dollars: Inbox dollars is a great place to make money with surveys, watching videos and more. Sign up with Inbox dollars Now and get your $5 sign up
Legitimate home typing jobs for making money
As we know that when we look for something online, we get sceptic. It is obvious that online scepticism is rampant. Some of the offers feel too good to be true and you should be careful about those type of offers.
Not all of the offers are spammy. There are many good companies which provide legitimate typing jobs.
Skills you need to work on typing jobs
You don't need a graduate degree to work on these type of jobs. Even if you are a total beginner, it is still possible to get accepted into these type of jobs. You need to possess few skills to be successful at typing jobs.
1.Proficient in using Google docs and Microsoft office: You may have to enter the data and information on Microsoft word documents or google docs. It is important to be well versed with these.
2. Good typing speed: This one is a necessary skill when you want to work in typing jobs. Typing with good speed and accuracy means you can get more work done in less time.
3. Attention to detail & accuracy: This one is required as it will help you in making fewer errors.
4. Patience: You have to do repetitive work for which you need to have a lot of patience. If you get easily annoyed and starts feeling bored, then this is not for you.
Here are the companies that provide legitimate home typing jobs
Not all typing jobs are equal. Some of these jobs are simple data entry jobs and others are transcription type.
Data Entry jobs: These type of jobs need you to simply enter data as on any type of document. These type of jobs are not good paying ones but will help you in getting started.
Transcription jobs: Transcription involves converting any audio to written text. It is a bit more complex than Data entry, so pays well.
Here I am classifying the companies that are only Data entry companies and those that provide transcription typing jobs.
1. Clickworker
Clickworker is a global company that provides many types of jobs and typing is one of them. Their site says that they are always looking for people who can create or correct text, surveys and categorize data. They make payments with Paypal.
Sign up with Clickworker and that's it you are done. If you got accepted, you can start looking for jobs and apply to the one you feel comfortable with.
2. The Smartcrowd
The Smart crowd is the part of Lionbridge company, and have a good reputation. It is a microtask company which matches your skills with the jobs. Their pay rate depends on the type of work and your performance.
If you want to work with The smart crowd, register with them and once your application is evaluated, your skills will be matched with the advertised jobs. Payments are made once a month.
3. Microworkers
Microworkers is another place where you can find some typing jobs. This site is also a micro task site where typing jobs are also advertised. ou should be careful of any spammy type of jobs on this website.
Payments are made through PayPal but only after the work gets approved. The minimum threshold for payments is $10.
4. Working Solutions
Working solutions occasionally provide data entry jobs. To start working with them, you have to apply online with them and they will do some assessments. Their website says that it takes around two weeks to get the result whether you got accepted or rejected.
If you get accepted as an agent, you can start working by putting your self forward for the jobs advertised. Payments are made either through bank deposit or check.
5. Smartapartmentdata
Smartapartmentdata is a company that collects data for multi-family housing professionals. They hire data entry operators for adding the listings to their database.
6. Dion Data solutions
Dion Data Solutions hire data entry people occasionally. The best part is they provide with all the training required. They will email you whenever they have a vacancy and opportunity.
Transcription typing jobs
7. Tigerfish
Tigerfish provides transcription work that required typing. They hire people who are US citizens or residents. It is a legit company which is around since 1989.
To start working, you have to get evaluated first. For this, you will need specific software which you can download for free.
8. Speakwrite
Speakwrite hires typists from the US and Canada as independent contractors. To get approved, you must have a typing speed of 60 WPM and an accuracy of 90%.
To get accepted, you have to download their software and start the evaluation process. They access your application on the basis of accuracy and speed. During the evaluation, you will be given the tasks which resemble the actual work you will be getting.
9. Quicktake
To work with Quicktake, you have to apply online by filling out the application. Also, they need you to complete two short essays. Be as accurate as possible with grammar and spellings.
Here, you have to listen to the audio and convert it into test by typing. They also provide medical and legal transcription work. You will have an added benefit if you know Spanish as well.
This company hires native English speaking people for transcription. And they pay weekly according to the time spent working. Their website says that they are always looking for transcribers and translators but are very selective.
11. Transcribe me
Transcribe me hire beginners even if you have no experience. Before getting accepted, you have to pass a test. And if you fail, you have to wait for six months before applying again. It works on the model of work when you want and from your home.
They pay an average pay rate of $15-22/ hr. And how much you earn depends on your speed. Accurate and good typing speed could earn you better money.
12. BAM Transcription
BAM Transcription is a transcription company that provide typing work and is around for 20 long years. It was started by a musician. They are Hollywood based and specialise in transcribing for entertainment services. Send them an email and they will inform you about their selection process. You need to pass a skill test to start working with them.
13. Allegis Transcription
Allegis Transcription is a company that hires beginners as well but you need to pass the skill test. And your typing speed should be 75 WPM and impeccable grammar. They work for insurance transcription and if you get hired you can have steady work and income. Also, Payrate is better than many companies.
14. Ubiqus
Ubiqus provides many types of transcription services like general transcription, legal, medical. They hire people from all nationalities and at all levels. Their website says they are looking for freelance transcriptionists at this time. If you looking for typing jobs, don't wait, sign up now to get started.
15. GMR Transcription
Their website says that their transcriptionists earn between $ 100- 3000, depending on their skill and the amount of work they take. No experience is required but as bilingual, you may expect to make more money.
Payrate is better if the transcriptionist is ready to take difficult assignments.
If you are looking for typing jobs, you can opt for data entry or transcription jobs. Data entry jobs are easy to do but are less paying and difficult to get accepted into.
Transcription jobs are better paying though they also involve typing only. The main task is to convert audio into text with accuracy and detail.
If you are looking to start a typing job but don't know how to start, check this Free Transcription mini-course. This course will help you in understanding how you can become a transcriptionist.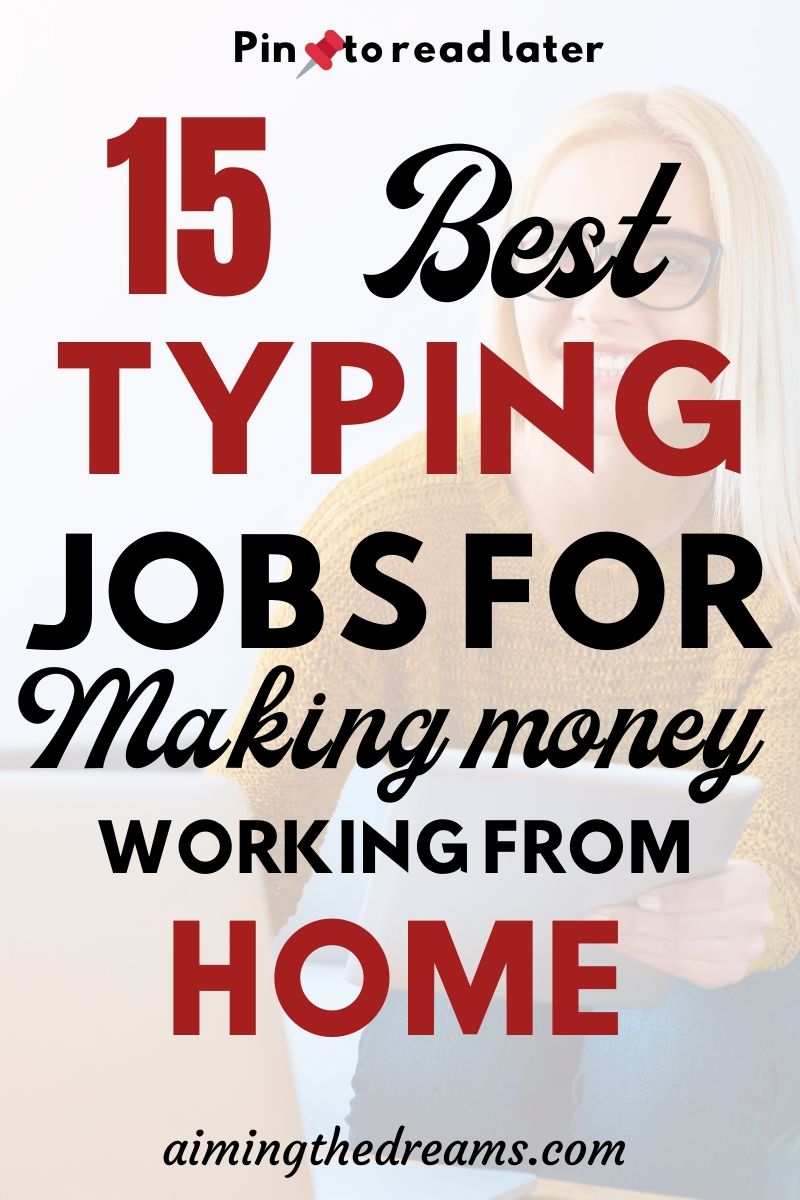 Few other ways to make money right now is
⭐Giving your opinions: Free to join and earn money with few clicks
⭐How to become a proofreader and earn money working from home
I hope this post will help you in finding an idea to make money from home.
?If you like this post, don't forget to follow me on Pinterest ?