I was searching for ways to quit my job and came up with options for resigning from a position soon. Is it so difficult to resign from a job legitimately? I don't think so.
I resigned from a job where I worked for almost six years while moving to Australia. There was no problem, and everything was done professionally. The only thing is that you should be ready to quit your job.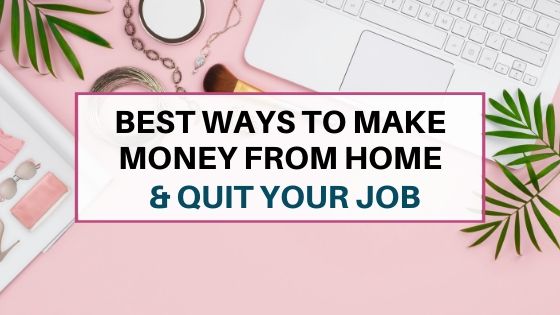 Disclosure: This post contains affiliate links, meaning I may get some commission if you sign up through my link. For full disclosure, please read here.
The problem arises only when you don't want to continue with your job and want to earn money without going to a traditional job. At that point, you feel confused and unhappy.
But don't feel bad as there are many options to earn money without going to a traditional job. I am listing some ways to make money using your skills here.
Best ways to make money from home and quit your job
Here are some great ways to make money from home if you are ready to quit your job. Even if you are not prepared, the thought of leaving the job and earning money from home comes into your mind. These ideas will help you brainstorm your options if you consider leaping.
Moreover, these ideas can help you find ways to earn some side income.
As you know, all of us have some degree of natural skills. If appropriately channeled, these skills can help us create an income stream.
All this starts with solving a problem for someone else and getting paid.
It is not a difficult task, but it requires some planning and hard and intelligent work. Therefore, you must keep a few things in mind when preparing to quit your job.
Never quit your job before having an income source
Always make a plan so that you will not lose the motivation
Keep your goals divided into smaller chunks
Save an emergency fund before making the big decision.
What should you do before resigning from your job?
1. Know your skills
The first thing you want to do is know about your skills. During your college or your job, you might have picked some skills; write down those. Pick up those that can be done online. If possible, match them with your interests and income potential.
Even if you picked some skill that is not an online skill, don't worry. You can use that skill to start a side hustle and quit your job. One of my husband's friends is working in a company where he learned the welding work. Now, he has a side hustle of welding work, usually after his usual job hours or on weekends.
He said he is making almost the same money as his job. He is gradually cutting his hours from his traditional position. The best idea is to be mindful of your capabilities and skills.
2. Pick a skill
You brainstormed some ideas and are now ready to pick a skill. There are many things that you can do in this digital world.
Web Designing
Graphic Designing
Web development
Proofreading
Virtual Assistant
3. Start learning
If you have picked the skill, you must start learning as much as possible. You have to lock in some days for it; otherwise, it will take forever to pass the learning mode.
4. Ready to put your skill into practice
When you have learned the process, it is time to put your skills into practice. It's not going to be easy, but it's doable. Start working on any project for free.
Best ways to make money from home
1. Web designer
If you have decided to become a web designer, you can learn from these courses. Also, learn WordPress. It is the best CMS and is easy to use. Most of the businesses are online or are coming online. To be present online, they need websites but don't have time to build them themselves.
Here comes the need for a web designer, for which they pay anywhere from $1000 to 10,000. However, you can have your freelance work idea if you market your skills to the right people.
2. Online Advertising
New-age online advertising is done through social media platforms like Facebook, Pinterest, Instagram, or Twitter. If you can master this, you can make a lot of money.
3. Freelance writing
If you are good at writing and can write any topic quickly and grippingly, you can make a living freelancing. It will be a bit difficult initially, but with experience and practice, you can earn a good income. If you want to learn more about writing, you can learn it from Elna Clain. She is a freelance writer and making a living from his career.
If you are a good writer and looking for some place to start, check
How to find entry-level freelance writing jobs
4. Start an eCommerce site
Building an eCommerce site can earn you full-time income if you want to make money from home.  The internet has made it possible to own a store online and sell products from home. I am not saying that it is easy but it is doable.
It is far from just a simple idea of creating a store and selling. Much planning goes into this; you must create a business model that works. To start an eCommerce site, you have to
Search the products you want to sell (niche products do well) 
Which platform to use for your store
Create a business plan
Invest some money initially
Invest a lot of time to make your idea work
It is getting more competitive every day, but making money with an e-commerce store is still possible.
You can read more on how to start an eCommerce site here
5. Start a blog
Starting a blog is easy. Pick a blog name, register a domain name, sign up with the host, and you are ready to start a blog. The challenge is getting your blog to the next level, where you can earn money. From my experience, it is not easy, but if you give yourself some time, you can create a money-making blog.
Some blogs have had success early, and some take longer. Mine is taking longer than the other blogs. But I am happy that I started this blog. However, earning my first dollar from the blog took me some time.
If you want to start a blog, you can sign up for my free 7-day blogging course.
6. Become a Scopist
Before stumbling on online work, I never knew what a Scopist was. However, it can be a lucrative work-from-home career even when most don't know it exists.
Scopist: A Scopist is a person who transcribes and edits reports for court reporters. Court reporters take down the proceedings on steno machines. From there, they are transferred to computers to translate into English. A Scopist ensures that the steno language is translated as accurately as possible.
Learn more about becoming a Scopist here.
Scopist can earn anywhere from 30,000 to 50,000 dollars a year 
7. Social Media services
Having a presence on social media has also become a necessity for big brands. Businesses look for people proficient in social media management to create brand awareness and get leads.
Managing business profiles is different from collecting your personal social media profile. Businesses need to attract as many eyeballs as they can to make an impact on their brand.
8. Work as an English Tutor
Many online companies hire native English speakers to teach English to kids and adults from non-English speaking countries. The best part is that you can do it from anywhere.
Companies that hire English tutors are
VIPKID: VIPKID is an online tutoring site that needs you to be fluent in English. The there curriculum is based on US Common Core state standards. You get paid for the time you put in and the classes you take.
QKids: Qkids is for young Chinese English learners. Here, you teach English to young kids from China. You can prepare from the US or Canada. It would be best if you were a native English speaker to become a tutor with QKids. Qkids pay a base rate of 8 USD per lesson.
Cambly: This place is for you if you like interacting with people and making money. You get paid around 10.20 dollars per hour. You can work from anywhere in the world. And you can set your schedule.
Gogokid: This company also hires native English speakers from the U.S. and Canada. Their pay rate is higher compared with others.
9. Work as a Virtual Assistant
Working as a virtual assistant can provide the income you need to support your family. In other words, you can quit your job after taking your side hustle to the level where you earn a full-time income.
Virtual assistants help small business owners with much of their administrative work.
Services that you can provide as a Virtual Assistant are
Social media management
Email management
File management in Google Drive or dropbox
Scheduling social media posts
Maintaining records for activities and tasks
Social media services
You can also provide specific types of services like Facebook management or Pinterest VA services.
10. Graphic design services
If you have an eye for detail and design, you can start working as a freelance graphic designer. It is not an easy profession, but it is possible to earn income from this.
Finding your very first client will be a difficult task, but if you get past your first few obstacles, you will be able to get more leads and finally grow your freelance graphic design services.
Read here about how you can become a self-taught Graphic Designer
11. Bookkeeping for small businesses
As we all are familiar with, running a business is not an easy thing to do. It becomes more difficult if you are a one-man/woman army. Most companies need help with bookkeeping.
Bookkeeping is considered one of the high-paying work-from-home jobs, and you don't need any experience. This work includes recording financial transactions for small to medium businesses.
If you want to start your bookkeeping side hustle, you can learn from Ben Robinson of Bookkeeping Business Launch. You can sign up for free training and check whether you are cut for this type of job.
12. Creating Online Courses
Creating Online Courses is one of the many ways to earn a full-time income. It can be very lucrative if you have a big audience and are ready to put hard work into creating a valuable course that will help your audience with their problems.
There are a few course creators who are earning good money from their courses.
Making Sense of Affiliate Marketing by Michelle of Making Sense of Cents. This course is for beginners as well as intermediate affiliate marketers.
Making Pinterest Possible by The She Approach. Earning from online courses is also one of her income streams.
Pinterest Ninja Course by Magan Johnson of Lovefamilyhealth. She is earning around $10,000/ month from her courses and blog.
13. Amazon FBA seller
Third-party sellers account for more than 50% of Amazon's business. So if you want to start an online business, Amazon FBA is the best idea. Amazon sells almost 12 million products.
You can learn from this source if you want to start your Amazon business.
14. Earn money with Flea market flipping
Here is a family who is earning good money from flea market flipping.
Flea market flipping is buying items from yard sales, flea markets, or any market and then selling them for profit on platforms like eBay and Facebook Marketplace.
If you can figure out how much profit you can make on each product, you can earn a good amount. Melissa and Rob of Fleamarketflipper.com are doing it full-time and raising their three children together.
15. Become a Youtuber
YouTube is huge, and so is its audience. So, making YouTube videos and making a living is possible. Many Youtubers are killing it on the platform. YouTube has produced many millionaires, so if you think you can entertain people, teach some skills, and get millions of pageviews, then YouTube can be a goldmine.
You can find almost anything on YouTube, ranging from crochet patterns to guitar lessons. I mean, the options are endless.
16. Babysitting and Family daycare
If you have the patience and can take good care of kids, babysitting or child care can be a good idea to start your side hustle. However, you must get licenses and required education in some countries and states. For example, in Australia, you should qualify to start a babysitting or family daycare.
It is a good idea to start family daycare if you have your young kids at home.
17. Start transcribing
Transcription can be your go-to work-from-home idea if you love typing and have earned hand coordination.
Transcription: Transcription in the linguistic sense is the art of listening to speech and converting it into written form. If you want to make money by transcribing, then Transcribe Anywhere has the courses for you.  Either you can take a course in
General Transcription: Theory & Practice™
Legal Transcription: Theory & Practice™ 
Janet has designed a free 7-day course to show you if you can learn and if this transcription work is for you.
In the beginning, finding a job can be challenging for you, so it is better to take a course and stand out from the crowd.
How to get work as a beginner: Getting started is the most challenging step in beginning any side hustle.
To start working as a transcriber, you can check these online websites
 18. Earn money with Affiliate marketing
Affiliate Marketing
Affiliate marketing is a form where you earn money for referring people to the product and get paid the commission for the referral. There are many forms of affiliate marketing. For example, you can become an affiliate for a product/course or create an affiliate program for your products or courses. Either way, you will earn money.
Most bloggers earn a good amount of their income from affiliate marketing. However, making money as an affiliate is a skill that can be learned gradually.
Some people make very niche-specific websites with excellent SEO and start affiliate marketing. If you have created a blog, then earning money with affiliate marketing will be much easier.
There are many ways to share your affiliate links
In your blog posts
Social media platforms
Email marketing
In your freebies
How to get started in Affiliate Marketing:
Learn the nitty-gritty of affiliate marketing from Making Sense of Affiliate Marketing and start using affiliate links.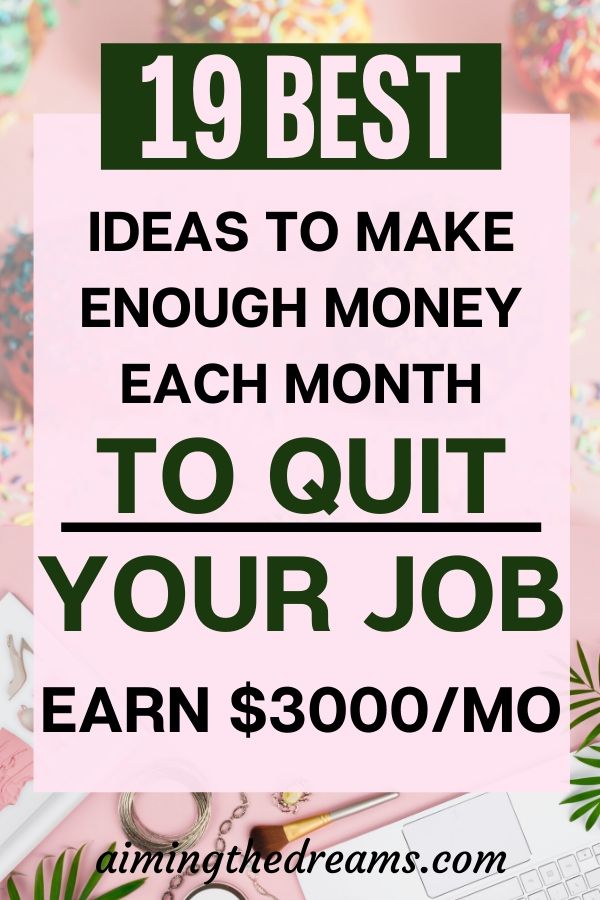 19. Proofreading from home
You can start proofreading from home for a living. You don't need any special education for proofreading. However, good attention to detail, grammar skills, and training will make you stand out in a competitive market.
If you have good skills in picking errors and you are good at grammar, you can start proofreading business from home. It would help if you had an eye to pick minor mistakes.
If this sounds interesting and you want to create a side business, you can learn to proofread from Proofread Anywhere. General Proofreading: The theory and practice course from Proofread Anywhere is comprehensive for learning how to proofread.
REQUIREMENTS
Attention to detail
Ability to stay focused throughout a document
A computer/ tablet
Final thoughts on ways to make money from home and quit your job
If you are unhappy in your current job and are interested in starting a side hustle, make a plan and then execute that plan. Don't quit unless you have created a side job and saved enough to tackle the emergencies.
Quick Money hacks
1.Survey Junkie: It is the best survey site that provides high-paying surveys. This survey site has got 4 ⭐ratings on Trustpilot.  Sign up with Survey Junkie here.
Inbox Dollars: Inbox dollars is a great place to make money with surveys, watching videos, and more. Sign up with Inbox dollars Now and get your $5 sign up
If you like this post, don't forget to follow me on Pinterest