Starting an online business is the need of time. The first thing is it costs ways less than other brick and mortar stores. To start, there are many eCommerce platforms out there, and you have to find which can be the best eCommerce platform for your startup.
Amazon has over 100 million Amazon Prime members, said Jeff Bezos in a letter to shareholders.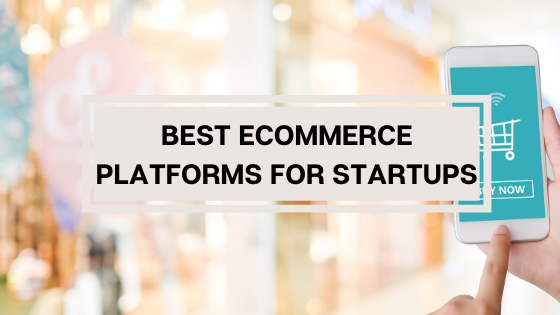 More and more people are coming online for shopping. Even brick and mortar stores are creating their online stores. If you already have a store, you may be thinking of starting an online store to cash on growing online shopping habits.
If you want to start selling digital products, physical Products or dropshipping business, you will require an eCommerce platform to make this happen.
There are many options and the one you chose will depend on the needs of your store. Also, many of these platforms have different pricing plans to chose.
Check out these most popular eCommerce platforms to see which one suits you best.
Best eCommerce platforms for startups
1. Shopify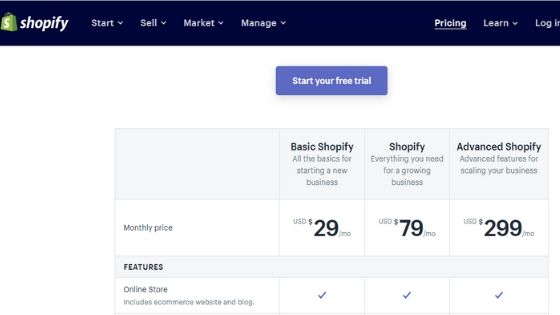 Shopify is considered as the best eCommerce platform that has everything a small business owner needs for an online store. If you are thinking of starting a store, you might have heard of Shopify.
It is easy to use and can help you build your store by choosing free as well as paid themes. If you have a website, you can integrate it with your existing website.
You can sell on Shopify both with your website and in-person with Shopify POS( Point of sale)
The best part is you can use it for free for 90 days and if you promote your business very hard and you make a sale, you can go for the paid plan. Shopify has different paid plans according to your needs.
Shopify plans
You can use Shopify for free for 90 days for trial. During the trial, you can build your own store, use all the tools and apps for free. After that, you can go for paid plans.
Shopify lite: The first one is a Shopify Lite plan at $9/month. If you have an existing website, you can use this plan to sell on your website. You can sell on your website with a buy button without Shopify hosting.
Basic plan: Basic plan is only $29 and is for beginners. If you are on a tight budget and don't want to spend a lot of money, then you can start on this plan. With some experience, you can upgrade to the advanced plans
Shopify: This plan is $79/ month and is great if you already have a business and want to scale it.
Advanced Shopify: This plan contains advanced features to scale up your business. It is $299/month. This plan offers higher-level features, customer support and reports.
What are the pros of Shopify?
Free features: You will get a lot of free features while building a store with Shopify. When you start building a store, a free theme will be uploaded to your store. You can choose your own colours, fonts
Great support: Shopify has created a blog where you will get a lot of free information to succeed. Also, they have Shopify Academy, where you can learn from free courses. This is all because Shopify wants you to succeed in your business. Their customer service is available to answer your questions as quickly as possible.
Easy to start: It is easy to start a store as there is a very low barrier to entry. They provide SEO features like customizable headlines, titles and meta tags which makes it easy to rank on Google.
Easy to use mobile app which helps a lot because most of the people buy from their mobile phones
Cons of using Shopify
Shopify alone will not make your store successful, you have to do hard work to make it a success.
There is a transaction fee
It doesn't support other currencies and uses third-party apps for that.
Sign up with shopify for free trial
2. BigCommerce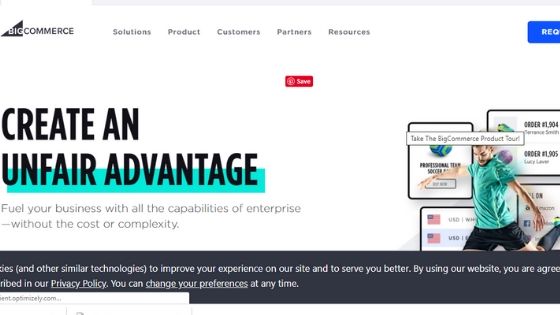 BigCommece is a good option if you want to start an online store. It comes with great SEO features, around 65 integrated payment gateways, 24/7 customer support, and you can easily scale your business on BigCommerce.
BigCommerce price plans
Standard plan: It is the cheapest and cost $29.95/month. It comes with unlimited products, bandwidth and file storage. This plan is good when you are just starting out.
Plus plan: It is $79.95/ month. This one is the most famous plan of BigCommerce. There are no transaction fees and you get most of the advanced features including abandon cart feature.
Pro Plan: At $299.95, this one is for bigger stores for a lot of sales and more products. Abandon cart feature is also included in this plan.
Enterprise: This plan is for enterprises who want customised solutions.
Pros of the Bigcommerce
It is easy to use as Bigcommerce has added a feature called Store Design. It allows you to see the changes as you edit the store.
It is having good SEO features
Cons of the Big Commerce
Advanced features sometimes make it difficult to use for beginners
Complex terminology and a steep learning curve
Sign up with Big Commerce here
3. WooCommerce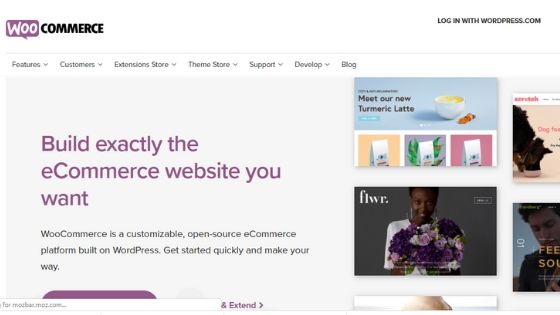 WooCommerce is what WordPress is for bloggers. WoooCommerce can be integrated with the WordPress to build an online store. Nearly 74 million, 25% of the online stores are powered by WooCommerce.
It is open-source, is easy to edit and highly customizable. Also, it is free to use with your WordPress site. Actually it is a plugin which is totally free but if you want advanced features, you have to pay for extra plugins.
When you install WooCommrece, it will install more plugins with it. This is one of the drawbacks as plugins slow down the website.
Pros of the WooCommerce
Can be used with WordPress and is free
Easy to customise and edit
You can make your store look like what you want
Cons of the WooCommerce
It doesn't come with hosting, you will require a hosting plan
Though it is free to install its extensions are not free
Needs some technical knowledge to install word press and WooCommerce
4. 3dCart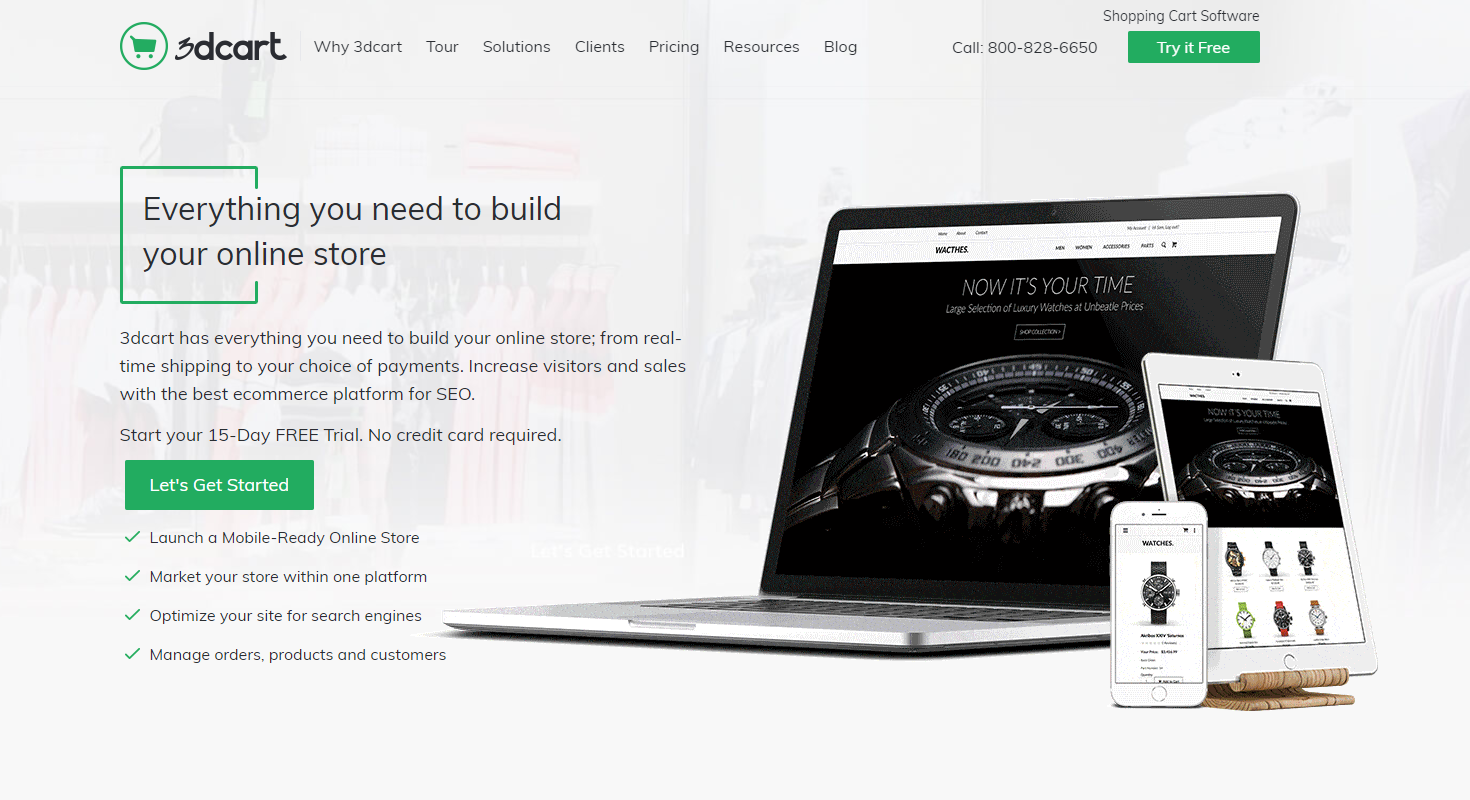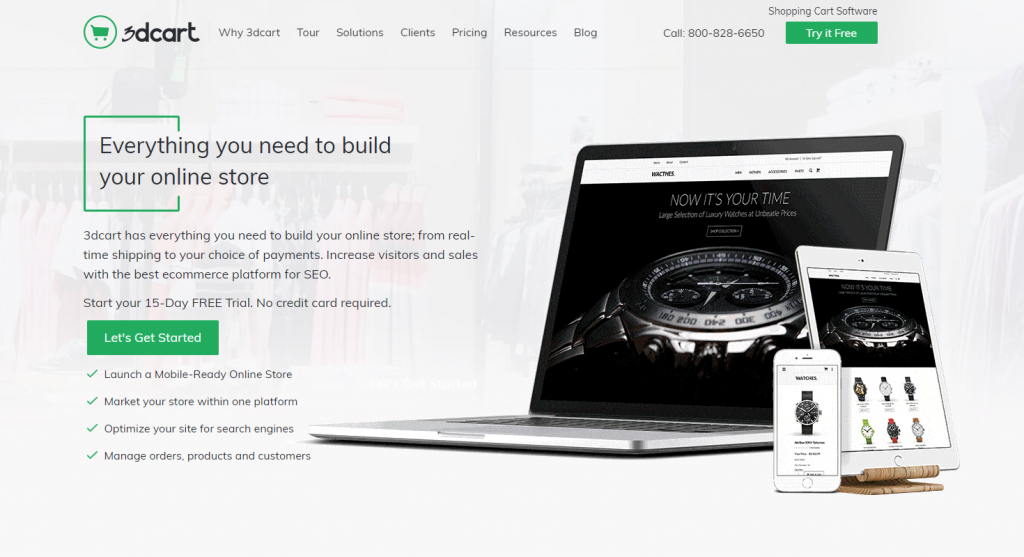 3dCart is around for 22 years. It is the fastest growing platform having great SEO features, free themes and 100 payment integrations. In simple words, it has around 200 inbuilt features.
Not only this, but they also have Social media assimilation, fast loading speed due to robust SEO. They have a lot of features even on its cheapest plan and comes with a strong API( Advanced Programming Integration).
While starting your store, you have dozens of free templates to start with. With the higher level of plans, you will get access to more premium templates.
Moreover, it has Built-in Search Functionality which displays products after running the search.
Pricing
Startup store: It starts at $19/month and provides 50 free templates to use. Unlimited products, 24/7 support, Facebook store and no transaction fee.
Basic store: $29/month and includes all the features.
Plus store: $79/month, includes most of the advanced features
Power store: This plan is $129/month and is most popular.
Pro store: This is $229/month and supports 15 staff members.
Pros of the 3dCart
They have robust SEO and make this tricky subject easy and manageable
Their starting plan is cheap at $19/month
A lot of additional functionality apps in their app store
No transaction fee
Its network security software is Visa PCI DSS Compliant which means credit card payments can be processed without compromising security
Cons of the 3Dcart
I will be difficult for newbies to explore
Its interface is oversaturated and takes some time to get used to it.
5. Volusion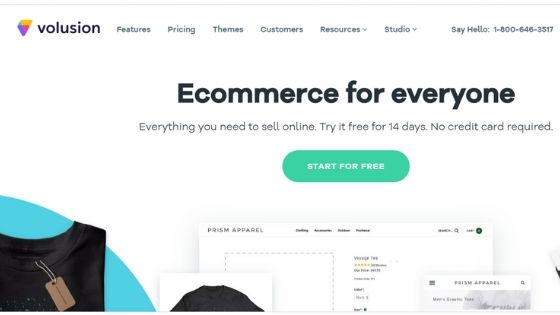 Volusion was started in 1999 in Texas, the US by Kevin Sproles. More than 180,000 entrepreneurs have built their stores on Volusion. They have more than 200 people to provide support and help to grow your business.
The platform has marketing functionality for SEO, Social media integration, POS integration
Pricing plans:
Personal: At $29/month, you can have sales up to $50,000/year with 100 products. One staff account, unlimited bandwidth and online support.
Professional Plan: This one is $79/month which includes all other features and sales up to $100,000 with 5000 products and 5 staff accounts.
Business plan: Business plan is $299/month and provides unlimited bandwidth, unlimited products and sales up to $500,000.
Prime plan: This one is custom designed and gets VIP support including all other features.
Pros of the Volusion
Drag and drop builder with many themes ( 11 of them are free)
Social selling.robust SEO, other market place integrations with higher plans
24/7 live chat support
Cons of the Volusion
Pricing is a bit confusing
Premium themes are a bit confusing
You have to pay for SSL certificate which is free on other platforms
6. Squarespace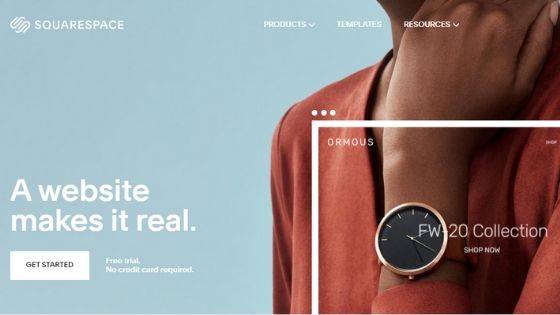 Squarespace was started in 2003 and is great for simple stores. It has a sleek design and is not very expensive on the basic plan. It is super easy to customise without any coding knowledge.
It is a one-stop-shop where you can have a blog, sell physical products as well as downloads. Moreover, customers can leave comments at checkout.
Also, you can get detailed reports about your sales and site analytics. It is also integrated with ShipStation to fine real-time calculations of shipping prices to different locations.
Pricing plans
Personal: $16/month and 25% off if billed annually.
Business: $25/ month and 25% off when billed annually. This plan comes with more advanced features.
Basic Commerce: This one is $34/month and 13% off if billed annually. This plan provides you with powerful merchandising tools and analytics.
Advanced Commerce: At $52/month, this plan gives you access to all of the features of the Squarespace and automatic abandon cart recovery.
Pros of the Squarespace:
Good choice of eCommerce and marketing tools
Easy to use
Good value for the money
Cons of the Squarespace
Limited choice of payment system
Not for dropshipping
No app store for advanced and added features
7. Wix
Wix is not considered very SEO friendly eCommerce platform but it is a good choice for beginners to start a simple store. It is a simple drag and drop website builder. If you already have a website with six, you can always upgrade to store functionality.
This platform comes with unlimited bandwidth and
Pricing plans:
Business basic: 418/month. This plan allows you to accept online payments and comes with unlimited bandwidth and 20 GB storage. You will get domain for free for one year.
Business Unlimited: $28/month. This plan is for entrepreneurs to grow their business further. This plan comes with unlimited bandwidth, 35 GB storage, free domain for one year, professional logo and social media logo files f.
Business VIP: $38/month. This one comes with all other functionalities included in other plans and VIP support if you get stuck somewhere.
Pros of Wix:
Unlimited bandwidth and online payment options.
It is extremely flexible and easy to use
Hundreds of templates to chose from
Cons of using Wix
Tracking and analytics require paid plans
Premium plans are single site plans
8. J2 Store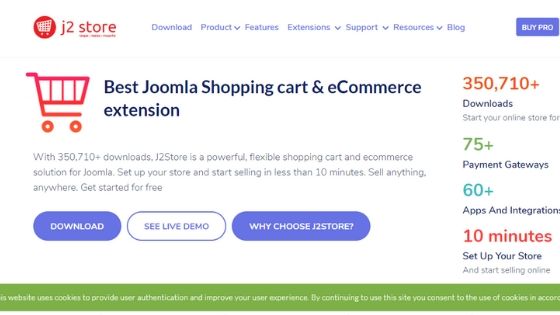 J2store is best Joomla shopping cart and eCommerce extension. This one is great if you are using Joomla as your CMS. It is easy to set up and you ca set up it in under 10 minutes.
It is compatible with more than 75 payment options. Their website say that they have 350,710 downloads and 60+ app integrations.
Pricing plans:
Professional: $49 for 6 months. This one comes with support for 6 months for one website. You will get free Paypal plugin for this one.
Developer: $99 for one year. This one is suitable for designers and professionals and comes with support and update for 3 sites for one year.
Pros of J2store
Easy to use
Price is afforadable
Cons of J2store
It can be used with Joomla only
Comes with only basic features
11 Weebly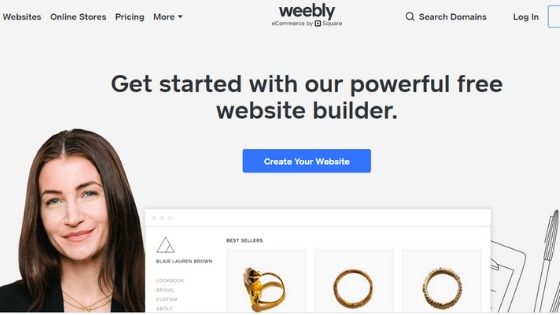 Weebly is the best solution if you want a simple store and is new to online selling. It is a good choice for people who want to sell physical products. You cannot sell digital products on weebly.
This eCommerce platform is not as sophisticated as others but it is evolving day after day. And can be a platform of your choice if you are just starting out.
Pricing plan
Its price plan starts at $0 which is a free plan.
Basic plan: $9/month is the very basic one and it will let you connect a custom domain name.
Professional Plan: This one is $16 per month and is for businesses. This plan is great for freelancers, service providers and is great for promoting your business online
Advanced: At $29/month, this plan is ideal for online stores. It has the ability to send abandon cart emails. Payment options.
Pros of using Weebly
It is easy to use
A lot of many free templates and even the paid one are less expensive.
Abandon cart emails is the best I found.
Cons of Weebly
Not very good at SEO
Can list only a few products
Very basic management features
10. Salesforce Commerce Cloud (Demandware)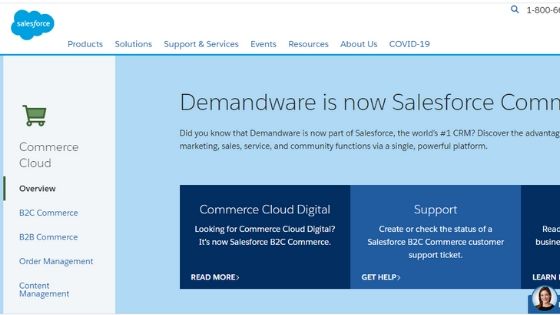 Salesforce commerce cloud, earlier Demandware, has all the features required for a fully functional eCommerce platform. This is the platforms used by big multinationals to handle millions of dollars in sales.
This one is a bit complicated platform but ca be integrated with any other salesforce product. It is capable of integrating any business application whether B2B or B2C.
This is a good option if you want CRM and eCommerce together.
Pricing Plans: Their pricing plans depend on the merchandise. Contact them if you want to use this platform.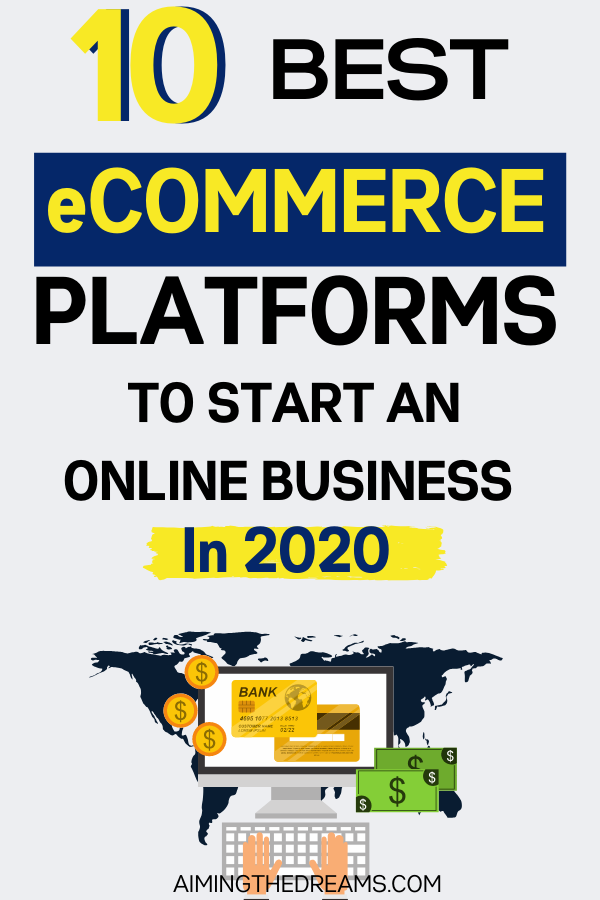 If you are looking to find the best eCommerce platform for your startup, look for the functionalities you are you are after.
It should be able to provide all the necessary features required for your store.
Related
How to start a business with less money
9 side jobs to earn $50,000 per year working from home
Hope these will help you find the right solution for you.