Want to earn extra money? Here are a few ideas to teach you how to make $200 fast and legitimately. The Internet has made it possible to make money from side hustles and side jobs along with your full-time job.
You can use this extra money for travel, for building an emergency fund, or for holidays. I mean, there are endless ways to use this money. I love to save any extra money.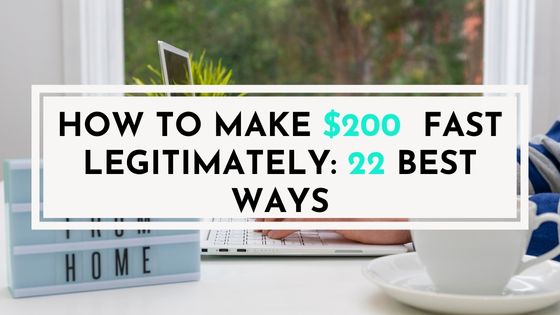 Disclaimer: This post contains affiliate links, meaning if you sign up through my link, I may get compensated at no extra cost. For full disclosure, read here.
If you want to make money instantly, sign up with these apps and start earning now.
Inbox Dollars: You can get $5 now by signing up with the Inbox Dollars.  
Swagbucks: Swagbucks is one of the oldest companies that provide you surveys and earn points for other things. Swagbucks is another right place to make money for surveys and make money by watching videos and shopping. Sign up with Swagbucks here
PineCone Research can sign up with Pinecone Research to earn extra dollars to increase your savings. Sign up with Pinecone Research here
There are many ways you can make 200 dollars fast. I have compiled the ideas that can earn $200 in a day or a month. It depends on you whether you are looking for a side hustle to supplement your income or you are looking for something to start full-time.
Can you make $200 a day?
Yes, you can earn $200 a day with many work ideas. The very first is to get a job. Or you can start some side hustle that can turn into a full-fledged business. Some freelancing jobs have the potential to earn you a full-time income.
Proofreading is one of the work ideas that can earn you $200 working from home.
With the surge in online businesses and blogs, everybody is looking for ways to get traffic. So more and more content is created to increase the traffic to websites and online businesses.
There are several Proofreading websites and companies that are always looking for proofreaders. This could be the perfect opportunity for you this could be the ideal opportunity for you if you have a good eye for detail and a knack for grammar. On average, proofreaders make $20-$30 per hour.
Proofreading is reading a document and correcting grammar, spelling, or punctuation errors.
It is a critical part of the editing process and can distinguish between a good piece of writing and a great one. There are many different proofreading jobs available online, so you should have no trouble finding something that suits your skills and interests.
You may not earn as much as in the beginning, but it is possible to make money once you have experience.
The best part is that you don't need any formal education, but you can learn from a course. In addition, it will help you get started quickly and find clients more efficiently.
General Proofreading: Theory and Practice is a course by Proofread anywhere.
You can sign up for a free workshop to get started.
Make $200 by becoming an uber driver. It is a great way to make some extra money, and it's also a flexible gig that you can do on your schedule. If you're interested in becoming an uber driver, click here to learn more.
The best part is setting your hours and getting paid immediately. Then, you don't have to wait for the money to get paid.
You also get 24/7 support while driving for uber.
3. Become a writer
One method you can use to make $200 fast is writing. You can make money through writing, such as writing articles, creating e-books on Kindle publishing, or even working as a freelance writer. If you have a knack for writing, then this could be an excellent option for you.
Another great thing about making money through writing is that you can do it anywhere worldwide. All you need is a computer and an internet connection.
If you're not a writer, don't worry. There are still plenty of ways that you can make 200 dollars fast. One option is to start your blog.
You can make money through advertisements, affiliate marketing, or even by selling products on your blog. If you're creative and have a bit of time to spare, starting a blog can be a great way to make some extra cash.
No matter what method you choose, making 200 dollars fast is possible if you're willing to put in the work. Be sure to research the different options and find the one that best suits your skills and interests. With a little effort, you'll be on your way to making some extra money in no time!
One of the best ways to make 200 dollars fast is by becoming a website developer. This profession is in high demand and can be very lucrative. There are many opportunities for website developers, so if you have the skills, this could be an excellent option.
The average salary for a website developer is $75,000 per year. However, you can expect to make less in the beginning.
To become a website developer, you will need to have some experience with coding and web design. If you don't have any experience, plenty of online resources can help you get started.
Other ways to make $200 fast in your spare time
5. Instacart
Instacart is suitable for earning quick money and saving a trip to the market. Instacart promises to deliver groceries in as little as an hour. You can become an Instacarter and help them provide groceries and get money.
Sign up for Instacart and start making money.
6. Earn money from shopping
Shopping for your necessities can earn you some money. However, if you like to shop online and do most of your shopping from the comfort of your home, you can make money by shopping through cashback sites.
Rakuten: Rakuten or Ebates is a great online shopping portal for various occasions. It has got hundreds of stores linked to it and can make money from shopping.
Sign up for Rakuten here and get your $10 bonus here
7. Earning money for what you are already doing
Some websites pay you for what you are already doing. Simple activities like watching videos, playing games, and checking emails can earn you some points, accumulating and making you some money. Here are the websites and apps you can use to make some extra money
8. Start Investing in dividend stocks
Investing in dividend stocks is one of the best ways to earn money without a job. But most of us feel it is too confusing. I am also one of those people who think stocks to be hazardous.
Of course, some risk is involved, but if you enter this arena with some initial knowledge, it will be much easier to make money.
The only catch is don't get into stock trading without prior knowledge. Instead, please do your homework, become familiar with how it works, and then start investing.
9. Raiz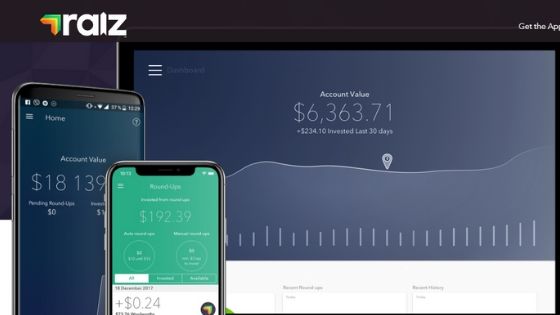 Raiz is an app to invest your savings. It is a new take on old school change-saving system. When you shop, Raiz round up your purchase and invests your change for you, it has a straightforward interface and lets you choose between high-risk, medium, and low-risk portfolios.
You can increase your savings by investing your change, and you can also make money by referring your friends and family and again invest that money.
Sign up with Raiz now and get your $5 bonus
10. Make 200 dollars fast by renting your spare room
This one can add an extra week to your month. We rented our room for a few months at $600/month. It almost gave us extra money without doing anything. It was easy as we have a four-bedroom house.
For this, you can use Airbnb to list your room available for rent.
11. Sell old stuff
If you have a lot of stuff around your house that you don't use but may be helpful to somebody else, you can sell that stuff in good condition. You can sell this type of stuff on the Facebook marketplace.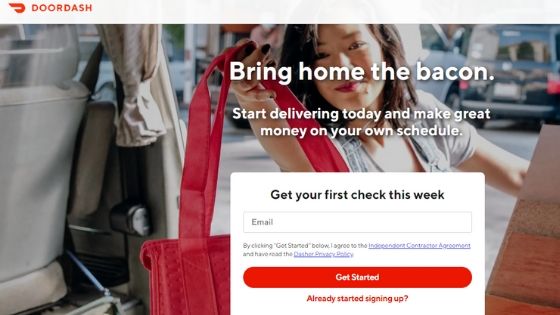 12. Deliver with Doordash
Dooordash is a food delivery system that connects door dashers with customers to deliver food. It is a good option if you want to make quick money. They pay every week directly to your bank account.
You can download the app and start working with Doordash. It is possible to make $10-15/hour with Doordash. It can be a good side hustle to make money fast.
Sign up with Doordash and start earning money
13. Gazelle
If you have smartphones and mobile phones lying around your house, you can sell them on Gazelle and make some money. Not only this, Gazelle pays $20 for every referral.
These are great ways to get free money without doing much and from the comfort of your home. So I hope you can find a few ways to earn some free cash.
14. Get free money with your car
You can earn free money by doing nothing but driving as usual. Wrapify will wrap your car with some advertisements, and you will get paid for having that advertisement on your vehicle. This one works well if you drive in popular areas and you don't mind how your vehicle looks.
You have to download the Wrapify app through which they track your mileage.
15. Earn money with survey sites
Univox Community
Sign up with Univox Community and start earning money now through surveys.
Survey Junkie
Survey Junkie is another excellent, great survey company with a 5⭐ rating on the trust pilot.
Sign up now to start earning money with Survey Junkie.
Survey2cash
It is also a survey site known for providing high-paying surveys. For making money with survey sites, sign as many legitimate survey sites as you can.
Inbox dollars
If you want to earn more money with a legitimate survey company
Sign up with Inbox dollars here ( US Residents)
Sign up with Daily Rewards ( Canadian residents)
16. Make 200 dollars by doing odd jobs
You may have some skills which you can use to get paid instantly. You can get paid instantly. For example, if you are comfortable doing a few tasks like handyman, lawn mowing, and cleaning houses.
Try to find some jobs at task rabbit and start earning money. The best part is you can charge your rates.
17. Talk to your utility providers
Gas and electricity take a massive chunk of your paychecks. Prices are continuously rising. You can talk to them to lower costs because you are a loyal customer. There is cut-throat competition between utility providers, and they will gladly offer you a lesser price.
It happened to us as we changed our utility provider. Our previous provider offered us a lower rate than a new one. But we finally changed our utility provider and went with the new one.

 18. Childcare and babysitting
How much you get paid: $20 – 40 an hour
It depends on the time when you can provide your childcare services. For example, you can charge more if you provide your services on weekends and evenings. 
You can also start a family day car if you have childcare education. Then, it will be easy for you to start daycare at home and take care of your children as well. I sent my daughter to a family daycare for two days, and I was impressed with the idea.
Her educator can quickly drop her children to school and pick them up on time. Here in Australia, to get started with childcare, you need certification and a working with children license.
19. Rent your unused parking space
If you have an unused parking space, you can earn money by renting that space. The money you will make will depend on the city where you live. Some places can earn more money than others. Look at Rover Parking and see if you can find something for yourself.
20. Sell your services
If you are looking to make easy money by selling services, start working on Fiverr. The best part is that you don't have to bid for jobs as in other online marketplaces.
Here buyers hire you directly. The starting point for selling your services is $5, but you can raise the price and ask for a higher rate.
 21. Participate in Market research
Participating in market research can earn you money because companies like to survey people before launching new products. Most of the time, they provide you with some questionnaires you must complete; if you get selected, you must complete some more tasks.
I recently got a $250 gift card for participating in market research.
22. Make $200 fast by posting adds
Another option for making money is to post ads. You can sign up for an advertising program like Google Adsense. Once approved, you'll be given a code to insert into your website or blog. You'll earn money every time someone clicks on one of the ads.
The amount you make will depend on the type of ad and the program you're using, but it's possible to make several dollars per click. Getting a lot of traffic to your website or blog can be a great way to make some extra cash.
You can also get paid for posting ads on Facebook. Businesses have shifted from print ads to online ads, so there is still money to be made in this area. You can search Facebook groups or online forums to find businesses looking for people to post ads on their behalf. Rates will vary depending on the company, but it's possible to make several hundred dollars per week by posting ads on Facebook.
FAQS
$200 a day is how much an hour?
Assuming you work a typical eight-hour day, that would be $25 an hour. To make 200 dollars in one day, you would need to work for eight hours straight at that rate.
However, most people don't have the luxury of being able to work eight hours straight on one task. So if that's the case for you, don't worry! There are still plenty of ways to make 200 dollars in a day.
One option is to take on smaller projects and complete them more quickly. For example, if you're a graphic designer, you could take on smaller design jobs and complete them in a shorter timeframe. This way, you can make the same amount of money but in less time.
Another option is to raise your rates. For example, if you typically charge $50 per hour, you could increase your rates to $75 or even $100 per hour. Of course, this would require you to complete fewer projects, but it's still a viable option if you need to make some quick cash.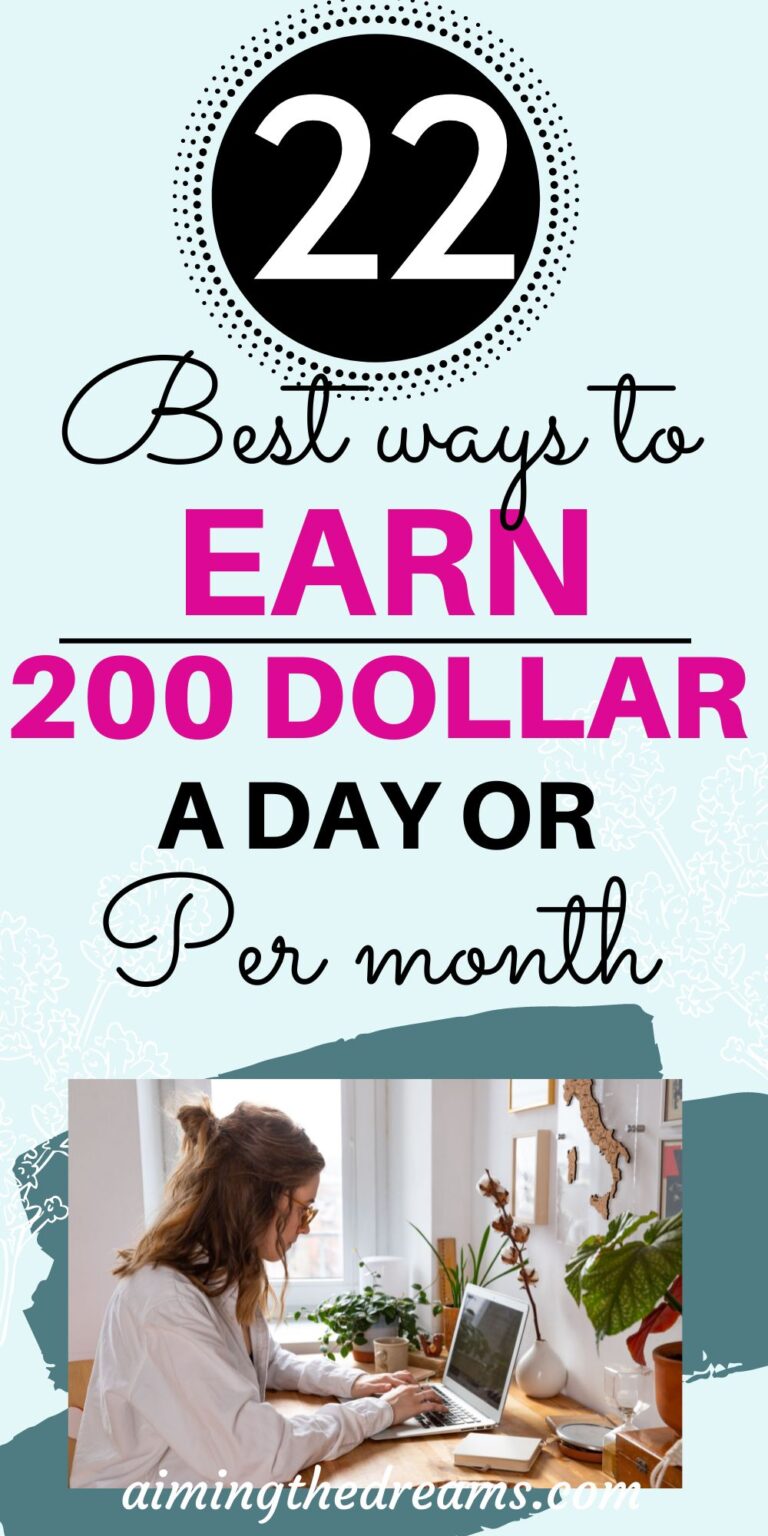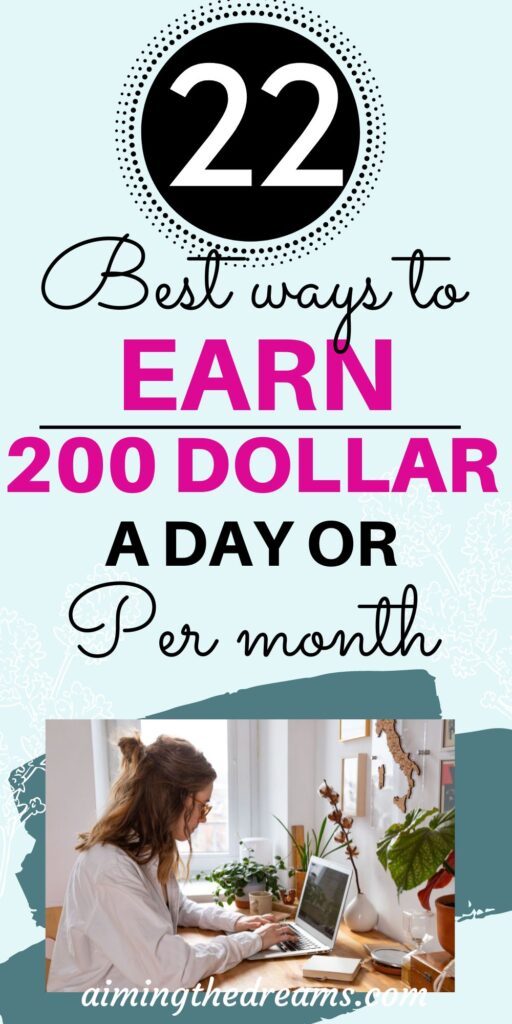 Popular posts
⭐How to make money as a proofreader
✔35 places to find online proofreading jobs
If you like my post, don't forget to follow me on Pinterest.