Is it possible to save $5000 in a year when you are on a single income and on a very tight budget? Yes, it is very much possible and can be done. I have done it and I feel like anyone can do it. Take this money-saving challenge and start saving.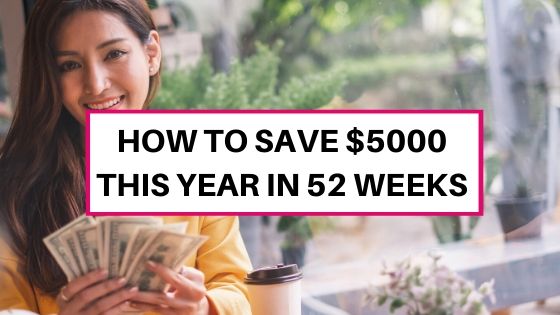 Disclosure: This post contains affiliate links which means I may get some commission if you sign up through my link. For full disclosure, please read here.
I am not working a job and I make some money online but the money which I saved was totally from our single income. I was not earning a single dollar at that time. We had to make some changes, not only in spending patterns but how we manage the money. I am surprised at how a saving challenge has changed my money habits.
After a saving challenge, you will be surprised at your own money habits. Instead of spending and buying new things, the saving will become your priority. Believe me, it happens. It helps you in becoming conservative about money.
Here are the most important steps you will need to start saving.
Take this money-saving challenge and save $5000 this year
1. Make a Budget
I know this has been said so many times but I want to emphasize it once again. Because this is the basic and most important step if you want to create wealth. this is the reason big companies create budgets.
Budget will let you understand your financial habits and your spending patterns. Once you know how you spend your money, you can save a good amount of money to build your savings.
2. Tracking your spending
If you will pay attention, you will be able to save money by skipping many items which may not be necessary.
After creating your budget, look at your spending. I mean now you have a dedicated budget and you can track your spending. Try to figure out which are the basic necessities and where you can save money.
3. Save on shopping with cashback sites
You will be able to get at least $50 a month
While shopping online, always shop from online shopping sites. Believe me, you will be able to get some cash back and you can always add that money to a savings account.
Rakuten (earlier Ebates): This is the best cashback site and I am sure you will be able to save a lot of money on those items that are necessities.
Cashrewards: This one is for Australia. You get $5 for signing up and when you make a purchase of $20.
4. Sell anything you are not using
At least $200 to start
If you have stuff lying in your house which you are not using, sell it on your local market place. Save that money in your saving account. When you have some money saved, it will give you some motivation to save more.
I know you may be tempted to buy some dresses or anything else. Don't succumb to your desires and save that money in the designated bank account.
5. Slash your bank fees
$50-100 a year, comes out to be $5-10/month
Have you ever paid attention to how much banks charge for maintaining our accounts? I know one of our bank charge $50 a year. It means something even if it is a few dollars a month. But we have to stick with this one because my husband doesn't want to part with them.
I tried to talk to them which has helped me in slashing some fee but it is still there. Talk to your bank about how you feel that your bank fee is too much. If nothing works, tell them that you will change your bank. Most probably they will work out a plan and will try to retain you as their customer. Big companies spend thousands on retaining customers.
Not only this, but you can also ask them what kind of perks they provide to loyal customers. I am sure you will be able to get a few like less account fee, free gift cards, discount on insurance plans.
6. Cut your cable cord and internet
Save around 50 -100/month
Do you really need subscriptions for cable? Most of us don't even get time to watch TV. Then why bother and spend money on something which is not required. Ask yourself, do you really need it?
If you cannot live without a cable, try to save on subscription by slashing the price. Talk to your cable company and tell them that you cannot pay the higher rate for cable. And it would be nice if they can slash the price.
If they refuse the first time, don't hang up, ask them to connect to their supervisor. If nothing works, ask to be transferred to the cancellation department. They have the most power to give you solutions. They will do anything to retain you as a customer.
Same is true for internet companies. Try to slash the price or use your own modem. This will help you save a good amount of money.
7. Cancel unused subscriptions to win the money-saving challenge
You can save $100-200/month
Unused subscriptions are of no use. If you have a magazine subscription, gym membership or other memberships which you never use, just cancel them. If you cannot find time to use those subscriptions today, it is highly that you will not have time for them tomorrow.
Instead of keeping those memberships, use that money to save for the future. If you think that you don't have any subscriptions, check your bank statements. I am sure you will be able to find some. Most of the times, we sign up the contracts and then forget.
We never check again to cancel those subscriptions. Because of the automated system of these subscriptions, money goes every month. And if we miss the message from companies about renewal, the subscriptions renew at the end of the year automatically.
Cancelling those can save you anywhere from $50- 100
8. Review your bills every few months
Again $100 per month
Make it a habit to review your bills every few months. If you find that you are getting huge bills, talk to your energy provider or switch to the one which is less expensive.
Before switching your energy provider, call them and tell them that your energy rates are too high and you are being charged too much. Also. cannot afford these rates. They will first tell you that they cannot do anything.
Again tell them that if they cannot do anything, you will switch your energy provider because another one is giving much cheaper rates. They will let you hold, or ask them to let you talk with their manager.
I am sure something will work out or you always have the option to switch to a new provider. We did this and was able to save around $50 a month. After switching the company, our energy bills are slashed by almost half.
21 tips to save money on energy bills
9. Earn money instead of spending
$200-300 per month
There are many ways to earn money in your spare time. Start surveys now and you will be able to make extra $200-300/month. Believe me, it is quite good money if you want to save $5000 this year.
If you will have spare time, either you will spend on shopping or watch paid TV. There is nothing wrong in this but we are here to accomplish the money-saving challenge. And of course on a tight budget.
Online shopping has made spending money so easy. Smartphones and apps for online shopping is a deadly combination. To save yourself from this, open survey sites on your phone.
Here are a few survey sites you can sign up to start doing surveys and earn money
10. Change your Mortgage provider
This can save you around $50/month
As we all know, housing, whether it is a mortgage or renting, takes a big chunk of your income. If you really want to save money for your self, it is in your best interest to buy a house which you can afford. Saving enough money for the down payment before buying a house saves a lot on the mortgage.
Or if you have already made the big purchase, start looking for ways to lower your mortgage. First, check other companies and banks for their interest rates. If you find that your interest rate ist too high, talk to your bank. Even if you can get a lower interest rate by a few points, it will help you save some money.
For example, if your monthly instalment is lower by $10, you will have $120 at the end of the year. We recently did this and our instalment is lower by $150 a month. It is a huge amount of money.
I assume that you will be able to save anywhere between $50 to 100 per month on your mortgage.
11. Save $150 each month on groceries
Is it possible to save this much on groceries? Yes, my friend. You can save $150 on groceries without being cheap. You just need to pay attention to your eating and buying habits.
Remember these few things, and be mindful of your grocery shopping
Meal plan
Make a strict grocery list
Buy seasonal fruits and veggies
Skip one week and don't go for grocery shopping. Cook from your fridge and pantry
One more tactic which works for me is if I ask my husband to do grocery shopping, he will only buy half of the stuff. Saves money right. This is particularly for me because he cannot find half of the stuff on supermarket aisles.
11. Take home cook lunch with you and skip your coffee
If you are struggling to save money, try cooking your lunch at home. If you buy your lunch every day which cost you $10 each day, it will cost you around $50 a week. If you cannot make your lunch every day, try to cook every other day. You will be able to save at least $30 a week.
Try to do the same with your coffee. If you love to buy coffee every day, try to skip at least 2 days a week. You will save $8 each week. Few dollars here and there doesn't matter but they add up in the long run. Believe me, saving these few dollars here and there, I have created an emergency fund of $6800 in one year.
12. Check your debt
Check with your loan providers for lowering your interest rates. This will save you a few dollars each month.
Car loans: Write down how much you are shelling out for your car loan. If you own your car and don't have any debt, be happy and leave this point.
Credit cards: credit cards are an expense in their own form. If you have credit card debt, try to pay them as soon as possible. Because the interest rate on credit card debt is huge.
Any other loans: Write down any other loans you have. Loans make a huge part of our lives. Paying attention to them and paying everything on time saves a lot of money.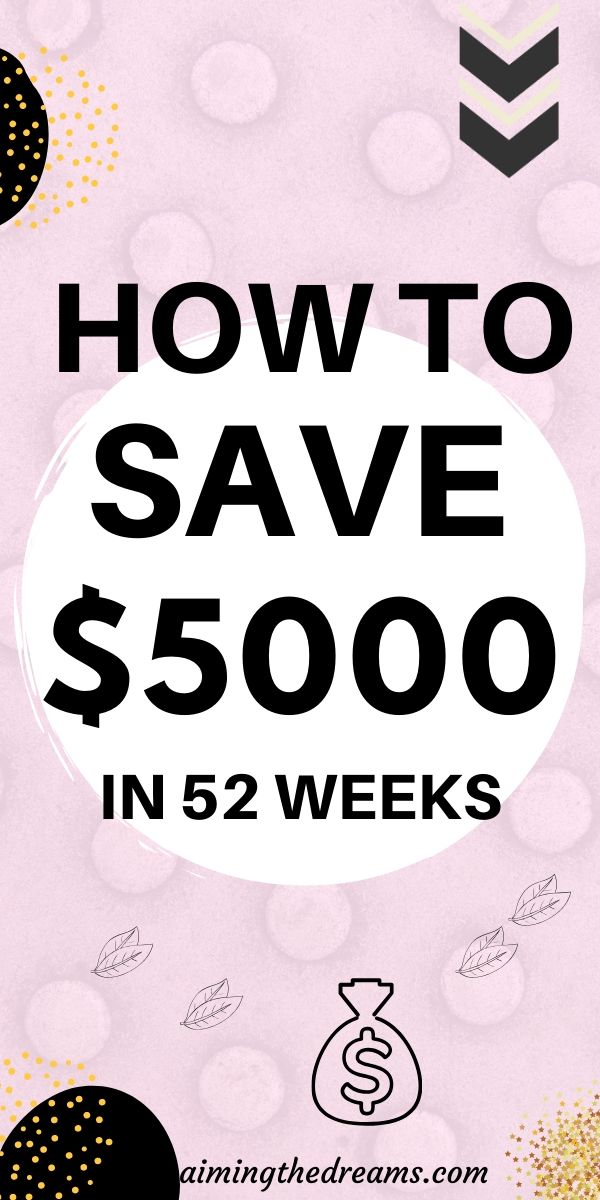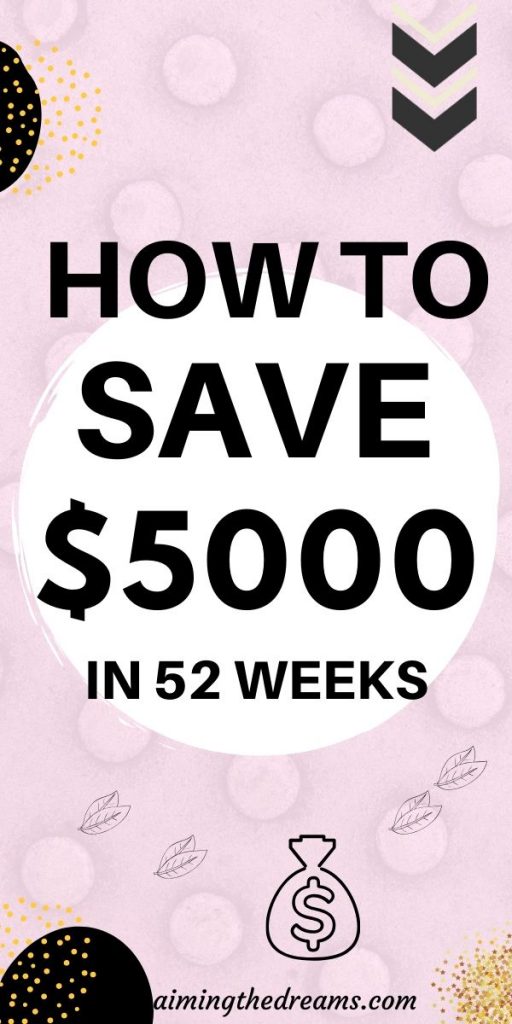 I am sure after working on all these things, you will be able to find a good amount of money to save a $5000/ year.
Save a set amount of money each week. If you cannot make it the previous week, compensate by saving more next week. Adjust your saving each week so that you will not fall behind. You can start by saving 97 dollars each week. You will be able to save 5044 at the end of 52 weeks.
Good luck with your saving challenge.
?Do you like my post? Don't forget to follow me on Pinterest?