Do you know the benefits of No spend challenge and how can it change your spending habits? If you have never paid attention to your spending habits, try to do a no-spend challenge. It will help you introspect your spending patterns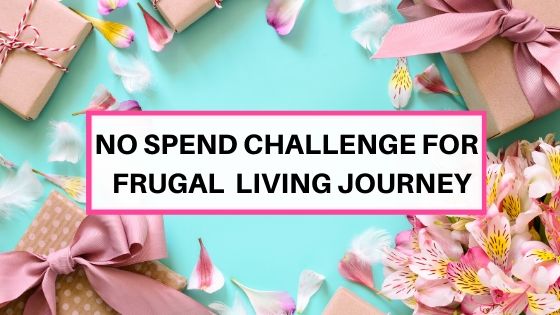 Disclosure: This post contains affiliate links which means I may get compensated if you sign up through my link. For full disclosure, please read here.
There are no specific rules and you can make your own rules but you should stick to those rules during your No spend challenge.
How a No spend challenge works
No spend challenge is the time period when you will not be spending any money on your wants. It may be a month, a week or weekend. It depends on your personal choice and how long you will be able to stick with it.
Longer the time period of No spend challenge and greater would be the rewards.
Moreover, no spend time will help you curb your buying temptations. Once you taste success, it will be easy for you to take on bigger no-spend challenges.
Make a goal why you want to save the money
You may want to save money for travel, for paying off debt or college fee. Just make a goal how much you want to save and open a separate bank account to keep the saved money.
If you are worried about how you will go through it, try to keep it for one week and see how it feels.
Chose a time frame
No-spend week: Some people love to do a No-spend week. This can give you some insights on how to take this challenge. Once you are able to go through this, you may be better at tackling a No-spend month or even a year. I did this for not buying any clothes for two years.
No-spend weekend: If you love to go for paid events and activities, a No spend weekend will save money which you can add towards your money-saving goal
No-spend month: You can go for no spend month after trying it for one or two weeks. You will need some planning for making it successful.
Rules for No spend challenge
Though there are no specific rules, you can try these to start and don't get overwhelmed.
Allowing only basics: Some people allow grocery and basic necessities during No spend challenge. This can be allowed if you don't stock up groceries.
Stacking up groceries: You can stock up groceries for one month before starting your no-spend challenge.
Related
How to stop spending the money you don't have
1. Make a list of necessities
Now, if you are ready to take this challenge, start with the necessities which you cannot skip. You will need to spend money on these anyway.
Mortgage
bills
Medicines
Basic groceries
Insurance
Internet
Pet food( if you have pets)
Items to stop spending on
Activities
Paid outings and entertainment
Clothes
Shopping for fun
extra cosmetics( hair/nail care)
Anything which is not required
35 fun activities you can do on a No spend month
2. Why you want to do it
As you know, why for anything is more important than anything else. When you have a clear why you are more inclined to take the necessary action. Write down why you want to do a no-spend challenge. Whether you want to save for emergency fund, travel, want to pay a debt or save for college fee.
Have a clear goal and stick to it. Focus with full attention and save each penny towards that goal. Write down your goal and tape it somewhere you can easily see. For example, in front of your bed, or on the fridge.
3. Make rules and stick to them
You can make your own rules as to how you want to go through the no spend challenge. Rules can include the items you will need anyway. These are medicines, fresh produce, dairy or any other speciality item.
Also, rules can be made for the activities you have to totally stop doing.
4. No impulse buying
Firstly, keep a big note in your wallet "I am on a No Spend Month". This will help you remind that you don't have to spend money on unnecessary things. Whenever you will open your wallet to pay by card or cash, you have that big note in front of you. It will help you in stopping you from impulse buying.
Make sure your debit cards and credit cards are hidden somewhere. This will save you curb the urge of buying something you don't need.
5. Cook from your fridge and pantry
This is a big money saver. There are many items that always lye in our pantries and fridge. Instead of keeping your fridge full of fresh produce, empty it by cooking from whatever is left. Also, cook from your pantry.
This is a huge money saver. You won't believe me how much you can save by doing so. The week I don't go to buy grocery and cook from fridge and pantry, I could easily save around $150 a month.
6. Only buy fresh groceries or medicines if you need
First of all, write down what you will need for a month. Have a look at whether your toiletries and laundry supplies are at place. And only buy those things which are necessary. After buying all the necessities will help you to curb the temptation to go to the supermarket to buy the basics.
Start your month with cooking with whatever you have at home. It will really save your trip to the grocery store. Only buy fresh food if you need. Sometimes you need to buy perishables because you cannot keep them fresh for a very long time.
7. Go for free outings
Stop going for paid outings and opt for free outings. Paid places like amusement parks and other fun activities cost a lot. Instead, plan free activities to save money. Check out online where you can find free events to have fun.
8. Use this time to earn more
If you have a habit of going for outings, you will definitely miss those. To distract your mind, try to engage yourself in some money-making activities. There are many ways to earn money like watching videos, surveys.
Here are a few survey sites you can sign up to start doing surveys and earn money Survey Junkie
Also, you can declutter your house and sell any unwanted stuff. This will give you some money to save towards your saving goal.
9. Take your food while going out
As you are on a no-spend month, paid outings and eating out while on free outings is not a choice anymore. You can plan free outings with home-cooked food. Eating out is always expensive. Take your water and food with you and enjoy your day without spending money.
10. Cook your food at home and make your own coffee
If you are working and don't get time to cook, meal plan and take your home-cooked lunch with you. This will save you a huge amount of money. Moreover, you will learn how much you spend on things which can be prepared at home.
I always get that temptation to buy coffee whenever I go out. And one cup of coffee costs a lot if added. Make your own coffee at home. Don't worry about the taste, you will get to used to it. A coffee a day doesn't feel much but adds up to a lot. These small purchases don't feel much but take a huge chunk of money out of your pocket.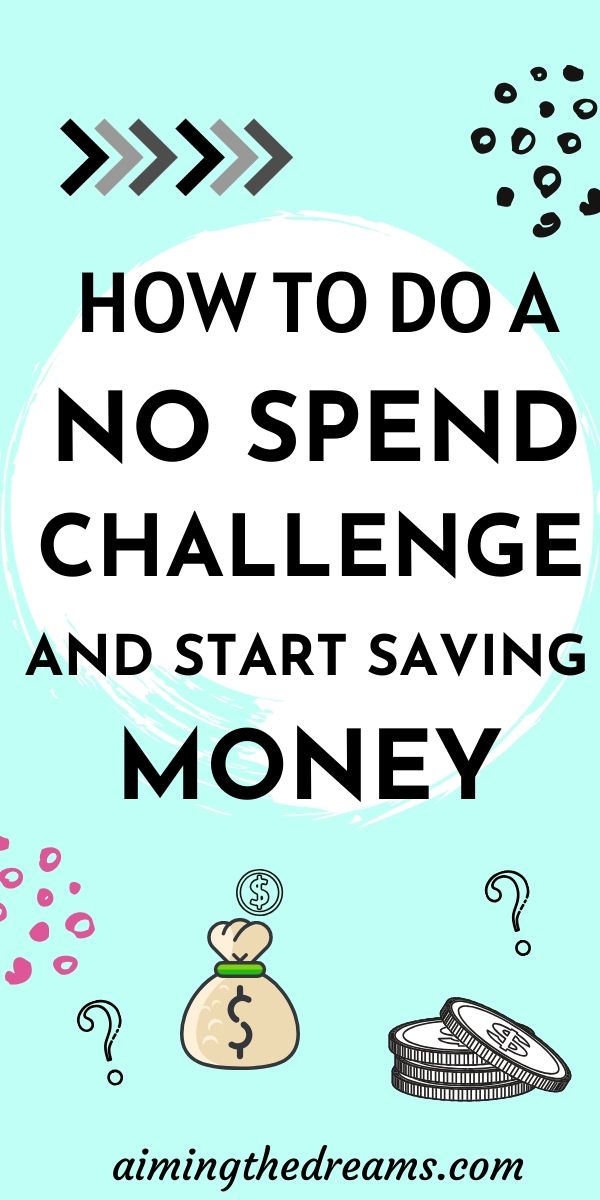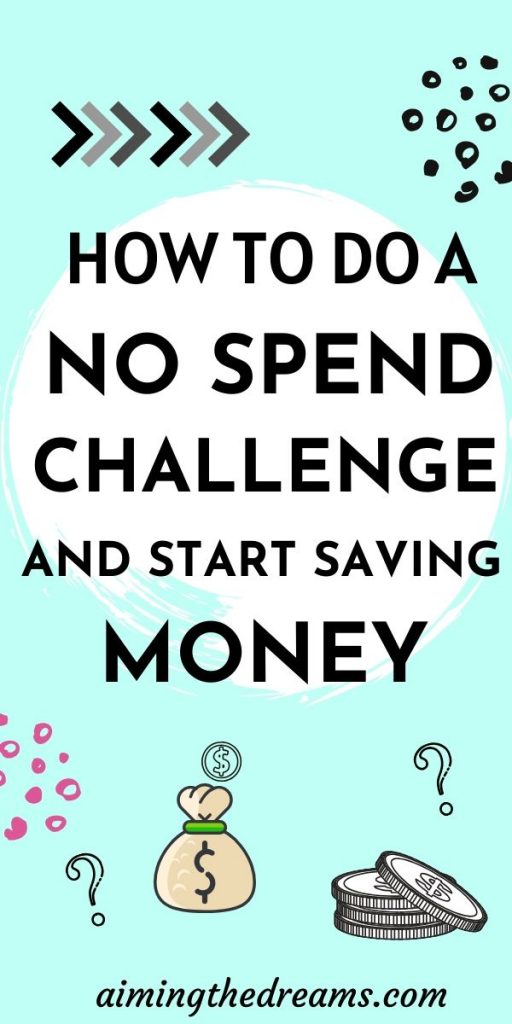 Conclusion
I hope this will help you take on a No spend challenge. I know it is difficult when you do it for the first time but once you taste the success of saving money, you will start getting temptation to do it again.
I am sure by now, you are ready to take this challenge. Good luck with your success. I will be very happy if you will be able to save money with a no spend challenge.
?Do you like my post? Don't forget to follow me on Pinterest?