Most of us would love to make money online without paying anything. The best part is there are a lot of ways to earn an income without paying money. To answer the question, how to make money online without investment, you can,
Start online surveys, freelance according to your skills, teach English online or any subject, start a blog, become a proofreader, website tester, website developer, and much more. If you are skilled at something or are ready to learn, you can easily make money online without investing much money.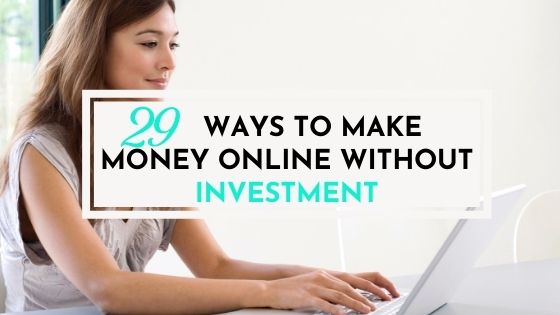 Disclosure: This post contains affiliate links, for full disclosure, read here
Starting your own business needs a lot of money. Even if you are looking to sell some physical products, you have to invest some money. Some online businesses have a great potential to become successful and can be expandeded.
The problem arises when you don't have extra money to invest. The best thing is you can make money online without paying anything or with very little investment.
How to make money online without investment or with little investment
1. Start online surveys
Doing surveys was how I earned my first dollar online, and I was so happy for that one dollar. Doing surveys doesn't cost you anything if you sign up with the legit companies. Fortunately, there are many companies where you can sign up and start earning money now. You have to sign up and answer some questions about yourself.
These are some of my favorite companies to get started with the surveys:
Swagbucks: Swagbucks is one of the oldest companies that provide you surveys and earn points for other things. Swagbucks is another right place to make money for surveys and make money by watching videos and shopping.
Survey Junkie: This is one of my favorite survey sites. It has got a spotless interface, and the pay rate is reasonable.  Sign up with Survey Junkie here
Pro tip: Sign up with a good number of companies, and you will never have to wait for surveys. You will always have something to do. Only spend that time on surveys which you will waste anyway. Of course, you will not become rich, but earning a few dollars each month to save is a good idea.
Never sign up with a company that asks you for money to sign up.
2. Become a freelance writer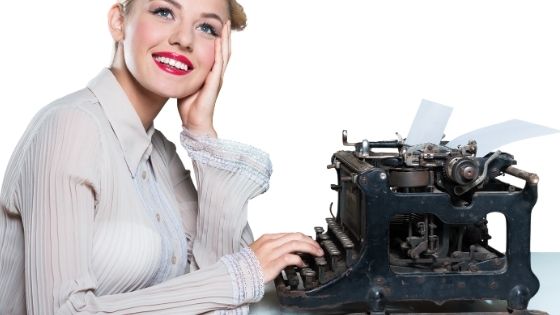 If you love writing and can churn out words very fast, you can start working as a freelance writer. It is not easy but doable with practice and focused work. It is a bit difficult initially, but as you will gain experience, you can increase your pay rate and retain clients.
To stand out in any industry, picking a niche is essential. Think about your skills and expertise, you can write better on the topics you are knowledgable. It helps initially to build the momentum and expand later to other topics.
Moreover, you can expand your knowledge by reading more and writing every day for few days. Practicing will build confidence, and ultimately you will find yourself in a better position to pitch for better-paying writing jobs.
You can read a detailed guide on how to become a freelance writer.
3. Make money online by testing websites
Web developers and app developers need the opinion of users to test their products. Websites pay testers for testing their products. Here are some websites that can help you make money without any investment from the comfort of your home.
4. Become a transcriptionist
What is transcription?
Transcription is the process of listening to audio and converting it into writing. Many places like courts require audios to be converted to papers to produce as evidence.
The best part is you don't need to have any specialized degree and education. You can start transcription without any formal degree but learning from a course will help you grow fast from the rest of the competition.
To start providing services in the right way, why not learn from the award-winning course, TranscribeAnywhere.
5. Website maintenance service
The digital world has opened many venuses to work from home and without investing. You can learn anything for free. Online websites need to be built up and maintained. You can provide maintenance services if you don't want to start developing websites.
Sometimes website owners are not skilled or don't have time to spend on the tasks that take time; freelancers can help them solve their website issues. Many tasks are required to maintain  a website:
WordPress issues solving
Security of websites
Speed optimization
Performance enhancement
Solve coding problems
You can perform all or start providing a few of them. To begin with, you can provide services in your area of expertise on Fiverr.
You can read more about website maintenance here.
6. Online English teacher
If you are a native English speaker and can teach kids by engaging them, you can start providing online teaching classes. Many online portals connect you with kids or adults who want to learn English.
Some of the best online websites to teach English are
They have different pay rates and depend a lot on your performance also. Go to these websites and check if you qualify to become a teacher on their online portals.
If you have a TESOL certificate, it will help you to stand out in the crowd.
7. Pinterest Virtual Assistant
To become a Pinterest Virtual Assistant, you must have experience with Pinterest. The best option is to start your account and see how it goes. You might be using Pinterest to find ideas and plan, but using Pinterest for business is different.
It takes some time to learn this platform. It is not as simple as creating a few graphics and uploading the photos to the social media platform. It takes some time to learn this platform. But in the long run, it can help you start your own Pinterest virtual assistant work.
8. Start a youtube channel
If you love to go in front of the camera, you can start earning money from youtube. It will not happen in a single day, but working on your editing skills and improving your video quality can make you the next big youtube star.
Creating a youtube channel is easy but making it successful takes time and patience. The best part is you can start it with the iPhone camera. You can buy a camera and other accessories later.
9. Graphic designing
Graphic designing is not for everyone, but you can start your graphic designing services and start earning money if you have some designing skills.
I am an example as I am not very good at creating graphics, but I can create beautiful Pinterest templates that get clicks. I have even sold some of these, but I stopped doing this due to some other responsibilities. But you can learn how to create graphics and start earning money.
10. Become a Web developer
If you are skilled at coding and know-how to build a website from scratch, you can earn money developing sites for others. There are a lot of things that go into creating a website.
You can provide a complete package or some services in which you are skilled.
Learn more about how to become a web developer
11. Start an online  craft store
Some people are so good at crafts that their skills mesmerize you. I have seen some people creating beautiful animals and birds with felt, and they look natural. If you know some art that you create anyway, you can start selling it on Etsy and make money without further investment.
Creating your online shop on Etsy and selling your handmade products can help you have a good-paying side hustle.
12. Affiliate marketing
Affiliate marketing is when you sell somebody else's product through your link and get paid the commission. Referring people to the products is my favorite way of making money from my blog.
Having a blog makes it a bit easy to make money through affiliate marketing, but it is not the only way. You can make money by referring people through your youtube channel, Facebook page, Facebook groups, Pinterest pins.
Always choose a niche and then start working on that niche. It is easy to guide people to the right products when they need them when you have a proper niche.
If you want to learn affiliate marketing, you can learn it from this super cheap course.
13. Create digital products
Digital products are easy to create, and if you know something specific, you can create a digital product.
These are some of the digital products you can sell online:
Digital art
Printables
Courses and ebooks
Graphic design elements
Photography and many more.
You can find a lot more digital products to sell online here.
14. Virtual Assistant Services
Earning potential:  Anywhere from 15 to 50/hr
If you have admin skills, you can quickly start your virtual assistant services business. You don't need to have any degree, and you don't have to invest a lot of money. A laptop, internet connection, and your skills are the requirements.
There are many services you can provide to online entrepreneur and bloggers as a virtual assistant:
Content creation
Bookkeeping
Email management
Setting up or managing webinars and podcasts
Creating/updating databases
Chasing outstanding invoices
Creating sales pages, squeeze pages, and many more.
If you want to learn more bout what you can offer as virtual assistance, learn from this post.
 15. Become a Bookkeeper
A bookkeeper can earn a full-time income working from home. Bureau of Labour Statics states that a bookkeeper earns a median salary of  $49,000/year. If you want to have a full-time income-producing work from home opportunity, then working as a bookkeeper can be for you.
If you are serious about starting a bookkeeping business, you can learn bookkeeping here.
16. Start a consulting business
If you are skilled at something and you can teach others, you can start your consulting business. It can be anything like starting a small business or helping organizations with certifications. I know some freelancing Food lead auditors who help small-scale businesses to get certifications.
I have given this specific example just to elaborate as I myself have seen them working. One of my known provide help online and go to actual sites just a few times to understand the process and make changes if required.
Depending on your skill, you can start providing consultations.
17. Sell other people's stuff online
We all have extra stuff piled up in houses. Some people have more things than others but don't have time to get rid of it. You can ask your friends or relatives if they have some excellent stuff lying inside their houses that you can sell on eBay or Craiglist.
18. Work as an internet researcher
To make money as an internet researcher, you don't need to invest any money. You can make money by using your searching skills on the internet.
Ziprecruiter sites that the average annual salary for an Internet researcher working from home is around $60123. 
This is a good amount earned by professionals. If you want to make some money on the side along with your full-time job, you can start working as an internet researcher. As an internet researcher, you can answer particular questions on sites or extract answers from the web for clients.
If you want to learn more, you can read how to make money as an internet researcher.
19. Provide SEO services
SEO is a bit of technical stuff to do. You can only do it if you know what you are doing. You can learn SEO and start providing SEO services. Seo is an essential part of digital marketing, online websites, websites, blogs.
Everybody wants to be on the first page of Google, which is not easy. There is a lot of competition for those few places. But with good SEO, this is possible.
Web admins don't have that much time to spend on link building, guest posting, on-page SEO, and off-page SEO. You can help them in their SEO efforts and earn good money.
20. Provide photoshopping services
We see photoshopped pictures everywhere. They look like real pics due to the skills applied by the photo editors in editing. If you are a person who is skilled in photoshop, you can provide your photo editing services to photographers.
It may help you earn a lot of money working from home. The best part is don't have to go anywhere to do your work.
21. Sell services at Fiverr
You can sell almost any type of service to make money online and without any investment. Online market places like Fiverr are a bit crowded. By putting in some effort, you can make money even in crowded market places.
22. Create Ebooks
You can find an ebook on anything. Instead of hardcover books, people love to read ebooks. If you have extensive knowledge of any topic and can solve readers' problems, you can create ebooks.
You can write ebooks on any topic if you are good at storytelling. The best part is that you don't have to spend money creating an ebook. If you want to make it a bit more attractive, you can take the help of a graphic designer to design the book cover.
If you are somebody like me, you may need somebody to proofread the ebook. Otherwise, it doesn't cost much to create ebooks.
Here are a few steps you will need to create an ebook.
Find the topic
Plan chapters
Start writing a chapter at time
Write introduction and conclusion,
Edit and Proofread
Design cover
Choose the platform to sell
Promote
23. Make money with your Facebook or Instagram page
Social media platforms are not only for social interaction; they can become your earning platform also. You can make a decent amount of money if you have a big, engaged following on your Facebook or Instagram account.
Those who are into a particular niche and their Facebook pages have a good following of those interested in that niche, and you can charge money for sponsored posts.
Companies are always willing to advertise where the audience is. Some people earn loads of money through sponsored posts.
24. Sell online courses
Creating a course is not difficult but selling it online needs consistent efforts. If you are skilled at something and can teach others how to do it, you will be able to
25. Make money online by testing websites
Web developers and app developers need the opinion of users to test their products. Websites pay testers to test their products. Here are some websites that can help you make money without any investment from the comfort of your home.
25. Listverse
Listverse is an excellent place to explore topics to read. The great thing about this fantastic website is that its content is unusual and exciting. If you are looking to make some extra money, you can write for Listverse.
They pay $100 for an article, but the article should be around 1800 words long. All the facts should be backed by proof. If you are good at research and writing an engaging post, you can make money on LIstverse.
26. Product Testing
Product testing is a great way to test the products and get paid. I have got paid for using nappies for my daughter and beauty products for myself many times.
It is an excellent way of getting products for free and then get paid for reviewing the product. You will not become rich, but it is a great way to supplement your income.
27. Get your cashback and save money
Many cashback sites can help you make money by referring people. Moreover, you get cashback on your purchase. Here are some of the cashback sites great for getting cashback.
28. Become a proofreader
If you are a native English speaker, good at grammar and picking errors, you can be an online proofreader. Online publications, online courses, and blogs need many people to proofread and edit the work. If you are good at this, you can start your online proofreading services.
As with anything else, it is a bit rough ride in the beginning, but with experience, you will start getting a bit higher price.
You can check online companies that hire proofreaders online.
Some of these companies hire beginners, which makes it easy to start as a beginner.
Legitimate companies that hire proofreaders for proofreading jobs online.
29. Start a blog
Make money online starting a blog can be the best thing you can do to make money online. It is not entirely free, but you can create a blog with only a few dollars.
Creating your online space will open so many doors you cannot even imagine. It can help you to start your virtual assisting services, sell your ebooks, sell courses, and many more.
How can you make money with a blog?
There are many ways to make money with a blog. Some of these are the easiest, while others need some more expertise and time.
Make money with ads: This s the easiest way to make money with a blog. You can earn better with some of the advertising companies, but you need to have a lot of traffic from English-speaking countries.
Affiliate marketing: Affiliate marketing is a great way to earn money from your blog. However, it is not as easy as slapping some links here and there and make money. You need to be strategic about your content and the type of links.
Selling your services: Starting a blog teaches you many skills that you can teach others and charge money for that.
Digital downloads: If your blog's niche allows you, you can make money by creating digital downloads.
There are many more ways to make money with a blog.
Read more on how to start a blog here.
These are some of the ways to make money online without any huge investment. You can start investing your money later after earning the money.