There are a few websites that can help you in finding work from home online chat jobs and email jobs. These type of jobs don't pay too much but it is nice to have some side income working from home.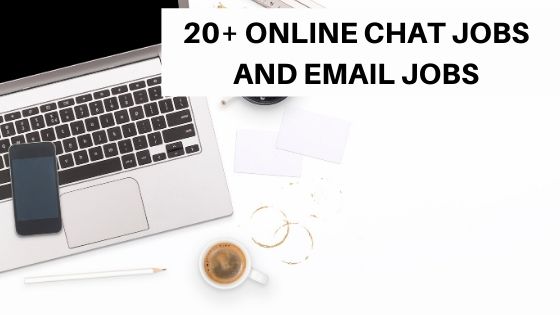 Disclaimer: This post contains affiliate links which means I may get compensated with no extra cost to you if you buy something through my link. Read full disclosure  here
The best part is that you can choose your own working hours. There are many types of online jobs but chat jobs are the easiest one.
Survey Junkie: Survey Junkie is the best place to earn some extra money. There short and high paying surveys will let you make a good amount of money. Sometimes you can earn up to $45 per survey and survey junkie has 4 ⭐ start rating. Sign up with Survey Junkie and start earning money
What are online chat jobs?
Online Chat agents converse through emails and chats to resolve any issues and problems faced by the customers. These online chat jobs can be done from home or in a standard office environment.
No phone call is required in chat jobs. These type of jobs require you to have some customer care service experience.
How to find Online Chat Jobs
There are many companies that hire people to do customer services jobs from home. Most of these companies don't require you to have more than a high school diploma but some experience can be helpful in getting these jobs.
Requirements for this type of jobs
A good computer
High-speed internet connection
Typing speed pf at least 35 WPM while some may need more
Handle multiple conversations simultaneously
These are few companies to help you find online chat jobs to work from anywhere
1. Applecare: At home advisors
Appplecare hires At home advisors for technical support. These advisors help people with technical issues, products and services. This may not be only chat-based as you may have to get calls also but it is a good-paying job.
Requirements: A quiet environment, a headset (company provided), an ergonomic chair and a desk for iMac.
2. Arise
Arise virtual solutions is here since 1994 working with 500 fortune companies for providing customer support. This company is having an A+ rating with the Better Business Bureau (BBB).
3. Concentric
If you are looking for a full-time job as a chat operator, Concentric.com can be your best choice. But you need to be available for a set period of time because concentric works for big companies.
4. Flex Jobs
Flex Jobs is a great place to find legitimate jobs. The only catch is that you have to pay a monthly subscription fee for this. Like other remote jobs, you can find home chat jobs on Flex Jobs.
There are many types of pat time as well as full-time jobs.
5. Ginger
Ginger is for mental and emotional needs for people when they need it most. They provide support 24/7 so if you get accepted, you can work the hours of your choice.
. Ginger need you to be from a medical or counselling background to provide online chat support. They provide customised care for
Psychiatry
Mental support
On-demand coaching and therapy
6. Presto Experts
Prest experts is another great place to find chat jobs. You can offer chat support to many types of international businesses.
7. Sedgwick
Sedgwick provides support for insurance claims and other insurance-related services. You can start working as chat support if you can handle insurance and compensation-related questions.
8. Simply Hired
Simply Hired is a job portal where you can find many types of jobs. You can find many online chat jobs there. There are many listings there at this time. You may need to have a certain experience for these jobs.
9. Site Staff Chat
Site Staff Chat needs chat agents in many categories such as senior living, elective medicine, Finance and law firms. They provide 24/7 live support to customers.
10. Site5.com
If you are familiar with the technical side of web hosting and support, Site5.com can be your best place to work as a chat agent. They don't provide phone support and only provide chat support.
11. Needle
All of the customer service jobs at Needle are chat-based which is good. Their application system is fast, you have to fill their application and they give you result in 2 days. Needle is the company which provide live chat experience to shoppers as they shop in brick and mortar stores.
12. Buffer
Buffer is a company that deals with social media for other companies. They also provide chat services for which they need chat agents. You have to manage social media for the companies.
13. Paperless Pipeline
The Paperless pipeline is a company that helps real estate businesses to go paperless by scanning and storing their listings and other information.
It is software and chat agents help to resolve any issues faced by the people who use this software.
14. Gear Launch
Gear Launch connects the clients the Shopify stores with chat agents. As a customer care specialist, you have to resolve the issues faced by the people using the software.
15. Iubenda
Iubenda is a company that helps in legal stuff. This website helps in generating legal documents like polices for blogs and websites. They need you to have some experience in customer service.
16. Pressable
Pressable hires chat agents for resolving customer issues with hosting and websites. You need to have some technical expertise to work with them. Their customer service agents are known as customer service engineers.
You can select one of the two available shifts if get hired.
17. TeleTech
TeleTech is always looking for people working as chat advisors. They hire chat operators to work as a customer service representative. To work, you should have at least 6 months of experience.
Their pay rate is $8.50/hr along with other employee benefits.
18. Operadorchat
Operadorchat hires people as chat agents and pays a good pay rate. They pay around 35 cents for a processed message. You can decide your own working hours and can work from anywhere.
They re always looking for people and pay weekly.
19. Best Buy
Best buy hire chat agents to help the customers with products and other services from companies like Microsoft and apple and mobile apps. Different jobs have a different type of requirements, so while applying, check the requirements.
In most of the jobs, you will be assisting customers with orders and resolving problems. The pay rate is somewhere $11 to $16/hr.
20. ModSquad
ModSquad is into remote jobs since 2007. They hire people for moderation obs online. Their pay rate is not specified on their website but you can apply with them. ModSquad states that many stay at home parents, students work with them as the job is totally remote.
21. Capital Typing
Capital Typing hires customer care representatives to work online. They also provide translation and transcription services. If you are looking for transcription services, you can start one here.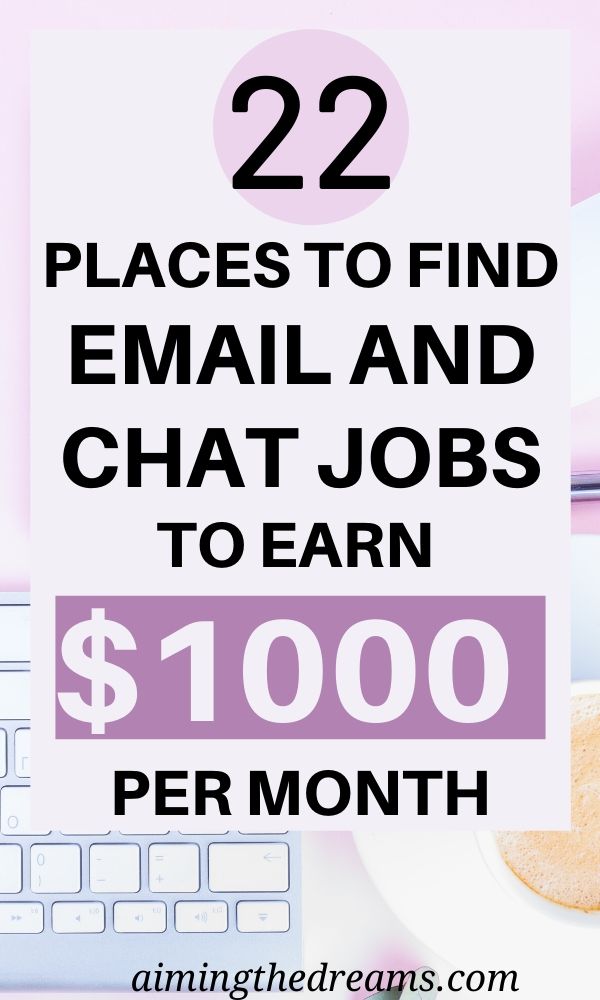 A tiny request
If you like the post please share because it may help find somebody the job to work from home. I will be thankful to you for this.
?If you like this post, don't forget to follow me on Pinterest ?