If you are looking for some ways to start earning money from, you are right place. Most of us are staying at home because of the present situation. And we don't know how long we have to go through it.
Businesses are shutting down, jobs are being lost, it is better to look for something to make money online.
♠ If you are looking for some ideas to start some side hustle, find some ideas here
List of side hustles to earn side income
23 money making ideas to grow wealth this year
25 companies that pay to proofread from home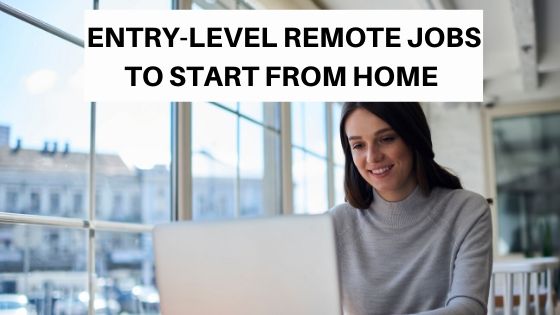 Disclaimer: This post contains affiliate links which means I may get compensated if you click through my link and make a purchase without any extra cost to you. For full disclosure, read here
Entry-level remote jobs to work from home
1.Proofreading jobs
Proofreading is excellent remote work which can be done from home. This is the time to start working from home. People are advised to stay at home. If you are good in English and can pick even a small error, you can start proofreading services jobs.
Working remotely is a lot easier in this digital world. Proofreading can help you start your work from a home side hustle. You don't require any training, but getting one can help you finding success a bit easy.
To get started, learn from ProofreadAnywhere's General Proofreading: Theory and Practice.

  If you think that you have the qualities to build a business around correcting errors, go for this course. General Proofreading course by Caitlyn of Proofread Anywhere is a detailed and comprehensive course.
Skills you need to excel at proofreading
This course will teach you the technical part, still, you need to have some skills to start correcting errors for a livelihood.
Attention to detail: Along with concentration and focus, you need to have a vigilant eye and attention to detail.
Reading: While proofreading, you have to read long-form texts. Having the patience to read a lot of content without getting distracted, will be required.
Immaculate English: This one is most important as you will be proofreading most of the text in English. It means you should be able to pick or any extra punctuation mark which online proofreading software cannot pick.  
A college degree: There is no requirement for formal education but some of the companies need you to be a graduate. Working with online companies will help you in the beginning.
Check General Proofreading course here
There are some companies that can help you start your work as a proofreader. These will help you gain some experience and to build a portfolio which will help you showcase your work to potential clients.
You can read more if you want to start your own Proofreading services business.
2. Transcription Entry-level Remote Jobs
What is Transcription: The process of converting live audio or a recording and converting it into text is called transcription. You don't need any experience to get started but a professional course can help you in starting out a bit easier.
Anybody can start transcription work as you don't need any formal education. Same as in case of proofreading services, having professional training can help you stand out from the rest of the applications in a crowded place.
To start providing services in the right way, why not learn from the award-winning course, TranscribeAnywhere.
? Janet from Transcribe Anywhere has created a free course to check if it is right fit for you.
Requirements to become a transcriptionist
To become successful at Transcription and earn good money you should be
Able to type fast with a good typing speed
Good at finding errors and have a good eye for detail
Able to use critical thinking and have good knowledge of web
Here are few places to look for Entry level remote jobs in Transcription
As a beginner, not every company will hire you. Your best bet is to start with the companies where you can have some practice. These two companies will let you have some practice through some practice tests
After having some practice, you can start applying with more companies. Not every company will hire you, so be patient
The average pay of Transcriber is around $15/hr but with the experience, you can earn around $20/hr. If for any reason, you want to stay home, converting audio into text can help you supplement your income.
How to become Transcriptionist and wo
3. Work as freelance writer
Freelance writing is very competitive but lucrative at the same time. It is difficult to get the foot in the door but once you get the required experience and have built a client base, it can become your full time work.
Elna Clain from elnaclain.com is a freelance writer who helps budding freelance writers with her very informative blog posts. She also has a free email course to get started as a freelance writing.
Online blogs, magazines have made it possible to make money online as a writer.
4. Online teaching jobs
People from Non-English speaking countries want to teach English to their kids . To accomplish this, many companies hire native English speakers.
Teaching English online can be a good idea if you want to work remotely. Pay rate is around $15-25/hr
Requirements
Most of the times, the requirement is the company needs native English speakers. For more information, you can check here. Also, most of the companies require you to have TEFL certification. It stands for Testing English as a Foreign Language.
Types of equipment required for teaching English online
A quiet place and a computer to work.
Some companies provide lessons while sometimes you have to prepare the lesson
Noise-cancelling headsets and microphone
A webcam, Skype account if the company doesn't provide their software
A working computer where you can work in a quiet place. Some of the companies also provide phone lessons.
High-speed internet connection
Microphone and headset ( noise-cancelling headsets helps a lot )
A webcam
Skype account if the company don't provide their own software
How to make money teaching English Online
5. Internet Researcher remote jobs
If you love to be always on internet reading and gathering information from various resources, then internet research job can help you make some side income.
The question is why somebody will pay you for searching the internet? Can't they do it themselves? Possibly because they don't have time to do so or they just don't have that patience required for spending too much time getting the correct answer. Finding data and facts based answers is more complicated than finding answers on Wikipedia. This is where an internet-based researcher comes to rescue.
If you want to make money online as an internet researcher, you can read more here
6. Test websites to make money
If you are looking for some ways to supplement your income to earn some income then testing websites can provide you the gateway.
Of course you will not become rich with this kind of work but earning some side income can be a great idea. Those who are doing this work say that they can earn anywhere between $10-15/hr. This is not a very good rate but doing it from home can be a good idea.
To get accepted, you have to apply to the websites and see if you get accepted. Also, the work starts pouring as you get experience and good reviews.
7. Work as Virtual Assistants
As you know, the internet has opened up so many ways of earning money, working as a Virtual assistant is one of those. It is a realistic and good-paying work where you can earn money by helping small business owners or busy bloggers.
There are so many services you can offer as a Virtual Assistant.
Administration work
Managing emails and inboxes for businesses
Managing social media accounts and scheduling posts
Maintaining records for activities and tasks
These are only some of the tasks you can do as a virtual assistant. Thre are a lot more services which you can offer as Virtual Assistant. Here are some websites where you can find virtual assistant jobs.
8. Chat jobs for beginners
With more and more people coming online to do most of the tasks, there arises the need for an online chat operator. Online chat operators resolve the issues without talking on the phone.
If you are a customer service person and want to start a text chat job, check out these places.
9. Social media services
Everybody is on social media and anybody can use it. These platforms started for social interactions but soon grew to be important components of marketing for businesses.
Using social media for personal use is different than using for business purposes. On top of that, it takes a lot of time and proper optimisation to use social media to build a brand.
Also. these social media platforms are changing their algorithms every now and then. Here comes the need of social media manager to help businesses grow their brand awareness through these platforms.
If you are familiar with these social media platforms and can help businesses grow their presence, start working as a social media manager.
How to become a social media manager
10. Scoring
Scorers are required during the test seasons to evaluate the student responses. Some of the companies hiring require you to have 3 or 4 years degree. Though the work s seasonal, if you get accepted, they normally call whenever there is a requirement.
Companies hiring are
11. Entry-level phone jobs
Most of the remote jobs can be done without a phone. But there are many phone remote jobs that even don't need experience. I have compiled a list of few companies that hire people to work in customer and tech support through phone.
12. Complete Micro Jobs ( Gig economy)
The gig economy is huge nowadays. It is not a route to become rich but starting somewhere is the key. Gigs are the temporary jobs that can be completed as a contractor or a freelancer.
To start with, make a list of your skills and see how you can fit into the roles advertised on the sites. Also, register with these sites and create a profile. Then you can start offering your services.
There are a few places where you can find this type of small tasks.
These are some places where you can find remote jobs according to your skills. To start with, make a list of your skills and expertise and have a look where they can fit. I am sure you will be able to find some remote job to start from home.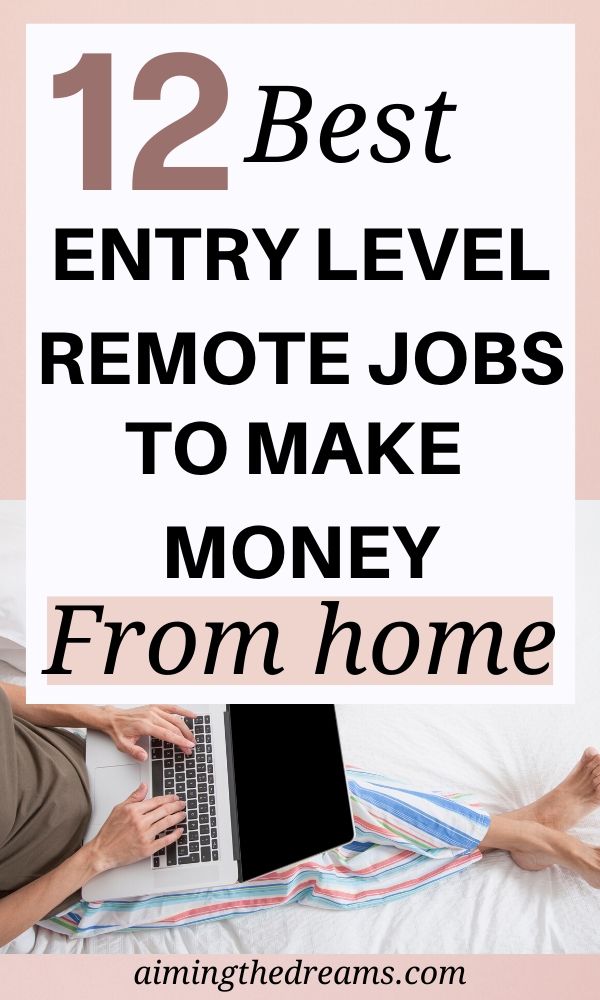 25 freelance work ideas you can start now
? Do you like my post? Don't forget to follow me on Pinterest ?