Paypal is a great way to get paid. And the best way to make money online is with Paypal. There are many ways to make money with Paypal. First, it is a secure form of sending and receiving money online.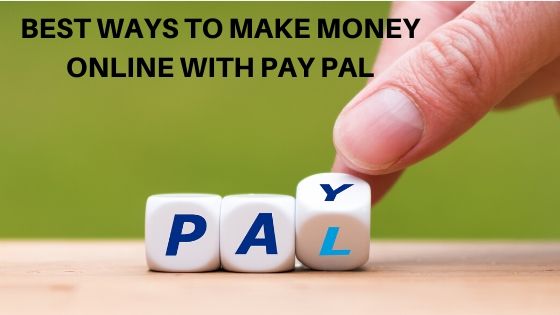 Disclaimer: This post may contain affiliate links which means I may get compensated if you buy through my link without any extra cost. For full disclosure, read here
This is the reason that many service providers and companies pay through Paypal.
Best ways to make money online with Paypal
What is Paypal?
Paypal is an online financial service that allows you to receive and pay money through the internet. It is a secure system for receiving and transferring money.
How do you get paid?
You must create an account with Paypal and link your bank account and a card with the Paypal account. Once your account is verified with PayPal, you can start receiving or sending the money.
I use Paypal to receive money from various affiliate programs and for my services. It is a great way to receive money.
How to create an account with Paypal?
It is a simple registration process, and Paypal will verify your identity. Then, you have to link your bank account to receive money. After that, the money will come into the Paypal account, and you have to transfer it into your bank account.
There are many ways to get paid through Paypal. And it feels great when you get your money into your Paypal account.
Easy ways to make money online with Paypal
1. Get paid Paypal money with Survey Sites
Many survey sites pay through a Paypal account, and it is easy to get paid as most sites have a lower minimum threshold.
1. Survey Junkie: Survey Junkie is one of the best survey sites, and their website says you will be able to complete one out of five surveys. Their minimum threshold is $10, and they pay through Paypal.
Survey Junkie is one of the best online survey sites to give your opinions and get paid. It has got a 4.5⭐ rating on Trustpilot. I love to do surveys for some extra money.
2. Opinion Outpost: Opinion Outpost is another great survey site that pays you for completing surveys. You may not get a lot of surveys with this Survey site, but it is possible to make a few dollars each month. The best part is they pay you with Paypal.
Sign up for Opinion Outpost here to earn cash and get paid through Paypal.
3. Vindale Search: Vindale search is another survey site that pays through Paypal. Their minimum threshold is a bit higher than other survey sites, but it is easy to reach there as they have many surveys waiting.
Pro Tip: Sign up with as many survey sites as to make some money.
4. Prize Rebel: Prize rebel makes collecting points with many tasks easy. Getting cash out is easy, and your points add up fast.
You can earn points for
Completing surveys
Watch videos
By filling out offers such as sign-ups
By referring to friends
Account-level extras ( one of my favorite)
Sign up with Prize rebel here and start earning money to be paid with Paypal.
Best survey sites to make money from home
2. Get Paypal money from Rakuten (earlier Ebates)
Rakuten is a global company that gives you cash back on shopping. Not only this, but they also pay you 25 dollars if you refer somebody and they make a qualified purchase.
Rakuten has thousands of stores where you can shop online and get cash back. They pay you money in your Paypal account. From there, you can transfer your money to your bank account.
Sign up with Rakuten to get your bonus of $10. You can earn a lot of cashback on shopping and get paid. The best part is you will get paid through Paypal.
3. Make money online with Paypal for your services
If you are looking for ways to generate income from home, start providing services according to your skills. You can start working as a Virtual Assistant if you have admin skills or other accounting skills.
Most of the time, clients use Paypal to pay you the money for your services. For example, I work as Pinterest VA and get paid through Paypal. It is so lovely when you get the email that you have a big fat check.
4. Make money with a blog
If you are thinking of starting a freelance business, you will need a blog. Start a blog that will help you in getting clients quickly and can help you make some money through affiliate marketing.
Most of the affiliate payouts are paid through Paypal. It feels so good when you get paid through Paypal and get an email that you have money.
5. Join Swagbucks
Swagbucks is a legit company that pays you for doing many tasks. If you want to earn some extra money, you can start using Swagbucks to get paid for
Shopping online
Watching videos
Giving your opinions
Surfing the web
Get your $5 FREE BONUS here by signing up with Swagbucks and start earning cash.
You can redeem your points for cash through Paypal, or gift cards
6. Become a Transcriptionist
Many Transciprion companies pay through Paypal. So if you are looking for ways to make money working from home, these two websites can be your go-to.
Join Transcribe Anywhere to learn how to start transcription as a beginner. You can make around $1000/ month if you get higher-paying audios, especially the medical and legal ones.
21 companies that pay to transcribe for sure
7. Test Websites
Many website testing companies pay through Paypal. However, testing websites is a bit different from taking surveys. First, you have to test the website for navigation and user experience.
These companies pay you for giving reviews for the new sites. There are many websites where you can get paid to test websites.
12 best companies that pay you to test websites
8. Freelance on Fiverr
If you want to get paid for freelancing, Fiverr is an excellent place to start. You get paid through Paypal. Most of the gigs are one-time and for a small amount of money.
After you have built a solid portfolio and have good results to show, you can start your own freelancing services business. The best part is that most clients love to pay through Paypal.
9. Get paid to listen to music
Do you love to listen to music? I am sure you would. If you are a person who loves to listen to every new record, start earning money for your passion.
Join Slicethepie and start earning money for reviewing the music. To make money, you must provide a negative or positive review. For a review, you will get paid $1. And you can redeem the money through Paypal soon as you hit $10.
10. Earn Paypal money with Proofreading Services
You can start earning money as a proofreader. If you are a native English speaker with a command of English, it can be a great way to make money through Paypal. In addition, many companies can help you find Proofreading jobs online.
Check this course to become a Proofreader to make a full-time income from home and get paid via Paypal.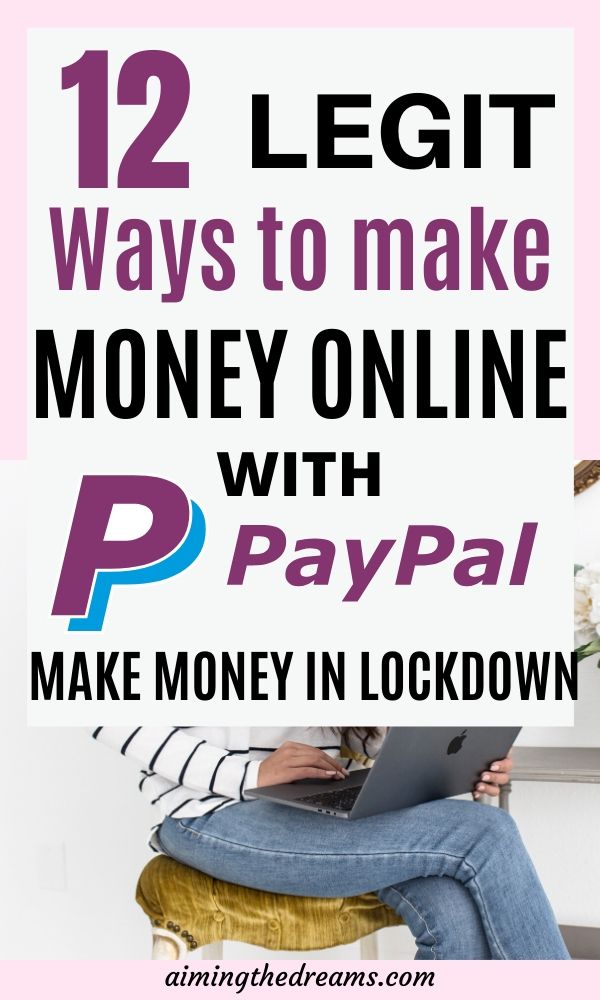 19 best ways to work from home and quit your job
How to become a proofreader and earn a full-time income from home
?Do you like my post? Don't forget to follow me on Pinterest.
A tiny request
If you like my post, please share it. I would be thankful from the bottom of my heart.
Gursimrat