There are many passive income ideas like purchasing the real estate, investing money, buying a business which runs without your active participation.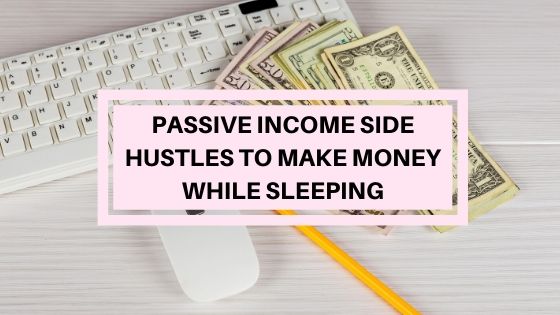 There are many side hustles that can provide you with enough income after you put your initial hard work. Then you can reap the benefits and make money while sleeping.
There is two types of income: Passive Income and Active Income
Active Income: Normally we generate income through traditional job or business which is totally active income. One more way is to generate active income with side hustles.
Active Income side hustles: This is the income which is earned by directly trading the time for money. Some of the side-hustles like graphic designing, coding, pet sitting, babysitting. This needs you to be putting in hours to get paid.
You cannot run these on autopilot or without active participation.
Passive Income: Passive income is generated without active participation. It needs some maintenance and upfront work, but after some time you can make money even while sleeping.
Passive Income side hustles: Passive income side hustles can be created once and need your hard work upfront and can be run on autopilot. Some of the passive income side hustles are
Passive Side Hustles to make money while sleeping
1. Creating digital products
Creating digital products can be a lucrative side hustle. Digital products are the products which can be downloaded. Products like Softwares, printables, eBooks, fonts, graphics can be sold to make money.
If you work full time and don't have much time to take on other side hustles but your skill can benefit others, why not turn it into an online course. It will take some time to create a course but after initial hard work, it will need very little maintenance.
2. Starting a website
If you are looking for earning passive income online, starting a website can do wonders. Either you can start a niche website where the website is very tight inches and it generates good passive income. Normally people who make these type of websites, earn between $1000-5000 from one website. To generate enough profits, they create more than one websites.
Difficulty level: It depends on the niche of the website. Mostly niche websites target low competition keywords and write about a specific topic. Their posts revive around that particular topic.
3. Selling Stock Photos
Online side hustles need photos to make the content more engaging. Bloggers, graphic designers, social media marketers need photos to make their content visually appealing. Everybody is not good at photography.
Here comes the need for stock photos. If you have good photography skills, you can start selling your own stock photos. I myself love photos from Ivory mix, a great website to buy stock photos.
Also, you can sell stock photos on sites like Shutterstock, Pexels.
4. Start or buy a low-cost business
The internet has opened many avenues for online businesses which need very little maintenance once set. Moreover, many of the tasks of online businesses can be outsourced.
Either you can start your business from scratch or you can buy an existing online business.
How to start a business when you don't have money
5. Dropshipping business
Dropshipping is the type of eCommerce business where the store doesn't keep the product in the warehouse, rather it is shipped by the third party when a consumer makes a purchase.
This eliminates the risk of buying the products in bulk. Though the model is simple, making your dropshipping business success takes a lot of work. You can start a store on Shopify which is not expensive. The actual work starts with choosing the niche which is not saturated.
You can read more about the dropshipping business here
6. Create ebooks
Creating eBooks for earning a passive income and is a favoured method by bloggers and content creators. An ebook can be a good source of income if done right and if it targets a problem your readers is facing.
There are many ways to sell ebooks, one of them is selling it to your followers and readers on your website/blog. Another method is to do it on Amazon. It is a good idea to repackage your ebook and sell as kindle only version and as iBooks also. A lot of people buy books there too.
Pricing of the book depends a lot on your niche. For example, minimalistic or frugal living people will not be spending a lot of money on eBooks but if your books are business-related, it is easy to make money.
7. Passive income with Online courses
Online courses can be created once and they will continue to make money as long as the course is relevant. Also, you can update it as there are any changes.
As with the eBooks, courses should be able to solve the problem readers are facing. It is a good idea to ask your readers first and then create a course. It takes a lot of time to create a course as it is a mix of text, videos, and worksheets.
It requires a lot of upfront work and you have to deal with a lot of course-related queries.
8. Affiliate Marketing
Affiliate Marketing: Affiliate marketing is a form of marketing where you earn money for referring people to the product and you get paid the commission for the referral. There are many forms of affiliate marketing. You can become an affiliate for a product/course or you can create an affiliate program for your own products or courses. Either way, you will earn money.
Most of the bloggers earn a good amount of their income from affiliate marketing. Earning money as an affiliate is a skill which can be learned gradually. There is a course by Michelle of Making sense of cents who is earning $50,000 per month with Affiliate marketing.
Some people make very niche-specific websites with great SEO and start affiliate marketing. If you have started a blog, then earning money with affiliate marketing will be much easier. If you are a beginner and want to learn affiliate marketing then this Affiliate marketing course is really good for you.
There are many ways to share your affiliate links
In your blog posts
Social media platforms
Email marketing
In your freebies
How to get started in Affiliate Marketing?
If you are new to Affiliate Marketing, it can be tricky. I am also learning affiliate marketing. There are many free resources available but it is a good idea to learn it from someone who is making a lot of money from it.
I mean learn the nitty-gritty of affiliate marketing from Making Sense of Affiliate Marketing and start using affiliate links. This is a comprehensive course and is very helpful even if you are a total beginner.
9. eCommerce is one of the best passive side hustles
eCommerce or electronic commerce is the system of buying and selling products through the internet and make transactions online. eCommerce seems to be easy as there is a very less upfront cost but it takes a lot of hard and smart work to make it successful.
Many types of products like physical products and digital products like eBooks, Softwares, Graphic designs are part of eCommerce businesses. These sell on automation and is perfect passive income side hustle to make money while sleeping.
There are different types of e-commerce businesses:
Business to business
Business to consumer
Consumer to consumer
Consumer to business
Business to Administration
Consumer to administration
Businesses like Amazon, eBay, Flipcart Etsy are eCommerce businesses. These are just a few examples where you can sell your products. There are many more different eCommerce businesses. Global eCommerce business sales are projected to increase to 27 trillion dollars.
10. Niche Membership Site
Niche membership sites can bring an income for a long time to come. There are many ways to start a niche membership website. You can start doing videos, or courses that can be accessible to the members as they pay.
They can have access to the content as they pay. Also, you can set up membership sites for different levels. With different plans, a member can access different type of contents
Here is a detailed article by Smartblogger on membership sites with examples of successful membership sites.
11. Make money with youtube adds
People love to watch videos and google love to show them on their first pages. Also, it is easy to watch videos than reading long-form content due to which it is easy to get traffic and eyeballs on youtube videos.
If your videos target a technical niche, it is possible to generate ad income as if some add appears which could be useful, a person will watch it. Which means you will get paid for this.
Moreover, Youtube is the second most used search engine. If you will get good traffic, you will make more money. This type of content can be a good source of passive income online.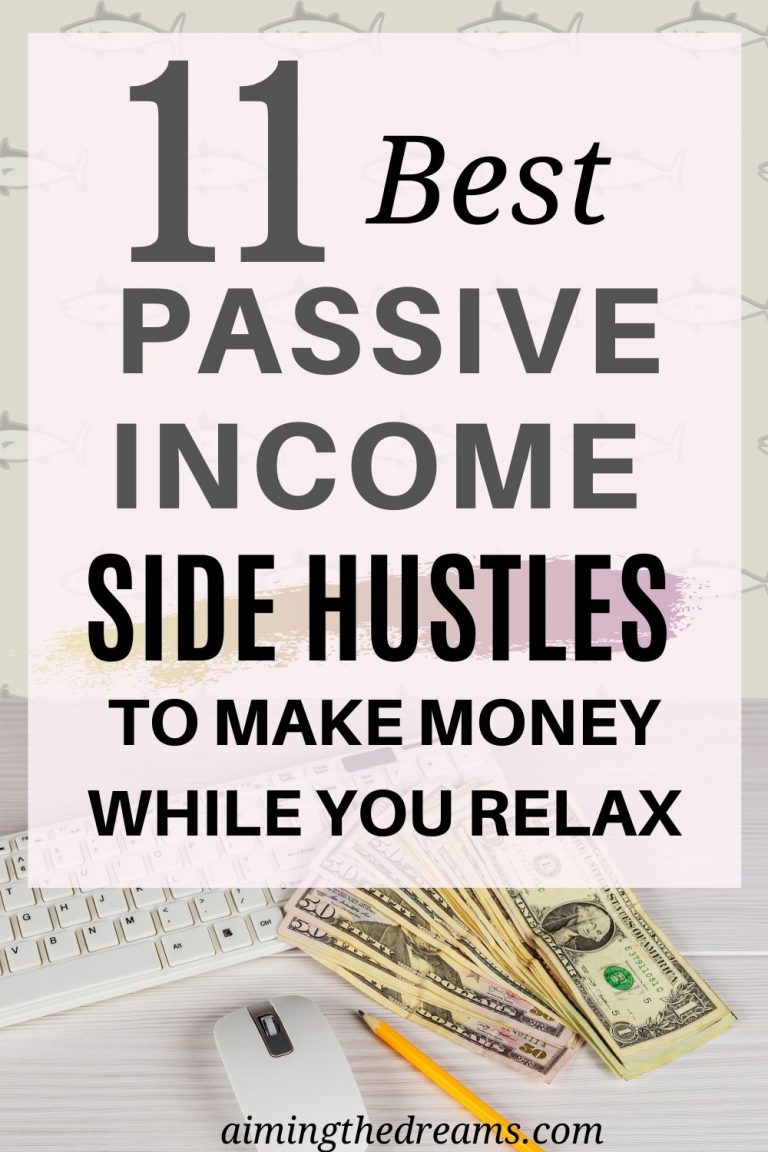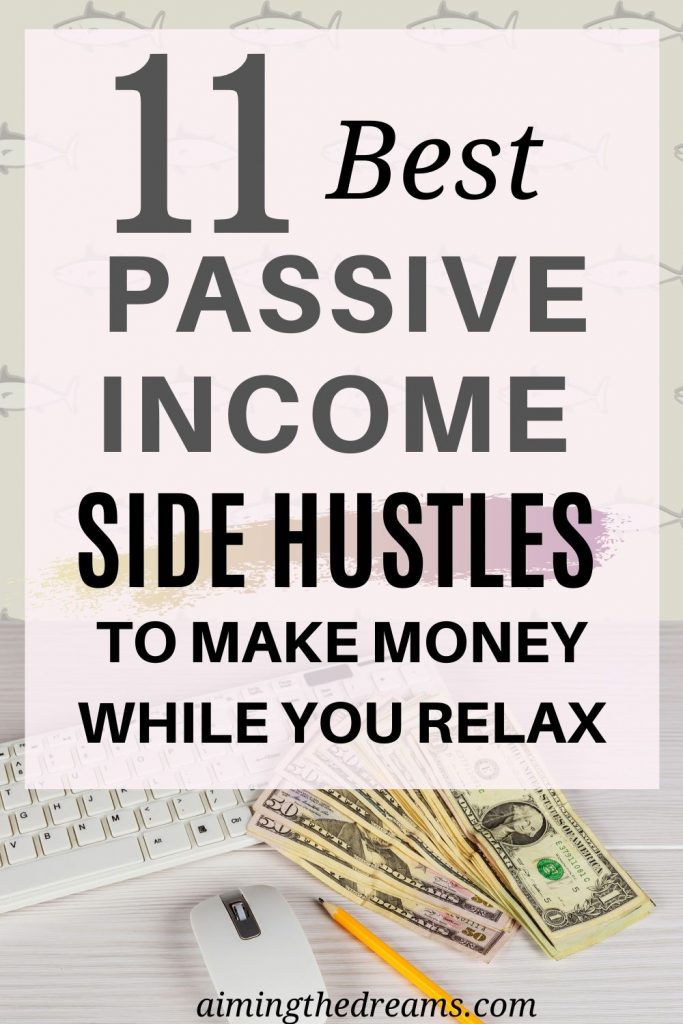 ? If you want to start making money online right now, start doing surveys. You will not become rich but you can increase your emergency fund or you can pay a bill with this extra money. I am using the money I get from surveys to build my emergency fund. Here is one of my favourite survey companies
Survey Junkie: I personally use Survey Junkie to make money and get paid money or free gifts.
How to create passive income without money
19 best ways to work from home and quit your job
How to become a proofreader and earn full-time income from home
?Do you like my post? Don't forget to follow me on Pinterest?
A tiny request
If you like my post, please share it. I would be thankful from the bottom of my heart.
Gursimrat